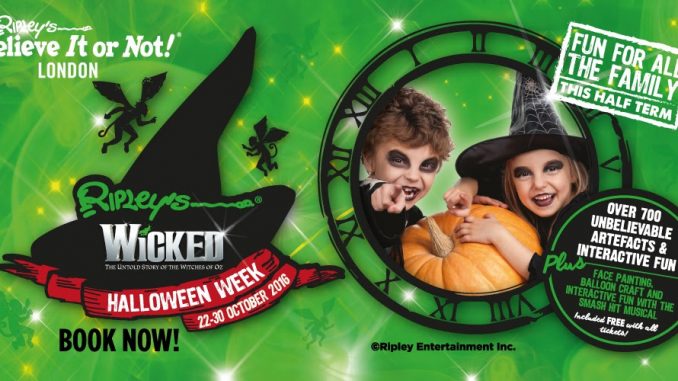 Ripley's Really 'Wicked' Halloween Week
Hold onto your broomsticks! For this Halloween the Wicked witches are taking over Ripley's Believe It or Not! London, brewing up an outrageously green, and spectacularly potent, child-friendly Halloween experience in London.
'Ripley's Wicked Halloween Week' is an exclusive collaboration incorporating the already-weird and wonderful artefacts of Ripley's with the mighty West End show Wicked, which is currently celebrating its 10th Anniversary in London
From Saturday 22nd to Sunday 30th October, Ripley's London will become the emerald of the West End as sfx lighting will illuminate No.1 Piccadilly witch-green. The library gallery will exhibit costumes and props worn and used by some of the biggest names from the hit show and labelled with unbelievable facts about these unique items.
Face painters will be on hand to turn little apprentices into characters from the show, such as the iconic Elphaba and Glinda. Modellers will craft balloons into broomsticks, witch's hats and other Wicked themed items for the kids to take home.
Treats aplenty await those attempting the interactive Wicked Explorer Trail; follow clues throughout the attraction to spell a mystery Wicked word and then be magnificently rewarded with pick 'n' mix treat and a chance to win tickets to see Wicked at the Apollo Victoria Theatre
Make sure you book your ticket for Ripley's Wicked Halloween Week now as the first 1,000 are being sold for just £10 each, saving up to 64% compared to the door price. Bookings can be made online at www.ripleyslondon.com. All activities are included in the ticket price making this an excellent value half-term treat!
Ripley's London will be open from 9.30am to midnight (last entry 10.30pm) every day from Saturday 22nd October to Sunday 30th October with the Wicked themed activities running from 11am to 6pm.
Whether you're a big fan of Elphaba or a little fan of pick 'n' mix, there has NEVER been a better time to visit Ripley's London – come and visit this legendary partnership withWicked and Ripley's London's 700+ amazing artefacts, outstanding oddities and interactive exhibits, including the Marvellous Mirror Maze and the eye-boggling Black Hole – talk about 'Defying Gravity'!
For additional information call +44 (0)20 3238 0022 or visit www.ripleyslondon.com