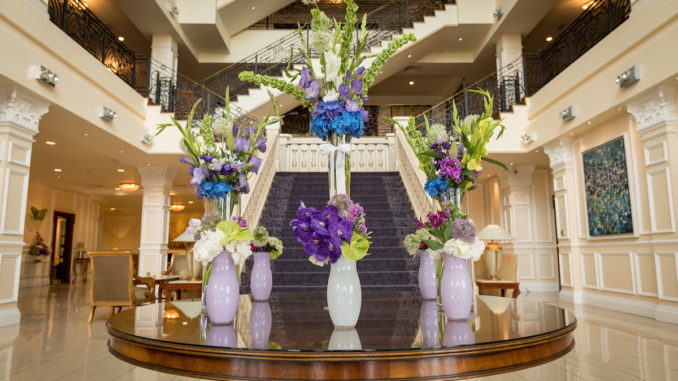 A Post-Picnic Pick-Up:
Pamper yourself At The Heritage Hotel & Spa
I spent a wonderful few days at the Heritage this summer and will be featuring my experiences on the Elaine show soon but in the meantime I've got news of a great Post Picnic package this autumn!
As fantastically fun as the Electric Picnic is year after year, anyone that has been previously knows just how deep the craving is on day two or three for hot water, crisp clean sheets and a comfortable bed.
The Heritage Hotel & Spa, located just a short distance from Stradbally, has the perfect package to wash away those post-picnic blues…and two or three days of dirt and grubbiness!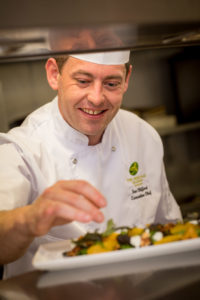 Treat yourself to a Post-Picnic Pick-Up at The Heritage Hotel & Spa, a luxury hotel in Laois that is a million miles away from your sweaty tent or cramped campervan! Before facing the drive home, check into this beautiful hotel for an overnight stay that is just what the doctor ordered. Start with a hot power shower or bath in your room, and maybe a power nap in your luxurious king-size bed before making your way to the beautiful spa where you can enjoy the two hour Spa Experience in their Thermal Suite and a 30 minute ESPA spa treatment. Bliss! After a satisfying dinner in the Arlington Restaurant and a wonderful night's sleep in your gorgeous deluxe guest room and a delicious breakfast, you'll leave feeling relaxed, clean, refreshed and ready to face the real world again!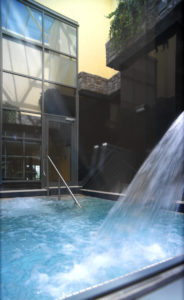 The Post-Picnic Pick-Up is available to book on Monday 3rd September and costs from €150 per person sharing.
The Heritage Spa Experience is an exhilarating blend of heating and cooling sensations, a 2-hour sensory journey that maximises the benefits of all the Spa facilities, guiding each guest through the extensive Thermal Suite with the ultimate aim of leaving the body feeling profoundly alive and invigorated.
057 8645500
Bring some shine into your summer with a sparkling spa break at Castleknock Hotel
I'popped in to see the new spa this summer at the Castleknock hotel and had a wonderful time enjoying a Voya facial and hot stone massage. It was wonderful to be so close to Dublin and yet feel like I was transported somewhere far away.
Treat yourself to a little urban luxury this summer with a one night sparkling spa break at Castleknock Hotel. Only 15 minutes from Dublin city centre, escape the hustle and bustle of the capital and unwind in the relaxing setting of this green and leafy suburb.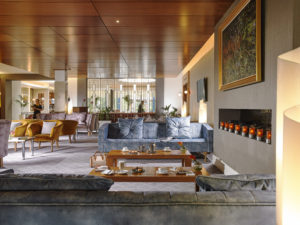 The Spa at Castleknock Hotel is a luxurious retreat fuelled by the energy of the nature that surrounds it. With state-of-the-art facilities in this purpose-built spa, the focus is on quality of life and well-being with treatments using the exceptional Elemis and Voya ranges.
With this one night stay at Castleknock Hotel, you will experience the pleasure of a luxurious Voya seaweed wrap, the crème de la crème of body wraps and a signature Voya treatment.. Inspired by the ocean, fresh leaves of Atlantic seaweed cocoon the body to deeply detoxify, moisturise and soften the skin. While the seaweed's minerals, vitamins and amino acids work their magic, you will also be treated to a relaxing facial targeted to cleanse, detoxify and revitalise your skin. Then it's on to the blissfully peaceful relaxation room, where a crisp and refreshingly sparkling  glass of prosecco awaits.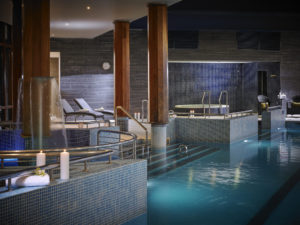 Castleknock Hotel's sparkling spa break includes a three- course dinner in the hotel's award- winning and atmospheric Earth & Vine Restaurant, where you may choose to enjoy your meal on the hotel's stunning outdoor terrace.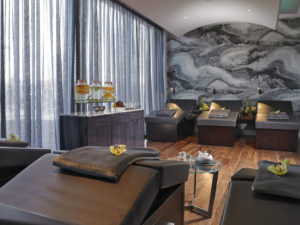 This one night bed & breakfast sparkling spa break starts from €249 per stay, including luxury Voya spa treatment and dinner. For further information and all other spa breaks visitwww.castleknockhotel.com
(01) 640 6300