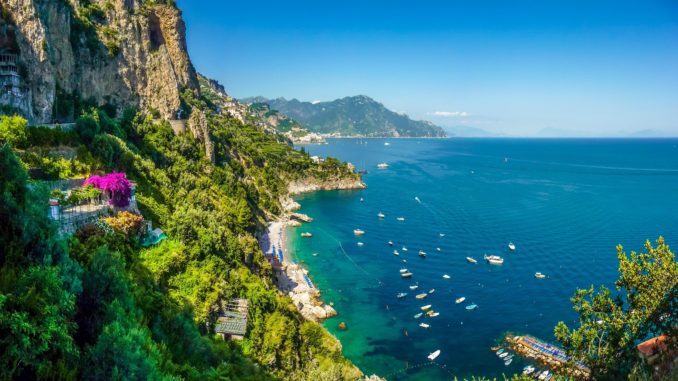 There are few coastlines that spark the imagination quite like the Amalfi Coast. On today's show I'm chatting about what there is to see in this beautiful corner of the Mediterranean without breaking the bank. I've chosen a tour with The Travel Department as a guided tour is the best way to see as much as possible, especially in the summer months when it is so busy.
Listen in to my chat about this fabulous tour on The Hard Shoulder on Newstalk 
Cost for this trip starts at €699 for a stay during July and August up to October and the good news is that there is still availability. https://www.traveldepartment.ie/sorrento-coast
Savings you make on a tour include – transfers, half board options, guided tours of local area, a guide with thorough knowledge, visits from tour reps.
And if you run into trouble with delays and cancellations, as happens too frequently, you are protected when travelling with a fully bonded tour operator.
The Amalfi coastline features in all the best and most scenic routes of the world it is also very dangerous, taking a tour takes a lot of the stress out of your holiday and especially when it comes to car hire, car parking and additional costs such as using the beach which you may not find in other European towns and resorts.
Some things that you may want to try, include Limoncello – the liquor that is taken as a digestif and real flavour of Italy. Of course Italian food is loved in every corner of the world but summer is the best time to taste the tomatoes and there is always a good reason to enjoy the Gelato. Fish is fresh and cooked with a variety of local sauces typical to Sorrento and the region.
The itinerary I followed is broken up with a day of leisure between each tour day giving holidaymakers a chance to really enjoy the area at their own pace or simply laze by the pool.
The real highlight for me on this holiday was the visit to Pompeii and Capri 
Close by are the city of Naples and Calabria is down the coast but one week is the perfect length to get to know Amalfi and return someday.
Trip Itinerary – Day by day
Day 1 – Travel to Italy
 Afternoon
Welcome Drink & Leisure Time
Enjoy a welcome drink on arrival at your hotel. This is a great opportunity to get to know other members of your group and to pick up plenty of tips and information from your local guide.
Day 2 – Capri
 Full Day
Capri
Named by the Greeks and meaning Wild Boar, the island of Capri has conjured up romantic images for travellers yearning to explore La Dolce Vita. Travel by hydrofoil to the enchanted island of Capri from Sorrento, renowned for its beauty and the clear blue sea that surrounds it. Stroll through Capri town, visit the famous Augustus Gardens and admire the incredible views. There is plenty of free time to enjoy a leisurely lunch, a swim in the sea or a visit to the famous Blue Grotto, before returning to your hotel. Take time to visit Anacapri and take a tour on the chair lift to the peak of the island for the most unusual and spectacular view of the Amalfi Coast and Bay of Naples.
Day 3 – Sorrento & Pompeii
 Morning
Guided Tour of Sorrento Town
This morning, enjoy a guided tour of Sorrento Town, followed by free time to explore at your own pace.
 Afternoon
Guided Tour of the Pompeii Excavations
In the afternoon, you will visit the excavations of the ancient Roman town of Pompeii. There will be a guided tour of the excavations, explaining how time was frozen in the year 79AD for the 25,000 residents of Pompeii, when the great Mount Vesuvius erupted. Now a UNESCO world heritage site it welcomes 2.5 million visitors each year. It has been a tourist destination for 250 years and has on display the remains of the Roman populations last moments before death, giving great insight into the golden age of the Roman Empire. On display are petrified bread, walnuts and olives with perfectly preserved chalices and glass. This fascinating site offers new attractions each year as more and more of the city is preserved to its original state – Frescos in the Venus house are just one of the new additions since my last visit five years ago.
Day 4 – At Leisure
Day 5 – Amalfi Coast
 Full Day
Amalfi Coast
On this magical guided excursion, you will travel along the Amalfi Coast, renowned for its breathtaking scenery and pastel coloured villages, perched over the turquoise Mediterranean Sea. After a stop at picture-perfect Positano to drink in the view, you'll continue to the lovely maritime town of Amalfi, and on to the hilltop village of Ravello. Visits to the Cloister of Paradise in Amalfi and Villa Rufolo in Ravello are included. See the statue of Flavio Gioia who is credited with developing the mariners compass and hails from the town in the 14th century and the town made popular by the British aristocracy during the 1920s and 30s.
This weeks travel deals –
I've a very special offer that is only bookable with Click and Go for a Royal Caribbean Cruise going out in September. Click and Go Cruise offer
Call 
(01) 960 9130
to speak to our cruise team
Departs 

Sunday 02 September, 2018

Package price from €799 per person – would retail at €1,299
Clients save €500 pp
4 night cruise on Royal Caribbean Symphony of the Seas
All Balcony cabins, all meals included
2 nights in Rome post cruise
Flights included to Barcelona and home from Rome
Itinerary – Barcelona to Palma Majorca to Marseilles France to La Spezia\Florence to Rome
Phone the cruise team on 01 705 3333 to book – can't be booked with anyone else!
Planning a trip to the USA?
Don't miss out on these terrific prices to Florida
Orlando from only €439pp
Price includes return flights
7 nights at the Rosen Inn International
Based on 2 adults & 2 children sharing
Travel Date 18 January 2019
Our Ref: 629223
7 nights in Orlando from €599pp
Includes return flights & 7 nights hotel accommodation.
Based on 2+2
Travel March 2019
Our Ref: 629354
10 nights in Orlando from €689pp
Includes return flights
10 nights hotel accommodation
Based on 2 adults sharing
Travel February 2019
our Ref: 629428
It's not too late to book a last minute holiday with this great offer – FAMILY OF 5 – ONLY €1,995 INCL FLIGHTS/CAR HIRE & 7 NIGHTS ACCOMMODATION
Deaprt July 17th – fly Dublin/Biarritz, 7 days car hire, 7 nights at 5 star Camping Sylvamar – linen & towels
Call Now to Book 0909648750 http://www.kellertravel.ie
Also with Keller Travel
Last of The Summer Availaibilty
Family of 5 can sail from Rosslare to France from Only €1,995 to include return ferry & 8 nights Accommodation in Choice of Resorts.
With sailings every second Day from Rosslare you can choose subject to availability to travel on the day of your choice – stay 8, 10, 12 or 14 nights (price based on 8) – add extra nights from Only €125 per night