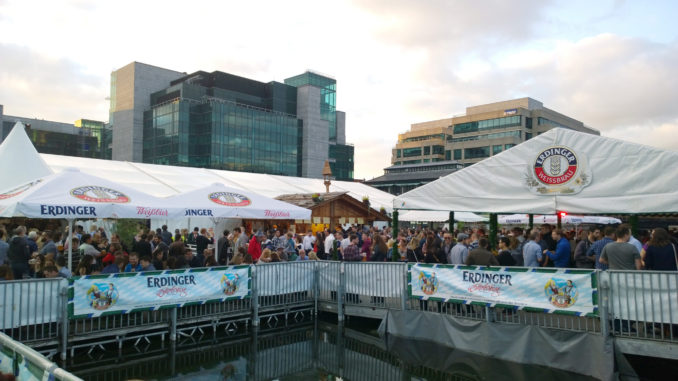 Looking for some novel travel this weekend but don't want to go too far? Pop down to Oktoberfest for a little bit of Bavaria in Dublin – details below! Prost!
Oktoberfest Dublin Celebrates 10 YEARS in Ireland!
Having entertained over 1 Million visitors over the last 10 years (combined) Oktoberfest Dublin returns to celebrate it's 10th Anniversary in Ireland!
For an extended-run of 23 days and nights this year, a little piece of Germany descends upon Dublin for some traditional Bavarian fun, right in the heart of the Capital.
The fun starts from Friday 14th of September to Saturday 6th of October.
Come and sample the best Bavarian food, Weiss Beer from the World's largest Weiss-Beer brewery: Erdinger –  and great live entertainment…..with lots of surprises along the way!
This year we are also lining up special 'Themed-nights' to add another dimension to the event.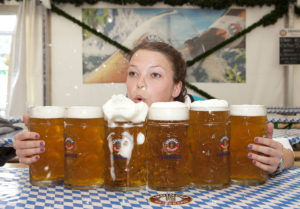 Friday September 14th is our big opening & launch night.
Come and join in the fun FROM 5PM ONWARDS as we "Tap the first keg" to get the celebrations underway.
MONDAY's – are our 'Industry-Nights' with special offers on Beer & Food for all of our friends working in the hospitality Industry in Dublin.
PINK-TUESDAY's – our new 'LGBTQ-Nights' with special offers on Beer & Food, and music and fun to match, all accompanied by our in-house 'DJ Udo'!
WHACKY WEDNESDAYS – where anything goes and dressing up will get you the chance to win some great treats & Official Erdinger merchandise
Our Official Media Partner this year, once again is 98FM  – and we are delighted to have them on-board!…The 98FM Team will be adding to the fun & festivities throughout the month!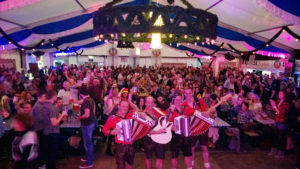 So tune into 98FM to catch some great competitions, giveaways and lots of fun!!
NEW Opening times:
Mondays – Closed.
Tuesday -Thursdays 12pm-11.30pm
Fri & Sat:  12pm-4pm and 5pm-11.30pm
Sun: 12.30pm-4pm and 5pm-10.30pm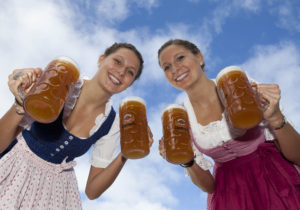 FREE Admission all days except Thursdays, Fridays & Saturdays from 5pm
€12 entrance fee Thursdays, Fridays & Saturdays
from 5pm includes a meal voucher worth €5
Location:
George's Dock IFSC, Dublin Docklands.
Visit the Homepage www.oktoberfest-dublin.de to find out more and make your reservations now!