Castlemartyr the perfect retreat for busy novelists


I spent the most wonderful few days with fellow authors Maria Duffy and Niamh Greene at Castlemartyr a couple of years back. We spent the day in the spa reading each others novels and enjoyed the delicious cuisine and wine in the wonderful restaurants. I can't wait to go back there.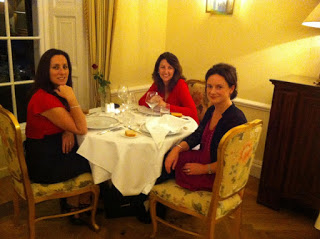 As autumn sets in and the school routine arrives like a thud it can be a stressful time for busy mums. Packed lunch boxes, endless colouring, taxiing and homework are enough to make you scream and long for a return to the hazy days of summer. With a host of fabulous hotels on our doorstep, I decided to do something about the Back-to-school-blues and gathered a couple of like-minded mothers in need of rest and relaxation. Our destination was the luxurious Castlemartyr Resort in County Cork and the moment we arrived we slipped into a cocoon of pampering. A helicopter was parked on the lawn outside and we hoped for an appearance from Daniel Craig at any moment. Instead we were met by Lionel, the porter, who took our bags and showed us to our triple room – a Junior Suite with extra bed and good option catering for three.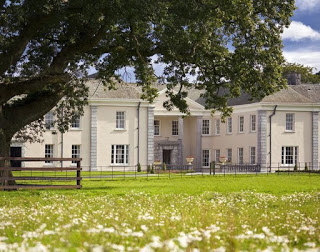 Our receptionist had suggested on arrival that we try some croquet on the lawn or take a dip in the swimming pool. But a glass of wine beckoned and we kicked off our two night stay with a meal in the Bell Towerwhich was a delight and a treat. There was something on the menu to suit everyone and I settled for the scallops to start followed by mouth-watering duck. The staff couldn't do enough and it felt so lovely to have our dinners served up to us for a change. We retired to the lavishly decorated Living Room bar after dinner, which had us feeling like characters in Downton Abbey. As we sipped our after dinner drinks we pondered the mummy taxiing avoided earlier in the day.
Castlemartyr is a pretty town about fifteen minutes east of Cork and surrounded by plenty of amenities – Fota wildlife Parkand the Titanic exhibition in Cobh are only a short drive away and perfect attractions to visit with our families. But this time we were on our own so an ideal day trip for mums is a visit to Ballymaloe farm and gardens close by.
Next morning, after a huge breakfast of Eggs Benedict, waffles and a lot more, we headed straight for the spa with our books in hand – literally. This was a chance to relax and it is something we girls do exceedingly well. The pool area was bright and looking out onto beautifully manicured gardens. It was completely separate from the spa which was quiet with a small but adequate relaxation room. In fact it was so relaxing after about an hour we slipped off to sleep – we hoped our snores didn't disturb those in the treatment rooms next door. The sauna and thermal pool took up much of the time until it was our turn for pampering. We all had facials and the spa carried the ESPA range which included aromatherapy oils that left us smelling gorgeous. A day spa special is currently on offer for €99 including treatments and lunch.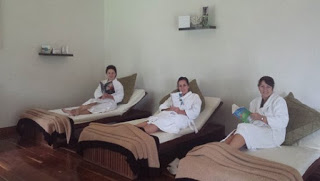 Our second night was spent in the Italian restaurant Franchinis but be warned the pizzas are massive – we could have easily shared one between three. What more could we do but go back to the rooms and slip into our white robes and slippers and pretend that we lived like this all the time. We had a big box of roses that needed finishing off and a couple of bottles of wine to wash it all down. One brave mum woke early next morning and took a walk on Garryvoe Beach close by. There was also the option of walking the hotel grounds with the resident spaniels Countess and Earl who are always up for walkies! But we were all ready to take on another massive breakfast washed down with plenty of cups of tea and toast. The menu card was inscribed with a quote from Oscar Wilde aptly saying 'Only dull people are brilliant at breakfast'. That was our excuse anyway. "I've to collect my daughter from dancing at three and my son has a football match later today," I said to my friend. "That's exactly what my pair are doing too," she replied. The M8 has made the trip to Corkshort and accessible and before we knew it we were home. As we settle into long nights by the fire, the memories of the lovely relaxing time we spent in Castlemartyr Resort will surely help us mums make it to mid-term break.