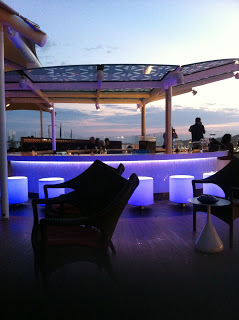 It's that time of year as summer comes to an end that we dream and plan of ways to escape the gloom of Winter. With so many options out there it is easy to get confused but if you are looking for luxury at an affordable price then cruising may well be an option for consideration. My partner was a reluctant cruiser. Having sailed and raced small boats for years the idea of cruising didn't appeal but I tempted him with the proposal of a mini cruise and hoped that after a few days he would be converted. Celebrity is the brand leader in style and cool sophistication.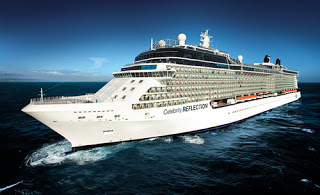 Celebrity Reflection
Their newest and most impressive ship in the Solstice fleet is called 'Reflection' and we found plenty to reflect upon. For the summer months, Reflection takes an eleven or fourteen day route starting in Rome so we decided to hop on board half way through an itinerary at Athens.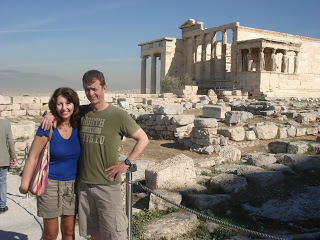 Athens is a great stop for cruise ships
If you don't have the inclination for a long cruise then combining it with a mini break is an option and a wonderful way to see if you would like to cruise for longer. Himself and I spent two nights in Athens before boarding and it was an excellent idea as we were fully relaxed and ready to embrace the high seas instead of rushing straight from the airport to Pireus, the main port. While in Athens we stayed in the Radisson Blu Hotel which is centrally located and great value and it is a city that is often forgotten about when choosing a city break. After two nights under the gaze of the Acropolis and sipping ouzo in the Plaka hubby was ready for our nautical adventure.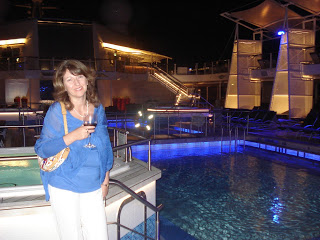 The pool area
Celebrity Reflection was launched in October 2012 and the paintwork hadn't a scratch on it. The carpets in the public areas maintain that deep pile sensation as we walked through the many delightful venues on board. And there are plenty of surprises – for instance the counter top of the Ice bar is frozen to a temperature below zero with a frosted coating that you won't want to lean against but will keep your cocktail cool for as long as it takes to drink. The icy green decor and regal furnishings will leave you feeling like a celebrity.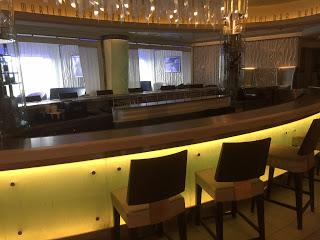 Ice Bar
If you're an art lover then there is plenty to see in the galleries and even the option of taking a class in iPad art.
On the fifth deck one of my personal favourite escapes was the library. It is full of an excellent range of novels and non-fiction that will entertain while nestled in one of the pods or basking on one of the super soft loungers on the top deck.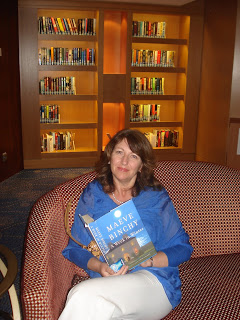 The Library
But probably the most indulgent feature of cruising is the cuisine. Reflection has the most incredible range of restaurants and we had two personal favourites. Qsine is a dining experience with a difference.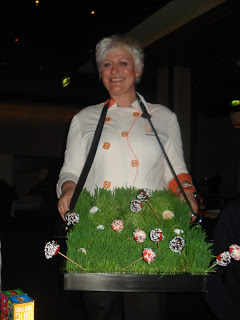 just dessert at Qsine
Our Moldovian waitress was ready to perform for us because this was not just a culinary but also an entertaining experience. She handed us an iPad each and gave us the choice of delicacies from every corner of the world. It would have been easy to get carried away with the menu but she recommended that we start with two countries each for starters. Be warned there is no limit to this menu and once you hit that option on the screen be prepared for a barrage of food that will arrive in spectacular fashion.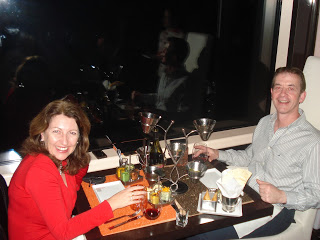 Qsine for two

The Indian option came displayed in an apothecaries chest, the Chinese in silver coned platters – it all proved too much for the couple sitting next to us who took the option of a lie down midway through their courses on a large bed in the corner. Dessert came straight from the set of Willy Wonka and the Chocolate factory with delights on lollipop sticks and the menu in the form of a collapsible rubex cube. "Just throw and if you don't like what I bring then throw again." Our waitress said with a smile. This truly was indulgence on a scale I've not seen on dry land and only a brave patron would have capacity to dine twice in Qsine on the one trip.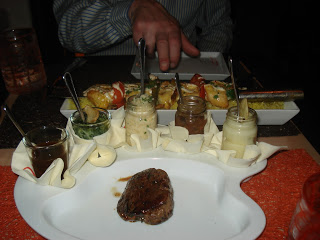 No words are needed
We spent next day at sea which gave us a great opportunity to see all that the ship has to offer. The main pool area is in an enclosed space and well protected from extremes of heat and cold but there are three other open-air pools. While himself took in some rays I tried out the spa. The moment I entered the large windows looking out to sea left me breathless. There is something very surreal about getting your feet manicured while watching the Aegean gently roll by. The hair saloon was right next door to the treatment rooms so it would have been rude for me to just pass by so I got a delicious blow-dry and was ready to great the tantalising treats in the Lawn Club Grill.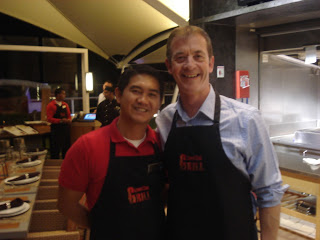 This restaurant was a real surprise because guests are encouraged to prepare and cook their own pizzas, kebabs and meat dishes. I do enough cooking when we are at home so I left it to my partner to flip the pizza dough in the air and marinate the kebabs. I have to admit that I was impressed by his handywork and it tasted delicious too. He did get expert help from the staff who couldn't do enough for us and if we had longer on the ship hubby could well have come home fully trained to continue his newly learned skills.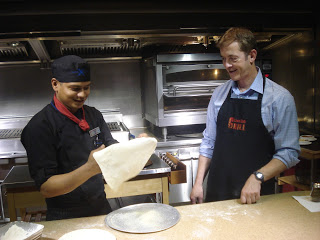 cooking lesson at the Lawn Grill
Next day was a port day and we woke to a picture-postcard view of Naples with majestic buildings climbing the hills. It is a shame that we didn't have time to explore but our tour bus brought us straight to Pompeii. Underneath the shadow of the volcano Vesuvius, Pompeii stands as an incredible monument of a working Roman citadel preserved in impeccable detail.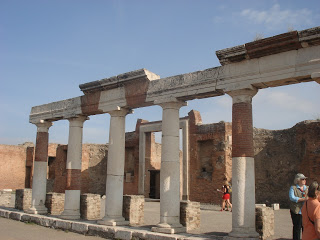 Up Pompeii
Paintings can clearly be made out along with decorative tiling and plasterwork in what was the cities Spa. It was almost like stepping back in time and the guide didn't scrimp on information leaving us fully charged and ready for a relaxing afternoon with a view.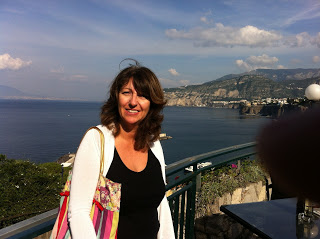 Sorrento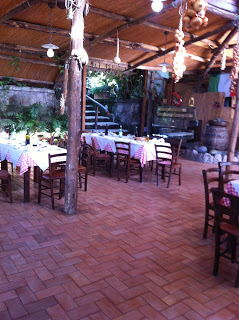 Rustic farmhouse
And in Sorrento that is exactly what we got. Nobody does a lazy lunch quite as well as the Italians and we found a glorious spot with breathtaking views of the bay of Naples and Capri. The entire Amalfi coast is stunning at every point and we were getting the full monty. But the day wasn't over yet and before returning to the ship we were brought to a working farm and enjoyed the local cheese and wine in a truly rustic mountain setting.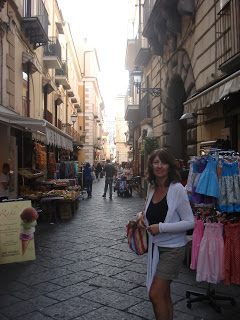 Last minute shopping before boarding the ship
That evening we were not in the mood to eat much but no matter how full our belly's felt, the restaurants on Reflection are too good to miss. I wondered how my partner felt after being on dry land for a while and was delighted that he was happy to be back on the ship. A cruise is an incredibly relaxing way to pack a lot into a holiday and for us one of the highlights was sipping a cocktail at the Sunset Bar at the back of the ship and watching the port of Naples disappear as we pulled out to sea.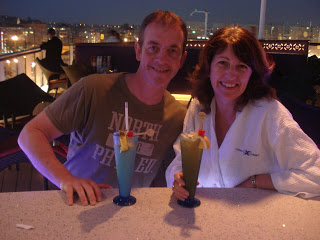 The Sunset Bar is the only place to be when leaving port
Reflection had plenty of shows on offer and lots of extra options – a spot of comedy or trying your luck in the casino. But there is something wonderful about going up on the top deck and lying down on one of the sunbeds or cosy hammocks and watching the stars unfurl. Celebrity is a romantic brand and it is no surprise that many of the guests are couples.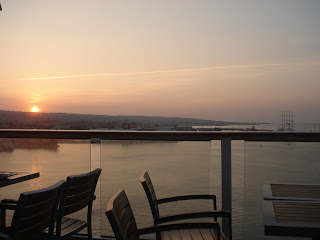 Our mini-cruise had passed too quickly and when we woke to a wonderful view of sunrise over the port of Civitavecchia. As we went for our final breakfast on the deck of the Oceanview Cafe my partner  admitted this had been one of his favourite rituals each morning. I smiled smugly – he had been converted.