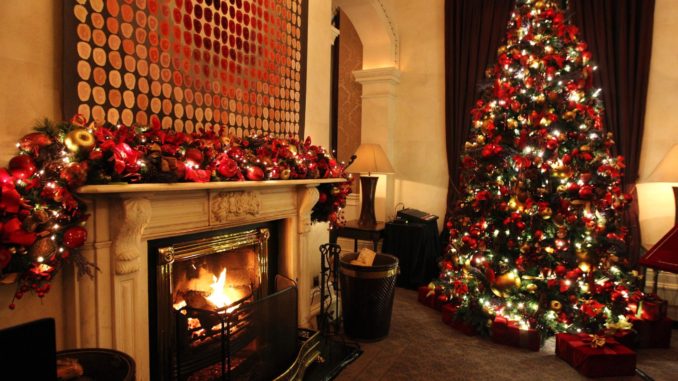 Now is the perfect time to book your Christmas Breaks in Ireland. If you want to spend Christmas at home I've some twixmas breaks too – especially requested by Ivan on our last show.
List to the podcast here
Ireland Stay at home for Christmas
If you'd like to stay at home but don't want to be at home here's a selection of hotels around Ireland
Flynn hotels have four hotels dotted around the south of the country. The Park Hotel Dungarven, The old Ground Ennis, The Imperial in Cork and Newpark in Kilkenny
Newpark Hotel, Kilkenny Christmas Experience (CHRISTMAS DAY RESIDENTIAL PACKAGES)
Relax and unwind this festive season at Newpark Hotel, with a choice of either a Two, Three or Four Night Packages available, with arrival on either 23rd or 24th December, including:
Festive Afternoon Tea on arrival
Champagne Breakfast each morning
Sumptuous Dinner each evening
Gourmet Christmas Day Lunch
4 NIGHT FESTIVE PACKAGE: Classic Double €649pps Superior Double €709pps Balcony Suite €789pps
3 NIGHT FESTIVE PACKAGE: Classic Double €549pps Superior Double €594pps Balcony Suite €654pps
2 NIGHT FESTIVE PACKAGE: Classic Double €419pps Superior Double €449pp Balcony Suite €479pps
CHILDREN'S RATES
(0 – 2 years) Free of Charge.
(3 – 12 years) 50% off Adult Rate when sharing with parents.
Visit www.newparkhotelkilkenny.com to learn more.
Imperial Hotel:
Christmas in Cork City at the Imperial Hotel – 2 nights from €318 per room (GENERAL CHRISTMAS TIME PACKAGES)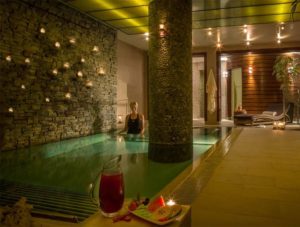 Soak up the festive atmosphere and enjoy a spot of shopping with the Imperial's two night festive retreat including:
2 nights luxury accommodation
Complimentary mulled wine and mince pies upon arrival
Hearty breakfast each morning
Dinner on an evening of your choice in the Pembroke Restaurant
Visit www.imperialhotelcork.com to learn more.
One Night Festive Escape:
Enjoy 1 nights bed and full Irish breakfast on either Christmas Eve, Christmas Day or St. Stephens night from only €150 per night for 2 people sharing.
* * * * * * * * * * * * * * *
A very special festive experience – Christmas in the heart of Connemara at Ballynahinch Castle
Ballynahinch Castle is a Victorian country house and estate with magnificent contemporary Riverside Suites on its own stretch of river in the heart of Connemara – a destination full of authentic character, luxury, history and style, and a gorgeous setting for a Christmas celebrating the simple pleasures of family, ritual and tradition.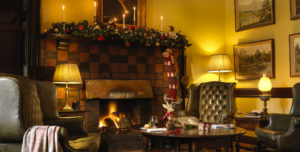 Creating times to treasure with an exceptional attention to detail, Christmas at Ballynahinch begins on Christmas Eve with traditional festive treats and pre dinner Carol singing and sprinkling that first touch of Christmas magic.
Created by the talented hands of chef Pete Durkan and his kitchen team, dinner will be served in the handsome and atmospheric Owenmore Restaurant, the elegant series of riverside rooms with a remarkable Connemara marble fireplace where the log fire burns brightly. For those who are travelling late or wish to eat less formally dinner is also served in the characterful Fisherman's Pub, which may suit younger guests who will obviously need to get to bed in readiness for a visit from a very special fellow and his reindeer.
Last minute preparations and wrappings can be attended to before relaxing with a nightcap in one of the many bright corners, comfy couches and cosy nooks by the fire, or perhaps there will be an outbreak of Trivial Pursuit, Scrabble or Monopoly.
On Christmas morning after an extended breakfast service spend time with your friends and family, attend a church service or explore the estate – 700 acres of mature wooded grounds and walks and one of Connemara's oldest gardens – but whatever you do, enjoy the day ahead of a wonderful Christmas celebratory dinner.
Gather for drinks by the fire first, pull crackers, and share the most awful jokes and after dinner retire to the lounges or Fisherman's Pub for after-dinner drinks, board games, conversation, a good book or a snooze. Catch the Christmas movie, with popcorn and chocolates on hand, and later that night if you get a little peckish Chef will have prepared some delicious late night food to sustain those that are staying up.
St. Stephen's morning has a longer breakfast service than usual giving everybody a chance to lie in and relax. To make the most of the day and get a little exercise and fresh Connemara air there will be a guided walk, with enthusiastic and professional Ballynahinch guides on hand to lead you on an incredible hike from the front door of the hotel, or you can just explore the many trails and walks at your own pace.
That evening following dinner, available in the restaurant or pub, join in a little music with local musicians where audience participation is encouraged.
Christmas at Ballynahinch Castle includes 3 nights dinner, bed and breakfast, welcome treats, light lunch on two days, afternoon tea daily, drinks reception on Christmas Eve and Christmas Day, light supper on Christmas Night, activities and movies, and costs from €870 per person sharing in a Classic room.
Christmas at Cashel House Hotel, Co. Galway (three nights)
Description: Christmas Package: Christmas Eve:   Cocktail Reception in the Bar and Lounge, hosted by the McEvilly Family and staff followed by a festive traditional Dinner.  Entertainment during the meal will be classic traditional Irish music and includes a visit by the local Carol Singers.  Relax after dinner in the lounge or library and enjoy the peace and calm of a quiet Connemara setting. Christmas Day:  Christmas Day begins with a traditional breakfast in the Dining Room or enjoy a quiet breakfast in your Room.  A magnificent Buffet Lunch is then served at 1pm.  Spend the afternoon relaxing in front of the crackling turf and log fires.  The more active might opt to take a walk and enjoy the Atlantic sea air and the Connemara scenery.  Afternoon teas are served in the Drawing Room.   In the evening a house party style Christmas Dinner with all the festive trimmings associated with good food and great company will be served in the Dining room; entertainment provided by local musicians in keeping with a truly traditional authentic Christmas.
Valid From: 20.12.2018 To: 28.12.2018
From: €695 per person
For more information, please see www.irelandsbluebook.com or contact Cashel House directly on 09531001
Christmas by the Shannon at Radisson Blu Hotel, Athlone
Radisson Blu Hotel, Athlone is magnificently located right on the river and in the very heart of Athlone town. Chic and stylish, there isn't a better location from which to enjoy the stunning views over the old town, Athlone Castle and the River Shannon.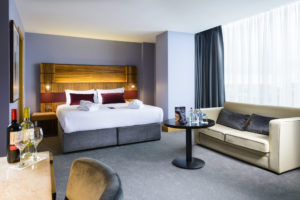 Christmas at Radisson Blu Athlone is full of style and good cheer, with delicious seasonal menus, family-friendly moments and everything needed for a relaxed and enjoyable holiday season.
Stay two nights from €349 per person to include bed and breakfast, Christmas Eve dinner, a visit from Santa on Christmas morning for the younger folk, leisurely Christmas Day lunch from 2 p.m., an indulgent Christmas evening buffet and – should the mood take you! – complimentary use of Synergy Health & Fitness.
With mulled wine and fruit-filled mince pies on arrival, and punctuated by carol singing and other live music over the course of the yuletide celebrations, a three night Christmas stay is available in Radisson Blu Hotel Athlone from €419 per person, which includes dinner on St. Stephen's Night too.
For local guests not resident in the hotel, Christmas Day lunch is available at Radisson Blu Hotel, Athlone, an indulgent way to enjoy the festive celebrations, for €89 per adult and €25 per child under 12. With mulled wine on arrival, the five-course Christmas lunch begins at 2 p.m. with advanced booking essential.
Experience the magic of Christmas on the banks of the mighty Shannon at Radisson Blu Hotel, Athlone.Visit  www.radissonblu.ie/hotel-athlone
The Shelbourne Hotel – celebrating the festive season
with style and sophistication since 1824
Beginning with the annual Christmas tree lighting, the holiday season at The Shelbourne is when the hotel looks at its very best, full of glamour and sparkle, where centuries of Dubliners have met to celebrate Christmas and where fun, style and delicious food and festive drinks are the order of the day!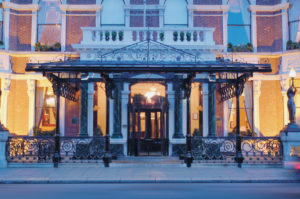 Glowing with traditional elegance, warmth and luxury, and the meeting point of choice for friends, family and colleagues in the exciting and fun-filled lead up to Christmas, The Shelbourne makes it easy to enjoy great days and nights out this festive season.
Enjoy a Christmas break in The Shelbourne and wake up on Christmas morning to a traditional Irish breakfast served in the comfort of your own room or in The Saddle Room followed with a visit from Santa Claus in the Lord Mayor's Lounge for all the younger guests. A one-night Christmas stay at The Shelbourne with breakfast and a lavish five-course Christmas lunch or dinner on Christmas Day starts from €875 per room for one night, and €675 per room per night for two nights for stays from the 24th to 26th December 2018.
Ireland's most iconic hotel, The Shelbourne has been celebrating the festive season in style since 1824. Overlooking magnificent St. Stephen's Green with luxurious guest rooms, historic banqueting suites and a superb choice of restaurants and lounges, The Shelbourne is the perfect place to relax and enjoy this special time of year.
Come home for Christmas to Radisson Blu Hotel & Spa, Sligo
Experience the magic of a Christmas at Radisson Blu Hotel & Spa, Sligo – an experience that includes great food, luxury accommodation and plenty of surprises. From the moment you arrive, you are home for Christmas…
Recently renovated, with a contemporary luxe and stylish new look, Radisson Blu Hotel & Spa, Sligo is a spacious and comfortable hotel, perfect for a relaxing and pleasurable holiday break.
With menus in award-winning Classiebawn restaurant carefully created by executive chef Joe Shannon showcasing the finest local ingredients, atmospheric Waves bar, the hotel's location with so much to do in the vicinity as well as easy access to bracing beach walks, plus the indulgent leisure and pampering facilities, Radisson Blu Hotel & Spa, Sligo ticks all the boxes on the 'Good' list this Christmas.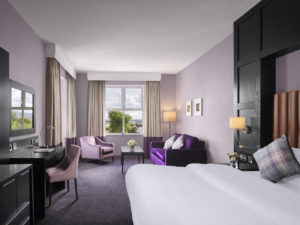 A two-night Christmas stay is available from €350 per person sharing, with a three-night stay from €460 per person sharing, to include a mulled wine reception with carol singing and hot chocolate for the little ones, then a candlelit three-course dinner in Classiebawn on Christmas Eve.
Christmas Day begins with the famous Super Buffet Breakfast, and a meeting around a significant tree to await the arrival of Mr. Claus himself. Leisurely Christmas lunch is served during the afternoon, then it's time to relax and enjoy the resident magician who is sure to dazzle. With live music in Waves bar that evening, there is a light evening buffet for those who can manage another mouthful, and there's always the option of a visit to Healthstyles Leisure Club the following day, or a brisk walk on the beach.
On Stephen's Day indulge in some more pampering with treatments in Sólás Spa, or enjoy an afternoon bus trip with a guided walk along the foot of Benbulben and have a complimentary drink in one of the local pubs, followed by a three-course dinner in Classiebawn with live music in Waves.
A bright, fresh and appealing hotel in a beautiful part of the country, Radisson Blu Hotel & Spa, Sligo also has an overnight rate from €125 per room B&B from 26th to 30th December inclusive.
www.radissonblu.com/en/hotel-sligo
* * * * * * * * * * * * * **  * *
The Amber Springs in County Wexford has lovely new family rooms and a two night twixmas break for a family of up to four children is €590 on a bed and breakfast basis plus you can enjoy great facilities. For a couple enjoy two nights for €450 per room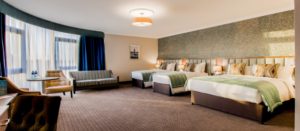 €295.00 in one of our new Amber Family Suites (some of which offer a Den comprising of two sets of bunk beds sleeping up to 4 children and a separate double bedroom area for parents privacy)
Amber Springs will guarantee an activity filled break for all our families with super family friendly facilities onsite to include:
Full leisure club , swimming pool & separate kiddies pool
Complimentary Kids Club (children 4 – 12 years) every evening 7pm – 10pm and mornings 10am – 1pm
Indoor Play zone with state of the art Jungle Gym
*VR Room (PlayStation gaming for children over 10 years)
80 seater Showtime Cinema –  with complimentary movies screened twice daily
Amber Park – *go-karts, *mini golf, playground, football pitch, Pet farm
Live music every evening in BBG
4 Dining outlets onsite
2 Bars onsite (one adult only from 7pm each evening)
Cocoon Spa  with a range of treatments available
* * * * * * * * * * * * * * *
For Ivan I have some lovely treats in Limerick and he will be able to go to the Limerick Races for Twixmas.
What about a night at Adare Manor in a deluxe room with two beds for €595 breakfast included.
 Adare Manor, recently voted 'Hotel of the Year 2018' at the world-renowned global Virtuoso 'Best of the Best Awards', is delighted to announce details on its magical Christmas experience for 2018 that offers guests an unforgettable festive period in the beautiful surroundings of the luxury 5* resort.
Guests staying at Adare Manor will enjoy the fairy-tale setting in the enchanting grounds, providing the ultimate Christmas atmosphere where guests can enjoy their Christmas celebrations with impeccable food, world-class service and fun-filled Christmas activities for the whole family.
The Mustard Seed, Co. Limerick (Approximately a 25-minute drive to Limerick Racecourse)
Nestled in the heart of the Co. Limerick countryside is The Mustard Seed , a converted 19th century convent. This celebrated and comfortable country house is set on ten acres of mature trees, herbaceous borders, orchard and kitchen garden. The restaurant with its busy, buzzy dining room has long been highly acclaimed, attracting lovers of good food and fine wine from around the globe. The Mustard Seed is an oasis of understated luxury making it the ideal hideaway. The Mustard Seed is an ideal base for touring the south west region. Located just 40 minutes' drive from Shannon airport, the Dingle peninsula, Killarney, the ring of Kerry, the Cliffs of Moher and the Burren are all pleasant day trips. For the golf enthusiast, a choice of four courses is within 30 minutes' drive of the house. Horse riding, fishing and garden visits can be arranged nearby. Surrounded by country lanes for leisurely strolls or close to the Ballyhoura Mountain range for more organised trails.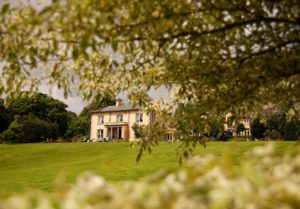 Rest and recharge! 2-night break at The Mustard Seed, Co. Limerick
Take some time out to relax and recharge with two nights' accommodation, full Irish breakfast and dinner on one evening at The Mustard Seed, Co. Limerick
From: €220 per person sharing
For more information, please see https://www.irelands-blue-book.ie/houses.html/mustard-seed
If you have no money left after racing then stay at the economic
Radisson Blu Hotel & Spa, Limerick
Rate from €63 per person sharing, enjoy an overnight at the Radisson Blu Hotel & Spa, Limerick inclusive of full breakfast – Book now before you BET 🙂
Visit  www.radissonblu.com/en/hotel-limerick