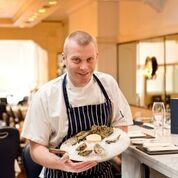 Cliff Townhouse Oyster Festival 2016

Cliff Townhouse, 22 St Stephen's Green, Dublin 2

September 5 – October 2, 2016

Celebrating the noble Irish Oyster, the Pearl in the Crown at the award winning Cliff Townhouse Restaurant.

#CliffOysters

 

Throughout the month of September, attendees at the fifth Cliff Townhouse Oyster Festival will enjoy an extended Oyster Menu featuring premium Irish oyster selections, a limited edition Cliff Oyster Cocktail Menu, exclusive wine pairings and glasses of crisp, cool MOËT & CHANDON. The Festival will also run Cliff Townhouse Pearls of Wisdom, an engaging masterclass series of food, fashion and wellness, celebrating the versatilty of the glorious oyster. For reservations, masterclass tickets, festival details and menus see  http://www.theclifftownhouse.com/cliff-townhouse-restaurant/Oyster-Festival2016 #CliffOysters

The award winning Cliff Townhouse Restaurant returns with the fifth installment of this hugely popular urban Oyster Festival. The first oyster will be shucked on Monday September 5 and by festival close, head chef Sean Smith reckons more than 10,000 bivalve beauties will have made their way through his kitchen.

This year, Cliff Townhouse will celebrate the precious source of some of their world acclaimed seafood dishes, by turning the spotlight on Ireland's leading oyster farmers. At the heart of the Festival's extended Oyster Menu will be the All Ireland Oyster Plate, a six-oyster offering, freshly harvested from the waters around Waterford, Galway and Louth. Each oyster has it's own distinctive flavour profile, influenced by both habitat and cultivation methods. Sean and his kitchen team are proud to present a host of beautiful dishes, made possible by working with the exceptional produce of Ireland's oyster farmers. The menu will be further enhanced with daily specials throughout the Festival, designed around seasonal ingredients and the seafood landed each day by Cliff Townhouse's suppliers.

Cliff Townhouse bar team will design a limited edition Cliff Oyster Cocktail Menu to compliment Festival dishes. Taking inspiration from the unique taste of each Irish oyster, the vibrant cocktail selection will feature premium spirits from Ireland's leading independent distilleries. Local artisan brews will also feature strongly and the bar team will develop wine pairings to complete a truly special dining experience.

In addition to the wonderful food and beverage offerings, this year's Oyster Festival will host Cliff Townhouse Pearls of Wisdom, an engaging masterclass series of food, fashion and wellness, celebrating the versatility of the glorious oyster. Tickets cost €20 per person and include a refreshing Oyster and Champagne reception. These intimate events will have just ten places available at each, so early booking is advised. Tickets are on sale now from Cliff Townhouse 01 6383939

CLIFF TOWNHOUSE PEARLS OF WISDOM – A Masterclass Series of Food, Fashion and Wellness

Monday September 12                          A World of Pearls with Natasha Sherling, 6pm

A glamorous evening exploring the drama and romance of the pearl, with acclaimed jeweller and gemmologist, Natasha Sherling.

Tuesday September 13                          Oysters: The Forgotten Health Food? with Annette Sweeney, 6pm

An informative evening exploring the nutritonal and health aspects of the oyster, with culinary nutritionist, Annette Sweeney.

Saturday September 17                        Master the Oyster with Head Chef Sean Smith & Harty's Oysters, 1pm

From choosing and preparing, through simple accompaniments and complex dishes, join Cliff Townhouse Head Chef Sean Smith and the Harty's Oysters team, for an exciting and irreverant oyster-laden cooking session!