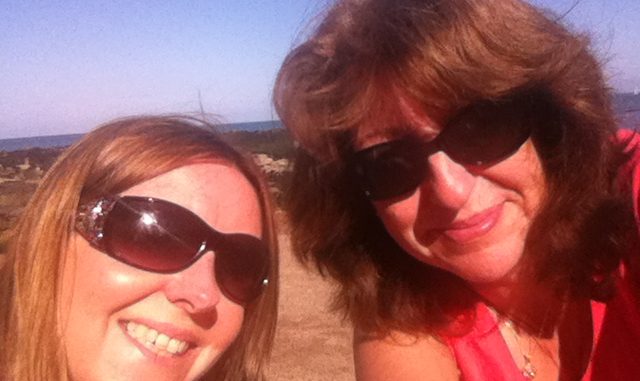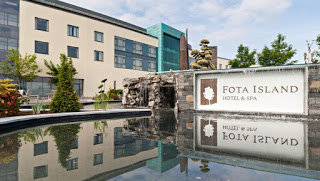 I stood at the school gate recently with my friend Cheryl, waiting for our daughters Nicole and Sarah to appear as we reminisced about the odd sunny day that we had shared this summer. As the school bell rang we had a Eureka moment and hatched a cunning plan to escape the humdrum routine with a mini-break in Cork. My daughter had been doting about the new baby cheetahs that she had seen on Facebook at Fota. As we had never been to this wildlife park I thought why not satisfy all our needs with a spa break for mums and baby animals for the kids.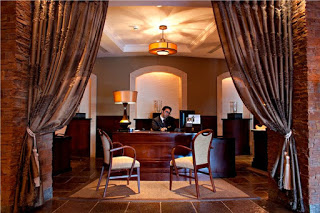 Reception at Fota
The M8 motorway from Dublin took us to the country's 'other capital' in less than three hours. It had been a few years since my last visit to the city centre and I was curious to check out The English market which seems to be constantly in the news since Queen Elizabeth's visit in 2011. The smell of exotic cheeses and fresh fruits greeted us from an array of artisan stalls as we climbed the stairs to Farmgate restaurant. The view down over the market is quaint and as covered markets go this had all the elements needed for a hearty and refreshing lunch. Cheryl and I would have loved to stay longer but the kids were keen to make the most of the pool at our hotel. 
Cheryl and Michelle this summer
A twenty minute journey brought us to Fota Island and once we drove along the tree-lined avenue to our hotel we were submerged in an oasis of calm. The Fota Island Resort is set in lush surroundings which whisper five star ever so subtly. The architecture is modern and streamlined with Celtic motifs throughout, this isn't a fussy hotel and it has a chameleon ability to turn from a business centre, wedding venue or family friendly resort with ease.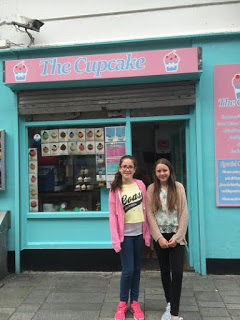 nicole and sarah in Cork
Our accommodation was a family room with large king size and single bed but with plenty of room for another pull out bed where my daughter had a very cosy sleep. There was plenty of room in the en suite with a large walk in shower and generous sized bath − a priority for the kids. While our daughters swam in the hotel pool, under the supervision of a lifeguard, it was time for Cheryl and I to explore the spa. The spa is well presented with good variety in the thermal and hydrotherapy suites. I was whisked into a treatment room by Kasa my therapist for a soothing Indian Head Massage. The bed was heated by an electric blanket and as Kasa worked her magic, the back-to-school-blues became a distant memory. After the hour long treatment I was brought to the relaxation room and served a passion fruit yogurt with fresh melon. Looking out of the relaxation room at a colourful garden of trees and grasses I almost forget that the kids were with us.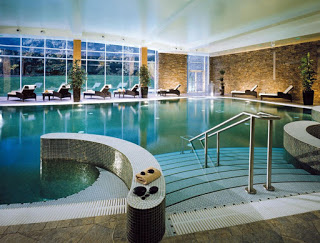 hydrotherapy pool at Fota Resort
Our little mermaids were so enamoured with the selection of shampoos and conditioners at the pool that they were showered and ready for the night before leaving the spa. The hotel offers kids clubs and it wasn't so long ago that our daughters would have needed that kind of attention to give their mother's a break. But at 11 years of age they wanted to dress up and with appetites whetted they could not wait to see the menu in the dining room. The sun came out and we had the option of sitting outside too.
The dining room welcomed with a piano in the corner. The steak was too mouth-watering to ignore so we ordered two while the kids opted for delicious homemade burgers from the children's menu. It isn't often that I refuse dessert but the main course was so satisfying and delicious I hadn't the room or inclination for pudding. Babysitting facilities are also provided so parents can get a real break. Cheryl and I settle into the bar safe in the knowledge that our mermaids were happy upstairs in the room. A passing waiter asks if we would like cocktails and we didn't want to appear rude so we agreed. As we sat back in our leather armchairs we sipped away any thoughts of making school lunches the following week.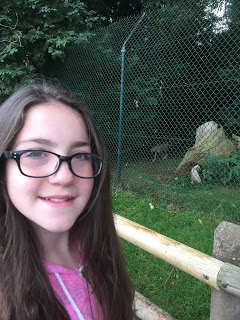 My daughter Nicole loved the baby cheetahs
Next morning, after a long and colourful breakfast that includes, waffles, pancakes and plenty of fruit, the girls insist on another swim before check out. The skies clouded over in typical Irish fashion and it starts to pour as we drive our short trip to the wildlife park. Fota Island Resort offers free entry into the park with special packages, so this is worth checking out on booking. Surprisingly the sky clears and we see the tigers and rhino in the Asian sanctuary at leisure. This is a lovely sized park where the animals are happy and have the choice to hide away or come see the spectators if they choose. A little train runs around the rim of the park taking passengers to the reasonably priced cafe. The highlight for our daughters is the two new baby cheetahs, they send the girls into a frenzy as they frantically post pictures on their Instagram accounts. We realise on our return that we have taken so many photos of the animals we have almost none of the girls.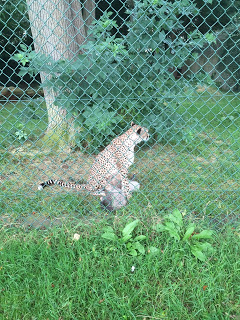 Taking a right out of the park brings us to the historic town of Cobh, only five minutes away. This town is a huge treat for kids who are fascinated by the Titanic story and the museum is a must see. The great thing about Fota Island is the variety of family friendly activities so close together. There are three golf courses on the resort and a stately house with one of the finest art galleries outside the National Gallery in Dublin. As we set off home on the long road back to Dublin we all agree that one night on Fota Island just isn't enough!
Article First Published Sunday 31st October 2015 Irish Mail on Sunday
Fota Wildlife Park Package – Enjoy an overnight bed and breakfast at Fota Island Resort in one of their luxury rooms and receive complimentary tickets to Cork's wildest attraction, Fota Wildlife Park. Located on a beautiful private island Fota Wildlife Park has reported record visitor numbers in recent years, with numbers growing due to its continued efforts for conservation. Home to a variety of species including Cheetahs, Tigers and now even Rhinos! www.fotawildlifepark.ie
It has been listed as one of Ireland's Top Ten visitor attractions and is the most popular family tourist destination in Cork. The perfect package to relax in luxury and explore the wild. From €154 midweek or from €192 per room per night or for detailed information on all packages see the website 
www.fotaisland.ie
 or call 
+ 353 21 4883700
.