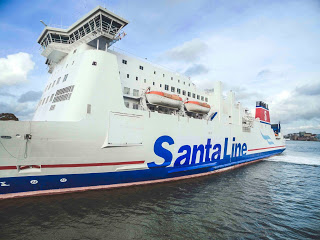 Ireland's leading ferry company, Stena Line, is getting a Christmas makeover this year complete with a historic name change to Santa Line – what else! – across its European Network. 
They also celebrated by giving one of their ships in Gothenburg a festive new look for the day and are introducing a fun app which customers can use to win prizes as they journey across the Irish Sea.
What's more, customers can enjoy great value fares from as little as €89* single for car and driver and the widest choice of routes and sailings on the Irish Sea.  And as there are no baggage restrictions they can bring all the gifts they want in their car.
Airports at Christmas are synonymous with fun-sapping queues, followed by a journey in a confining seat which can be stressful, especially when travelling with kids.
 Stena
 customers, however can enjoy a quick check in process, lots of space to relax or explore as well as great onboard entertainment that even Santa himself would love.
The fun continues onboard with delicious dining options, free festive movies and WiFi and other onboard activities. Kids will love our brand new Christmas Treasure Hunt, they simply need to download the 'Stena Line Treasure Hunt' app, then find the Christmas gifts onboard before collecting their prize in the onboard shop.



For more information or to book your very own Santa Line trip log onto 

www.stenaline.

ie

 or 

https://www.facebook.com/StenaLineUKIE/

 or call 01 204 77 77. Follow Stena Line on Twitter 

@StenaLineIE