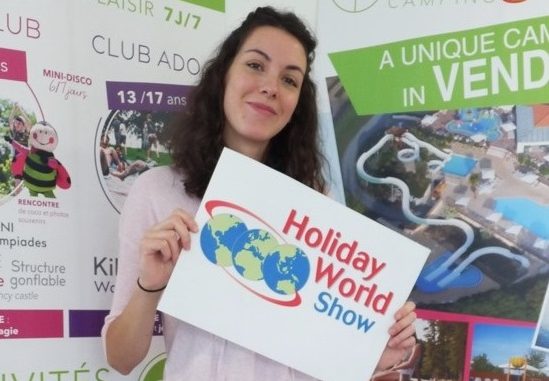 Holiday World Show Dublin 2019
Why go to a travel show this winter?
With over 1,000 travel experts from home and abroad, offering visitors exclusive show-only prices
Where:             RDS Simmonscourt, Ballsbridge, Dublin 4
When: Friday 25th, Saturday 26th and Sunday 27th January 2019
Times: Friday 1pm to 6pm; Saturday & Sunday 11am to 5.30pm
Website:          www.HolidayWorldShow.com
Facebook:        facebook.com/theholidayworldshow
Admission:      Adults € 7, OAPs € 4, Students € 3
Special Family Price 2 Adults & up to 4 children – € 14
What's on:
The free Talk Travel panel sessions are facilitated by the renowned travel journalist Eoghan Corry, with leading industry experts giving talks and answering visitors questions on topics such as Holiday trends for 2019, Cruises, Irish tourism, USA travel, African holidays, Irish attractions, the Japan Rugby World Cup, Snow holidays, Asian holidays, European holidays, Visa, Passports & Vaccinations, Airlines, weddings and Honeymoons, Solo travel, Ireland's travel agents, Ryanair and Discovering Ireland.
NEW Overseas Property Pavillion
LARGEST EVER Home Holidays Pavilion – river cruising on Shannon – tourism boards from counties around the country
LARGEST EVER Visit USA Pavilion – tour America, American holidays – cruise lines too
ORLANDO FROM ONLY €499PP
PRICE INCLUDES RETURN FLIGHTS 
7 NIGHTS AT THE ROSEN INN INTERNATIONAL
TRAVEL DATE 30TH APR 2019
NEW YORK FROM ONLY €529PP
PRICE INCLUDES RETURN FLIGHTS 
3 NIGHTS AT THE EXCELSIOR HOTEL 
LAS VEGAS FROM ONLY €599PP
PRICE INCLUDES RETURN FLIGHTS 
5 NIGHTS AT THE EXCALIBUR HOTEL 
TRAVEL DATE 6TH SEPT 2019
CRUISE OFFERS
11 NIGHT FLORIDA FLY CRUISE & STAY FROM €1459 PP
INCLUDES RETURN FLIGHTS TO MIAMI
1 NIGHT PRE CRUISE IN MIAMI
10 NIGHTS ON BOARD CROWN PRINCESS
BASED ON 2 SHARING INSIDE CABIN
INCLUDES ALL FOOD & ENTERTAINMENT
OUR REF 642709

8 NIGHT LOS ANGELES & MEXICO RIVIERA FLY CRUISE FROM €1249 PP
INCLUDES RETURN FLIGHTS TO LOS ANGELES
7 NIGHTS ON BOARD ROYAL PRINCESS
BASED ON 2 SHARING INSIDE CABIN
INCLUDES ALL FOOD AND ENTERTAINMENT
OUR REF 642725

Tour America
62/63 Middle Abbey Street
31 Parnell Place
Dublin, Ireland Cork Ireland
Tel: (353) 1 817 3500 Tel: (353) 21 2429222
LARGEST EVER selection of European Camping holidays
TOP DESTINATATION WEDDING & HONEYMOON destinations
Caravan & Motorhome Show
55 countries represented with over 1,000 travel and tourism professionals ready to give advice and detailed, expert information
Hundreds of free Holiday Prize Draws
Exclusive, show-only discount holiday offers
Some samples:
Travel Department
Win a trip for two to Lake Garda worth over €1300.00
€50 off any trip of 7 nights of more
€25 off any city/short break
EXCLUSIVE HOLIDAY WORLD SHOW OFFER €75 off all February and March Departures of 7 nights or more
EXCLUSIVE HOLIDAY WORLD SHOW OFFER €50 off all February and March City Breaks/Short Breaks
Sample packages   TDactive
€50 off any trip of 7 nights of more
€25 off any city/short break
* * * * * * * * * * * * *
Walking holidays are continuing to be popular in 2019, and TDactive has done a complete review of walking holidays to ensure they have a programme that suits the more ambitious walkers and introduced new walking levels. Each walking holiday now offers a choice of two routes with varying pace and distance. Leisurely, moderate and challenging!
Brand new to the Explore range of holidays for 2019 is adding a Fitness Holiday to the Algarve.
Algarve Fitness Holiday: https://www.tdactiveholidays.ie/The-Algarve-Fitness-Holiday?dp=dub,aaa,ork,snn
* * * * * * * * *
More and more guests have found that travelling solo with Uniworld is one of the most enriching and rewarding ways to explore Europe. To celebrate this, we've waived or reduced the Solo Supplement on select departures of some of our most popular 2019 itineraries! Book early, while space is still available.
Featured Cruises:
Venice & the Gems of Northern Italy
8 days from Venice to Venice
Applicable Departure Dates: 31 Mar, 7 & 21 Apr, 2, 9 Jun 2019
Price from: €2,399
Enchanting Danube
8 days from Budapest to Passau
Applicable Departure Dates: 17* & 31 Mar*, 2, 9*, 16 Jun 2019
Price from: €2,499
Brilliant Bordeaux
8 days from Bordeaux to Bordeaux
Applicable Departure Dates: 21 Apr, 5 May&  23 Jun, 2019
Price from: €2,599
To book or for more information on Uniworld's Solo Traveller Offer, please contact a Uniworld Specialist on 1800 98 98 98 or visit your local Travel Advisor.
*****************************
The Cork International Travel Fair 2019
The Cork International Travel Fair in association with Cork Airport will take place at the Cork International Hotel on Saturday February 2nd and Sunday February 3rd 2019 from 11am-5.30pm.
The travel fair, which is in its 3rd year is the ideal place to browse the many exhibitors and get the best value when booking your 2019 holiday.
There is something for everyone at the Cork Travel Fair from family holidays, action holidays, honeymoon's, luxury holidays as well as an insight into the newest routes that are operating from Cork Airport. Exhibitors include Air France, aqua suites Lanzarote, Select Hotels of Ireland and Lee Travel
If you are looking to plan a mini break or staycation we have some of the best hotels and tourist attractions on site also for the weekend.
There are some incredible prizes to be won over the weekend including a trip for 2 to Lisbon, a trip for 2 to Cornwall, a trip for 2 to Dubrovnik, a 2 night stay in the Dingle Skelligs Hotel, a 2 night stay in the Castle Oaks Hotel in Limerick and much more.
Entry to the event is completely free and there is plenty of free parking at the Cork International Hotel.
Visit www.corkinternationaltravelfair.ie for information
*********************************
The Holiday Show Limerick
When?
2019 Show Dates & Times
Saturday 16 February 11.00am – 5.00pm
Sunday 17 February 11.00am – 5.00pm
Where?
UL Arena, University of Limerick, Limerick
t: +353 (0)61 213 582
www.ulsport.ie
Exhibitors include airlines – airlines, Aer Lingus and Air Canada,
Tour operators Tour America and Tropical Sky and some home companies such as Irish Camping and Caravan
Admission Price
FREE ADMISSION
********************************
Listeners Query re the Rugby World Cup in Japan
Gerry got tickets for two of the World Cup rugby matches in Japan :
3rd Oct Kobe
12th Oct Fukouaka
My wife and I are going and we would like to take in somewhere on the way out and on the way back for a few days maybe Singapore and Hong Kong?  So any ideas for (a) the stopovers (b) where to go for the 10 or so days in Japan.
Answer – Icon Travel http://www.icontravel.ie/
The key here is that when booking a package to a major sport event it is best to book early as doing a bespoke package can work out very expensive – going to a travel agent will help in this case – I went to Jean at Icon travel in Waterford and she suggested that a Japan tour that included tickets worked out at about €5,000 if booked last year and included tickets – Going at this stage flights will be much more expensive as supporters will all be converging in Japan at the same time for this event.
Here suggested itinerary is as follows:
Obviously depending on the clients budget there are numerous itineraries they could take as follows:
Hiroshima and Miyajima Island – 4 nights  – about three hours road transfer to Kobe
This combination will give a taste of Japanese history  from World War two to present day and Maiyajima Island famous for its waterfront shrine and religious sites
Kyoto City & Country – 4 nights
Kyoto is where the Japanese go to learn more about themselves, One the capital of Japan, it's the epicentre of Japenese arts and tradition including garden design, textiles and ceramics
Performing arts is also well represented in this area, fan dancing and the tea ceremony all practised by the elegent geisha
Clients can also do Japanese cookery courses, hiking, kayaking, Wildlife in Japan – bird watching, sacred deer and native monkeys. It really depends on their interests.
Regarding stopovers – it depends on what airline the clients fly with, a lot of our customers have gone direct from Frankfurt / Munich to Japan. Economy seats are heavily booked at present. Cathy offer non-stop to Hong Kong from Dublin which is a nice second city to see and great for shopping. Going to Singapore means taking two flights then an onward to Japan but it too is a wonderful asian city that is worth visiting especially for food.