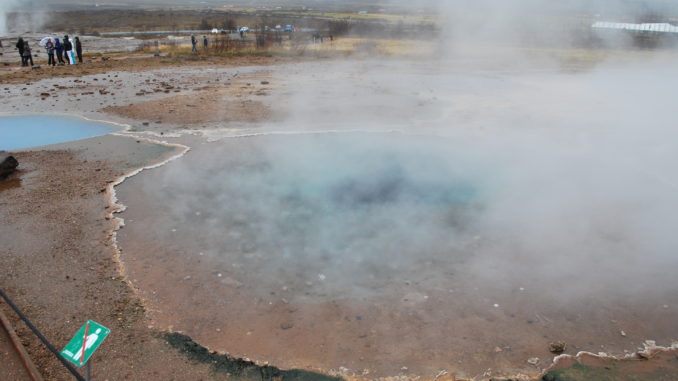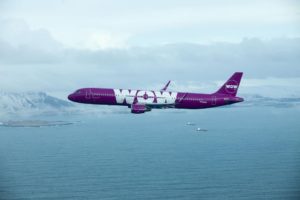 A flight connection might be considered an inconvenience, but not when the stop off is hot-property destination, Iceland. Low-fare airline WOW air is bringing Irish passengers to nine cities in the US and Canada in 2017, via a free stopover. With great leg room and plugs at our feet the kids could keep their mobile devises charged.  It's difficult to miss the big purple airplane on the runway and it is a fun experience from the moment we board. The staff are funny and helpful. Cabin baggage must be paid for if it's above a certain size so check your allowances before arriving at the airport. We take the short two-hour hop to Keflavik Airport and grab a taxi on arrival to the Blue Lagoon Geothermal Spa www.bluelagoon.com.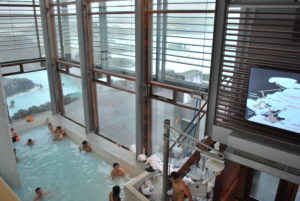 We drive through a sea of lava rock and after twenty minutes bubbling vapours appear on the horizon. This man-made haven where nature has been harnessed is unlike any other spa. A holding area for large pieces of luggage makes it accessible for those coming from or going to the airport.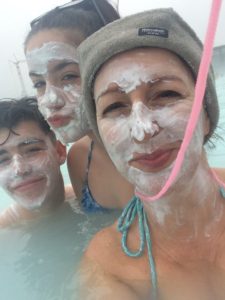 We check-in and take our towels from reception before venturing into the turquoise iridescent waters. Included in our €55 package is a face mask of natural minerals known to have medicinal qualities. Any embarrassing notions felt by the teens are washed off as easily as the creamy mixture is to put on. The main pool caters for large crowds but we find plenty of space to and stay submerged up to our necks in the lagoon for just under 2 hours, long enough to fully appreciate the experience. The Lava restaurant is a lovely way to finish off the experience but be aware that you may need open wallet surgery.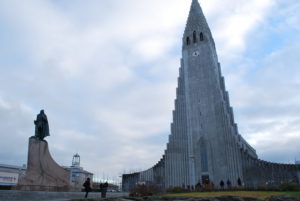 We then check-in at Smari hotel, a good-standard budget accommodation in the suburb of Kopvager, as Reykavik is packed for a music festival. This hotel is good if you have a car because you are about 15 minutes from the city centre but there's a really good pizzeria and a large shopping mall close by so good if travelling with kids and our room had three beds.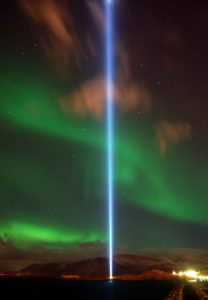 The Icelandic capital is a haven for artists. Each year from October until the anniversary of John Lennon's death in December, Yoko Ono's, Imagine Peace Tower, shines over Reykjavik from Videy Island − a tall beam of light that's visible for miles.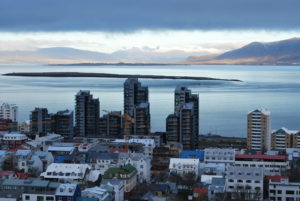 Next morning we're braced for adventure, Reykjavik Excursions pick us up from the hotel on a bus with WIFI, a bonus with teens. The Golden Circle Tour makes an extraordinary geography lesson. Our first stop at Thingviller National Park is where the tectonic plates of Eurasia and America meet. A forty-foot drop below shows just how aggressive the tremors have been in this middle-earth landscape. The sun rises only a few degrees above the peachy tinted horizon but we are told that if we visit in June it's possible to play a round of golf at midnight in broad daylight.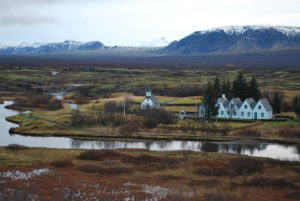 We see on the horizon the town of Geysir, with plumbs of gas spurting from hot springs like a movie-set. The largest geyser blows every five minutes, surrounded by smaller bubbling pools against a dramatic backdrop.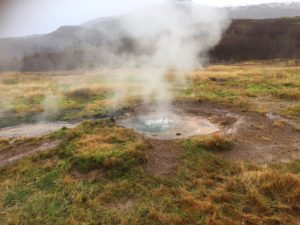 The visitor centre serves delicious fresh local produce and fast homemade food but be-warned, food, like everything else in Iceland is pricey. A good option is a bowl of soup/stew, which is refillable in most self-service cafes, and all the meat is organic and full of flavour.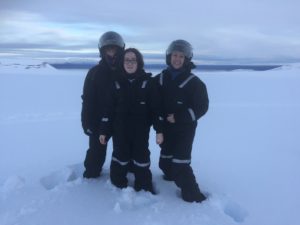 The highlight of the tour is snowmobiling on top of Langjökull, Iceland's second highest glacier. Mountaineers of Iceland guide us on our adrenaline charged mobiles to take a peek of heaven on earth and the ride is a cool activity for teens and their mum.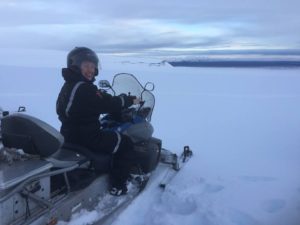 Our guide Hoddi is a wealth of information and he goes into so much detail about the geogrpahy and history of the landscape that it's difficult to remember so much information. But he's passionate and loves what he does and that is why a good tour is more beneficial than making your way independently – especially if you only have a short time. We finish off at Gullfoss waterfall, an impressive sight and great way to end the day, the complete tour takes ten hours.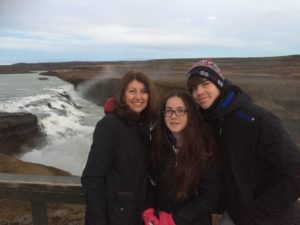 Reykjavik Excursions also provide the cheapest transfers from the city centre to Keflavik Airport and other tours that include Northern Lights hunting. This winter is reported to be the best time to see them for years.
Reykjavik is an easy city to walk around and there are some lovely local shops and art galleries. All the food is organic local and beautifully prepared. We stopped of for coffee at Hans Hafstein house for coffee.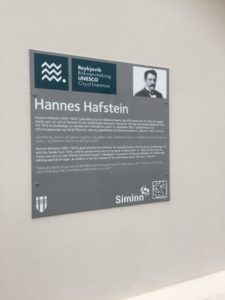 This was the home of the country's first minister and regular recitals and cultural events are held here. Nicole devours the flour free chocolate cake and we have to order a second helping.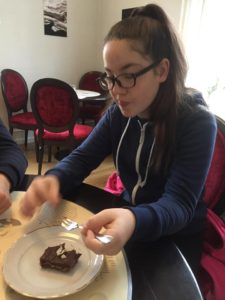 We use our credit card for the purchase and all our shopping because nobody seems to use cash. It's good to know this when travelling and be assured that the newsagents will accept your card even for a packet a gum.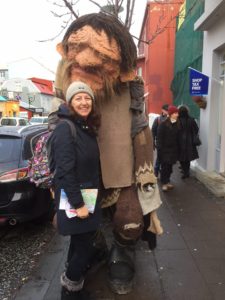 The city pass is good for getting around on public transport and free entry into the many museums – we visit the art gallery but the museum of the Penis will have to wait until next time when I don't have the kids with me!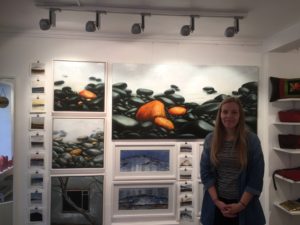 Iceland is expensive. If you are travelling as a family it may be worth hiring a car as taxis especially will eat into your budget but the tours with Reykjavik Excursions are excellent value and it's a good idea to talk to your travel agent before going as they can get better value and direct you to make the most of your time. Iceland got a massive thumbs up from my crew and I recommend it for a weekend break or a stop off on your way across the Atlantic and with some incredible fares from WOW 2017 is the year to see it!
Factbox ICELAND
WOW air fly from Dublin to Reykjavik five times weekly from as little as €69.99, increasing to daily inpeak winter schedule.
Flights to Montreal start from €165.99, with flights to Toronto from €145.00. The WOW Stopover option allows passengers to explore Iceland on either leg of their transatlantic journey at no extra cost. For more info see www.wowair.ie. All prices quoted include taxes and charges.
For more information see http://www.visiticeland.com/
For airport transfer and a range of excursions see https://www.re.is/day-tours
The Golden Circle Tour with snowmobiling €210
Hotel Smari http://hotelsmari.is/ double room from €167 pn
If you want to be well taken care of and leave it to the experts then I've found a jam-packed package from www.travelbroker.ie for those travelling from Ireland
Price
From €1,350 per person sharing twin, based on 3* accommodation in Reykjavik (Hotel Reykjavik Lights or similar, depending on availability)
From €1,600 per person sharing twin, based on 4* accommodation in Reykjavik (Radisson BLU Saga or similar, depending on availability)
Included in price:
–           Accommodation for 4 nights in Reykjavik
–           Breakfast at your hotel
–           Coach transfer from KEF airport to your hotel, via the Blue Lagoon
–           Entrance to the Blue Lagoon including towel
–           Northern Lights
–           Reykjavik Sightseeing (3 hours) by coach and guide
–           Whale Watching (3 hours) including pickup
–           Cheers to Iceland programme
–           Full day Golden Circle Excursion by coach and guide
–           Snowmobile on Langjokull Glacier
–           Full day South Shore Adventure by coach and guide
–           Mid Glacier Hike on Solheimajokull Glacier
–           Coach transfer from your hotel to KEF airport
Blue Lagoon
Spoil yourself by bathing in the famous Blue Lagoon on your visit to Iceland.

Reykjavik Excursions offer great flexibility in Blue Lagoon tours. After having enjoyed all that the Blue Lagoon has to offer you can either return to Reykjavík or be dropped off at Keflavík International Airport (KEF).

Blue Lagoon

The Blue Lagoon is one of the wonders of the world. Taking a dip in the lagoon is a unique experience as well as being an unforgettable opportunity to energize with the forces of nature.
The Golden Circle tour
The Golden Circle tour allows you to visit some of Iceland's most stunning sights, starting with the Geysir geothermal area where the Strokkur geyser shoots a column of water up to 30 metres (98 ft.) into the air every 4-8 minutes in a thrilling display of nature's forces. The visit continues with Gullfoss (Golden Falls) waterfall, created by the river Hvítá, which tumbles and plunges into a crevice some 32 m (105 ft.) deep.

The Golden Circle tour also includes the historical and geological wonder that is Thingvellir National Park, where the American and Eurasian tectonic plates are pulling apart at a rate of a few centimetres per year.

dditionally, the tour includes a visit to the idyllic Friðheimar greenhouse cultivation centre, where you can learn about the magic behind growing delicious, pesticide-free tomatoes and cucumbers with the aid of the geothermal heat that Iceland has in abundance.
South Shore Adventure
This tour is ideal for nature lovers of all kinds. We take you along the south coast of Iceland, one of the country´s most scenic regions, as far as Vík, a charming village surrounded by high beautiful bird cliffs.

Along the way we stop at the gorgeous Seljalandsfoss waterfall but you can walk behind it and through to the other side. We also stop at the majestic and much-photographed Skógafoss waterfall, with its impressive 60 m drop (196 ft). We visit Skógar Folk Museum and get a taste how Icelanders lived in past centuries.

En route all day long – stunning views of glaciers, black sand coastline and impressive rock formations.
Northern Lights Tour
The Northern Lights tour in Iceland takes you to see a spectacular natural phenomenon which happens during the winter months. The Northern Lights, also known as Aurora Borealis, are caused by the interaction of particles from the sun with the upper atmosphere near the North Pole. Northern Lights in Iceland are visible during the winter months, from September to April.

The locations visited during the Northern Lights tour vary from day to day depending on weather conditions. Because this tour is weather dependent, sightings are not guaranteed. However, if you don't see any Northern Lights during this tour, you are welcome to join the tour again, free of charge.