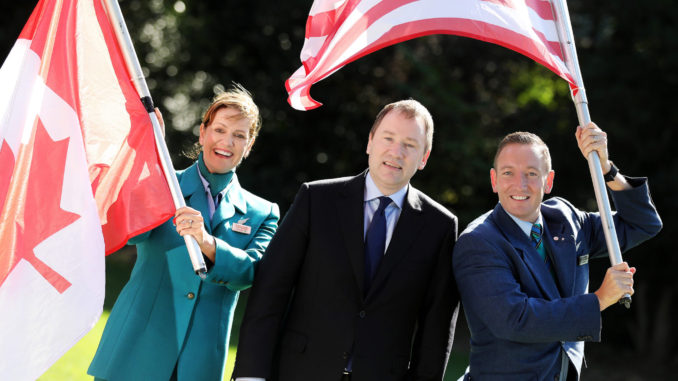 Today I was at the launch of two new routes from Aer Lingus on their Transatlantic service….read all about it here….!
Now Boarding: Montreal and Minneapolis-St. Paul
Aer Lingus announces 2 new North American destinations
More than 3 million seats to 15 transatlantic destinations on sale from 2019
Dublin, Wednesday 12 September 2018 – There are now 15 ways to the USA.…and Canada as Aer Lingus today announced two new North American destinations for summer 2019 – Minneapolis-St. Paul and Montreal, Canada. Aer Lingus will commence flying direct from Dublin to Minneapolis-St. Paul International Airport (MSP) and from Dublin direct to Trudeau International Airport (YUL) in summer 2019.
The two new destinations will add a quarter of million additional seats annually to Aer Lingus' transatlantic network which already comprises 2.8m seats annually between Ireland and North America.
Located on the banks of the Mississippi River in Midwest US, the twin city of Minneapolis-St. Paul, Minnesota joins Montreal, the largest city in Canada's French-Canadian Quebec province, as the 14th and 15th North American destinations on Aer Lingus' expanding transatlantic network[1]. Today's announcement is a further demonstration of Aer Lingus' mission to be the leading value carrier across the North Atlantic.
Montreal, Mon Amour
Famed for its French heritage, the city of Montreal is the second largest French-speaking city in the world after Paris, but it also has a strong Irish connection. In fact, the city's coat of arms displays a clover in recognition of the large Irish community and history within the region. According to the 2011 Canadian census, some 430,000 Quebec residents are of Irish descent and in 2017, the city welcomed 4,200 tourists from Ireland.
Designated a UNESCO City of Design in 2006, Montreal is the perfect travel destination for those seeking culture, architecture and food. The city is built upon a series of interconnected underground tunnels which span 32km and connect shopping malls, metro stations, universities and museums. Montreal also boasts the highest number of restaurants per capita in Canada and the second in North America after New York. Diners in the city will often find food with a French flair on their menus, with the exception of Poutine, a Quebec delicacy consisting of French fries topped with cheese curds and gravy.
Montreal is especially noted for its cultural vibrancy and is home to over 120 ethno-cultural communities. The city plays host to a number of international events, most famously the 1976 Summer Olympics, the annual Montreal International Jazz Festival, the Just For Laughs Festival and the Montreal Grand Prix. Famous faces from the neighbourhood include Grammy award-winning singer Celine Dion, indie rockers Arcade Fire, Star Trek star William Shatner and Canadian Prime Minister Justin Trudeau, after whose father, Pierre, the city's airport is named.
Best of the Midwest
North America's twin cities, Minneapolis and St. Paul, are bisected by the Mississippi river and each have a lot to offer Irish guests. Most famously, Minneapolis is home to the Mall of America, the largest shopping and entertainment centre in the United States and the number one tourist destination in the entire Midwest, attracting over 40 million visitors each year. The mall spans 4.2 million sq ft and houses more than 520 stores, 50 restaurants, multiple nightclubs, an aquarium and even its own theme park.
First-time travellers to the area will be impressed with all the cities have to offer. Outdoor activities and water sports are plentiful with 13 lakes across the region and over 500 golf courses in the state. The cities also feature within the top three most cycling-friendly destinations in the US. For those more indoor-inclined, the impressive Minneapolis Skyway is the largest continuous pedestrian walkway system in the world, linking 69 blocks over seven miles.
It's not all leisure though, the Minneapolis-St. Paul region is also the seat of 17 Fortune 500 company headquarters, including popular chain stores Target and Best Buy as well as 3M and SuperValu. The cities have been noted among North America's fasted growing tech hubs.
Prepare to be bowled over by the warmth of the locals, renowned for being 'Minnesota Nice', a name attributed due to their courteousness and mild-mannered nature. Perhaps it's due to starting their day with a bowl of sweetness – breakfast-favourite Lucky Charms were first made in Minneapolis!
Film fans will be familiar with Minneapolis-St. Paul as it was the backdrop for the Coen brothers' Fargo as well as comedy sports-drama The Mighty Ducks. Musicians Bob Dylan and Prince also hail from the area, as well as world-famous author F. Scott Fitzgerald.
Continued transatlantic growth
Since joining IAG in 2015, Aer Lingus has launched eight new direct transatlantic services to North America including Los Angeles, Newark, Hartford, Miami, Philadelphia, Seattle and now Montreal and Minneapolis-St. Paul, marking the largest ever transatlantic expansion in the airline's history.
Aer Lingus continues to drive its strategy of expanding the airline's Dublin Airport base into a major European transatlantic gateway. The airline will offer connections from 20 key European and UK airports to Montreal and from 12 European and UK start points to Minneapolis-St. Paul, including Amsterdam, Paris, Edinburgh, London and Manchester, among others. The Montreal service will also facilitate connections to six French cities including Paris, Lyon, Toulouse, Nice, Nantes and Bordeaux.
These routes are enabled by the new technology delivered by the Airbus A321 neo long-range aircraft. Aer Lingus takes its first deliveries of this new aircraft in 2019. The Airbus A321 neo long–range aircraft has new engine and aero-dynamic technology which delivers increased range, increased fuel efficiency and reduced noise.
Speaking at the launch of Aer Lingus' new transatlantic routes, Stephen Kavanagh, Aer Lingus CEO said:
"Today we are pleased to announce two new transatlantic routes from our Dublin Hub with daily direct service to Montreal and Minneapolis-St Paul commencing in summer 2019. These destinations each have a rich heritage, vibrant culture and much to offer visitors travelling for business or leisure.
Aer Lingus continues to deliver on its ambition to be the leading value carrier across the North Atlantic, adding new routes and travel options between Ireland, Europe, the USA and Canada, bringing increased connectivity, growing Irish employment and supporting international trade and economic growth."
Brian Ryks, Executive Director and CEO of the Metropolitan Airports Commission, which owns and operates Minneapolis-St. Paul International Airport, commented:
"Minneapolis-St. Paul and Dublin are both important centres for commerce and culture, with vibrant arts and entertainment offerings. I am very pleased that Aer Lingus will provide a direct connection between the cities, creating opportunities to strengthen economic and cultural ties on both sides of the Atlantic."
Philippe Rainville, President and CEO of Aéroports de Montréal added:
"We are tremendously proud to welcome Aer Lingus, the 37th airline to join the great Montréal-Trudeau family. The arrival of the Irish carrier on the Montréal-Dublin route starting in August 2019 will enhance the annual air service to a very popular destination for both our communities, at a competitive price. I'm sure travellers will appreciate this year-long direct connection and am confident this new collaboration will be a successful one."
Fares to Montreal start from €239 and to Minneapolis-St. Paul from €249, each-way including taxes and charges, when booked as a return trip.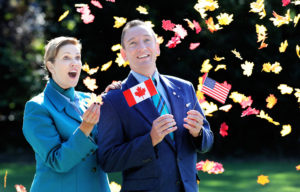 Guests travelling to North America with Aer Lingus can enjoy the complimentary 23kg baggage allowance (Smart Fare), complimentary on-board meals, 120-hours of the very best in-flight entertainment and U.S. Customs and Border pre-clearance at Dublin and Shannon airports.
'Dub Hub'
Aer Lingus' two newest transatlantic destinations were announced at an event in Dublin today which also saw the launch of a report by EY, which assesses the potential economic impact which could derive from the development of Dublin Airport as a Hub.  The report concludes that investment in hub infrastructure at Dublin Airport could add €18.6bn to Ireland's GDP over the next 15 years, as well as generating an additional 33,950 jobs in the Irish economy.  The bulk of the jobs would be generated in the tourism sector (26,990 jobs), with the remainder coming from the aviation sector and other indirect jobs.  An additional €6bn would flow to the Exchequer over the same period, from increases in a variety of taxes including VAT, excise, corporation tax and payroll tax.  During the construction phase from 2018 to 2023, an additional 1,147 jobs would also be created.
[1] In summer 2019 Aer Lingus will fly direct to 15 North American destinations including Minneapolis-St. Paul and Montréal. Including Shannon services to Boston and JFK, Aer Lingus will operate a total of 17 routes between Ireland and North America