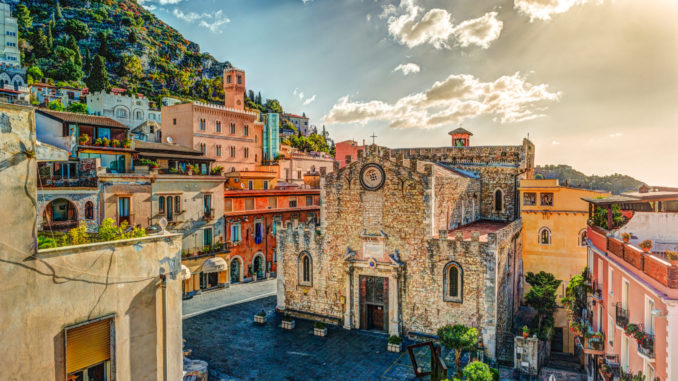 The alluring island of Sicily remains a true favourite amongst Irish holidaymakers. With this in mind, Topflight, Ireland's Italian Specialist have expanded their already extensive programme to Sicily. The programme for 2018 includes the resorts of Giardini Naxos, Letojanni and Taormina. As an island destination Sicily offers diverse culture, picturesque beaches, mouthwatering cuisine and a wealth of historical treasures all waiting to be discovered.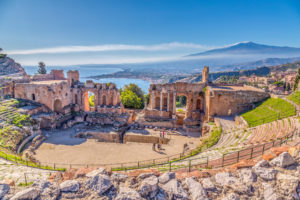 Although part of Italy, the island of Sicily has its own distinctive, enchanting culture and charm. Its seductive beauty and idyllic positioning in the heart of the Mediterranean makes it the perfect holiday destination for those who love the lure of seaside fun, culture, authentic fare alongside an abundance of amazing natural spectacles.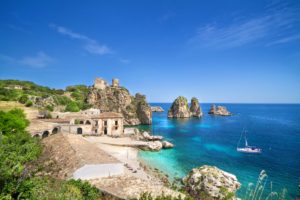 Topflight's featured resorts:
Taormina provides postcard-perfect backdrops that many associate with Italy's beauty. Golden hued buildings are tucked behind vines and blooms that spill over the tops of buildings and balconies, its ancient Greek amphitheatre makes for a must-see spectacle and the crystal clear waters make its beaches truly idyllic. Al fresco dining is a must whilst in Taormina whilst you sit and watch the world go by.
Giardini Naxos is just down the road from Taormina and is often credited as the perfect family destination in Sicily. This is a popular destination for Italians to holiday, providing a charming corner of Sicily that has grown from a sleepy fishing village to a thriving and lively seaside resort.
Letojanni offers the true Italian 'La Dolce Vita' offering a laid back and slower paced side of Sicily. Long sandy beaches are ideal for spending the day by the shore in the Italian sunshine while a maze of quaint winding streets, dotted with great restaurants make for ideal places to lazily traverse and discover.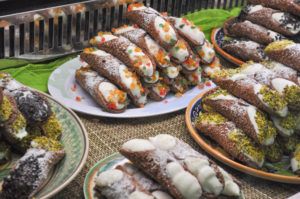 Holiday Options:
3* Hotel Kalos, Giardini Naxos – NEW HOTEL FOR 2018!
The Hotel Kalos offers elegant, peaceful and relaxing accommodation right on the seafront, in the most beautiful scenic surroundings in the Bay of Naxos.
16th June, B&B from €799pps
4* Hotel Le Terrazze, Letojanni – NEW HOTEL FOR 2018!
Set on a hillside overlooking the ocean and the village of Letojanni, the Hotel Le Terrazze provides everything you could need to have a truly relaxing break with breathtaking views.
6th October, B&B from €799pps
4* Hotel Olimpo, Letojanni – NEW HOTEL FOR 2018!
With a fantastic panoramic location and all the facilities you need to enjoy the perfect relaxing break in the Sicilian sunshine, the four star Hotel Olimpo offers a charming accommodation option.
29th September, B&B from €849pps
4* Hotel Arathena Rocks, Giardini Naxos – NEW HOTEL FOR 2018!
Situated on the seafront and overlooking the breathtaking natural beauty of the bay formed from volcanic rock, the elegant Arathena Rocks Hotel prides itself on its warm, friendly and perfectly relaxing atmosphere.
2nd June, B&B from €949pps
Escorted Tour: 4* Mount Etna, Syracuse & Catania Escorted Tour
Visit the mighty volcano Mount Etna, explore the ancient wonders of Syracuse and lose yourself amid the historic and cultural jewels of Catania with this classic Sicilian adventure.
Also Includes:
✔ Half day guided excursion to Mount Etna
✔ Half day guided excursion to Catania
✔ Full day guided excursion to to Syracuse & Ortigia Island
9th June, B&B fr €1059pps
Discover the family side of Italy: 4* ATAHotel Naxos Beach Resort, Giardini Naxos
The ATAHotel Naxos Beach is a bustling international hotel complex catering for all tastes and age groups. With a choice of restaurants, an extensive range of activities for children and an Olympic sized swimming pool. Despite its size, there is a lovely, village atmosphere about the place and there is no shortage of activities to suit all.
2nd, 9th or 16th June fr €1116pps
All Topflight holidays include flights with free baggage allowance, return transfers, accommodation for 7 nights and rep service
To book visit www.topflight.ie, call Topflight on 01 240 1700 / 028 9752 1168 or visit your local travel agent