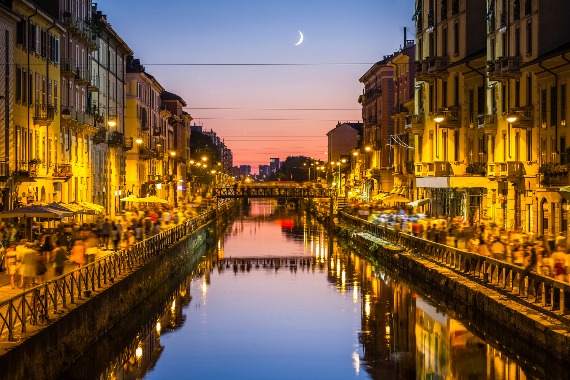 Midnight in Milan: The City's Best Nightlife Spots
In Milan, people are busy. You'll notice it right away and it's why Milan is the financial and fashion capital of Italy. The beauty of this is that busy people take their leisure time seriously, and so with its parks, piazzas, and a dazzling array of nightlife spots, there's plenty to keep you entertained.
Stay at the elegant yet affordable
Hotel Panizza
. Located in the historic Magenta Quarter, its central and served well by public transit. When planning your night, bear in mind subways run until 00:30 while trams run until 02:00 and start running again at 04:00.
Some of Milan's best features are the numerous piazzas dotted throughout the city. These public squares are a popular place for locals and tourists to gather in the evening. Though often lined with bars and cafés, you'll also see people eating and drinking al fresco in the piazzas themselves. As long as you wrap up, it can be a nice alternative to the bar scene. Perhaps the most famous is the Piazza del Duomo, right in the heart of the city and home to the
Milan Cathedral
. This impressive Gothic-style cathedral took over six centuries to build and is adorned with over 4,000 statues and gargoyles. Enjoy the view from the ground, or make your way to the rooftop terrace for its best feature – the stunning views of the city and perhaps a glimpse of the Alps. The roof is open until 7pm, making it the perfect place to catch the sunset and see Milan's skyline start to twinkle.
How about a spot of evening shopping? Milan is a renowned fashion capital, after all. Connected to the Piazza del Duomo is the beautiful Galleria Vittorio Emanuele II, one of the world's oldest shopping malls. Here you'll find the headquarters of luxury fashion houses such as Gucci, Prada, Valentino, Armani, and Dolce & Gabbana, a mecca for label lovers. Stores stay open until 7:30pm but the mall itself is open 24 hours, so take a late-night walk through to admire its iconic glass dome and do some high-end window shopping at the same time.
All dressed up with nowhere to go? This is never a problem in Milan. At night, this cosmopolitan city lights up. Evenings kick off with the aperitivo, a happy hour of sorts which creates a city-wide buzz from about 6-9pm. It's a beloved local tradition that sees cocktails served alongside a free buffet of light bites. Keep it local and order a Negroni (key component, Campari, which originated in the nearby town of Novara) or an Aperol Spritz and enjoy the vibe as the city's finance, fashion, and media folk congregate to unwind after a busy day.
If grazing on free nibbles for three hours hasn't entirely satisfied you, don't worry. The Italian love of food is just as strong here as it is down south. Risotto alla milanese is the signature local dish. Arborio rice is cooked in white wine, flavoured with saffron and grated parmesan brings it together with a delightful creaminess. Go traditional at Trattoria Masuelli S. Marco, where the Masuelli family have perfected their version over the course of 90 years.
If you're looking for a night on the tiles, you've come to the right place. Milan has no shortage of drinking establishments, no matter what your style. In the Garibaldi and Corso Como, you'll find swanky lounges and clubs serving fancy drinks to fancy people. Dress to impress at the chic
Mandarin Bar
and you may rub some shoulders with supermodels and soccer players alike.
If cosy bars and live music are more your scene, try the Porta Ticinese and Navigli areas. It's a great place to explore during the day with plenty of quirky stores and art galleries lining the streets. Late night restaurants, bars and cafés keep the atmosphere bustling long into the evening and a moonlit stroll along the canals that criss-cross through Navigli is a great way to soak up some of Milan's magic and do some people-watching at the same time.
Fancy a night out with a difference? Milan's La Scala is one of the world's most prestigious opera and ballet theatres and has been hosting international talent for over 200 years. Tickets are quite reasonable once you book in advance. If you can't attend a performance while you're in town, it's still well worth a visit. The attached La Scala Museum offers guided tours of the opulent hall and you may even get to tread the floorboards of its legendary stage.
One of the perks of Milan's work hard, play hard culture is that the night begins and ends relatively early. For the locals, this means they can get up for work the next morning, but for visitors, it means you can get up early(ish) the next day and do it all over again.
Aer Lingus flies directly from Dublin to both Milan's Linate (LIN) and Malpensa (MXP) airports.