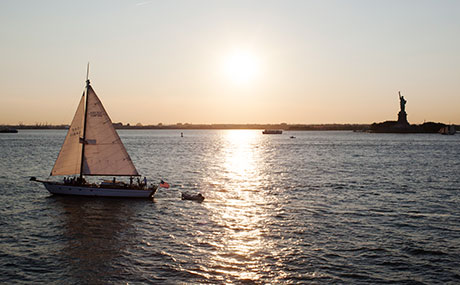 One of my favourite free things to do in Manhattan is to take a ferry to Staten Island. I chose the experience for a very special scene in my 2008 novel Three Nights in New York. After reading this from NYCGO.com I think I'm going to have to go back there and explore Staten Island a bit better.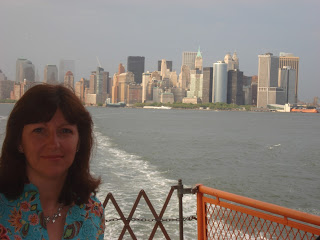 Lower Manhattan taken before the Freedom Tower was built.
This is me in 2007 on the ferry to Staten Island.
A 25-minute ferry ride from Lower Manhattan, St. George is a historically rich and charming neighborhood with cultural institutions, authentic restaurants and outdoor activities. As part of the neighborhood promotion, a short documentary film is available online that features local insiders who highlight and recommend the must-see attractions of St. George. To view the documentary and neighborhood highlights, visit
nycgo.com/insiderguides
.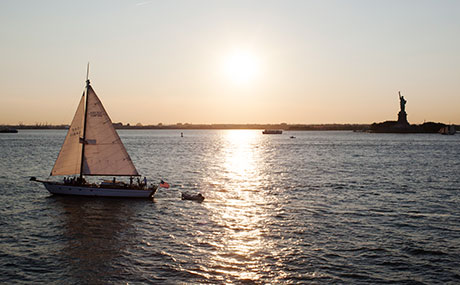 "From the northern edge of the Bronx to the far Rockaways, New York City is rich in history, culture and entertainment," said Mayor Bill de Blasio. "NYCGO Insider Guides give visitors to our great city a slice of the true New York, and Staten Island's bustling neighborhood of St. George is the latest to top that list. Accessible for all New Yorkers via the free Staten Island Ferry, St. George is a repository of summer fun for New York families and visitors alike."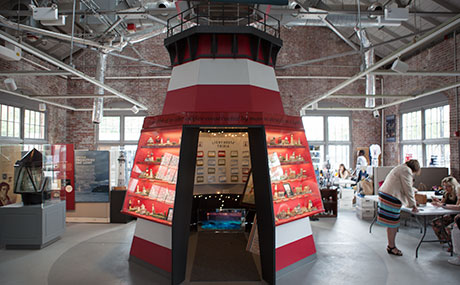 "NYC & Company has been a tremendous partner in marketing Staten Island as a 'must visit' for tourists coming to the city," said Staten Island Borough President James Oddo. "Beginning with St. George is ideal, as the vast majority of visitors we get arrive via the Staten Island Ferry. Just off the ferry, we have many cultural attractions, restaurants and a brewery to welcome our guests."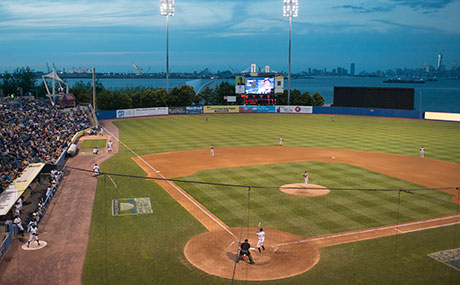 "The friendly neighborhood of St. George offers plenty of cultural institutions and attractions for visitors to plan their day exploring Staten Island," said Marty Markowitz, NYC & Company's vice president of Borough Promotion and Engagement. "Summer is the perfect time to see this beautiful waterfront enclave—from Italian dining to a new museum, we invite everyone to hop aboard the free and famed Staten Island Ferry."
Experience St. George Like a Local
·
Attractions: Along the St. George Promenade, the Postcards September 11th Memorial pays tribute to borough residents lost on 9/11. Nearby, baseball fans can enjoy affordable family fun at aStaten Island Yankees game, the Single A minor league affiliate of the New York Yankees. The newly-opened National Lighthouse Museum, built in the original home of the US Lighthouse Services General Depot, educates visitors about lighthouses and their keepers.
·
Shopping: Located across from the ferry, Hypno-Tronic Comics offers rare finds for comic book collectors.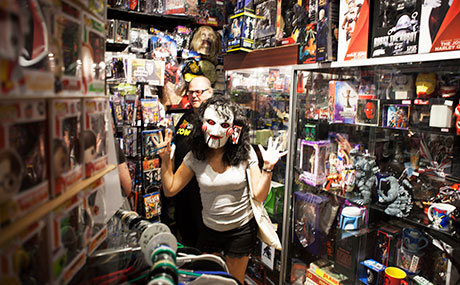 ·
Dining: Visitors can sample home cooking prepared by a rotating series of head chef "nonnas" from Italy, Asia and the Middle East at at Enoteca Maria, savor the bold flavors of fine Spanish fare atBeso, feast on a freshly seared steak on an open-air rooftop patio at Ruddy & Dean, or enjoy thin-crust pizza and specialty pies at Pier 76.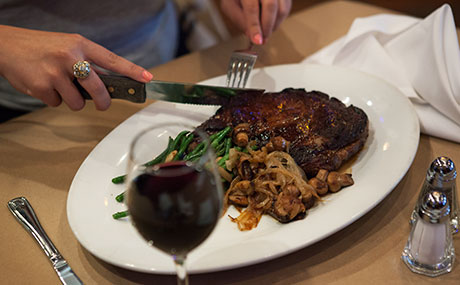 ·
Arts & Entertainment: Cultural enthusiasts can learn about the connections between natural science, art and the history of the borough at the Staten Island Museum, which will be opening an extension

September 19

at Snug Harbor Cultural Center & Botanical Garden in Randall Manor. The St. George Theatre, which opened in 1929, features a variety of music, dance, comedy and theatrical performances year-round; the venue's past performers include Donny Osmond and Carol Burnett, with upcoming appearances by Tony Bennett and Whoopi Goldberg. Socially engaging exhibits at the Staten Island Arts' Culture Lounge, as well as a rotating collection of local artists at the Art at Bay Gallery, sponsored by the Staten Island Creative Community, add to the borough's vibrant arts scene.
·
Nightlife: Throughout the week, visitors can head to 120 Bay Café or Steiny's Pub, for live music or karaoke, food and a lively bar scene. Hops enthusiasts can learn about the art of craft beer atFlagship Brewing Company.
·
Looking Forward: New attractions, shopping and dining developments coming to the area are all part of Destination St. George, which includes Empire Outlets, New York City's first shopping outlet destination with a planned 2016 opening; the 630-foot-tall New York Wheel, expected to open in 2017, which will be taller than the London Eye and the Singapore Flyer; and Lighthouse Point, which will be home to a new hotel, retail shops and restaurants by late 2019.
Those looking to spend more time in Staten Island will find several hotels that provide complimentary transportation to and from the St. George Ferry Terminal, including the Comfort Inn Staten Island, Hampton Inn & Suites Staten Island, Hilton Garden Inn New York/Staten Island and Holiday Inn Express Staten Island West.

For the best available rates, visit
nycgo.com/hotels
and reserve through NYC & Company's exclusive hotel booking partner, Booking.com.
NYCGO Insider Guides: Get to know our neighborhoods
New York City is made up of five distinct boroughs: the Bronx, Brooklyn, Manhattan, Queens and Staten Island. Formerly Neighborhood x Neighborhood, NYCGO Insider Guides, which debuted in March, spotlight a new neighborhood each month. The video documentary series and editorial content take New Yorkers and visitors behind the scenes to introduce them to the character and characters that define some of New York City's most fascinating neighborhoods.
If you would like to read my book Three Nights in New York you can get it here on Amazon