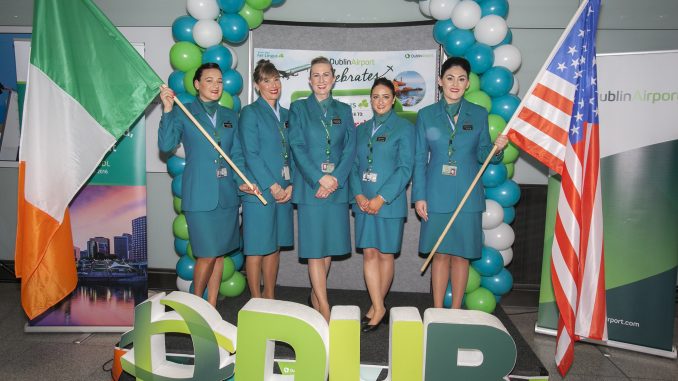 Aer Lingus' Inaugural Flight from Dublin to Hartford Takes Off
New transatlantic service creates access to New England from Ireland,
the UK and Continental Europe
Aer Lingus' inaugural flight EI131 to Hartford, Connecticut took off on a Boeing 757, named St. Brendan, registration EI-LBT, today from Dublin airport at 2.40pm. The airline now offers a year-round service from Dublin direct to Hartford, Connecticut, in the heart of New England.
The new Aer Lingus service not only creates a direct connection between Connecticut and Ireland, it further establishes Dublin as the natural transatlantic gateway to Europe for those travelling from North America. Via Dublin, North American travellers can avail of onward connections to 28 UK and European airports including London, Madrid, Barcelona, Edinburgh, Amsterdam, Paris, Bristol and Berlin, plus many more.
Hartford is the capital of Connecticut and is often referred to as the 'insurance capital of the world'. Housing many insurance company headquarters, insurance remains the region's major industry. Hartford and the Connecticut region are also popular as tourist destinations with many interesting visitor attractions. Hartford is home to the Mark Twain House where the author wrote his most famous works. Close by in Newhaven, Connecticut is Yale University – one of the most prestigious American, Ivy League universities.
The Hartford launch is the third of three new Aer Lingus transatlantic routes to commence this year, marking the single largest expansion of Aer Lingus' transatlantic network since the airline commenced transatlantic flying in 1958. A direct new service to Los Angeles, California began in May and on 1stSeptember a new daily service commenced from Dublin to Newark, New Jersey.
The growth plan underpins Aer Lingus' successful strategy of expanding its Dublin Airport base into a major European transatlantic gateway. The convenience of U.S Customs and Border Protection services at Dublin has enhanced the continued growth of Aer Lingus' Dublin operation as a connecting gateway. Three new transatlantic aircraft have joined the Aer Lingus fleet this year and as previously announced two new Airbus A330s will be delivered in 2017.
Stephen Kavanagh, Chief Executive Officer, Aer Lingus, said: "We are delighted to commence a direct service between our Dublin gateway and Bradley International Airport, Hartford and to offer a convenient connecting service from major cities across Britain and Europe. Whether travelling for business or pleasure we aim to deliver the quality service and competitive prices that have earned us our Skytrax 4-Star airline status. I'd like to take the opportunity to thank all the state representatives, business and community leaders who have supported Aer Lingus to date and we look forward to making this route a success for all involved."
Vincent Harrison, Dublin Airport Managing Director said: "We are delighted to welcome Aer Lingus' new service to Hartford, which adds another North American destination to the airline's extensive Dublin Airport route network. Hartford is the sixth new transatlantic route that Aer Lingus has launched at Dublin over the past five years and we look forward to continuing to work closely with them to promote this new service."
Services available to customers on transatlantic flights include Pre-clearance U.S. immigration and customs at Dublin and Shannon airports, connections to onward destinations in the U.S. with airline partners, hi-speed internet access, an extensive in-flight entertainment selection, gourmet meals including premium economy options and award winning cabin service.
Fares from Dublin to Hartford start from €219 for travel between November 2016 and March 2017.
For more information and to book flights to Hartford, visit www.aerlingus.com