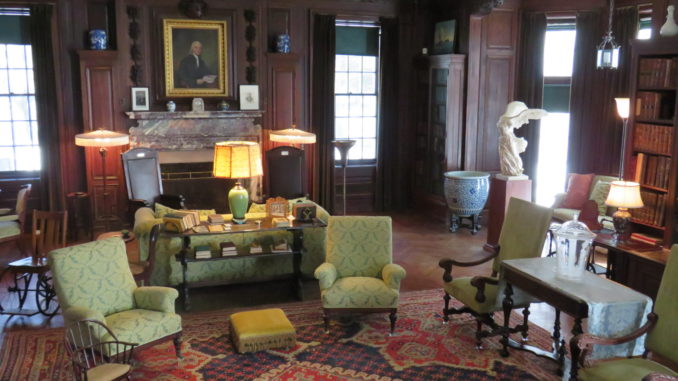 Cheap fare doesn't mean cheap service and you can be an uptown girl or upstate one!
Norwegian airways and New York State       May 2018
I'm looking across a sea of fluffy white clouds as the sun beams and glistens on the silver winged aircraft – the sky is a cerulean blue blending into powder and there's nowhere else I'd rather be at this moment. Norwegian.com is emblazoned on the wing and I'm reminded that a cheap flight doesn't mean cheap service. The stewards, who are all rather cute, couldn't be more helpful. The 'nice and tasty meal' was just that and I'm sitting at an emergency exit with as much room as a premium economy seat. If a designated seat, food and check-in bags are important to your flight experience they can be added in a package for €65 each way.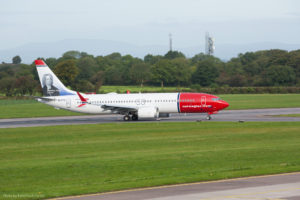 My fare starts at €140 each way which is among the best value for crossing the Atlantic. I'm on an economy flight from Dublin to Stuart International airport in New York State and it's only an hour and quarter couch ride before I can be in the middle of Manhattan. At $20 each way on a comfortable bus with wifi, it's cheaper and quicker than a taxi from JFK. But 'Sex and the City' can wait on this trip, as I'm going to be an upstate girl rather than uptown girl and explore the history and must see in Dutchess County close by.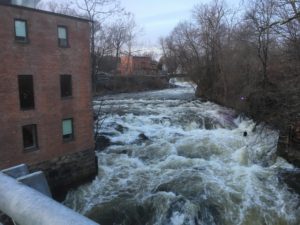 A good starting point is the pretty town of Beacon which is a twenty minute taxi ride from the airport so you really don't need a car. This once industrial town is now a hub of galleries and inspiring respite for artists. I found a special place to stay at The Roundhouse, a boutique hotel situated on cascading waterfalls that once housed an industrial complex. Visitors can view the rush of the rolling river outside from the comfortable streamlined restaurant which serves cuisine that will rival top restaurants in Manhattan.
My first must see in Dutchess County is the homeplace of America's 32nd President Franklin Delano Roosevelt at Hyde Park. Situated on the banks of the Hudson River, this estate is also home to the very first presidential library. I have visited a few but this one is particularly well placed historically as it gives the visitor great insight into FDR's private life in his home as a young boy and follows through to tell the tale of his work life through the multimedia exhibitions at the library. It's difficult to tell his story without the inclusion of his supportive and energetic wife Eleanor, and this is achieved with great aplomb and designated exhibits showing her input.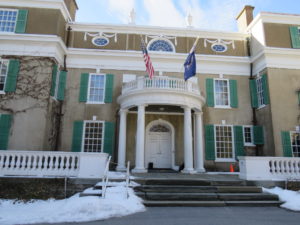 So many pictures were taken of FDR sitting down during the tenure of his presidency anyone would be forgiven for overlooking the fact that he was placed in a wheelchair after contracting polio at the age of 39. I start the tour on the driveway of FDR's family home where the president spent his formative years. My guide is Park Ranger, Lawrie, who knows every corner of this grand Federal style house. "This house is called, Springwood Estate and FDR used this long straight driveway that we are standing on to exercise as part of his ongoing therapy, dragging his legs behind him to build his upper body strength." He points out the stables and graveyard where the president and Eleanor are buried and he advises we can go speak to workers when he is finished giving his tour. It's an impressive park that expands over 2.5 km.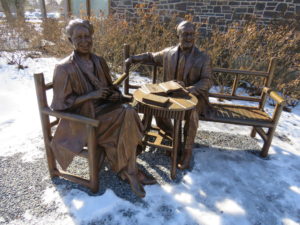 Born of a Dutch American family, his wealth and position was orchestrated from the start with a life of privilege attending Harvard and Colombia Law School before working as a lawyer in New York. However his wife remarked that she believed his condition made him a more sensitive and understanding person. Indeed as I pass through the exhibits, Roosevelt's apparent care for the common man through initiatives such as the New Deal seemed to transform the difficult era of the great depression. In 1933 when FDR took office the first time, 32 banks went bust and 50% of the farms in the state of Mississipi went up for auction.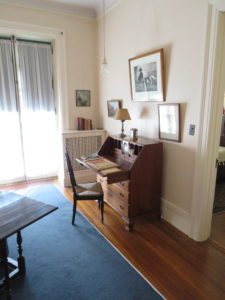 His policy of counteracting extreme poverty across the country involved the planting of 3 billion trees in the National Parks, a social security system and numerous building projects, saw him go on to be the longest serving president ever. It's interesting to see the displays echoing the strong role Eleanor played at facilitating his work and extracts from her daily dairy which were perhaps the first evidence of a blog in the making.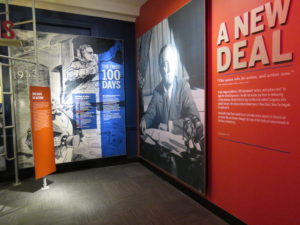 Roosevelt's fireside chats are played on loop at another exhibit bringing me through the worst days of World War II and displayed in a reconstructed kitchen of a typical home in 1940s America. It's a poignant journey through a time that could be easily forgotten but embodied the transformation of America as a super power. Whether it was FDR's new deal that improved conditions or wealth generated from the war well I'm not quite sure which was responsible. It's impossible to write about FDR's legacy without mentioning the Four Freedoms. He made a speech to congress on January 6th 1941in which he envisioned a world based on, "Freedom of Speech and expression, Freedom of all peoples to worship God in their own way, Freedom of want and finally Freedom of Fear."
A full day could easily be taken up exploring all that there is to see in the park but to fully capitalise on a visit to New York State, time must be made for shopping. Poughkeepsie Mall has all the brand names that are popular in the USA, especially those shops that haven't reached Europe such as Bath and Body Works and Justice. To really go large then a trip to Woodbury Common is a must, and only twenty minutes from Stuart International Airport. So making time for culture, shopping and on a budget is now possible from Ireland and instead of New York, New York, I'm left in a New York State of Mind!
Factbox – Dublin
Norwegian is continuing the expansion of its trailblazing long-haul network with the launch of a second daily service direct from Dublin to Stewart International Airport for Winter 2018.
Norwegian fly a daily direct service between Dublin and Stewart International Airport
Flights are operated by a fleet of brand new Boeing 737 MAX aircraft
Fares start from €140 one way / €239 return including all taxes and charges
To book visit www.norwegian.com/ie or call 0330 828 0854
Hand baggage is max 55×4-x23cm and one small personal item max 25x33x20cm which combined weigh 10kg. It is €35 if you pre book a bag online.
Highlights in Beacon are Bannerman's Castle 
http://www.BannermanCastle.org , Mount Gulian Historic Site http://www.mountgulian.org/ , The Dia:Beacon art museum.  www.diaart.org
For more information see https://www.dutchesstourism.com/
Fancy doing some shopping? http://www.premiumoutlets.com/outlet/woodbury-common