Only a couple of hours up the road from Dublin, Northern Ireland is the perfect destination to enjoy a last minute break this summer.
Last weekend I decided to see what it would be like to be a Derry Girl and took my friend and our daughters north of the border. It was my first time in the Walled City and still referred to as the Maiden city because its walls have never been breached – not because of it's history as a shirt making capital with one man to every three women in the city during the nineteenth and twentieth centuries.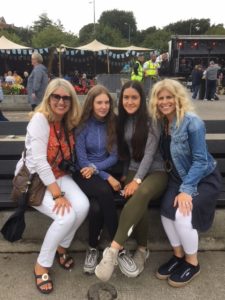 The Foyle Maritime Festival was in full swing with spectacular stories told on the water during the parade of light. Prates, Dancers and sailors lined the ships against a backdrop of fireworks. The Peace bridge is a symbol of hope and unity for the future and since its completion in 2011 has done much to link the two sides of the city. http://foylemaritimefestival.com/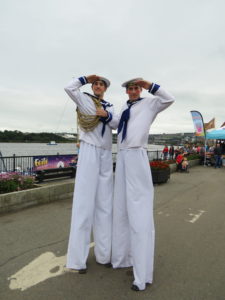 Where once the British Army Troops were based in now Ireland's only Brewery restuaurant supplying wonderful food and its own beers. The Passionfruit beer is only one of a long list of fabulous tasting beers to savour. Walled City Brewery is a must visit and while I was there a series of summer concerts were set up. http://www.walledcitybrewery.com/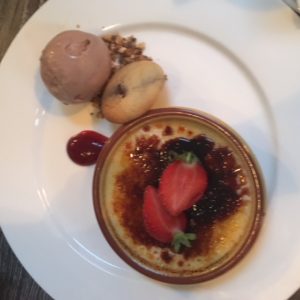 The Brickwork restaurant https://brickworkderry.com/is another great destination with delicious food and youthful vibrant atmosphere within the walls of the city. The flavour of the Turkish Delight Creme Brulee will stay with me forever.
A great way to get your bearings is to walk the Walled city with Martin McCrossan Tours.http://derrycitytours.com/ For only £4 I was entertained by a lively informative guide Sorcha Bonner. The history of the Siege back in 1688 was explained to me along with gory details such as the living conditions and reason for the Apprentice Boys call of 'No Surrender'. In the distance I viewed the many murals on the Bogside with a poignant civil rights message and heard tales of Derry's famous son's such as Brian Friel, John Hume and Phil Coulter.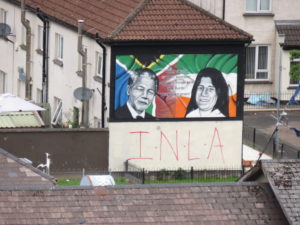 Must visit museums include http://www.thesiegemuseum.org/ and the Museum of Free Derry https://www.museumoffreederry.org/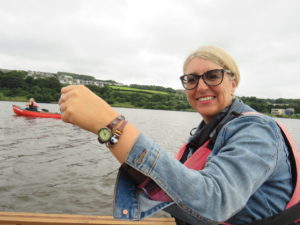 I finished off my time there in a canoe with Inish Adventures based up the road in Donegal. Our guide Adrian took us up the river and under the Peace Bridge all the way to the clipper ships on view at the end of the penultimate leg of their round the world race.  https://www.inishadventures.com/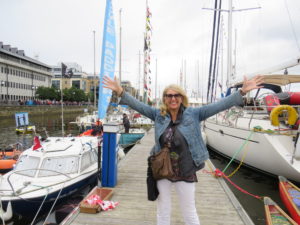 The festival finished on Sunday with the start of the Clipper race as the ships set off for Liverpool. There's much to do year round and Derry is one of the six top destinations world wide to visit during Halloween.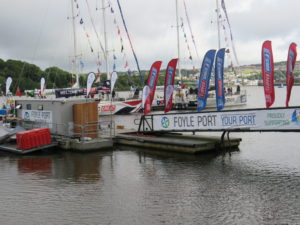 For more information seehttp://www.visitderry.com/  and https://discovernorthernireland.com/
I've put together a List of places to stay in Derry
Everglades – Derry Girls Summer Special – B&B with cocktail & Walled City Tour, from £45pp
https://secure.hastingshotels.com
4* City Hotel: Summer in the City Offer = Dinner, bed and breakfast from £125 per room (2 people sharing);                 Autumn Escape = same package from £99
4* Bishops Gate Hotel: B&B from £99 per night and Foodie Break: Enjoy overnight accommodation in a deluxe room with cooked to order breakfast ,four course gourmet dinner and signature cocktail and welcome sweet plate on arrival.
Midweek From £139 per night, Friday From £169 per night
The exquisite Grade B1 listed Bishop's Gate Hotel is perfectly positioned within the historic city walls in the heart of the city.  The guest rooms and suites are contemporary yet serene, with views across the cityscape and are designed to provide the ultimate sanctuary for guests
The city's newest and coolest boutique hotel, Shipquay Hotel overlooks the Old City Walls and the famous Guildhall.  This boutique hotel is luxurious and intimate with 21 bedrooms, many with views over the city's famous landmarks, delicious food and wine in the restaurant and moreish cocktails in Lock & Quay Bar.  It's also the perfect place to enjoy brunch, lunch, a light bite to eat or an evening meal.
What's on for the next few months in Derry?
Foylehov Activity Centre is the only Hovercrafting Centre in Northern Ireland as well as home to the only Powerturn Off Road Buggies in Northern Ireland. In addition we have Archery, Laser Tag / Laser Combat, Football Golf and Laser Clay Pigeon Shooting. http://www.foylehov.com
The Walls Have Ears is currently running up to the end of August http://www.visitderry.com/Details/Walls-Have-Ears-Londonderry-Derry-P74344
Arts over Borders Celebrates Brian Freil http://www.visitderry.com/Details/Arts-Over-Borders-presents-The-3rd-Lughnasa-FrielFest-Londonderry-Derry-P52168
Foyle Pride runs in August http://www.visitderry.com/Details/Foyle-Pride-Festival-Londonderry-Derry-P72485
Carnival of Colours runs in September http://www.visitderry.com/Details/Carnival-of-Colours-Londonderry-Derry-P72675
Belfast sees opening of the Grand Central
Grand Central – Grand Welcome Offer – B&B with cocktail, from £100pp
https://secure.hastingshotels.com/
There's lots going on over the coming months and here's a list
Feile 30, West Belfast    2 – 12 August
Feile an Phobail returns to Belfast this August with a bumper line-up of acts and events including headline act Ollie Murs on August 11th. Launched by Taoiseach Leo Varadkar in June, the 30th anniversary of the event includes street theatre, concerts, discussions, debates and readings in what is the largest community festival and summer school in Ireland!
Discussion and debate has been a key part of Féile for a long time, and this year's programme is packed with more thought-provoking events than ever before. A 'Leaders Debate' on August 7th will draw some interest as all political parties on the Island will be represented- from Fianna Fail to Fianna Gael and Sinn Fein to the DUP. Other noteworthy events include Cara Dillon in concert at the stunning Clonard monastery.
Arts Over Borders, 2 – 19 August
The Happy Days Enniskillen International Beckett Festival (2-5 August) and  Lughnasa FrielFest (9-19 August) will celebrate the work and themes of Samuel Beckett and Brian Friel in unique performances throughout northern literary lands. Renowned stars of screen and stage will perform in intriguing locations such as secluded lakeland islands, stunning beaches, Marble Arch Caves (and secret locations too!).  The festival will be the final edition in the border county of Fermanagh ahead of Brexit so programmers have created as the festival centrepiece two experiential Beckett Border projects which audiences will experience in both Northern Ireland and the Republic of Ireland.
What Where, 

2 – 5 August

: Canadian born and Northern Irish raised actor Michael Condron, well-known for his role in Game of Thrones, will join a small team of esteemed actors to depict Beckett's last play 'What Where'. The powerful drama is receiving an exciting new production and will be held at a secret location with the audience departing on a bus from Enniskillen Castle.
The Odyssey by Homer, 

9 – 19 August

: On the shores of Derry~Londonderry's Downhill, Magilligan, Ballycastle and Portstewart beaches, Maxine Peake and Imogen Stubbs will take part in an all-female cast honouring Friel's enthusiasm for the works of Homer. As part of the Arts Over Borders programme, the series is believed to be the first time a woman has performed the orator role of Homer's play in its 2000-year existence.
Lisa McGee in Conversation, 

18 – 19 August

: Friel inspired many Northern Irish playwrights, screen writers and creatives, including none other than the original Derry Girl Lisa McGee. Ahead of a presentation of Friel's translation of Russian author Chekhov's Three Sisters, McGee will open the second weekend of Lughnasa FrielFest at Ulster University by discussing her admiration for the iconic dramatist and the meteorological success of Derry Girls.
Good Vibrations, Lyric Theatre, September: The Lyric Theatre will bring to the stage a musical version of the life and success of Belfast legend Terri Hooley as part of the theatre's celebration of 50 years at the heart of live theatre in Northern Ireland. 'Good Vibrations', named after Hooley's record shop and label, will explore his efforts to galvanise young musicians in Northern Ireland. The production will explore his drive to create a new community brought to life by the underground punk scene.
Belfast Culture Night, 21st September: A highlight in the culture calendar, this celebration has gone from strength to strength and is marking ten years as the city's largest cultural festival. Having attracted a record-breaking 100,000 visitors in 2017, Belfast Culture Night is seeking to smash another world record this year as visitors are encouraged to partake in the largest tap dance lesson. Register on the Culture Night Belfast website to become a record breaker on 21st September!