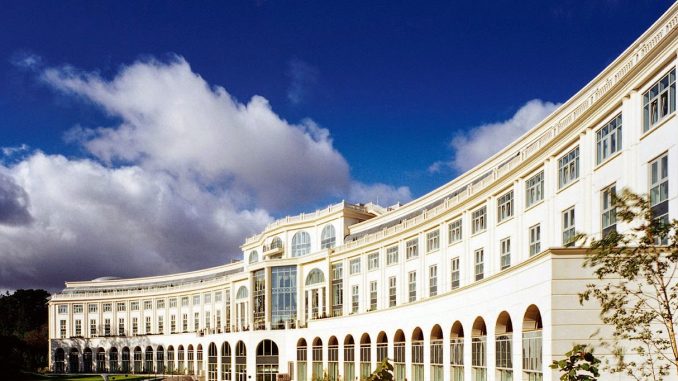 Everyone seemingly wants to come to Ireland. I heard today that George Clooney and his new wife have intentions to make Ireland their holiday destination this summer, so as a native I'd like to make some recommendations with my first post of the new year.
Our family have a ritual to start the year off as we mean to go on so we go away with the grandparents for a couple of nights and there are few places more picturesque on the east coast than the lovely Wicklow Mountains. The Powerscourt Hotel, Autograph Collection is a gem nestled under the gaze of the Sugarloaf mountain and only a few minutes off the M50 if travelling from Dublin. If coming from the airport you can be there in forty minutes.
This is the view we had from our hotel room last week and when the sun is shining the hills seems to sparkle and instil an instant sense of peace and calm.
The rooms were decorated with a modern twist on Georgian luxury and my daughters personal favourite is the TV feature in the bathroom. The bedroom is generously proportioned with plenty of room for two adults and two children.  The kids can stay in the parents rooms for free which is an added attraction for families.
Our first port of call is the Sugarloaf lounge where a barfood menu is served all day. There is an option to eat here for dinner with an evening menu or the fine dining area downstairs is a little pricier but a treat. The Magills pub, also downstairs has an excellent menu in both range and price.
Marriott Hotel's, Autograph Collection brand took over this Ritz Carlton hotel two years ago and the standards haven't dropped, it has become more accessible and friendlier for families. Location is wonderful as the famous country house and Powerscourt Gardens are only a short stroll away. The old house is now filled with a variety of shops including an Avoca restaurant and store.
The charming town of Enniskerry is a short walk from the hotel and a cornucopia of charming shops await to be explored. We had lunch in the Powerscourt Arms and my ten-year-old daughter did serious damage in the novelty sweet store.
There is so much else to do that two days didn't seem quite enough. The infinity pool in our hotel took up much of the afternoon for the children and the spa offers the excellent ESPA range of products and services.
A trip to this area is not complete without visiting the famous Powerscourt Waterfall which is only 4km away. It is a the perfect area for a picnic in the summer and the children's playground has improved much since we started to visit. A family fee of €16 is chargeable at the gate of the waterfall area but this includes good toilet facilities and a little coffee dock for snacks. The walks around the waterfall and surroundings are spectacular and if you are a film buff then you might remember Excalibur made by John Boorman. Starring Gabriel Byrne and Helen Mirren, some pivotal scenes are set here.
After two nights we felt like we had been away for a week and were truly rested and ready to continue with the rest of 2015. We only had a short one hour drive back home to Howth and I will be posting about my beautiful home town very soon so watch this space.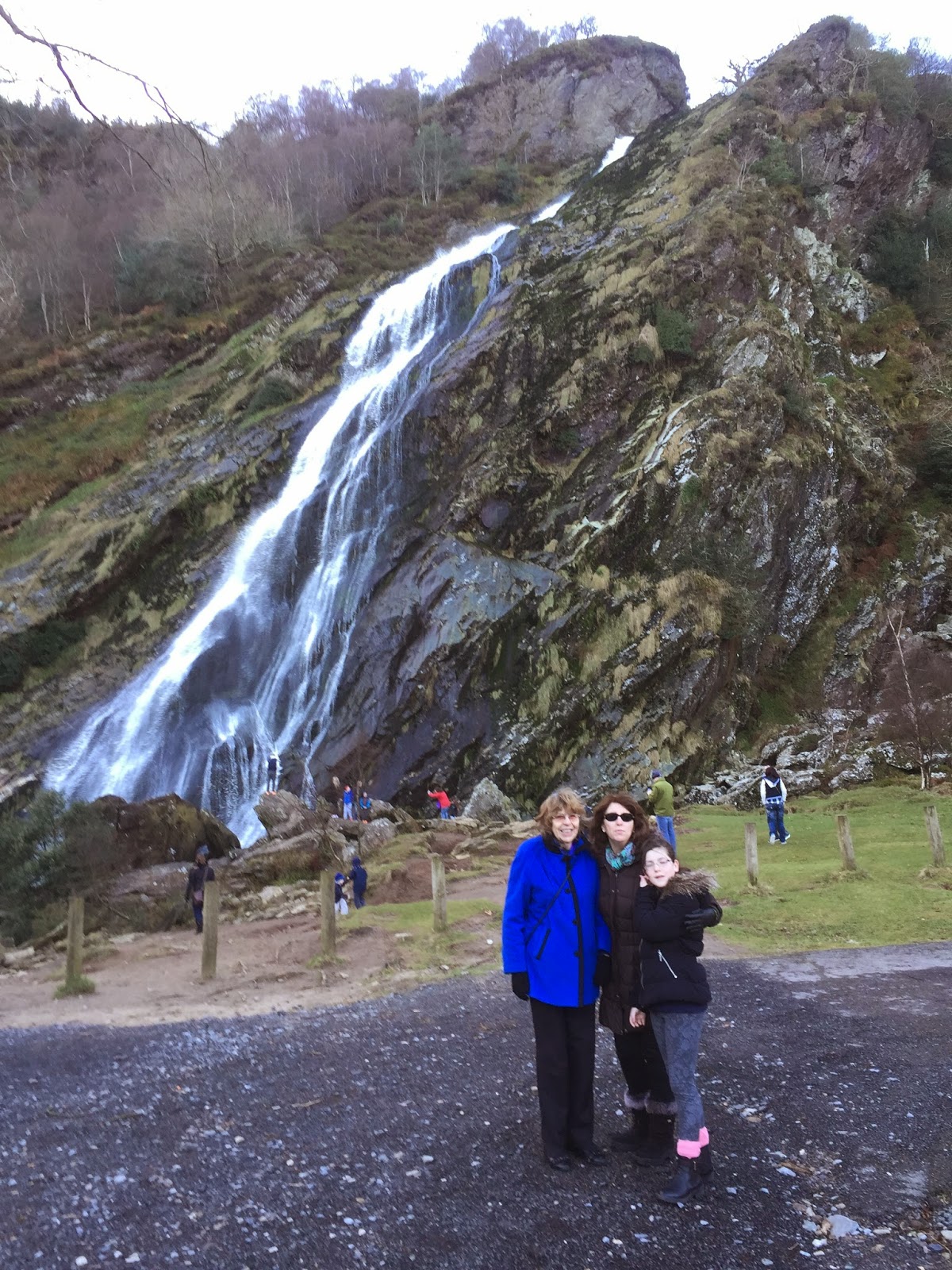 At the tallest waterfall in the Ireland with my mother and daughter.
To stay at the Powerscourt Hotel Autograph Collection there is currently a special offer of one night B&B with dinner for €145 per person sharing. We found an excellent rate on line of €370 B&B for two nights per room. For more information see http://www.powerscourthotel.com/index.html
Autograph Collection is part of Marriott hotel group international.