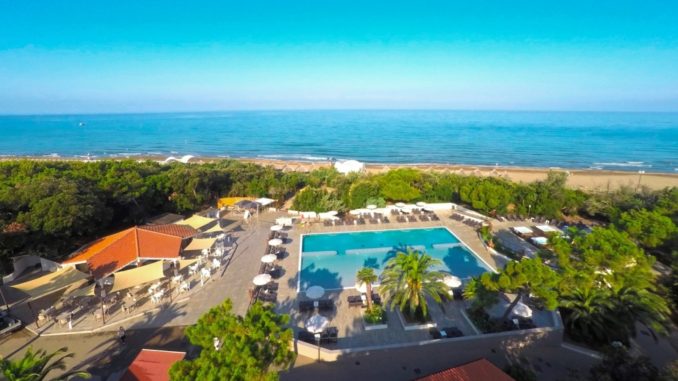 Topflight's Top 10 for Italian Family Holidays




In an increasingly busy world, Topflight understand that family time is a very precious commodity and therefore acknowledges the importance of getting the correct advice and guidance when choosing the annual family holiday. Topflight, the Italian Specialist, have been sending their clients on Italian family holidays for over 25 years and fully understand what is needed to ensure that their guests, both young and older, enjoy quality family time together. With this wealth of experience, Topflight know the resorts and know which accommodations are best suited for children of particular ages – and why, because they have been there and tested these ever popular favourites.




Every family is looking for different things from their holidays. For some, it's about exploring new places and savouring the culture of the area (Italy is certainly a culture-filled country!).  For others? It's all about the activity – those who get their thrills with waters sports or those who love the adrenaline of a theme park! There are others who seek to learn new skills together, and there are those who just crave some rest and relaxation and a bit of time to catch up and enjoy the company of one another, or indeed meet new friends.




With Topflight's experience in mind they have prepared a top 10 recommended properties for Summer 2017 for family holidays in Italy – sure to please parents and delight the kids!




Lake Garda (With flights from Dublin, Cork or Belfast)




4* Hotel Majestic Palace, Half Board, Malcesine

            

High standards of service, great leisure amenities and a beautiful setting in the midst of a picturesque olive grove ensures this modern hotel is a big hit with families. With four swimming pools including a kiddies pool, tennis court, gym, playground, mini-golf, mini-club, volleyball court and much more there is simply something for the whole family. Not to mention it is only a short walk into the beautiful town of Malcesine, explore the cobbled streets and savour Italian gelato from one of the wonderful ice cream shops. Or take the cable car to the top of Monte Baldo and enjoy wonderful views whilst the little ones run around!
13th May
, 2 adults + 2 children fr €552pps (Flying from Dublin)
4* Bella Italia, Self Catering, Peschiera




Irish families simply cannot get enough of Bella Italia. Bella Italia offers an accommodation option to suit everyone, choose from bungalows, mobile homes, apartments or the Bella Italia hotel. The resort offers the perfect combination of relaxation, family fun, kids entertainment with great Italian culture right on your doorstep. The pool areas are a huge attraction, within the Bella Italia Resort there are 5 large swimming pools to enjoy. Children will have tonnes of fun while they play on the water slides and waterfalls. There's also a special baby pool for the very smallest members of your family to get their first taste of fun in the pool. There's lots of additional activities around the main pool during the week including pool parties and aqua aerobics. Children and teenagers will enjoy the various clubs for up to age 16. For families who want to venture further afield, why not consider Gardaland Park (the largest theme park in Italy), Sea Life Aquarium or Caneva Aquapark. Bella Italia is very popular with repeat families so early booking is highly advised.
6th May
, 2 adults + 2 children fr €391pps (Flying from Dublin)



4* Garda Village, Self Catering, Sirmione




The Garda Village is a fantastic holiday park with loads going on for kids of all ages and mums and dads too.

If you are looking for a place that combines the lively atmosphere of a holiday village with the services of a great hotel and the independence of an apartment, you have found your ideal getaway. Topflight offer a selection of accommodation choices, mostly in terraced bungalows, with cooking facilities and comfortable bedrooms. With a private beach and oodles of amenities on site, this is an ideal family choice. Children will never be bored with all the activities on offer including football, small boats, mini golf, game park, mini club (and there is more!) and, weather permitting, live shows suitable for all the family are performed in the amphitheatre. Local theme parks, water parks and other attractions are within easy reach.
27th May
, 2 adults + 2 children fr €499pps (Flying from Dublin)



4* Hotel Savoy Palace, Half Board, Riva




Hotel Savoy Palace is a friendly, modern hotel owned and run by the Tonelli family who go out of their way to make sure your family holiday is extra special. The mini club operates all summer season, six days a week, and is for children aged from 5 to 12 years old. Children under 5 are welcome if accompanied by an adult. There are lots of games on offer, including a treasure hunt, face painting, and discos. Facilities include a slide, a play house, and table tennis, to name a few! The hotel also offers complimentary bicycle hire, a lovely way to spend an afternoon exploring the local area or simply enjoy the swimming pools indoor and outdoor.
6th May
, 2 adults + 2 children fr €799pps (Flying from Dublin)



3* Ambassador Suite Apartments, Self Catering, Riva




Located close to the shores of Lake Garda, the Ambassador Suite Apartment complex is filled with fantastic activities and amenities, making it the ideal accommodation for the whole family. These modern apartments are functional, spacious and comfortable – the perfect combination for a great holiday! They allow guests to relax and unwind while enjoying the freedom and autonomy that comes with staying in a self-catering apartment. The resort of Riva is also ideal for families who enjoy watersports as there are numerous watersports schools along the lakeshore ensuring a fun family morning or afternoon.
6th May
, 2 adults + 2 children fr €399pps (Flying from Dublin)




Adriatic Riviera (With flights from Dublin)




     6.   4* Hotel Madison, Half Board, Cattolica




Did someone say beach? A 3km stretch of golden sandy beach is a huge attraction for visitors to the charming resort of Cattolica, known as the 'Queen of the Adriatic Riviera. The Madison Apartments are luxury apartments within easy reach of a wide range of parks and offering plenty of child-centred facilities, this is a great destination for a family holiday on the Adriatic Riviera. Family friendly amenities include a playground, a mini club, a dedicated children's menu, a babysitting service and a swimming pool with an area for children. The resort of Cattolica also enjoys an array of family friendly attractions nearby including Italy in Miniature, Fiabilandia, Mirabilandia, the Aquafan water park in nearby Riccione and the Le Nava sea theme park in Cattolica itself.
       10th or
17th June
, 2 adults + 2 children fr €549pps (Flying from Dublin)



Venetian Riviera  (With flights from Dublin)

     7.  4* Villaggio San Francesco, Self Catering, Caorle

Full-on fun is guaranteed at this holiday village in Caorle, a superb destination for families and watersports lovers. Set in a peaceful pine forest at the edge of the warm, Adriatic Sea, this park has everything you could wish for including a staggering array of onsite amenities, entertainment and recreational activities for all ages. With 9 pools, a bouncy castle, playground, tennis courts, football, mini golf and oodles of other activities to enjoy within the well-kept grounds, to say nothing of the private beach, watersports, family discos and restaurants, you will never run out of things to do from dawn to dusk in this big, friendly holiday park. The resort is only 200 metres from a sandy beach.
27th May
, 2 adults + 2 children fr €599pps (Flying from Dublin or Cork)
Sorrento  (With flights from Dublin)




    8.  4* Hotel Majestic, Half Board, Sorrento

Sorrento may not be the first place that springs to mind for a family holiday however for children who enjoy learning about history and culture, a holiday in Sorrento is a great option. Sorrento is the go-to place if you want a family holiday that offers a change from the usual bucket-and-spade experience. The town itself is compact, making it easy to get around with children in tow, and younger guests are sure of a warm welcome in the many restaurants and colourful ice-cream parlours lining its streets. The Hotel Majestic is situated in a sophisticated oasis of tranquility surrounded by luxurious gardens, citrus trees and handsome villas tucked away from all the hustle and bustle of the resort centre.  For the younger history buffs a visit to the extraordinary classical ruins of Herculaneum and Pompeii and the mighty volcano that destroyed them 2,000 years ago, Mount Vesuvius are a must.
1st October
, 2 adults + 2 children fr €799pps (Flying from Dublin)



Sicily  (With flights from Dublin)




   9.   4* ATA Hotel Naxos Beach, Half Board, Giardini Naxos

Giardini Naxos is a charming corner of Sicily that has grown from a sleepy fishing village to a thriving seaside resort. And while it is a popular holiday destination with Italians and tourists alike, it has lost none of its traditional, laid-back lifestyle and culture. The ATA Hotel Naxos Beach is one of most popular destinations for a fun-filled family holiday in Sicily, ATAHotel Naxos Beach is a bustling international hotel complex stretching through extensive grounds in the Recanati district of Giardini Naxos. With a choice of restaurants and loads of stuff to keep children entertained, including 4 swimming pools patrolled by lifeguards, it offers an abundance of facilities and excellent service. Despite its size, there is a lovely, village atmosphere about the place and there is no shortage of activities to suit all tastes and age groups. Watersports enthusiasts will love the sailing, windsurfing and canoeing all available from the beachfront, while onsite you can play tennis, volleyball, pool and bowls, among many other things, treat yourself to a relaxing massage or beauty treatment, and enjoy some great evening entertainment.
17th June
, 2 adults + 2 children fr €749pps (Flying from Dublin)



Tuscany  (With flights from Dublin)




  10.  4* Paradu Tuscany Eco Resort, S/C, Tuscan Coast




Topflight's newbie for 2017! Thanks to its exceptional amenities, beachside location and entertainment programme, Paradù Tuscany EcoResort is guaranteed to be a true favourite with families. Directly on the seductive sands of Tuscany's south coast, the glorious Paradù Tuscany EcoResort is a wonderful spot for families. Stretching over a whopping 36 hectares of beautiful scenery, this snippet of paradise boasts a superb sports and entertainment programme, excellent facilities and stunning chalet accommodation. From the covered outdoor play area – which is surrounded by two playgrounds – to the broad entertainment programme and attractions at the beach, plus the pool, the little ones will be in holiday heaven at the Paradù. Adults can also take part in a host of fantastic activities, including Canoeing, SUP, sailing, windsurfing, paddleboat, zumba and archery!
26th May
, 2 adults + 2 children fr €699pps (Flying from Dublin)
All prices are per person sharing based on 4 people. Prices include return flights, accommodation for 7 nights, transfers, taxes and the services of a Topflight representative in resort to ensure that you are in great hands throughout the holiday. Prices for other family combinations and dates available on request.