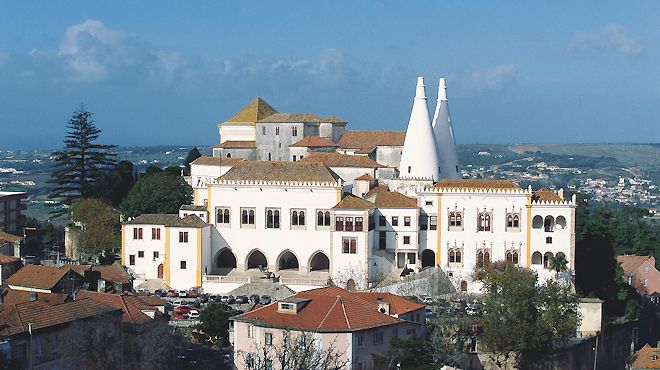 I'm just back from a wonderful few days in the Algarve and I brought an intriguing book with me 'The High Mountains of Portugal' by Yann Martel. Author of the Life of Pi, Martel's novels have elements of magical realism in them and this novel is no different. Laid out in three parts, each links to the other very subtly pulling the reader into the deep themes of the book which include evolution, religion and love. It helped me to fall in love with this country all over again. In fact I could never fall out of love with it because it has so much to offer in terms of culture, food, wine and when the sun shines (which is often) there is nowhere like it.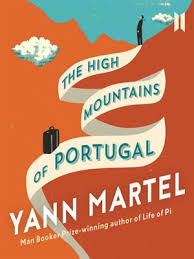 With the rise in Irish visitors to Portugal I have three great suggestions for places to visit in this delightful country.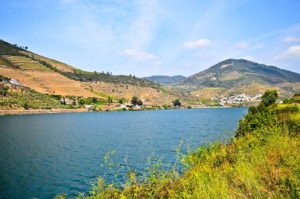 What nicer way of taking a trip through the high mountains of Portugal than on a luxury barge?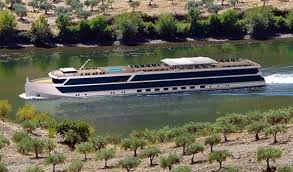 There was a time when the Douro was a wild, precarious river, making navigation a daunting task for those trying to keep control of traditional flat bottomed boats. Often they foundered – losing the Port wine they were transporting downriver to the cellars of impatient wine merchants.  How different the Douro river is today, tamed by a series of locks that will make your river cruise holiday such a calm, serene experience. Yet the age-old banks of the Douro remain as enchanting as ever, covered as they are with peaceful terraces where olives, almonds and grapes are cultivated much as they always have been.
How can such a picturesque river valley – with its dramatic cliffs, lush hillsides, medieval walled villages and fine vineyards – remain so relatively undiscovered? How can so few others have enjoyed the sensation of basking on a sun deck as the unmistakable chirping of crickets and the fragrant scents from the surrounding hillsides pervade the warm evening air? You'll feel that your river cruise on the Douro is a true revelation, taking you deep into one of the most unspoilt corners of Europe.
Travel from Porto in Portugal along the beautiful river Douro to Salamanca enjoying the breath-taking scenery.
·         The cruise lasts 8 days from £1,399pp
·         The operator is Riviera Travel and bookings can be made via their website (www.rivieratravel.co.uk) or over the phone on 01283 888 911
Further down the coast is Lisbon and I think one of the most interesting capital cities in Europe. It's a real rival to Barcelona and boasts a UNESCO heritage site unlike any other in the world.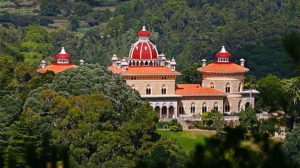 Take time out to explore this beautiful town with incredible architecture from the nineteenth century that you wont see anywhere else.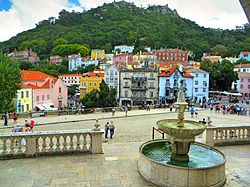 Lisbon
Lisbon itself is charming with the coastal town of Cascais being one of my favourites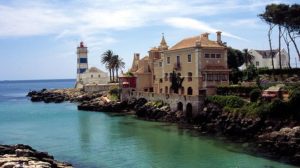 It's a little more expensive than the capital but very enjoyable and with a marina to rival the riviera.
Try your luck at Estoril casino a short taxi ride away and get to feel like James Bond.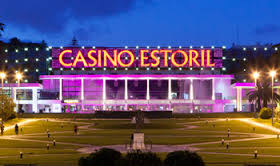 SunSearch Holidays
01 845 3600 | www.sunsearchholidays.ie
Cascais – 5 to 12 Sep 2017
On a Budget
Cidadela Hotel 3* – 1 x double room on b&b: €475pp
Mid Range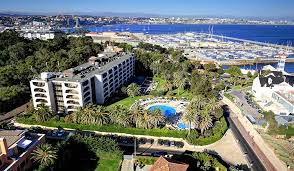 Vila Gale Cascais 4* – 1 x sea view double room on b&b: €745pp
Pestana Cidadela 5*(pictures attached)- 1 x superior room on b&b: €1040pp
All prices are based on 2 sharing, and include Aer Lingus flights from Dublin, 10kg pp carry-on bag, airport transfers, and 7 nights accommodation. Check-in bags are extra.
The Algarve
This southern-most strip of coastline is most peoples choice of destination when travelling to Portugal. With sunshine for much of the year, this winter it enjoyed one of the sunniest with light winds and many visitors. Proving to be hugely popular, not just with the Irish and UK visitors but also the french and Chinese. The Canadians have now direct flights to the Algarve and many are coming to avoid the long cold winters and staying for up to three months. Car hire is cheap so check out the quieter towns where the locals live and explore this paradise before everybody else finds it!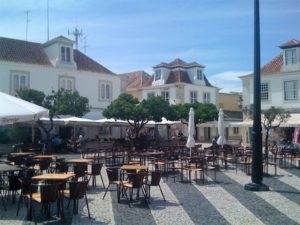 Dont forget to try traditional dishes and Portugal is wonderful for fish. Enjoy Cataplana, the local fish stew and the gigantic sardines. One of my favourites is Shrimp in garlic and oil.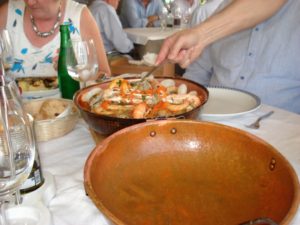 I found Pego Do Inferno several years ago when it was only visited by locals but the secret is out and many tourists have found it.  This oasis set in the mountains is easily accessible by car and only 7km from the town of Tavira. The tropical waterfall and lush foliage will make you feel like you are in a south seas paradise.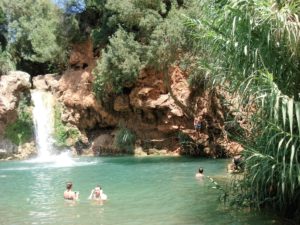 Go exploring in the Algarve and find places lost in time. One of my favourites is Cacela Velha which is like stepping into a postcard. It has breathtaking views of the coast line and a quiet easiness that will transport you back to the Algarve of old before it became a tourist hotspot.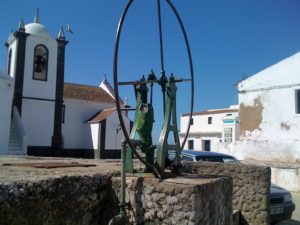 If you are staying in Albuferia take a boat trip on Algarexperience http://www.algarexperience.com/pt/ and see the beautiful caves that line the coast. Set off from the newsy built Albufeira Marina and enjoy a sunset bbq or go searching for dolphins on the high speed catamarans. Cathedral Cave is rated as one of the most spectacular in the world and can only be seen by the sea.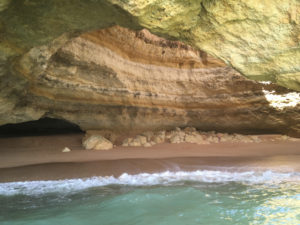 Portugal and golf go hand in hand and my top tip for a beautiful course is Castro Marim in the eastern Algarve.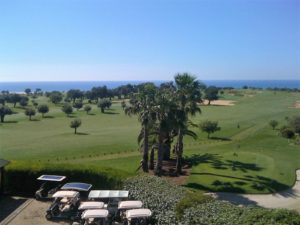 Some packages to the Algarve from Irish Travel agents – all deals can be found in the www.itaa.ie
I stayed recently at the lovely Alfagar Apartments in Santa Eulalia, close to Albufeira which are expertly equipped for families. The hotel bars and restaurants are excellent value with delicious food and nightly entertainment. Pop down to the Bougonvillia Bar and enjoy the craic with waiters Marco, Miguel and Manuel, there's more than a touch of the endearing Fawlty Towers about this gem of a property.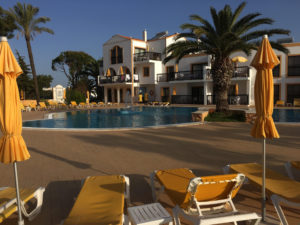 The Travel Broker
01 833 3921 | www.travelbroker.ie
10 June for 7 nights – 2 adults & 2 children from €2,376
OR
€3,296 for 14 nights
The Alfagar 1 Village are ideally located with a fantastic cliff top position overlooking the beach at Santa Eulalia. This is a low rise complex and this property is a firm favourite for Irish clients and is ideal for those looking for a quieter location within easy reach of all the activities that Albufeira resort has to offer too. A perfect complex for a great couple or family holiday
Kanes Travel
043 3334500 | www.kanestravel.ie/
ALFAGAR:
21-28 September 2017:
Return flights from Knock
Alfagar I Village apartments
Superior garden view apartment
Return airport shuttle bus transfers
2 x 15kg checked bags
€625 per person
Blackpool Travel
021 439 8742 | www.blackpooltravel.ie
ALFAGAR OFFERS:
CORK – FARO – 07TH MAY – 1 WEEK – 2AD & 2CH – ALFAGAR VILLAGE – 1 BED APT – SELF CATERING BASIS – INC BAGS & TRANSFERS  €1499
CORK – FARO – 16TH MAY – 10NTS – 2AD & 2CH – ALFAGAR VILLAGE – 1BED APT- SELF CATERING BASIS – INC BAGS & TRANSFERS €2299