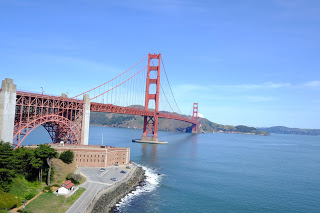 This week on Travel Tuesday we took to the road and I gave my top tips for the best road trips. You can catch me on TV3's Midday here
With some great deals too.
California Dreaming on PCH
First up on my list has to be the ultimate trip on Highway 1. We took the family to LA last year and drove to San Francisco while stopping at all the great towns on the way. You can take as long or as short as you like to cover this route but with direct flights from Aer Lingus to both cities there really has never been a better time to drive the Pacific Coast Highway.
You can read all about my adventures here California Dreaming from Sunday World article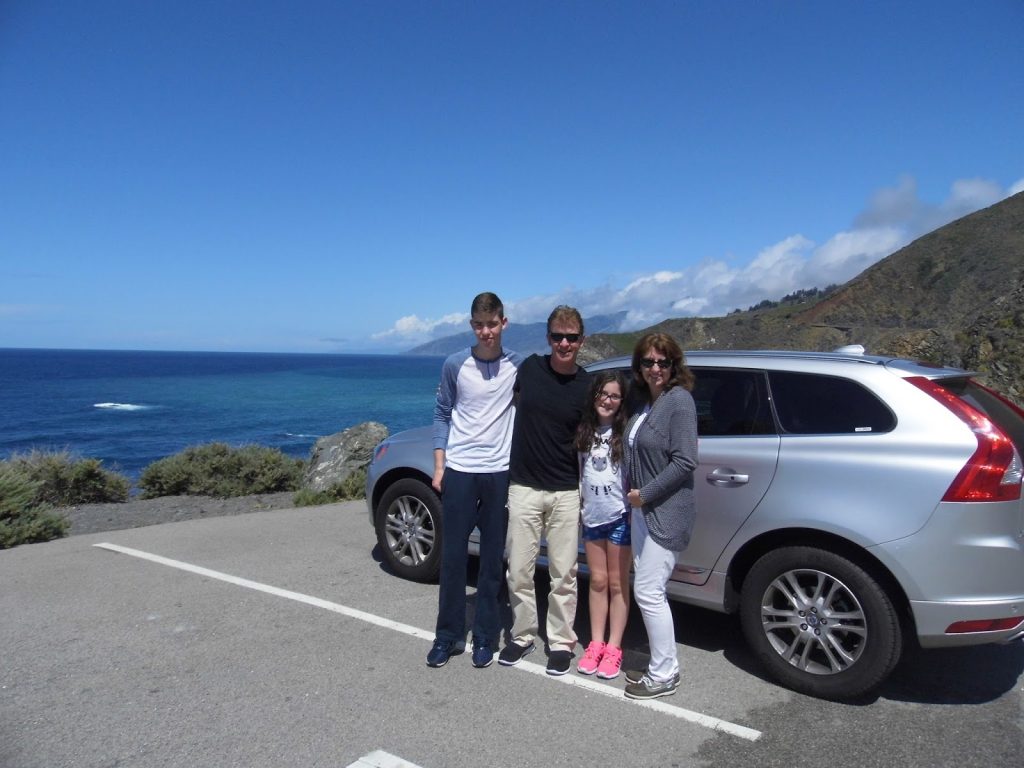 And I've got a terrific deal too from Tour America who tell me that this is their most popular fly drive package and with an incredible price too. If you are looking for somewhere quirky to stay then I recommend The Madonna Inn in San Luis Obispo http://www.madonnainn.com/or try the quaint and beautiful Apple farm which is especially great for families. http://www.applefarm.com/
Stop off with the kids and visit Bubble gum Alley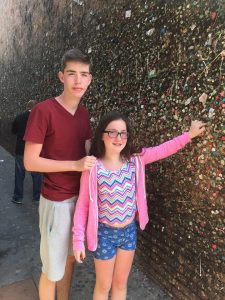 This has to be one of the best offers out there from Ireland and with Easter in April next year you can cross this amazing drive off the bucket list and bring the entire family.
7 nights California Fly Drive from only €959pp 
Price Includes:
2 nights in San Francisco
2 nights in Santa Barbara
3 nights in Los Angeles
Fully Inclusive Car Hire
Based on 2 adults and 2 children sharing
Travel April 2017
Our Ref: 517372
Next up is also in America and I haven't done it…yet!!! But Route 66 is on my bucket list. Ever since I read the Grapes of Wrath I've been fascinated by this incredible road which no longer exists in the complete form that it took in 1926 when it was originally built. The introduction of several highways has meant it's easy to go astray and that's why it's a good idea to get an expert to help you plan this trip. Celtic Horizons have been coordinating group and bespoke tours of Route 66.
Ford Mustang Driving Experience
Route 66
Friday 15th September – Thursday 28thSept 2017
Itinerary
Day one – Fri 15th Sept                       Dublin  –Chicago
 DL 091             Dublin              dep 11.20hrs  New York JFK arr 13.51hrs
DL 4095           New York JFK   dep 16.05hrs   Chicago O'Hare arr 18.00hrs
We have a transfer arranged to the hotel. Overnight hotel and Welcome Dinner (approx 20.00-20.30hrs) at Holiday Inn Countryside, 6201 Joliet Road, Countryside IL 60525. Do not worry about dress code, just relax and enjoy yourselves!
Day two – Sat 16th Sept   Chicago Il – Springfield IL            328km / 204mls
Collecting our cars we depart Chicago on the I55 before we join the original Route 66.  We overnight in Springfield, Illinois, the birthplace of President Lincoln our hotel is in the city centre Hilton Springfield, 700 E Adams St, Springfield IL 62701.
Day three – Sun 17thSept  Springfield IL– Rolla MO    325km /      202mls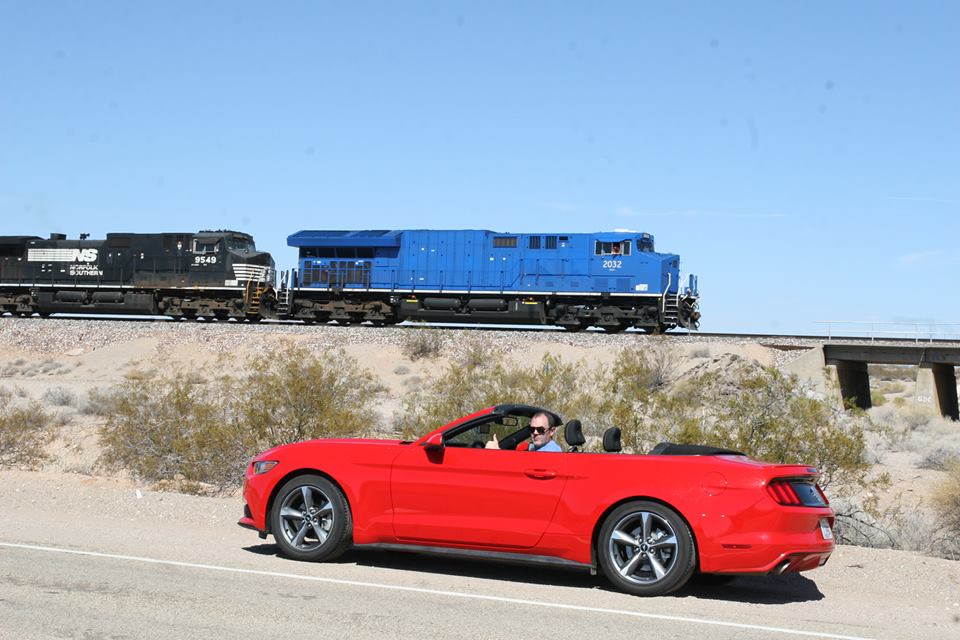 Day four – Mon 18thSept  RollaMO– Tulsa OK                 465kms / 289mls 
Day five – Tues 19thSept  –Tulsa OK – Amarillo TX    592km / 368mls
 Day six – Wed 20thSept Amarillo TX – Albuquerque NM   465km / 289mls
Day seven – Thurs 21stSept,Albu. NM– FlagstaffAR   522kms / 324mls
Our Mustang Rally just gets better and better, today we take in some Historic Route 66 landmarks, so much to see and do.  We cross the Continental Divide before Grants where we can visit The Land of Fire and Ice 25 miles south-west of Grants.  On through the Petrified Forest National Park and into Holbrook where you can see the Wigwam Hotel where all the hotel rooms are built to look like teepees.  Later in the day we get to "Stand on the Corner" in Wilmslow, Arizona, made famous by The Eagles.  A short diversion off R66 brings us to the world's best preserved meteorite impact site Meteor Crater.
Day eight Fri 22ndSept   Flagstaff AR0km / 0mls
A day to explore the Grand Canyon- take a helicopter ride or drive to the Grand Canyon South Rim.  The choice is yours.
Day nine Sat 23rdSept   Flagstaff AR – Laughlin NV367km / 228mls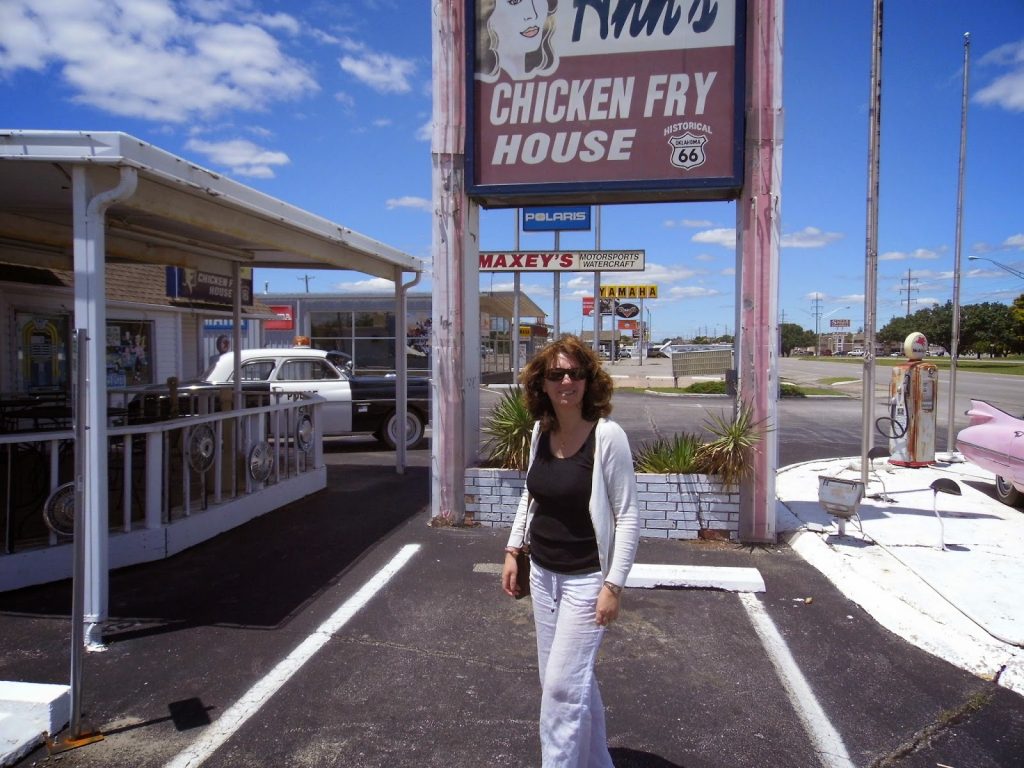 Day ten – Sun 24thSeptLaughlin NV – Victorville CA  421km / 262mls                  
The desert offers its own charm once you have the patience and frame of mind to admire its beauty.  The Mojave Desert is on the agenda today and we'll see some of it on Old Route 66.  One of the many picture and filming locations for Hollywood comes up at us as we enter Amboy CA.  Just before we get to town there is a secret shrine that leaves you with a smile on your face.  Folks stop along the way and spell out their name in rocks and paint it all with whatever colour paint they have.  It's part of the charm of the road.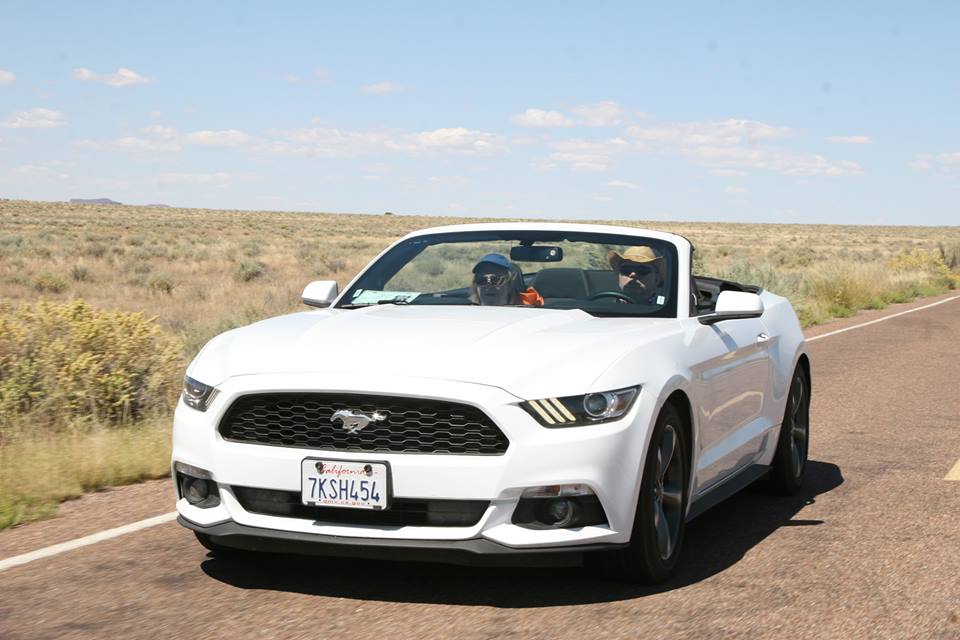 Day eleven Mon 25thSept Victorville CA – Santa Monica CA  177km / 110mls
We finish our tour at the end of Route 66, the Ocean Pier in Santa Monica. After reluctantly returning our cars we gather for our Farewell Dinner and take the time to reminisce and plan for next year's tour. We have a 2-night stay at the DoubleTree Suites by Hilton Hotel Santa Monica, 1707 Fourth Street, Santa Monica CA 90401-3310 on Room Only basis, no breakfasts!
Day twelve – Tue 26th Sept    Santa Monica CA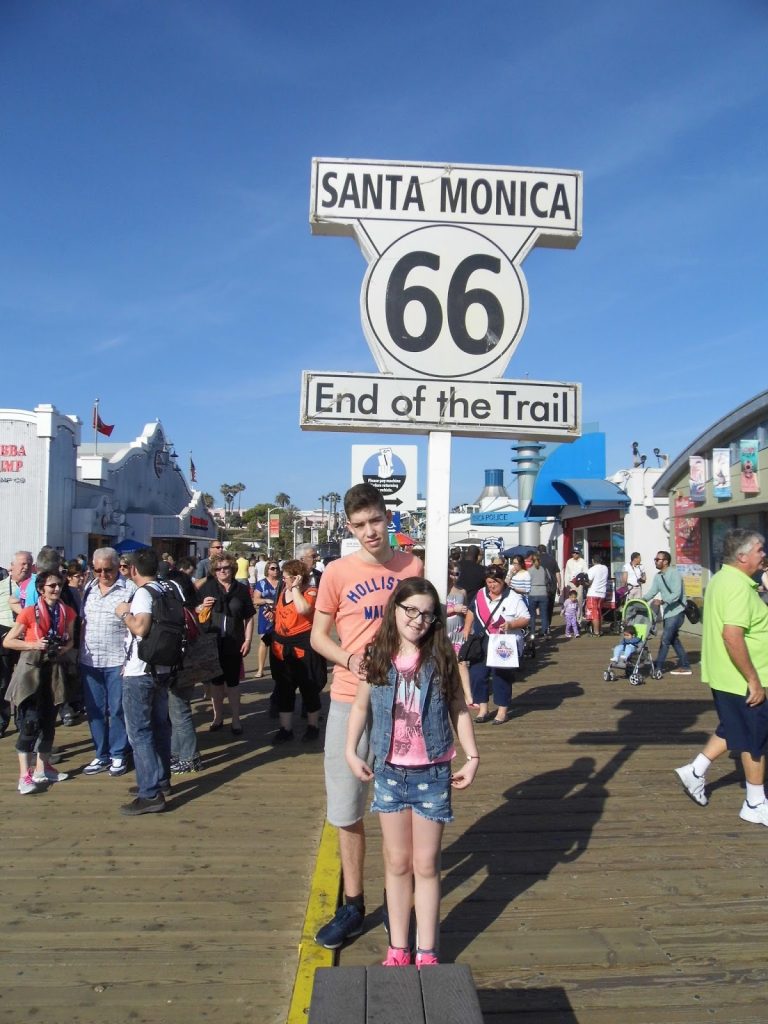 With some much to see and do you will need your home-work done to get best value out of your day in Los Angeles.
Day fourteen – Thurs 28th Sept
Arrive Dublin Terminal 2 at 10.10hrs
Cost pp €5750 with a supplement of €992 for solo travellers
Celtic Horizon Tours Unit 5, Block G, Maynooth Business Campus, Maynooth, County Kildare. T: +353 1 629 2000 F: +353 1 629 2545 E: info@celtichorizontours.com W: www.celtichorizontours.com
This week I've two offers from the Irish travel Agents Association – keep an eye out for their news http://itaa.ie/
South Africa Road Trip
Road Trip in South Africa including Cape Town, Garden Route, Addo Elephant National Park, Car Rental & FREE Robben Island Tickets €1495 pp
http://www.travalue.ie/deals/holiday/south-africa-road-trip/
Return flights from Dublin via Addis Ababa to Cape Town / Port Elizabeth via Cape Town & Addis Ababa to Dublin
3 Nights in Strand Tower Hotel, Cape Town
FREE Walk to Freedom Tour including Robben Island!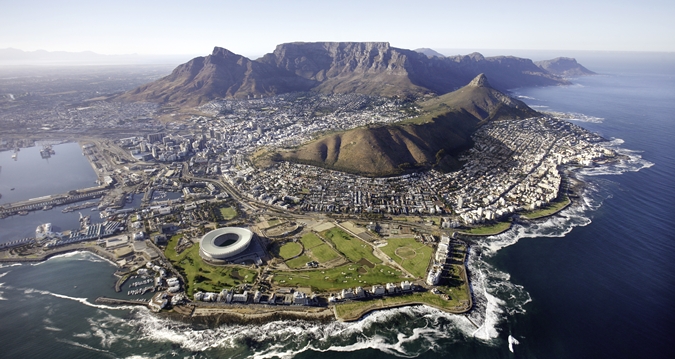 10 Days Car Rental – Toyota Corolla or similar
1 Night in Devon Valley Hotel, Stellenbosch
1 Night in On The Cliff Guesthouse, Hermanus
2 Nights in Protea Hotel, Mossel Bay
2 Nighits in Protea Knysna Quays, Knysna
2 Nights in Zuurbery Mountain Village, Addo Elephant National Park
1 Night in Port Elizabeth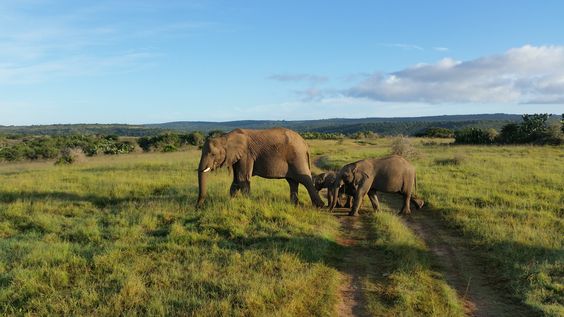 We've incredible value in February on an South African Road trip from Cape Town including all the top spots along the Garden Route to make your stay unforgettable.
Travel overnight from Dublin via Addis Ababa to Cape Town beginning with 3 nights in the 4* Strand Tower Hotel centrally located in Cape Town.
We've also included the following tours FREE Walk to Freedom Tour
including Robben Island!
Germany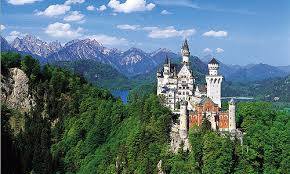 The Romantic Road (Romantische Strasse) covers 350km of road between Wurzburg and Fussen in southern Germany, linking a number of picturesque towns and castles. The route is best enjoyed over several days in spring, summer and autumn when longer days highlight the beauty of the scenery.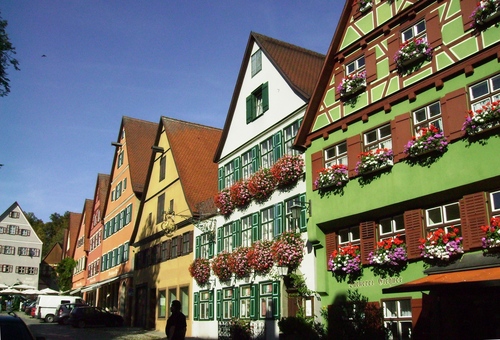 The Romantic Road takes the traveller through quintessentially German towns such as Dinkelsbuhl and Landsberg am Lech and allows for visits to famous castles such as the famous Neuschwanstein – supposedly the inspiration for Walt Disney's Sleeping Beauty Castle.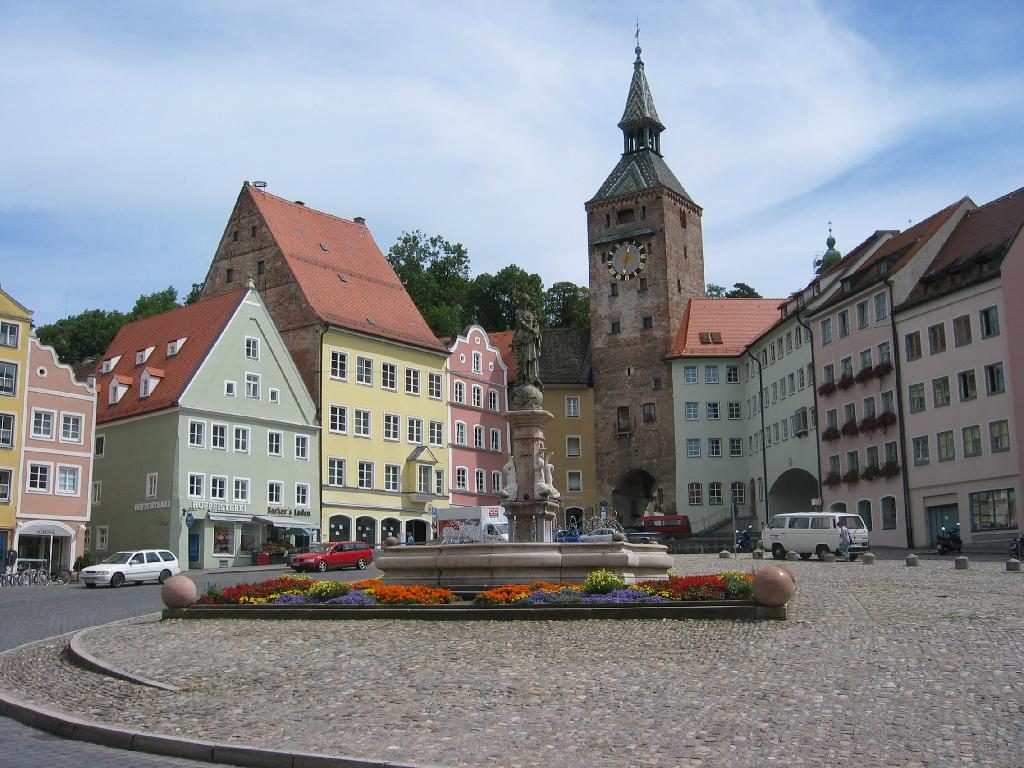 The region is also famous for its dry white wines. Sample the Romantic Road for yourself from €790 per person. This price includes your flight from Dublin to Frankfurt, returning from Zurich to Dublin, car hire and four nights' accommodation on a B&B basis in three-star hotels along the route. For more information, contact the Travel Broker on (01) 833 3921 or info@travelbroker.ie
For more ideas about Travel to Germany see http://www.germany.travel/en/index.html
Stay at home on The Wild Atlantic Way
Finally you don't have to go too far to take one of the most popular road trips in Ireland. The Wild Atlantic Way is fast becoming the most popular road trip in the World.
 Look out for these signs to make sure you don't miss any special views
From the 'Forest of Fear' to 'Dungeon of Doom' embark on a spooktacular Halloween Holiday at Delphi Resort
This October midterm, pack up your family for a spooktacular trip to Delphi Resort and create unforgettable memories that will last forever.  With 4 star hotel accommodation, up to 20 daily adventure activities, a tranquil spa and excellent food by Executive Head Chef Stefan Matz, try Delphi Resort's incredible three night family 'Halloween Holiday' package, especially designed to cater for families of all ages and sizes.

A 'Halloween Holiday' at Delphi Resort is guaranteed to please the bravest of them all with plenty of fearful family fun and Halloween themed activities including the 'Forest of Fear,' 'The Dungeons of Doom' and up to twenty family friendly activities to choose from – adventures that all the family can enjoy together. Family activities are suitable for kids from as young as four years right up to those sometimes difficult to please teenagers! There is also a range of 'fun for the little ones' activities, designed to keep three to seven year-olds occupied including a Kids Little Monster Club each morning and Movie Nights each evening.
Parents can join the kids on their daily activities or leave them in the expert hands of Delphi staff while you relax, maybe even visit the Delphi Spa for some time to yourself with one-hour complimentary access to the relaxing Thermal Suite included as part of the package!
Break bread in style together on one evening of your choice with a three course evening meal in 814 Restaurant also included in the package. With school out for the midterm, power off the iPads and indulge in the delectable cuisine of executive chef Stefan Matz as you discuss your highlights of the day.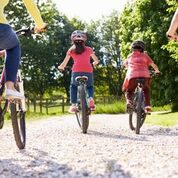 With different package options for families to stay between October 24th to November 1st the three night 'Haunted Halloween Family Holiday' is based on 2 adults and 2 children sharing and is available at a 20% discount for Early Bird bookings from €861 (early booking offer expires 30th September). This offer includes breakfast each morning, one evening meal in the 814 Restaurant, a choice of two evening Halloween activities and 1 full day of adventure activities for all the family.

The three night 'Fearful Fun Halloween Getaway' at Delphi Resort is based on 2 adults and 2 children sharing and is available from €710 including breakfast each morning, one evening meal in the 814 Restaurant and a choice of two evening Halloween activities – save up to 10% with this package! For more budget friendly option, a three night package with Halloween activities, €50 credit towards a dinner and B&Baccommodation in the hostel is available from €318 based on 2 adults and 2 children sharing. There are a variety of accommodation options from Family Rooms to luxury suites in the 4 star hotel, and with specific children's menus ensure that all tastes are catered for food-wise too.
For bookings or to find out more visit www.delphiresort.com call +353 95 42208 or emailbookings@delphiresort.com.
A Fairytale Family Break at The Twelve Hotel
You and your family can enjoy a fairytale family break at The Twelve Hotel in Galway this mid-term, where your little ones will have great fun discovering and playing with the magical Fairy Doors in the Marvellous Family Suites at The Twelve.  You will be greeted on arrival at The Twelve Hotel with delicious Fairy Cakes from the hotel's on-site bakery, and you can settle into your room as your imaginative little ones go, literally, "away with the fairies" while uncovering the magic of the Fairy Door in your beautiful suite.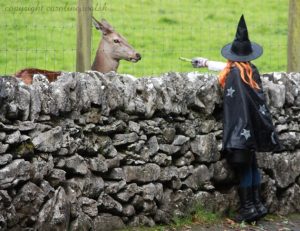 Stay for two nights in a Marvellous Family Suite, with full cooked-to-order breakfasts each morning and family dinner on one evening in The Pins Bistro. The kids will love their Pizza Masterclass with the hotel's Pizza Dozzina Chefs, and for some downtime curl up with them on the couch in The Pins Bar & Bistro with a fairytale book from the hotel library. Included in the family package is a family pass to one of the following family attractions: take the wild atlantic way drive into Connemara and enjoy Brigit's Gardens in Moycullen or Kylemore Abbey & Gardens or Dan O'Hara's Farmhouse and Heritage Centre.
This fantastic fairytale package costs from just €450 per family midweek, and you can enjoy a third night at the special rate of only €150 per family. Visit www.thetwelvehotel.ie
KILLADANGAN HOUSE, WESTPORT. CO MAYO
– A NEW INSPIRING CREATIVE DESTINATION –
Killadangan House is a truly inspiring creative destination situated directly on The Wild Atlantic Way in Westport, Co. Mayo.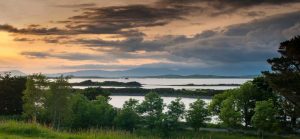 Activity, Health and Learning Centre
Following complete and meticulous restoration, Killadangan House is now being launched as a unique residential centre offering any of the following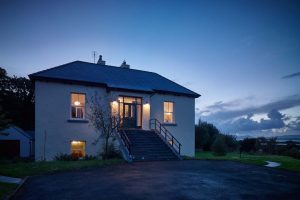 – Predesigned, fully catered courses combining the three greats Activity, Health and Learning (see www.killadanganhouse.com for upcoming programmes)
– Bespoke programmes designed and tailored by us for groups of 5 – 8.  We have a diverse range of activities and courses to chose from, to stimulate and complement our guests own unique creativity.
– Bed & Breakfast accommodation for groups of 5 – 8 on a seven night basis, Saturday to Saturday, subject to availability.  Lunch and dinner is available to our guests by prior arrangement.
The Property
Killadangan House is a fine Georgian style residence, (erected c.1850 as a grand estate house for the land agent of George Bingham, 3rd Earl of Lucan) and sits on an imposing elevated site in the shadow of Croagh Patrick.   The spectacular panoramic views from Killadangan stretch over Clew Bay to Mulranny, Achill and Clare Island beyond.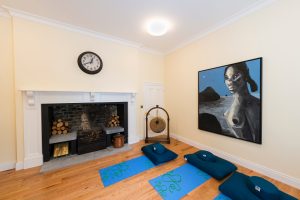 The house and interiors have been painstakingly restored and upgraded with uncompromising attention to detail.  Period fireplaces of the time were acquired and appointed throughout plus new hand-made timber sash windows were fitted – hence preserving the former glory and proportions of this handsome Victorian building. Authentic Irish furniture / Objects D'Art were meticulously sought, along with antique rugs and lamps, while original paintings line the walls.  Several pieces of furniture were sourced locally and further afield, from Westmeath to Westport.
Accommodation
After passing the historic iron gates the imposing limestone steps lead you to the main entrance where a long light flooded reception hall escorts you to the Drawing Room and the main Dining Room with panoramic views over Clew Bay. There's also a cosy sitting room with stove (The Parlour), a smaller dining room and kitchen.  On the ground floor there is a bedroom The Connaught Room (Double), a bathroom and a guest toilet. There are another 4 bedrooms Ulster (Double) Munster (Twin) Leinster (Twin) and The Garden Room (Twin) the main bathroom and another guest toilet. The main room on the ground floor is "The Old Kitchen" with a huge traditional open fireplace. This room can be used for lectures, yoga, meditation, and other therapies/group activities.  A spacious sauna completes the picture.
Views over Clew Bay from the Drawing Room
Westport
The renowned heritage town of Westport is just minutes away from Killadangan.  www.destinationwestport.com www.westporttourism.com
Further Information
For current price lists, forthcoming programmes and details please visit www.killadanganhouse.com or email info@killadanganhouse.com.  For all  further information please call Roie Mc Cann or Rachel Guthrie on 087 1650 570.
For all you need to know about the Wild Atlantic Way click here WAW http://www.wildatlanticway.com/