Cuba is probably my favourite place on earth. It has a vibe that is different to the other Caribbean Islands, and left such an impression on me after my first visit ten years ago that I set my third novel there. One Kiss in Havana was such fun to write because as I took my characters back to the places that I had visited, I relived my own holiday all over again.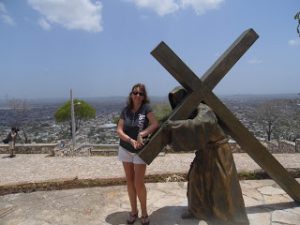 The town of Holguin
Here's the link to my feature from the Irish Mail on Sunday about my return trip to Cuba last year Cuba article – Irish Mail on Sunday May 2015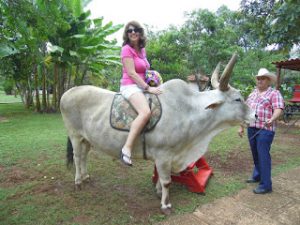 I never thought I'd sit on a Cow!
One of the quaintest towns that we passed through was Cojimar and This is the place where Hemingway used to go to fish and found inspiration for The Old Man and the Sea. The bar where he used to drink, La Terraza, is still going strong. From Havana in the north-west to Santiago de Cuba in the south-east, this country has some of the warmest kindest people that I've had the pleasure to meet.
Of course there are also the white sandy beaches, salsa rhythms and Havana Club Rum – once you've had your first Havana Club mojito you won't want it made with any other rum. Tourism is crucial for the Cuban economy and the government are very aware of this since the American embargo was imposed.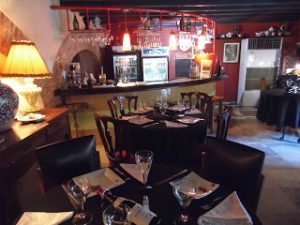 Nao paladeras in Old Havana
However, since Raul Castro introduced free enterprise, I noticed a huge change on my return visit to Havana last year. Locals have set up their own cab companies and they are the most amicable, happy taxi drivers you will find in the world. Do chug along in one of the vintage 1950's cars that take visitors to the old town. The locals have opened their homes to even more paladeras, restaurants and B&Bs with the best food to be found and wonderful hospitality.
So yes, be sure to see the Hotel Nacional and the Bodegita Del Medio where Hemingway went to drink his mojitos. But the real Havana is found all around in the streets and bars. The transition is coming but like everything else in Cuba, it won't happen quickly


I've put together some Special Offers  to Cuba from various operators to entice you!

Tour America have a great deal for a family holiday
10 nights in Cuba from only €1359pp! 
Price Includes: 
Return Flights to Havana with Virgin Atlantic – all taxes and charges included
Private Return Airport Transfers
10 nights Hotel Accommodation in the 4* Iberostar Taino 
Based on two adults and two children sharing
Travel 

10th October 2016
Reference 515968
Call 01-8173562
www.touramerica.ie 

Sunway Travel
For reservations contact Sunway on 01-2311800 or book online on www.Sunway.ie
G Adventure Cuba Tours: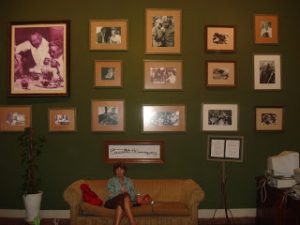 In the Ambua Mundos hotel where Hemingway lived. His room is as he left it
8 days from €1779pp
Walking through the pincushion hills, wandering amongst orchids and lush mountain coffee plantations—see another side of the island on this week-long tour through the 'Garden Province' of Cuba. Tour a tobacco plantation, snorkel crystal-clear waters full of colourful coral and search for the pirates of lore along the Guanahacabibes Peninsula. Soak up local culture in a homestay for an immersive experience that travellers rarely get to know. Let our experienced CEO lead you off the beaten path and discover the cultural treasures of Cuba.
Outside La Terraza in Cojimar
Visit: Havana, Viñales, María la Gorda, Las Terrazas,
Highlights:
·

         

Cigar factory tour (Pinar del Rio)
·

         

Cabo San Antonio excursion including Roncalí Lighthouse
·

         

Beach time (María La Gorda)
·

         

Las Terrazas visit
·

         

Havana orientation walk
·

         

All transport between destinations and to/from included activities
Whats included:
Flights from Ireland to Havana
Accommodations: Hotels (4 nts), casa particulars (homestay) (3 nts).
Meals: 7 breakfasts. Allow USD285-370 for meals not included.
Transportation: Private van.
Staff & experts: Chief Experience Officer (CEO) throughout, local guides.
15 days from €2329pp
The melody of horns floating through the air, classic cars parked in colonial squares, revolutionary statues—get over the resort wall and discover the real Cuba! Travel east to Santiago de Cuba and Baracoa and encounter the birthplace of Cuban rhythms and revolutionary fervour. Soak in Spanish heritage while exploring churches, forts and cobblestoned streets. Overnight in homestays for an immersive Cuban experience few travellers get to enjoy. Don't just walk down the road less travelled—dance down it. Viva la Revolución!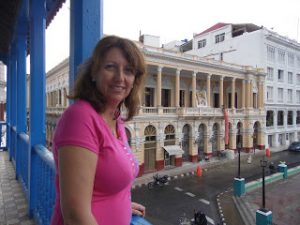 On the balcony in Santiago de Cuba where the revolution was declared in 1961
Visit: Havana, Santiago de Cuba, Baracoa, Camagüey, Trinidad, Santa Clara
Highlights:
·

         

Castillo del Morro entrance and visit
·

         

Santiago de Cuba orientation walk
·

         

Trinidad orientation walk
·

         

Che Guevara mausoleum and museum visit
·

         

Old Havana walking tour
·

         

Internal flight
·

         

All transport between destinations and to/from included activities
What's included:
Flights from Ireland to Havana
Accommodations: Hotels (2 nts), casa particulars (homestay) (12 nts).
Meals: 12 breakfasts, 1 dinner. Allow USD410-535 for meals not included.
Transportation: Private van, plane, walking.
Staff & experts: Chief Experience Officer (CEO) throughout, local guides.
Flights from Dublin, Taxes
Transfers from Havana by Road to Varadero
7 Night Accommodation at the 5* Paradisus Princesa del Mar
All Inclusive is €1659pp
Departs: 13th September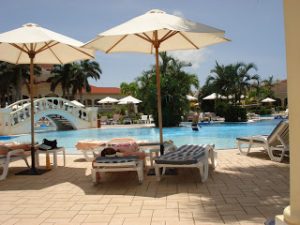 I had such a great time at the Princessa del Mar that I sent my characters there
in my novel One Kiss in Havana – lovely honeymoon hotel too!
From September this year American Airlines will have flights operating into Varadero so depending on the time of year, we'll be able to fly passengers Ex Dublin or Shannon say into Charlotte and onto Varadero, knocking out Havana and that road transfer. However, part of the charm of Cuba is really seeing Havana so doing a twin centre is easily done, say 2/3 nights in Havana and then 5/6 nights down in Varadero
Trailfinders have cycling tours for the more adventurous.
For more information call
Dublin Travel Centre: 01  677 7888Cork Travel Centre: 021 464 8800Limerick Travel Centre: 061 292 700
Don your Lycra and pump up the tyre with a Trailfinders cycling holiday! This ride through Cuba will allow you to get off the beaten track, access areas where vehicles dare not venture and immerse yourself in the stunning scenery and friendly culture. On this adventure experience Central Cuba's most cultural and historically rich cities, including Havana, Cienfuegos, Trinidad, and the Bay of Pigs.
Cycle along the spectacular Bay of Pigs, through fascinating cities and beautiful countryside as you enjoy the breathtaking scenery, the colourful people and get to know the history of this remarkable country. With a variety of terrains and tracks, the Cuban countryside is a cycle-lover's paradise. This trip will allow you to travel back in time and experience the authentic daily life of Cuba's rural inhabitants. 
This vibrant Caribbean island is full of contrasts, from beautiful beaches and tropical 

sun

 to crumbling but opulent architecture, cigar-smoking Cubans who groove to salsa beats in the streets, and a revolutionary history of both triumph and oppression.  This active cycling adventure will allow you to explore a side of this island few get to know.
Price includes: return flights to Havana with Virgin Atlantic, 7 nights hotels, experienced tour leader throughout & support vehicle, all breakfasts, 4 lunches & 3 dinners, bike hire and Cuban Tourist Card.