Published in Irish Mail on Sunday 12th January 2014
The first time I visited Rome I was accompanied by thirty five art students, six teachers and in the middle of the trip the Pope died. It was a memorable experience so it wasn't any wonder that when I came home I wrote a novel inspired by my time there. Now eight years and six novels later I know why the Eternal City had such a profound effect on me. But I didn't realise, that as well as so many visual delights, the city had such a thriving literary past. In the nineteenth century Rome was a must-see-destination for the English Gentry travelling on the Grand Tour – young ladies with chaperones and young gentlemen discovering all the delights that the world had to offer. On this occasion, I was in town for a weekend escape with my partner and with no other appendages to blur the romance of this amazing city.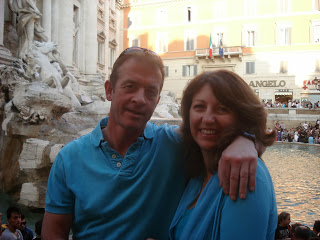 At the Trevi Fountain
We arrived on a Ryanair flight into the small but conveniently located Campino airport and in a little over half an hour we were at the Spanish Steps. It was here the Romantic Poets Byron and Shelly lived – Keats followed out after contracting TB in a vain attempt to prolong his life but unfortunately died there. The house where they lived is now a museum dedicated to the literary past of this area and can be visited for €5 entrance charge. At the other side of the steps is the famous Babbington Tearooms which must be seen to get the full Grand Tour ambience.
Our hotel was located on Via Bocca di Leone which is only a few steps around the corner from the Spanish Steps. Not surprisingly it is called the Hotel d'Inghilterra as this area was inhabited by great talents from England and America who had stayed here in the past. The writers Mary Shelly and George Elliot lived around the corner from the English Romantic painter Turner to name but a few. The Polish, Nobel winning author of the novel Quo Vadis stayed in our hotel as did my personal favourite author Ernest Hemingway. But it wasn't just writers that frequented this beautiful hotel, kings and popes have dined and enjoyed the finery and opulence that is now accessible to all. Each room is individually decorated with tasteful Italian elegance and it was the perfect start to our short stay.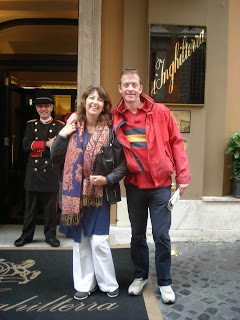 At the wonderful hotel d'Inghilterra
W

e had lots to see and as this was my partners first time in Rome we grabbed a taxi to St Peters. The last time I visited the square, the world's press were vying for coverage of the final hours and days of Pope John Paul. But things are very different in Vatican City today as Pope Francis has the whole of Rome in raptures. Our tour guide told us that the Pope's appearances are packed out every 

Sunday

and he's such a jolly fellow that he blesses the items on sale in the Vatican shop – and a good business man by all accounts. My favourite trinket was a fridge magnet of Frances himself giving a big thumbs up. But you don't need to be a believer or follower of the Christian faith to be in awe of St Peters Basilica and Michelangelo's Pieta was just as spectacular on second viewing.
Our hotel's location was not only a stone's throw from the Spanish steps but also beside the famous designer and fashion street the Via Condotti. Some serious damage on the credit card was optional with shops such as Max Mara, Armani, Gucci, Dolce and Gabbana and Louis Vuitton. But we decided to play it safe and wandered on to the adjacent shopping street the Via Del Corso where we found all the favourite stores like Zara and H&M. I lost myself in some of the handbag shops and bought a handbag and purse in Carpisa like I did last time because it was too good value not to.
The Galleria Alberto Sordi was close by and the building, complete with frescos and baroque features, resembles a museum more than a shopping centre. It's a nice place to stop for an espresso, drank standing at the counter of course in true local fashion. It is also en route to the ultimate tourist attraction – the Trevi Fountian. When I threw my coin in eight years ago I hadn't reckoned on finding myself staying in such style this time so I hastily threw my coin in and hoped that the charm would work again.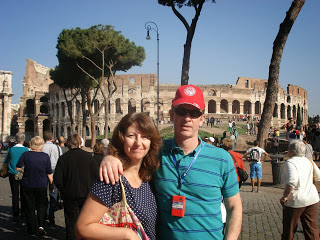 It was a straight walk from the Trevi, via the Pantheon, to the Piazza Navona. There are plenty of reasonably priced pizzerias and restaurants with good food en route and it is less expensive to eat here than the Piazza Navona. This famous square heaves with locals and tourists throughout the year but it must be seen to get the full roman experience. The obelisk and fountain that featured in Dan Brown's novel Angels and Demons, amongst many other memorable movies, dominates and is even more impressive in real life. Local artists lined the centre of the square selling their wares amongst the breathtaking domes and buildings of Baroque Rome. A cup of coffee can set you back five or six Euros so we splashed out on a cocktail and sipped at leisure while watching life stroll by.
Cafe Romano – wonderful delicacies to be enjoyed.
We dined in our hotel because the Cafe Romano has the perfect romantic atmosphere for a first night in Rome. The mouth-watering menu made it difficult to choose but we opted for the lobster linguine and washed it down with some delicious local wine. Our waiter Max couldn't do enough for us and we got a real sense of being spoiled. But the night was young and I recalled the best place to find a buzz at night is the Campo dei Fiori in Trastevere. This large square is surrounded by bars and restaurants and a part of Rome where the locals and tourist like to hang out. There is much to see in this area, including the Temple of Bramante considered to be one of the first churches of the High Renaissance and Our Lady's in Trastevere, that a full day can be spent here before settling down for the evening.
Next day we took the metro at Spanish Steps, which was only a couple of stops from Colosseum, beside the Flavius Amphitheatre. This site is always busy so I recommend pre-booking your tickets or getting a Roma Pass to avoid the queue. The Roma Pass allows entry into two museums and your transport for two days. At €34 it is good value for a two night stay. The Colosseum is an awesome monument but it is a shame to spend too long visiting the sites of the past when there is so much else to see and do. Rome is a city of living vibrant people who love culture beauty and food and for those looking for a perfect weekend break there isn't anywhere better. You can fill your time visiting the Villa Broghese, Roman Forum or Circus Maximus but you will never get to see it all so it is probably best to just keep chucking coins in the Trevi Fountain to guarantee your return. 
As we checked out of the Hotel d'Inghilterra our charming receptionist assured us that this was our home for the next time we returned, we thanked her and assured her that we would be back. And I won't be leaving it eight years either!
Michelle x
The Hotel d'Inghilterra is part of the Royal Demure hotel group. Classic rooms start from 270 Euros for 1 night based on 2 people sharing and including breakfast in January 2014