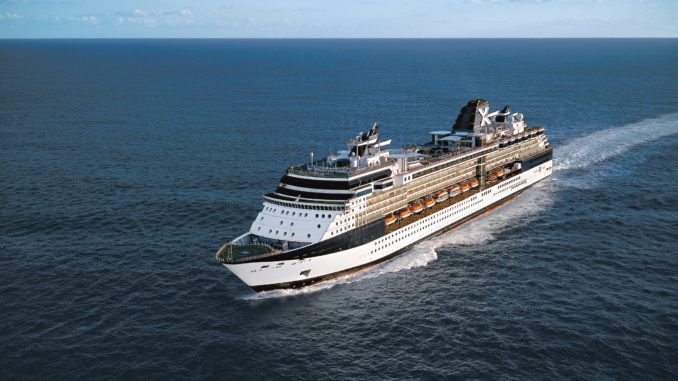 I was ten years old when my Grandmother first explained to me about cruising. With a passion for travel and love of the ocean she told me that she had wanted to be a steward on the Irish Sea ferries but World War 2 had prevented that dream. A few weeks later, after she had returned from sailing the Med in the SS Uganda, with a holy water font from the Vatican and pair of bongos from Tangiers, I still didn't get the significance of where she had been or what she had done. Indeed it took me another thirty-plus years before I was to sample the addiction that cruising has become for me and my family.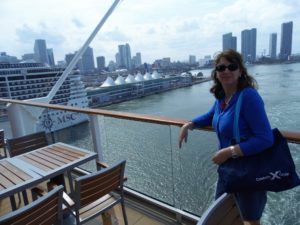 For my first cruise I brought along my mother, now a grandmother herself, and my daughter who was eight-years-old at the time. We boarded the Allure of the Seas, which is in Royal Caribbean's Oasis Class and one of the largest ships in the world, all of Royal's ships are named  'something' of the Seas and I can still remember the tingle in our stomachs and gasps we made as we reached the port and our ship came into view. It was bigger than the huge hotels in Las Vegas and how it stayed up in the water was a miracle. Walking up the gangway we were transported into a wonderland, a bit like Charlie must have felt when he stepped through the doors of Wonka's factory. From my mother's and daughter's reactions at that time I realised this was going to be an experience to remember.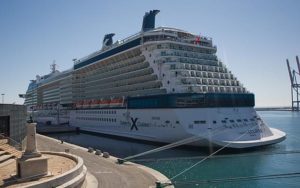 When cruising, staff are at hand to help at every point of the journey from check-in to disembarking. It's the sort of holiday where you can switch off and become very used to getting spoiled. The all inclusive element is very attractive when travelling in a family group and kids can help themselves to drinks and cookies all day with an icecream machine on deck. Finding our way around the ship was part of the fun and with floating bars that elevate between decks, vintage cars in the main thoroughfare and a street of eateries and bars lining the promenade, it was a bit like walking around a floating Disneyland. There's even a carousel on board. Royal Caribbean have five different sized ship classes and are especially good at catering for all generations in the family.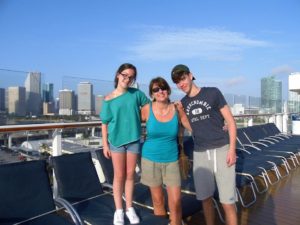 A couple of years later I took a cruise out of Venice (with possibly the most spectacular view from any port) on the Splendour of the Seas and the smaller ship proved just as entertaining for both of my kids who were that little bit older. It's important to find the right class of ship for your personal needs. I always recommend chatting with a bonded tour operator like Cruiseholidays before deciding on the brand or ship for a cruise, their newly refurbished shop in Middle Abbey Street in Dublin sells all the best brands and often has deals with second person half price, or free drinks packages thrown in. The earlier you book the less likely you are to be disappointed as the most popular routes can be booked out 18 months in advance. There are expert cruisers who even know the number of the cabin they want to stay in because it's close to the elevator, or the back of the ship or the casino…whatever their preferences.
The real beauty of cruising is waking up each morning in a new country without having to pack, check-in to an airport or jump on a train. I'll never forget waking after our first stop at a tropical Caribbean island, my mother thought she had actually woken up in heaven!
When taking my father on a Celebrity Cruise last year the criteria was simple, he wanted to bask in the sun all day and in private rather than up on deck with the other passengers. Celebrity Reflection has a tiered rear of the ship with some verandas in constant sunshine, a traditional balcony at the side of the ship usually has sun for half the day. Celebrity Cruises are described as modern luxury and they cater for a broad demographic. Definitely five star, with Celebrity you get a cruise with many extras including Cabanas on a lawn and the finest dining I've enjoyed at sea. Qsine fine-dining is one of several speciality restaurants on board the Solstice Class and the kids loved ordering their meal on an iPad and dining on foods of the world packaged in taste of the country of their choice. Dessert was chosen by the roll of a Rubik's Cube. It's this sort of decadence that stays in the kid's minds.
Honeymooners have plenty of space on board to disappear into the hammocks dotted around the ship. The little extras you get with Celebrity make it the perfect holiday for a special anniversary, or celebration. The sunset bar at the rear of the ship with live entertainment as we pulled out of port is one of my favourite spots on a ship. For my kids, who are now teens, Celebrity was 'on point'. They had freedom that I wouldn't be able to give them in a foreign country, to stay out late and not be lured into underage drinking. On boarding every passenger is given an identity card which acts as currency, room key and basically all that is needed for the duration of the holiday.  There's a facility to keep an eye on your tab from the TV in your cabin to make sure you don't over spend.
There's always something to do on a cruise. My mother enjoyed bridge in the games room, the comedy club and dance classes are perfect for days at sea and the Aqua Spa is an oasis of calm and luxury. You don't feel like you are sharing your holiday with so many people on a Celebrity Cruise and as the ships are mid-size you get the perfect balance of top class entertainment and high quality dining usually reserved for smaller ships in the luxury market like Silverseas.
However kids clubs and cartoons are what little children want and MSC is especially good at catering for the little ones. MSC have taken the European and world market by storm and with three new fantastic ships coming on line next year MSC are ideal for first time cruises. Their route out of Abu Dhabi is proving very popular for all year round sunshine and like the other two brands they offer a huge range of popular destinations around the world.
Next summer Celebrity Cruises will base a ship in Dublin which is a first for Dublin Port. The cruise will be travelling north and visiting hugely popular destinations like Iceland. Cruising is on the increase and with some availability still this might just be the year to give it a try. But if you bring the kids be warned as you may find it difficult to get them to go on any other type of holiday after! I'm sure my granny would approve and be overwhelmed at the variety of cruises available and proportionally at such accessible prices in comparison to what she had to pay in the 1970s.
10 Night Italy & Spain Fly/Cruise fr€1789pp
Return flights, All taxes and charges
10 Nights on board Celebrity Cruises Constellation – Outside stateroom
Based on 2 adults sharing
Date of departure: 02 May 2017
Our Ref: 531805
Includes Free Classic drinks package www.cruiseholidays.ie
Tel 018173558 dublin
0212429555 cork
Miami & Caribbean Fly/Cruise fr€1949 pp
Return flights, All taxes and charges
3 Nights accommodation Miami
07 Nights on board Celebrity CruisesEquiniox – Balcony stateroom
Based on 2 adults sharing
Date of departure: 08 June 2017
Our Ref: 531808
Includes Free Classic drinks package
Tel 018173558 dublin
0212429555 cork
Orlando & Caribbean Fly/Cruise fr€1199 pp
Return flights, All taxes and charges
4 Nights accommodation Orlando
07 Nights on board Royal Caribbean International Oasis of the sea's – Inside stateroom x2
Based on 4 & 2 kids adults sharing
Date of departure: 27 Sept 2017 H www.cruiseholidays.ie
Tel 018173558 dublin
0212429555 cork
Our Ref: 531810
MID TERM OFFER!
7 Night Med Fly Cruise From Only €979pp
Includes return flights to Barcelona
7 Nights on board the brand new MSC Meraviglia
Based on 2 Adults & 2 Children sharing an inside cabin
Includes Free WIFI (Social) & €200 On Board Spend Per Cabin 
Ref: 531366
Departs 27th Oct 2017
Tel 018173558 dublin
0212429555 cork