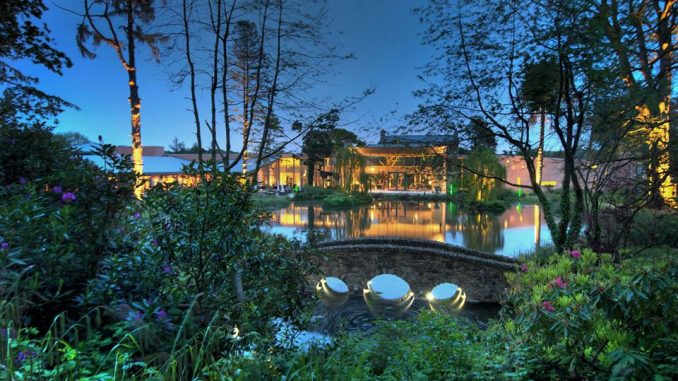 It's that time of year when we all need to think about the best way to spoil our mums. With all that is going on abroad with the Covid-19 virus many are nervous about travelling abroad but if you feel fit and well there really is no reason to avoid airports and only destinations on the DFA recommended list are currently risky to visit.
Take a weekend to Barcelona, Vienna or Kracow but I recommend booking with a registered travel agent – I always say this as it gives you full protection in the case of emergencies.
These packages are with Sunway and you can call 01 231 1800 to book.
Or look up their website https://www.sunway.ie/
Barcelona:
Barcelona is a beautiful, sprawling city famous for having some of the most magnificent architecture in the world. Not just to be enjoyed by art lovers and history buffs, the city is also a cosmopolitan locale offering amazing shopping, innovative cuisine and of course, scenic sandy beaches lining the Mediterranean. Hotel Colonial Barcelona is an elegant hotel set in the Gothic Quarter, in an impressive, colonial, stone building with a clock tower. It is a 10-minute walk from Barcelona Cathedral and Barceloneta Beach.
22nd March 3nts
Aerlingus flights 10kg hand luggage each
Decent 4* Hotel Colonial Barcelona standard room b&b
€349pp
Vienna
Vienna spoils you with its palaces, Klimt-filled galleries, stately baroque streets and hallowed concert halls.  Relax with coffeehouse culture, expansive parks sprawling along the banks of the Danube and fantastic food. Stylish Mums will love its neighbourhood markets, retro cafés and new-wave design studios. The traditional Hotel Kaiserhof Wien is located in a quiet side street of Vienna's vibrant 4th district, only a 7-minute walk away from the State Opera, the Ringstraße Boulevard, and the Karlsplatz Underground Station.
21st March 2nts
Ryanair flights 10kg hand luggage, priority & seats
Very good 4* Kaiserhof Wien hotel
€319pp
Kracow
Kracow is one of central Europe's jewels; with a history that stretches back to the 10th century. It is also the best preserved city in Poland, the old town centre having escaped the destruction that befell the rest of the country in WWII. It brims with atmosphere with narrow, cobbled streets radiating off the impressive 13th-century Market Square. Night life is fun with lots of lively bars and restaurants. More than anything, culture is at the forefront of this city from the Royal Castle and Gothic cathedral which dominate the town from their perch on Wawel Hill to the 16th-century synagogues in the Jewish Quarter, made famous in Schindler's List, to Leonardo da Vinci's 15th-century Lady with an Ermine housed in just one of a plethora of museums.
4* Vienna House Andels Kracow
Bed & Breakfast
From €349pp
Departing 20th March for 2 nights
 Hotel link : https://www.sunway.ie/citybreaks/index.asp?resort=KRKKAN
* * * * * * * * * * * * * * * * * * * * *
Is your mum a lover of Spas?
I've two packages – one in my favourite hotel Monart!
Spoil your Mum in 5 Star Style with Monart Destination Spa
March 22nd is the official day for mother-adoration. If you really want to impress your mum, the gift of Monart Destination Spa is sure to score some major points.
Spoil your mum for choice as she can select the ultimate day of pampering at the world-class Spa with a thermal suite offering a journey of relaxation combined with the most advance spa technology available plus an unparalleled programme of luxurious treatments. Or she may opt to enjoy the delicious food on offer at the award-winning house restaurant, or savor the delights of Afternoon Tea at the plush Palladian Manor house or she can soak up the atmosphere at the brand new Garden Lounge where a menu filled with dishes featuring a variety of local produce is on offer, or best of all, she may choose to check-out of the house and check-in to the deluxe five-star retreat for a complete escape.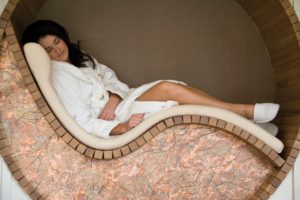 Located just outside Enniscorthy in County Wexford, Monart is regarded by the top Travel Guides as one of the world's leading destination spas, offering a unique adults-only environment completely focused on your health enhancement, wellbeing and self-renewal.  Situated in over 100 acres of lush Irish countryside Monart provides the ultimate haven.
Vouchers are available in denominations of €50 – an added bonus, all vouchers for Monart Destination Spa are expiry date free. See monart.ie
The Sunday Escape
Condé Nast has ranked Monart among the world's Top 3 Destination Spas for two years running… so no better place for pampering. The Wexford resort has a Sunday Escape package bundling one night's B&B with unrestricted access to the thermal suite and spa classes, plus dinner from the Table d'Hote menu, all priced from €169pps.
Details: 053 923-8999; monart.ie
 Kerry
Muckross Park Hotel & Spa offer a package that's very suitable for Mother's Day and available until May 2020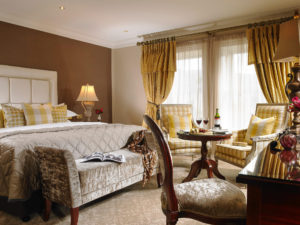 .
The Spa at Muckross, the award-winning luxury spa destination within the spectacular surroundings of Killarney National Park, is the only location in Ireland to offer The Organic Pharmacy, the luxury health and beauty brand who offer treatments that combine plant actives, cosmeceuticals and vitamins with their signature massage technique to give results driven healthy treatments that pamper and rejuvenate the mind and skin.
As part of the package, enjoy a 50 minute signature massage or 50 minute facial using products from The Organic Pharmacy and after your treatment, let your worries drift away in the state of the art thermal area and vitality pool before making the most of the longer evenings with an evening stroll, to savour the natural beauty of the surroundings of Killarney National Park.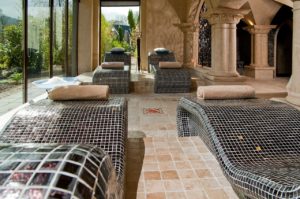 Available both midweek and weekends from the month of February until May from €170 per person sharing, enjoy an overnight stay with indulgent treatment in The Spa at Muckross and breakfast the following morning. For more information or to make a reservation, call +353 (0)64 6623400, or email info@muckrosspark.com .
If you would rather stay closer to home – there are some lovely deals with Ireland's Blue Book
Is your mum a lover of Flowers?
Ardtara Hotel, Co. Derry/Londonderry
MOTHER'S DAY FLOWER ARRANGING MASTERCLASS
Willow and Twine Design Studio will join you at Ardtara to demonstrate how to make a beautiful hand tied bouquet. The masterclass includes: Full tuition with all materials, flowers and foliage, a mini afternoon tea with prosecco, 3 course dinner, and a beautiful bouquet to take home.
Valid from: 18.03.2020 to 19.03.2020
From: Tickets are £110 pp, with overnight packages starting at £149.50 pp
To book: contact Ardtara directly at +44 (0) 28 796 44490 or at info@ardtara.com
Is your mum a lover of Romance?
Spoil Mum mum in a castle this Mother's Day with a stay at the stunning Kilkea Castle in Kildare, just an hour's drive from Dublin. Stay in a luxurious Castle or Carriage room (from €140 B&B per room based on 2 sharing), explore the rolling 180-acre estate, perhaps indulge in a delicious meal in the fine-dining Restaurant 1180, or take some time out in the brand-new Elemis Spa with a range of relaxing treatments available.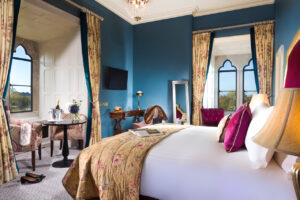 Sit back and spoil Mum in the luxurious Castle Drawing Room with decadent Afternoon Tea, overlooking stunning views of the estate. Traditional afternoon tea is €30 per person and a Champagne Afternoon Tea is €40 per person (after all, it's Mother's Day!)
Is your mum a lover of Cooking?
MOTHER'S DAY / NIGHT AT BALLYMALOE HOUSE
Ballymaloe House, Co. Cork
Treat your mother to an extended Mother's Day.  Join us Sunday afternoon, 22nd March and relax in the house and grounds.  Enjoy a glass of bubbles together in the drawing room before the famous Ballymaloe Sunday night buffet.  Stay over in a unique Country House room and start the week from Ballymaloe House relaxed, refreshed and having spent quality time with your mum on Mother's Day.  On Sunday nights we serve our delicious Irish buffet which was traditionally served by an inspirational mother herself, Myrtle Allen, and is now served by her daughter, Fern, along with members of the Allen Family.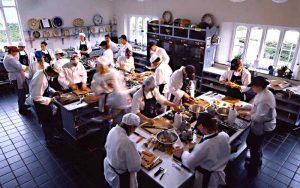 Our traditional Sunday buffet night dinner consists of a wide selection of fish and meat patés, shellfish (clams, cockles, mussels, crab, shrimps and lobster as available), locally smoked fish (eel, mackerel, salmon), home-produced vegetable salads and freshly cooked local meats (beef, pork, turkey, ham, lamb, ox tongue etc).
Valid From: 22.03.2020 to: 23.03.2020
From: €195.00 per person
To book: Contact Ballymaloe House at 021 465 2531 or at res@ballymaloe.ie