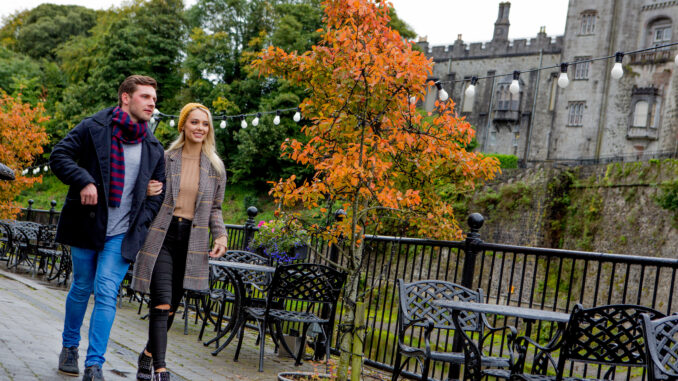 This Halloween there's so much to do in Kilkenny. Castlecomer Discovery Park are focusing on nature and family time as a theme.
They are running Family Bug & Nature Hunts every day during the school break (24 Oct – 1 Nov).  How would your family fare as a nature detective, join us for our Bug & Nature hunts in our stunning forest.
This is an activity that all the family can do and is suitable for 5 upwards.  Children are natural born explorers and this activity gives them the opportunity to search out the abundance of insect life under rocks, and logs and in ponds.  Bug viewers are provided and our trained guide will give you lots of interesting facts about our inspect life. The sessions last approximately 45 minutes to an hour. Cost per person is €5.  Hunt times are 12.00, 1.15 and 2.30.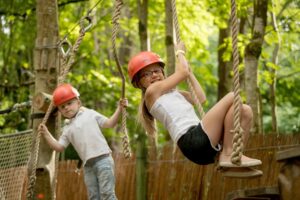 In addition, this Halloween they are focusing on nature and family time as our theme.  Get outdoors and spend some time getting up close to the natural world and the biodiversity that surrounds us.
MONSTER INC SCAVENGER HUNT
This Halloween enjoy a family friendly scavenger hunt around the park that uses the movie favourite "Monsters Inc" as its theme.  Get those little feet walking through our beautiful woodlands to find the many clues along the way, take time to do a small monster craft before heading back to collect a little surprise. In a world behind our closet doors, monsters reign supreme.  €7.50 per child (suitable for kids 4 – 8), adults go free.
Castlecomer Discovery Park is set on 80 acres of stunning woodland and lakes in Castlecomer, Co. Kilkenny.  It offers a range of adventure activities including tree top walks, Ireland's longest zip wire and high ropes challenge, climbing walls, boating, archery, adventure playgrounds, woodland café and orienteering. At the hub of the site there is the Irish Mining Museum, a purpose-built cafe, craft village and spaces for educational activities. https://www.discoverypark.ie/
PUMPKIN PATCH
Pumpkin Patch will be open from the 16th – 30th October. This is for day visitors to the farm and Campers only.
All-day visitors must book their visit online and payment can be made directly at Reception.
Pumpkins are €5.00 each and can be carved here at the farm or can be brought home!
Monday 25th – Saturday 30th October we will run our Halloween activities for the public.
ONLINE BOOKING IS ESSENTIAL FROM THE 25TH – 30TH OCTOBER.
IF YOU ARE CAMPING HERE AT THE PARK ADULTS CAN GO FREE TO THE HALLOWEEN EVENT ON EACH NIGHT.
THERE IS A €6.00 ENTRY FEE FOR ALL AGES under 2's go free.
Our activities for Saturday 23rd and Monday 25th – Saturday 30th all include the following events. Torchlight Treasure Hunt and Bonfire with a Scare Maze and Marshmallow toasting.
Situated in Bennetsbridge Kilkenny, Nore Valley Park offers a full camping and glamping site, as well as a pet farm and lots of family activities throughout the year https://www.norevalleypark.com/
Discovering the hidden world of Bats – October 31st @1.45pm
This one hour Halloween workshop introduces kids to the amazing but hidden world of bats. The kids discover all about bats through the life of the common pipistrelle bat, from spring awakening to hibernation in the winter. This is done through games, art and a quiz. Also, to dispel some of the common myths around bats, like they deliberately fly into your hair. Admission: Free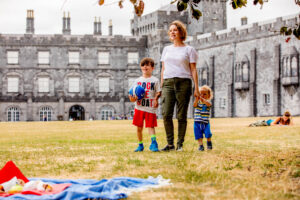 The Kilkenny Catwalk Trail consists of 21 wonderful Cat sculptures which have been decorated by some of Kilkenny's most talented artists for public display in and around Kilkenny City until next April. Visitors are invited to follow the trail on the official Kilkenny Catwalk Trail App and find sculptures that will be located in Kilkenny's beautiful public spaces, many of which are attached to the heritage buildings around the city.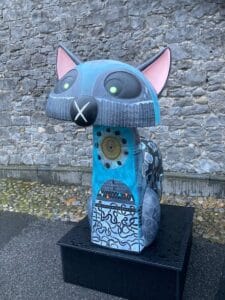 Inspired by the feline character Pangur Bán that features in the film 'Secret of Kells', the 5ft tall sculptures are scattered around the city and make for a great way to see some of Kilkenny's best loved attractions and get some iconic photos and memories on your next Kilkenny getaway. – Visit.www.kilkennycatwalk.ie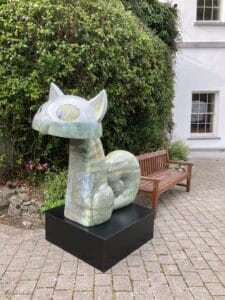 Some of the Sculptures featured include 'Cats Can't Swim' Here the artist took her inspiration from her home beside the River Nore and its breath-taking banks and walkways. The colours and textures used reflect the colour of river water during floods and the impact climate change has on our rivers, wildlife and animals.
Entitled 'Shadow Slide', this cat is known as a 'shape shifter'; turning blue colour at night reminiscent of midnight sky, and its swirling tail is like the galaxy!
Upscaling and recycling old objects is what the next sculpture is all about! 'Black Cat' was created from a mix of paper, offcuts of wood and even broken records. In its final glory it's a strikingly beautiful black cat, whose home is inside the Design & Crafts Council of Ireland, https://www.kilkennycatwalk.ie/
THE HOME TO  KILKENNY'S MOST RENOWED WITCH
Since it was first established by the notorious Dame Alice de Kyteler in the 13th. Century, the Inn has welcomed visitors and has provided them with good food and beverages. To-day it's a famous bar where visitors from all over the globe visit because of its spooky history!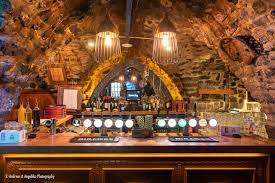 One of the oldest inns in Ireland, its first owner occupies a special place in the history of Kilkenny. The daughter of a Norman banker, Alice de Kyteler married four times and, in the process, amassed a considerable fortune. Local jealousies abounded and she was eventually accused of witchcraft and sentenced to be burned. Her excellent connections with local gentry ensured however that she was 'spirited' out of the country to England before the execution could take place.
The Halloween mid-term break is the perfect time for the whole family to enjoy a fun getaway together and Newpark Hotel is the ultimate Halloween family break destination in Ireland. The family friendly hotel is situated just on the edge of Kilkenny City so you can easily check out Kilkenny's best attractions & things to do during your stay. Here are the hotels top mid-term family break packages:
Two OR three night action packed family Halloween Breaks: From €648 for two nights
The hotels 2 and 3 night Halloween break offers include accommodation in family rooms,  breakfast each morning with dinner on one evening.  The break includes daily Kids Club from 10 a.m. – 4 p.m. & evening kids club from 7pm-10.30 p.m.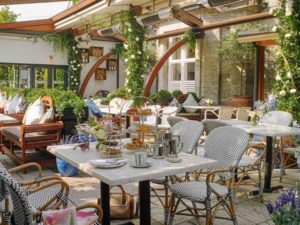 Children have full access to all the Newparks Hotels kid's activities, including On-Site Activities for Kids the Newpark Adventure Trail; Playground including a zip line and Tree Top Adventure; Fairy Trail Experience and Go-Karting Track and soft playground for the under 3's.
October midterm family hotel breaks are available at Newpark Hotel from Monday 25th October to Tuesday 2nd November inclusive. www.newparkhotelkilkenny.com