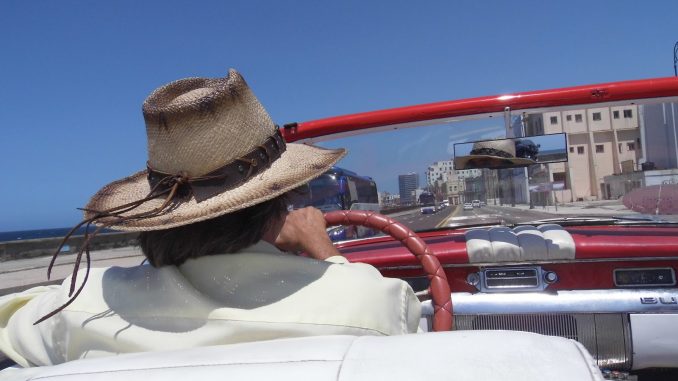 Nine years have passed since my last visit to Havana. I was so enthralled by this romantic city that on my return I wrote the novel One Kiss in Havana. I've yet to find a better setting for a book.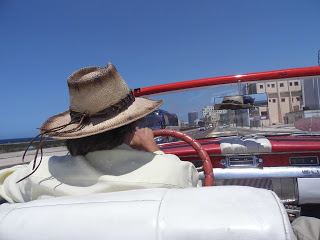 Riding the Malecon in a Buick
Havana is a rhythm, a heartbeat that either resonates with you or pounds with a loud din.
It's difficult not to be passionate about this place. I am sitting in the back of a vintage red Buick and wondering why I left it so long to return. Luis is driving the car that takes me from Miramar to the old town and he joyously informs me that he works for himself. Wearing a cowboy hat, sunglasses and a wide smile he explains that his father was handed down this car from his father. Pre 1959 Cars were one of the few possessions that the population were allowed to own after the Revolution. Luis works it from dawn to dusk giving the government $100 CUC (Cuban convertible pesos) per month as well as 10% of everything that he earns. The Cubans have a two tier currency – CUCs for the tourist population and purchasing luxury items and the peso for use by the general population. Luis has embraced this new way of doing business but goes on to tell me that on the down side he has to pay for his own gas.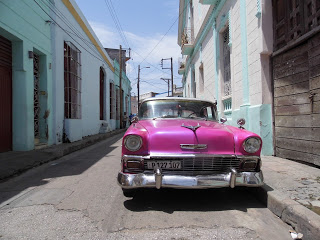 The streets are more carefully manicured than I remember and the sweeping water-fronted Malecon is looking exceptional clean and freshly painted. The president, Raul Castro and Unesco have put a huge amount of investment in to maintaining the city's unique architecture. The roads however are still potholed and this means Luis takes the car on a bumpy, zigzag course. "You sometimes get a massage for free in this car," he jokes. He takes my photo before I pay him $20 and then merrily sets off, adding that he hopes someday to own a Honda!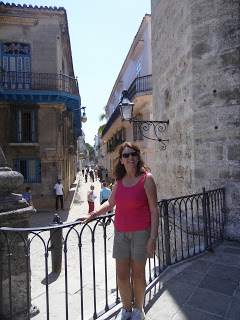 At the Cathedral Cristobel
The famous Bodegita del Medio, where Hemmingway enjoyed his Mojitos is the very same as it was in 2006 and I fruitlessly search for my signature on the blue walls, covered by years of graffiti. It's an impossible task so this time I take a photo to remind me where I sign my name. Many authors and musicians have passed through these doors including the great Gabriel Garcia Marquez.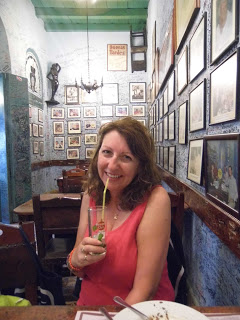 My mojito at the Bodegita del Medio
As I make my way along Calle Obispo I'm startled by the subtle changes, there is an industrious air about the locals that was not there before. Some things however do not change and toiletries are still rationed so I bring along a bag filled with shampoo and soap from my hotel room and distribute them to passersby along with some pens. Even sachets of hotel room coffee are greatly appreciated.  Calle Obispo runs from Parc Central to the Malecon and is a good indicator of how the old town is doing − the stink is gone so maybe there have been renovations to the sewer system too.  I pop in to see the Ambos Mundos Hotel where Hemmingway lived from 1932 to 1939 and anyone can visit his room which is maintained in its original state for $5.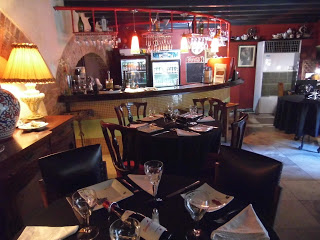 Nao restaurant Paladeras
At Cristobel Cathedral old ladies still wear white turbans and long lace dresses as they sell knitted dolls. I stop off in Nao, one of the new breed of self owned paladares (restaurants set in local homes) and am instantly impressed by the welcome and decor. "It's happy hour," the barman Johnny says. He insists that I sit at the bar and drink a Mojito, while a trio of musicians serenade. Although there are only six tables set, it is cosy and the menu offers a wide range of delicacies including octopus and rabbit. Johnny says the fish they use is all freshly taken off the fishing boats every morning. Like Luis his enthusiasm for his work is in complete contrast to the laid back service I found in the state owned restaurants in the past.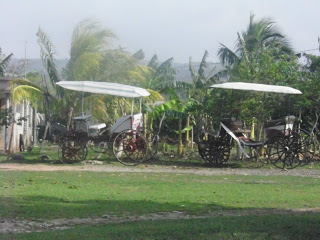 Cuban transport
With a little sadness I leave Havana next day to explore more of the countryside.  This agrarian landscape is how I imagine rural Ireland must have appeared to visiting Americans in the 1950s and 60s. I pass small shacks, tumbledown houses with a slap of paint here and there and goats and hens roaming the gardens. The fields vary in size and undulate in most cases as the tractors are saved for the larger centrally owned farms. It's common to find tall palm trees standing in the middle of a field.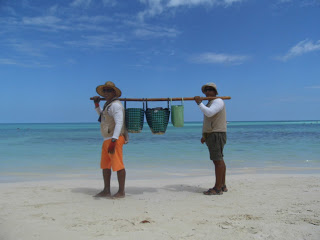 It is a four hour bus ride to Cayo Coco and the archipelago of wetlands that make up the Jardins Del Rey, named The Gardens of the King by Columbus after his arrival in Cuba. These mangroves are joined to the mainland by a seventeen kilometre causeway. The Melia group have opened a new four star all-inclusive resort with the same name and it has prime location on the unspoilt waterfront.  This is a much smaller resort than the more widely visited Varadero beach. A white sandy beach runs along the back of the hotel. Every little comfort is included in the hotel package as Pedro and his donkey patrol the beach handing out beers and soft drinks to the hard-pressed sunbathers.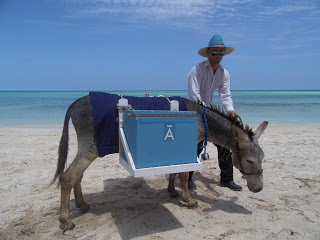 portable bar, the Melia at Cayo Coco
Next day I take a trip with Gaviota tours on a Catamaran. As we set sail wild dolphins swim past. This is the Caribbean at its best. The catamaran anchors close to a coral reef and it's time for snorkelling. These are the moments that I will dream about on rainy winter days. As the warm breeze kisses my cheek and the velvety turquoise sea beckons I take a sip from my Cuba Libre and smile. This cocktail of White Rum and Cola was given its name by Americans who flooded the country after the expulsion of the Spanish in 1898. Ideally the mix of the Cuban Rum and American Coke symbolised the new free Cuba, hence the name Cuba Libre. But it wasn't the case as Cuba became a playground for rich Americans. However after the revolution headed by Fidel Castro and Che Guevara some staples remained and this drink is one of them.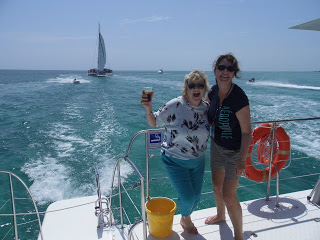 A week is easy to fill by the beach if a sun holiday is what you want but I'm on my way to Santiago de Cuba so I start the long voyage via my next stop at the city of Camaguey. This is a clean and beautifully preserved city. It is different from Havana with more surreys and bicycles than old Cadillacs.  The winding labyrinth of streets, hide a cornucopia of talented artists exhibiting their work and an abundance of clay pots that the city is famous for. That night I stay at Santa Lucia where the waters are bath temperature and shallow. I check in at the lively Brisas resort and embrace the beach. Reluctantly next day I set off by bus and the roads become more sporadic − many have evolved into mounds of clay. It is rainy season but the rains haven't travelled down to this part of the countryside yet and there are serious concerns about the drought.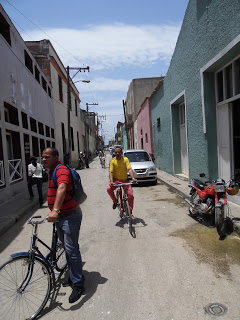 Camaguey
The journey through the spine of Cuba is fascinating as the locals pile in and out of cooperative cars. Every horse and cart is packed to capacity and good humour accompanies the travellers as they set off. My next stop is Holguin where the local beers Cristal and Bucanero are brewed. The landscape changes the further south I travel and bumps rise out of the landscape. This city is crowned with a sacred site and terrific viewpoint from Loma de la Cruz. I pay homage to patron St Lazarus temple at the foot of a large cross and breath in the panoramic view.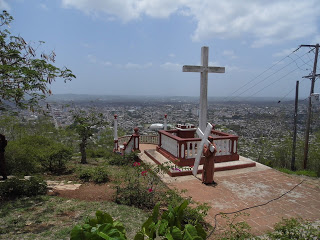 Holguin
The rest of the journey towards Santiago de Cuba involves passing through El Cobre and the contrasting mountainous landscape. Cuba's second town has similar attractions to those found in Havana and is celebrating its 500th year since the Spanish founded it. The Tropicana cabaret is a wonderful excursion and the dancers come out into the crowd and perform the conga at the end of the show. The Casa de la Musica has a venue in Santiago de Cuba also and many of the original Buena Vista Social Club hailed from this town. San Pedro de la Roca Morro Castle has one of the best views over the city so I stop and dine in El Morro restaurant and sit in Paul Mc Cartney's chair which has been engraved since his visit. It's pointless to compare the cities any further without getting into a Dublin Versus Cork style debate. Santiago de Cuba is a beautiful city that stands alone and has the unique advantage of being the original site where Castro declared the socialist state on January 1st 1959.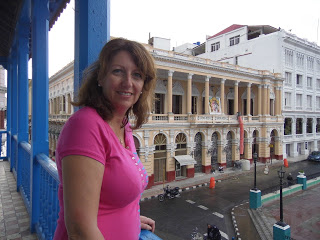 The balcony in Santiago de Cuba, from where Fidel declared the revolution in 1959
It is over 900 Kilometers from Santiago de Cuba back to Havana so I take an ATR42 with Cubanacan tours back to the capital. This island, the biggest in the Caribbean will not be ignored. Change will come to Cuba as the doors open and embargo is lifted however I think this change will be slow. My advice is to get there before it does.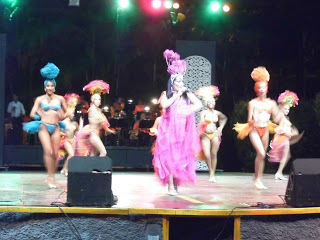 At the Tropicana
Michelle Jackson is author of One Kiss in Havana published by Poolbeg Press and available on www.amazon.co.uk for more information see www.michellejackson.ie
Factfile
For more information about Cuba see www.travel2cuba.co.uk
Air France flies from Dublin to Havana via Paris with return fares starting from €812 including all taxes and fees. For more information and to book, visit 
www.airfrance.co.uk
.
Havana & Varadero twin centre holiday, 9 nights 
from €1689 (per person based on 2 people sharing)
2 nights at the 4-star 
Melia Cohiba, Havana
 & 7 nights at the 4-star 
Melia Peninsula Varadero,

Includes flights from Dublin to Havana via Paris with Air France, all transfers to, from & between hotels, breakfast in Havana & all inclusive in Varadero.
Valid for selected September 2015 departures.