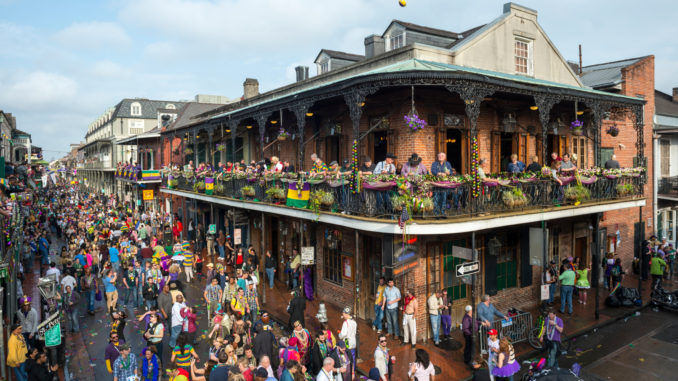 BEADS AND DOUBLOONS …
Nicknamed the greatest party on earth, when Mardi Gras hits New Orleans the ground shakes, hips swing and the celebrations last late into the night. With Mardi Gras one week away, we're spotlighting New Orleans, the city with greatest amount of bars per capita in the US.
Although French settlers have been celebrating Mardi Gras or "Fat Tuesday" in New Orleans since its foundation in 1718, the festival took its modern form in the mid-19th century. Mardi Gras covers a number of days and involves a fantastically gaudy cast of revellers, parade-artists and party-people. The event is a holiday in the city, so it rarely involves fewer than 70 parades. The common refrain among the crowd is, "Throw me something mister/sister!" Directed at the floats, their riders frequently deliver with items such as drinking cups, necklaces and colourful coins called "doubloons".
As the birth place of jazz music in 1891, an energetic and mixture of African and Creole rhythms with European styles and instruments, when you visit you'll fall in love with the culture and soul of 'The Big Easy'.
Enjoy two of life's greatest pleasures – music and food – on these incredible Luxury Gold Journeys:
Southern Grace | 9 days
Step into the heartland of soul music, as you travel from Nashville through Memphis on to New Orleans.
Journey Highlights:
Memphis: Meet Elvis' close friend for a tour of Graceland before sitting down to a dinner on the grounds.
Nashville: Join the ranks of superstar musicians like Elvis Presley, Dolly Parton and Willie Nelson and record a song at legendary Studio B, take home the recording as a truly unique souvenir.
New Orleans: Visit Houmas House, the crown jewel of Louisiana's river road, voted best Louisiana attraction for 2017.
Price was: €3,775 pps
Price now: €3,586 pps on select departure dates
The Sumptuous Soul of America | 8 days
Enjoy the sights and sounds on this sensual journey through the American heartland. Start in Chicago, a great food city also known for its jazz and blues. Travel south to the musical meccas of Nashville and Memphis. Then head down through the Mississippi Delta and on to zesty New Orleans.
Journey Highlights:
Louisville: Visit Churchill Downs on a private tour and meet the world famous horse jockey, Charles Woods Jr.
Chicago: Appreciate the variety of impressive styles and achievements in design during your architectural river cruise, as a Local Expert reveals how the city was transformed after the Great Fire of 1871.
Memphis: Visit the National Civil Rights Museum
New Orleans: Join a Local Expert for an atmospheric tour of the city. Learn about its rich history steeped in the myriad of cultures that have found a new home here.
Price was: €5,875 pps
Price now: €5,581 pps on select departure dates
For more information, please contact your local Travel Agent, call a Luxury Gold Expert on
1800 98 98 98 or visit luxurygoldvacations.com