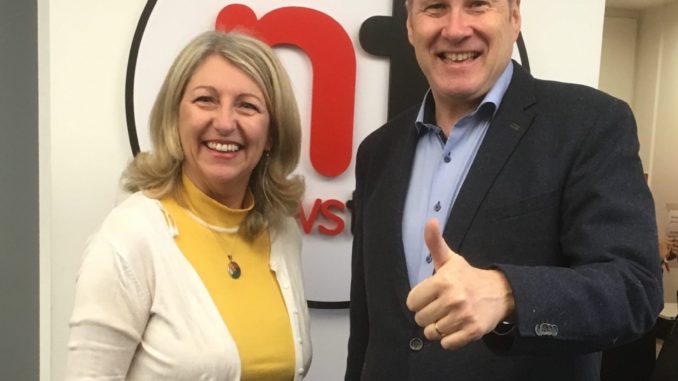 Newstalk Listeners Questions June 27th 2019
Hi Michelle, I am looking for some advice. My brother is 10, I am planning on taking him on holidays when I am finished my finals – so say Easter/May 2020. He would like to go to Italy. What areas would you recommend to take him that there are beaches, nice restaurants and activities for him –  not kids clubs etc. as I am taking him to spend the time with him? I wouldn't mind doing a day trip to the likes of Pisa, Pompeii etc as he is bright and would appreciate it. I am prepared to spend a little bit extra for secure, nice accommodation as I would be conscious that it would be just the two of us. I normally book everything myself separately when going on holiday, but I've never been to Italy before so need a bit of guidance around what areas would be suitable. Thanks Nichola
Hi Nichola what a great sister! Topflight (www.topflight.ie) are the Italy specialists and have really good properties so I'd call them or go in to their offices and chat with them if you're based in Dublin. Lake Garda is lovely for kids as there's Garda land and you can easily go to Venice or Verona for the day. Bella Italia have a lovely family complex that they I brought my 15 year old daughter to Sorrento last year and we visited Pompeii and Capri and travelled down the Amalfi coast. You can read my review on my website www.thenoveltraveller.com
I'm going to Sicily myself this summer for our family holiday so will be able to report back on that in August
www.topflight.ie
* * * * * * * * * * * *  * *
We've managed to book a 5* all-inclusive holiday in Sunny Beach, Bulgaria, at a pretty reasonable rate. However, we're having great difficulty in finding flights out of Ireland to Bourgas airport (and the return leg) for the dates in question. We need to fly out on Sunday 29th September and return on Sunday 06th October. Any ideas? Rob
Often we see a bargain and book accommodation and think I'll pick up cheap flights but they don't always co-ordinate with direct flights available on those dates? I've told Rob to check with Skyscanner but be careful as you may be directed to another site which will offer rates that are no longer available but will still take your deposit. In the meantime the flights will go up – find out the carrier go and check if you can book with them on their website as I was stung a few years back booking flights to the states and as it turned out they were no longer available and in the meantime the booking site held on to my money before they would return it. I found flights from Aer Lingus direct out but return will take a minimum of one stop – with Ryanair there is a connection through the UK. Unless you book with a credit card if they ask for a cash transfer it's a red light.
There is a new package directive now which covers people once they book two elements in a package and the organiser they are covered (If you book accommodation only no comeback)
Last year we were in a heatwave and people were cancelling this year there is loads of availability up to recent weeks because people anticipating heat wave – discounts now available –
* * * * * * * * * * * * * *
"Any recommendations for solo woman in my sixties with lots of activity Thank you. Anne"
These tours with Abbey Travel are all available as twin share, or you can pay an optional single supplement to have your own room. These tours are generally around 40% solo travellers, so you won't be stuck on a tour of all couples. If you go for twin share, you will always be roomed with someone of the same gender.
These are adventure tours, so you will be with like-minded travellers who are looking to get off the beaten track. They are small group tours; the maximum number on any tour is 16-18.
They can help out with flights from Dublin, and with multi-destination trips.
Cambodian Traveller – 7-15 Aug – from €735 twin share (optional single supplement of €200)
https://www.abbeytravel.ie/adventures/solo-holidays.aspx
Inclusions
Fully guided
Meals
7 breakfasts
Transport
Private vehicle, Public bus, Remork (tuk tuk)
Accommodation
Hotel (8 nights)
Included activities
Phnom Penh – Choeung Ek (Killing Fields)
Phnom Penh – Tuol Sleng Prison Museum (S21)
Kampong Luong – Tonle Sap floating village visit
Battambang – Rural Food and Cycle Tour
Siem Reap – Three day Angkor Pass (entrance fee and guide included)
Siem Reap – Angkor Temples Guided Tour
Highlights of Jordan – 30Sep-07Oct – from €883 twin share (optional single supplement of €259)
https://www.abbeytravel.ie/adventures/adventure-holidays.aspx
What's Included
  Your G for Good Moment: Numeira Community Cafe Lunch, Jordan Valley
  Your Local Living Moment: Bedouin Camp Overnight, Wadi Rum
  Jerash guided tour
  Dead Sea visit
  Visit Madaba mosaics and Mt Nebo
  Karak Castle guided tour
  Petra guided tour
  Wadi Rum 4×4 excursion
  Red Sea stay
  Entrance fees in all included tours
  All transport between destinations and to/from included activities
Accommodations
Hotels (6 nts), Bedouin desert camp (1 nt).
Meals
7 breakfasts, 1 lunch, 1 dinner
Transportation
Private van, 4×4 pickup truck, walking.
Staff & experts
Chief Experience Officer (CEO) throughout, local guides.
* * * * * * * * * * * * * *
Hi Michelle
I'm planning a 4/5 day getaway for my sisters 50th. Any recommendations, thinking Portugal/Spain end Oct early Nov. Cathy
This is a great value package to a lovely resort in the Algarve with Click and Go.
https://www.clickandgo.com/design-your-own-holiday/customise/2019-11-05/4/2::0/BB/DUB/0/12663/66067/281?search=all/The_Algarve/2019-11-01/4/2::0//DUB/0
Real Marina Hotel & Spa
Olhao, The Algarve, Portugal
A wonderful hotel in a wonderful location, Real Marina Hotel & Spa is a privileged place indeed and is a member of the prestigious Hotels Real group. A splendid 5 star property overlooking the natural landscape of Ria Formosa and the nature reserve, Real Marina Hotel & Spa is a real treat for the senses. Offering a range of superb facilities on site, the thalasso therapy at the spa, the health club, gym, Turkish bath, various treatment rooms, sauna, jacuzzi, indoor pool (saltwater) and sensorial shower are some of the pampering amenities which await. Further facilities include outdoor swimming pool, children's pool, games room, conference centre, Restaurante do Real, Ria Lounge restaurant and bar, Bar do Real, laundry facility and 24 hour reception. The property enjoys access to the recreational pier in Olhao and some of the Algarve's best and almost deserted beaches are just a boat trip away at Ria Formosa's barrier islands or try the Desert Island.
Classic rooms are tasteful, beautifully decorated and furnished. Each is twin/double bedded and has air conditioning, phone, cable TV, (video on request), WiFi, safe, minibar, hairdryer, fully appointed bathroom and balcony or terrace. Please note all rooms have bathtub, the hotel does not have any rooms with walk-in shower.
Rooms with sea view are recommended and are available at supplementary charge.
* Some facilities may incur a local charge.
Room:
 1 x Double standard room (balcony) Board: Bed & Breakfast
Holiday makers
Adults: 2
Dates
From:
Tue, 5 Nov 2019
To:
Sat, 9 Nov 2019
Outbound
Ryanair – FR7032 Dublin – Faro Direct flight
07:10 – 10:10
Inbound
Ryanair – FR7033
Faro – Dublin
Direct flight
11:45 – 14:50