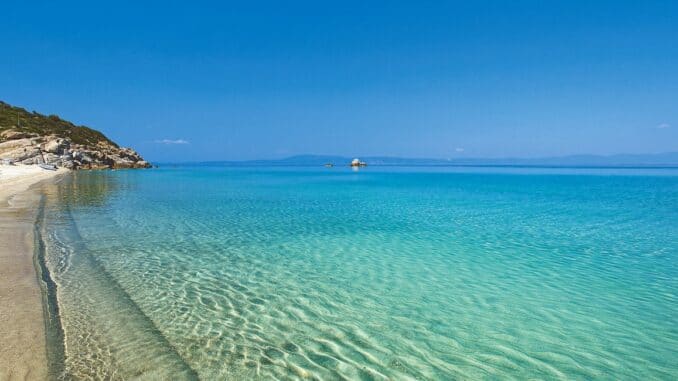 After Covid cancellations and compromises, we want our holidays this year to deliver a lot. One destination that includes beaches, culture, gastronomy, fun parks and nature. Sunway has some choices that allow you to laze on a stretch of white sand by gently lapping waters one day and take in a UNESCO world travel site the next. Single destinations can pack in the very best of every kind of holiday for all the family. For more details see Sunway
Halkidiki attracts holidaymakers looking for the classic ingredients of a beach break – vast sandy stretches, lively resorts and plenty of attractions. The blissfully warm, crystalline waters of the Ionian islands are a swimming and sports haven.  At almost 16,000 kilometres, Greece and her islands also have one of the longest coastlines in the world so lots of options for quieter beaches. Pine forests fringe the golden sands and clear waters of the Mediterranean in Halkidiki.
The northern region is composed of three peninsulas: Kassandra, Sithonia and Mount Athos, each offering something different. Kassandra is home to bustling beaches lined with tavernas and popular bars but opt for Sithonia for those seeking a secluded swim. Halkidiki is also home to the second-most important religious place of pilgrimage, after Jerusalem, Mount Athos which is an UNESCO World heritage site since 1988. Mount Athos or "the garden of Virgin Mary" is monastic community with 20 monasteries and is a thousand years old. Halkidiki is known for its Greek good but also, due to its location near the Turkish border, the area's cuisine has been influenced by delicacies from Anatolia, as well as fresh fish from the Aegean.
Sunway Offers
18th July  7Nights – From 819 pp
3* Ouranoupolis Princess Hotel – BB €819
4* Serenity Suites – Room Only €1119 pp
26th August 7nights – From €499 pp
2*+ Calypso Hotel – BB €499
4* Royal Hotel Polichrono –BB €649 PP
19TH September 7 – From €299
2* Melissa Gold Coast Apts  – Room Only €299 pp
5* Kassandra Palace – Half Board €589 pp
Defined by its deep, turquoise-blue waters, pine-fringed coves and bays, white sand beaches, dramatic cliffs, wealth of stunningly situated ancient sites, Bodrum is a popular choice for European travellers. Part of Turkeys turquoise coast, this breathtakingly beautiful corner of the Mediterranean offers great value too. Attractive low-rise, white painted buildings, facing onto a smart marina and presided over by the picture-book medieval castle of St Peter, help give Bodrum (ancient Halicarnassus) its charm.  Bodrum Castle, built in 1402, is the town's number-one tourist destination, and offers peaceful views over the town and the azure Aegean Sea.
Inside is the Museum of Underwater Archaeology, filled with finds from shipwrecks, which is worth a visit too. Some of the best beaches and bays in the peninsula can be accessed only by boat, so consider chartering a dinghy or booking a spot on a gulet (a traditional wooden boat) tour. If you fancy a more laid back afternoon, try a traditional Turkish hammam experience or indulge with a facial or massage. Turkish food, especially in bustling Bodrum, is fun for all the family. Children will love picking delicious meat off kebab skewers and dunking big vegetable sticks into mounds of freshly made hummus. Bodrum is incredibly family friendly and often restaurants do offer a kids meal for very little ones.
Sunway Offers
July from €799pp – 4* Ambrosia Hotel B&B – 19th July – 7 Nights
August from €669pp – 3* Baba Hotel HB – 27th August – 7 Nights
September from €509pp – 4* Ambrosia Hotel B&B – 27th September – 7 Nights
The miles upon miles of golden sand fringed by fragrant pines and palms are the main reasons that  Costa Dorada is where Spanish families head with their buckets and spades. While the Costa Dorada's beaches are definitely its best asset (86 have Blue Flags), there is plenty to see away from the coast too. The towns of Altafulla (great restaurants, a castle and a Unesco-listed Roman villa) and Creixell with its modernist bell tower; the monastery at Montserrat, a pilgrimage site and home of La Morenata, or the Black Madonna; and the chic town of Reus (birthplace of Gaudí).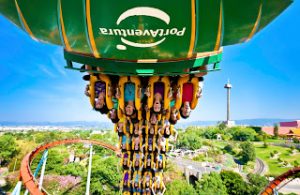 Theme park, PortAventura sprawls across 300 acres just outside Tarragona. It is one of Europe's largest theme parks, with its fastest and highest hyper coaster and its highest free-fall water slide. For history buffs, Tarragona was the capital of the largest Roman province on the Iberian Peninsula. It still boasts more Roman remains than anywhere else in Spain and the Archaeological Ensemble of Tárraco (modern-day Tarragona) is a UNESCO World Heritage site.  A short stroll east of Roc de Sant Gaietà is a new marina, one of the most modern in Spain and a hub for great bars and restaurants.
Sunway Offers
05th July 7 Nights  from €689 pp
3* California Garden Hotel Half Board  – €689 pp
31st August – 7 Nights from €435 pp
4* Hotel Salou Beach by Pierre & Vacanes – €435 pp
28th September 7 Nights from – € 269 pp
3* Camping Vendrell Platja – €269 pp