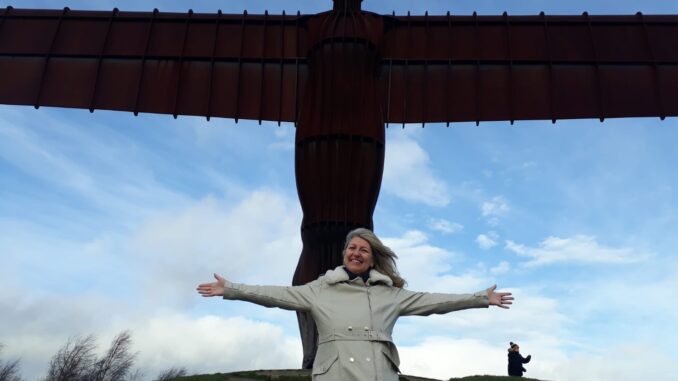 February 5th 2020 Newcastle
podcast The Hard Shoulder https://www.newstalk.com/podcasts/travel-on-the-hard-shoulder/travel-wednesday-newcastle
Well the Brexit may have happened last Friday but what does that mean for travel to and from the UK? Today I talk to Ivan about why we should pay our closest neighbours a visit over the coming months.
What does Brexit mean to Irish people travelling to Britain and from Britain?
I was chatting to Pat Dawson from the ITAA at the weekend and he assures me that it means very little for the Irish passenger and for the next 11 months there will be no significant changes happening while transferring through UK airports. The big changes will be for UK passengers most likely. But for this year there's no need to be concerned about delays.
Newcastle upon Tyne is a university city on the River Tyne in northeast England. With its twin city, Gateshead, it was a major shipbuilding and manufacturing hub during the Industrial Revolution. Spanning the Tyne, modern Gateshead Millennium Bridge, noted for its unique tilting aperture, is a symbol of the 2 cities.Newcastle is an ideally sized city for a weekend break and of course it's probably best known for stag weekends, horse racing and football. But there's a lot more to it.
How would you get there?
The airport is about twenty minutes away and the metro will have you in the centre of the city in for £3. You've a choice of two flights daily with Aer Lingus operated by Stobart Air and Ryanair and of course Ryanair have a huge sale on at the moment with flights as cheap as 9.99 one way to the UK and Europe but it ends at midnight tonight.
Aer lingus is serviced by Stobart Air and they are a regional carrier who fly to several destinations all over the uk – I flew with them to Newquay in Cornwall last year and you will remember that I had a fantastic time over there and had lots of follow up questions from listeners who decided to visit Cornwall last year
For those that don't want to fly – take the stena or Irish ferries to Holyhead and the drive will take you about 4.5 hours – it's probably easier to drive up to Belfast and go Larne-Stranraer
Art in Newcastle
Newcastle isn't the first city that comes to mind when considering an inspiring art exhibition one that will push the mind to consider new boundaries but that's exactly what happened when I entered the doors of the Baltic Museum of Contemporary Art, a 1930s flour mill that has been converted into a serious hub for art lovers. And to make it even more attractive entry is free.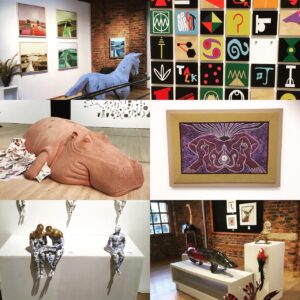 I found myself standing in front of a wall of colourful icons and hieroglyphic-like-squares and wondered what they are supposed to mean at the Animalesque Exhibition in The Baltic Museum of Contemporary Art,  I was approached by local curator Rod Urquhart, an ex policeman, who helps out at the museum and he told me what I was looking at!
"It's a language called Yerkish, devised by an American primatologist used to communicate with chimpanzees and gorillas," Rod is a wealth of information as he explains the significance of the Huge-Pink-Hippo in the middle of the floor. "This is made from the clay found at the bottom of the canals in Venice and with its equestrian background the water horse is in keeping with the theme but reflects the effect climate change is having on the planet." At different times during the day a whistleblower comes out and sits on top of him reading piece that shows the follies of man and how we are destroying the planet." I'm hugely impressed not just by Rod's knowledge but all the curators are eager to share with the same level of Geordie friendliness.
The Tyne is straddled on two sides by a suspension bridge, a mini version of the Sydney Harbour Bridge. The two bridges share the same engineers as its sister in Australia. The Tyne Bridge was finished two years before but that has more to do with size being two thirds smaller than it being a forerunner. In fact it was a trial run for the larger bridge in Australia.
In fact the bathroom on the sixth floor of the Baltic Museum servicing the restaurant sixth has probably one of the best views of any toilet in any city.
Next day we took a taxi to Beamish The Living Museum of the North which celebrates its 50th year this year.   Beamish was the vision of Dr Frank Atkinson, the Museum's founder and first director. This is one of hte most impressive history museums I've visited and the curators are dressed in period costume and character. Entry price is £19.50 for adults and £14.50 for students (Don't you love the way the English put 50p on tickets)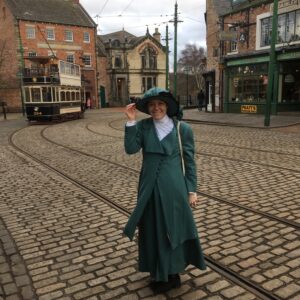 Frank had visited Scandinavian folk museums in the early 1950s and was inspired to create an open air museum for the North East. He realised the dramatically-changing region was losing its industrial heritage. Coal mining, ship building and iron and steel manufacturing were disappearing, along with the communities that served them.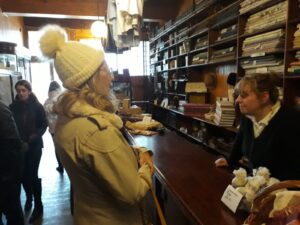 Frank wanted the new museum to "illustrate vividly" the way of life of "ordinary people" and bring the region's history alive.
Beamish remains true to his principles today and brings history to life for hundreds of thousands of visitors each year. Beamish a living museum set on 300 acres with historically correct Edwardian and Georgian towns, and a 1940s village.
I'm fascinated to visit the coal mining village. In fact the quality of the sites are so authentic that the local street and garage were used as locations for the shooting of downtown abbey, we wander into the terrace if professionals where a dentist and school teacher live the dentist is the speaking about the job he had in that day
We are taken by an electric tram from the park entrance to the Edwardian terrace and the employees are walking around in period costume.
The Francis Street cottages came to Beamish from Hetton-le-Hole, on Wearside, and were originally built in the early 1860s by Hetton Coal Company. Six of the original row of 27 homes were moved to the museum in 1976 and rebuilt in our 1900s Pit Village.
Explore this terrace of miners' cottages – No.2 is the Methodist family's home,  in No.3 live a family of Irish descent, No.4 is home to a widow who lost her husband in a pit accident, and the Colliery Pay Office is at the end.
Look out for the communal bread oven in the back lane – where there may be some delicious home-made bread baking.
Davy's Fried Fish Shop
Try our delicious fish and chips, cooked the traditional way in coal-fired ranges using beef dripping. Not to be missed!
School
Our school building came from East Stanley, a couple of miles from the museum, and originally opened in 1892.
Practise the 3Rs in the schoolroom (watch out for the stern teacher) before trying your hand at playground games. Can you master the booler?
Hetton Silver Band Hall
Discover the region's proud colliery band heritage in this century-old band hall, that was rebuilt at Beamish after being donated by former band members.
Chapel
Pit Hill Chapel – which once stood in nearby Beamish Village – is a typical early-1900s Wesleyan Methodist chapel, hosting choirs, services and community events.
We took a taxi to Beamish because my other-half tells me that we will pass the Angel of the North and our lovely taxi driver Juno from London is happy to take us past the statue for a quick selfie.
The Angel of the North
The Angel of the North is a creation of Sir Anthony Gormley one of Britain's greatest contemporary sculptors who has an Irish Grandfather. According to Gormley, the significance of an angel was three-fold: first, to signify that beneath the site of its construction, coal miners worked for two centuries; second, to grasp the transition from an industrial to an information age, and third, to serve as a focus for our evolving hopes and fears.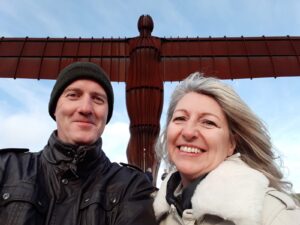 What about dining in Newcastle?
https://www.blackfriarsrestaurant.co.uk/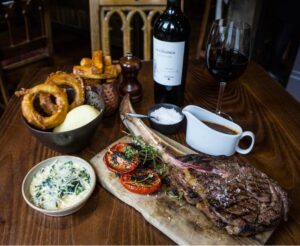 I meet with Andy Hook who is the owner of Blackfriars Restaurant which is one of the oldest restaurants in the UK. Awarded taste of the north east last year from visit Britain this former 13th century Dominican friar – used for 780 years. He uses seasonal local produce. A lunch is reasonably priced at £18 for two courses and dining in general is very cheap. He told me about the history of his restaurant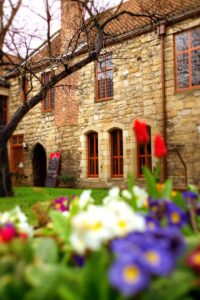 What about bars – it's well known as a good spot for a stag?
I travelled with my other half who used to live in Newcastle and he was keen to show me all the highlights. Up the road and past the eagle eye of the original Earl Grey himself who stands high on a nelson-like pillar, is The Botanist Bar. This delightful watering-hole sits under a Georgian dome lit with fairy lights that gaze on meandering branches, Victorian bric-a-brac and mixologists who pour cocktails from a watering can. The live sessions offer superb background and you can dine here too – it's the perfect venue for prinks or a place to chill at the end of the evening.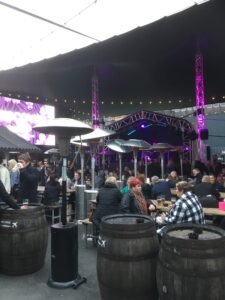 A must visit in the bar scene is Stack which is made up of old shipping containers and incredibly cool place to hang out and watch live performances and eat in one of the trendy diners. http://www.stacknewcastle.com/ The atmosphere smacked of Budapest and the cool ruin bars I'd visited in the summer. The prices were similar also to the good value in Hungry.
Where to stay?
I stayed in the Copthorne Hotel which is run by a lovely Scottish man Ken Ellington, who was passionate about customer service – even the receptionists were bright and bubbly and this is something that you can expect all over Newcastle –Lead-in rates start from £70.00 room only with breakfast vouchers available at £8.99 per person and dinner vouchers available at £15.00 per person. Copthorne Hotel Newcastle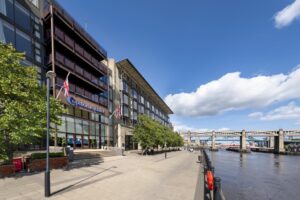 I think the key to Newcastle is the accessibility of the city and Ken has highlighted that. We walked most places and there's a gorgeous cultural center at The Bicuit Factory where contemporary artists sell craft and artwork. The markets are great – Grainger Market is a busy, vibrant market which still plays a role in  Newcastle's bustling shopping and dining culture, nearly 200 years after it first opened. The covered market is situated in the centre of Newcastle, a stone's throw away from Grey Street and the city's iconic Earl Grey Monument.
Home to hundreds of local traders and small businesses, Grainger Market boasts everything from cobblers, florists, and jewellers to haberdasheries, artisan bakeries, high-quality butchers and greengrocers. Visitors to Grainger Market can pick up fresh fish, meat, fruit and veg, while browsing the mini bazaars, as well as indulging in a slice of fresh, stonebaked pizza or handmade cakes at one of the many independent cafes – a hit with local foodies!
Wander the rows of stalls to discover vintage boutiques, craft stalls and fun souvenir shops like Geordie Gifts as well as pet stores, hardware counters and much more. Favourites amongst the residents in Grainger Market are French Oven, an independent artisan bakery which sell fresh, locally produced breads, scones and pasties and Pet Lamb Patisserie, who serve up homemade cakes and bakes to satisfy any sweet tooth.
Grainger Market is not only a great shopping experience but its lively atmosphere and striking architecture make it a must-visit attraction in the city
For all you need to know about Newcastle see https://www.newcastlegateshead.com/
What about other cities in the UK? My top tips:
The official guide to London https://www.visitlondon.com/
Liverpool best tips to get a taxi to bring you on a beatles tour – great for art culture and lovely friendly vibe for all you want to know see https://www.visitliverpool.com/
Cornwall go to https://www.visitcornwall.com/
For general visits to Britain https://www.visitcornwall.com/
Photography Terry Talbot