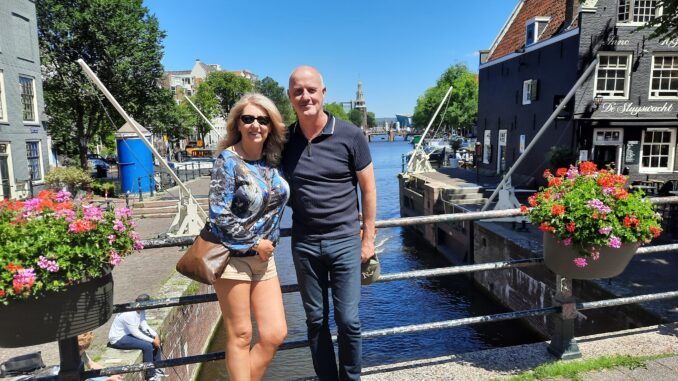 It's my birthday and I've chosen to spend it with my children who both happen to be in Amsterdam at the same time. It means my other half and I get to jump on a flight with Aer Lingus to be with them. We navigate Dublin Airport with trepidation and strike lucky on a day with a 25 minute queue through security. I haven't been to the Dutch capital since I was a young teen however the cones of chips laced with mayonnaise are my most endearing memory.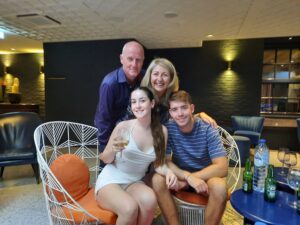 I'm armed with my iamsterdam card which I pick up at Central Station – after a smooth twenty minute commute from Schipol Airport. The card covers all transport, bus and tram around the city and free entry into many popular museums. For a three day visit the cost of the card is €110 www.iamsterdam.com/citycard.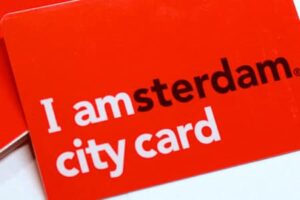 We drop off our luggage at The Kimpton de Witt hotel which is only a short stroll from central station. This boutique hotel is built around a tiny 16th century house which has been impeccably restored and turned into a suite with two bedrooms, a kitchen and is called The Little House. All the rooms are decorated individually and ooze Dutch charm with a modern twist. As we check in we are offered wine time which happens daily at 4pm when guests can relax in the bar with wine or beer and eat the bitterballen, a traditional Dutch meaty style tapas. Breakfast is a delight at the hotel's Celia restaurant which offers everything from Eggs Benedict to American style pancakes.
My son joins us and looks enviously around our room which is in a loft with a free standing bath looking out at the skyline of traditional bell topped roofs. He's staying with a friend who he met on his travels and decided to join us when I told him we are doing the Heinekin Experience.
This immersive journey through the history of brewing and bottling the beer is good value at €15, including a 25% discount with our iamsterdam card. It starts with a look at how the brand developed with an exhibition of bottles through the decades and accolades awarded to the beer. Parts of the tour involve a virtual type ride through the brewing process and finishes with two glasses of beer in the bar. The fun doesn't stop there, with pint pulling competitions and party games you can prolong your visit by at least an hour.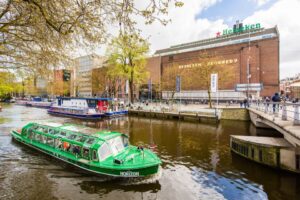 Amsterdam is often referred to as the Venice of the north so there are few better ways to see the city than by boat. As it happens, a canal trip on Blue Boats is included with the iamsterdam card and my son leaves us alone to enjoy this most romantic of attractions. Refreshments must be purchased before boarding the boat but then we sit back and relax as we are guided through the canals under the flower-covered bridges. One of the locals hangs a banner in their garden which makes me stop and think. This city experienced much carnage through the centuries and the words are worth digesting. DON'T RAISE ARMY BUDGETS BUT UNARM THE WORLD
The boat trip passes the Rijksmuseum and I recall the awe I felt on see Rembrandt's Night Watch for the first time all those decades ago. For art lovers this is one of the must do museums – entry is included with the iamsterdam card. Rembrandt's House is another great attraction that conveys the riches to rags story of this prolific Baroque artist and master of the Dutch School of Painters.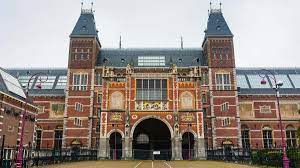 Our boat ventures out into Oosterdok and passes the incredible Nemo Science Museum which resembles the bow of a great ship. With five floors full of interactive experiences it is a must visit for those with curious minds and great way for a family to put in the afternoon – and you've guessed it there's free entry with the iamsterdam card. www.nemosciencemuseum.nl/en/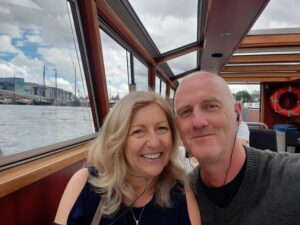 Another great way to see the city and get your bearings is with the Yellow Bike Tour. A two hour trip on Yellow Bikes will ensure you don't miss any highlights during your stay. www.yellowbike.nl/en
It's time to meet up with the rest of the family and my daughter joins us for dinner at Pllek, a city beach bar and restaurant built out of containers in Amsterdam Noord.  A free commuter ferry ride takes us from Central Station to this oasis of cool. With canopies covering a beer garden and bean bags scattered around the shingle sand, Pllek comes alive with music at weekends. We all love the vibe, the food is great and it's the best place in the city to watch the sunset. pllek.nl/en/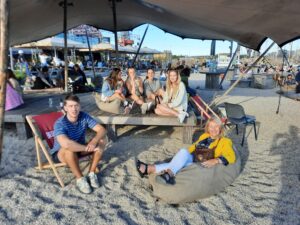 Next day we are fortunate to get last minute tickets to see Anne Frank house. We didn't have time to see it on my first visit and I'm glad I waited as the story would have been lost on me then. Now as I walk through the annex where she and her family hid for over two years I'm deeply moved. Anne's Diary is translated into many languages and reads as a warning to the world not to forget what happened only ninety years ago to the Jewish people in Europe. The transition from initial restrictions to furnaces at concentration camps didn't happen overnight – we fail to realise that it was a slow chipping away of the human rights of Jewish people over a seven year period which led to the great holocaust during the Second World War. Amsterdam was a last bastion of safety for Anne and her family who hailed from Frankfurt originally. Her father Otto preserved his family in these tightly knit rooms in Westermarkt – close enough to the nearby church that the toll of its bells feature in her diary.
We have to whisper and tread lightly during the day otherwise the people in the warehouse may hear us 11th of July 1942
The walls are covered with quotes from her diary and some original features such as the kitchen and bathroom sink. It was on my birthday eighty years ago to the day that Anne's sister was ordered to report for work in a German factory at the age of 16 years. I look in the mirror that she would have used to wash her face and I'm struck by the human story and disgraceful apartheid that Jews suffered. The final rooms are too horrible to digest with her aunt's voice describing the terrible conditions they were met with after leaving Amsterdam. The children were literally starved to death. It is only by learning about what happened in the past that we can prevent it from happening again in the future www.annefrank.org/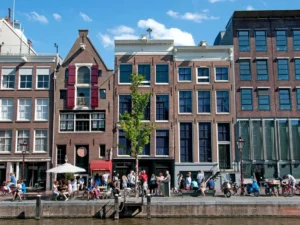 The history of Amsterdam is rich and well preserved and my memory is sparked by the three xxx symbol dotted around the city on napkins, houses and bars. Next day while enjoying a beer at the picturesque bar De Sluyswacht, which has been serving beer since 1696, our waitress informs us that it represents the three plagues of flood, fire and the black death which each in turn devastated the city. It's also found on the city's flag.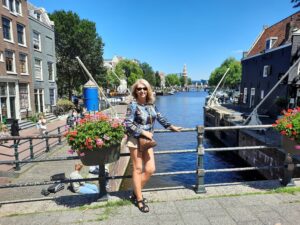 It's impossible to miss the red lit windows which have filtered out to the streets surrounding the red light district but the core strip of the sex industry can be avoided. The Sex Museum is a fun look at sex through the ages with chastity belts and amusing artefacts on display and for €9 it offers amusing entertainment.
We found some streets to the west of the Kimpton de Witt filled with locals and found charming places to eat. One of my top recommendations is Momenti Restaurant which has some of the best food we've tasted outside of Italy. There are many great cafes to dine and or have a drink around Nieumarkt which are perfect for lounging and people watching. They are pretty good for family reunions too and for celebrating birthdays!
Fact Box
For more information about amsterdam see www.iamsterdam.com/en
Aer Lingus operates 4 daily flights from Dublin to Amsterdam and 2 flights daily from Cork. Fares start from €35.99 each way including taxes and charges. For more information check out aerlingus.com.
Stay at The Kimpton de Witt Hotel from €269 per room for more information see www.kimptondewitthotel.com/
City breaks from Sunway Travel this September 26th include an unbeatable two nights with flights and accommodation from €189 see www.Sunway.ie