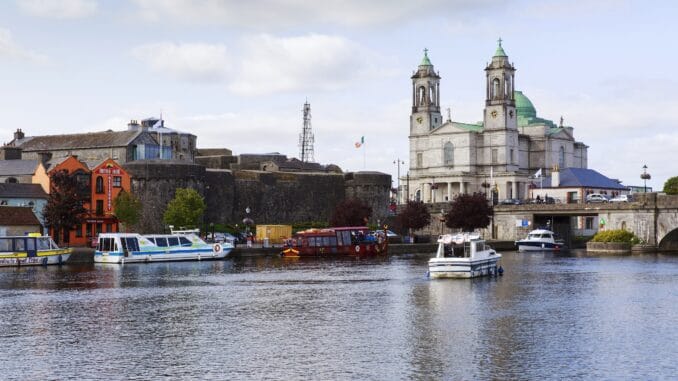 Athlone
I'm always looking for places in Ireland that are easy to get to. Located in the 'dead centre' of Ireland and with a local brewery that boasts that name, Athlone is just 90 minutes from either coast and within easy reach of everything you need on a holiday.
We're all looking to the great outdoors these days, seeking space for our leisure, and that's where Athlone and Ireland's Hidden Heartland really shine. The banks of the gently flowing River Shannon swelling into the great watery playground that is Lough Ree, provide a glorious combination of pathways, woodlands and pretty villages. The scenery is nothing short of spectacular, enhanced by melodic birdsong, rising to a crescendo at dawn and dusk.
Nature and the Outdoors
Behind Athlone Castle is the starting point of the Shannon Banks Nature Trail, an ideal short 4km walk for families along the Shannon and looping back to the start via the old Athlone Canal. Four information boards introduce the local flora and fauna.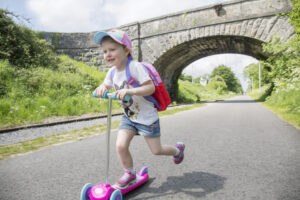 Shorter again is the 1.5km loop walk at Burgess Park near Golden Island Shopping Centre. Little ones will enjoy seeing ducks, swans swimming by and a stint in the playground is the icing on the cake. Further out of town near Glasson on the shores of Lough Ree is the stunning Portlick Millennium Forest where a flat 5km trail begins at the car park. Native trees form a lush green canopy at this time of year and the hypnotic soundtrack is a blend of birdsong and the gentle lapping of water. Natural clearings expose breath taking lake views. There's even a ruined mansion – Whinning House to complete the picture.
Pack up a picnic
What is it about eating food outdoors that makes it taste just fantastic?  All you need is a good spot to lay down your tartan rug and delicious food to go from one of the many options in Athlone.
Coosan Point about 5km from Athlone town centre is a great location to bring the family. Picnic tables make it easy to enjoy the lakeside views out to Hare Island and watch cruisers passing by or tying up at the nearby jetty. There's a children's play area and a short walk too.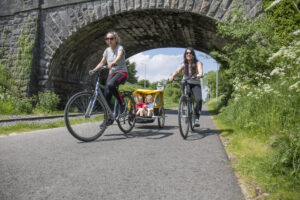 Look west from Coosan Point and you'll see Yew Point, the newest offering from the Hodson Bay Hotel. It's 145 acres of meadowland and ancient woodland where hotel guests can enjoy guided wild life and nature walks, a swim at sandy bay, jogging trails and meditation. They even offer a picnic butler experience elevating picnic dining to a new level altogether.
Award winning Glendeer a fascinating open farm where you can spend a relaxing day out in the fresh air. The kids will get to visit the hobbit village and meet all the animals, along with some exciting new arrivals. Enjoy lunch al fresco and relax at one of the picnic benches beside the generous playground, after a stroll along the nature walk. An unforgettable experience for all the family. https://www.glendeerpetfarm.ie/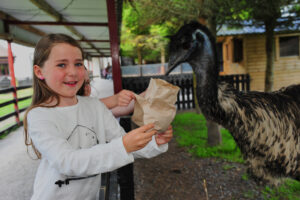 How would you like to step back in time and sail with the Vikings? Join Viking Mike on his replica Viking boat and take to the river with Viking Tours Ireland. Choose from cruising up the River Shannon to Lough Ree, the Lake of the Kings, or downriver to the fascinating monastic site of Clonmacnoise.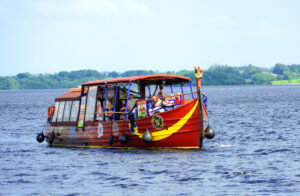 Listen to tales of local lore and fascinating history while you watch the flora, birdlife and aquatic life on the river and lake. Viking Mike himself is a bottomless well of fascinating information and local lore. Sit back and enjoy the panoramic views during this watery adventure. Book online €15 adults and €7 for children – family up to 7 people €45
https://www.vikingtoursireland.ie/
Adventurous cruises down the River Shannon
Are you looking for a fun day out for all the family? Do you want to experience nature and jump into history down the River Shannon? Then look no further than River Run cruises. They've been giving tours and trips to both locals and tourists for 25 years and we love to provide our passengers with a one-of-a-kind experience.
River Run is an all-weather adventure thanks to their fully enclosed and heated cruiser. With live music on board, finger food and fantastic commentary, your trip along the River Shannon will be one to remember. Start at back of Castle, near Seán's Bar, with four sailings daily and duration 75 minutes. Tickets Adult €15, OAP/Senior €13, Child 4-16 €7
https://www.theriverrun.ie/
Tel: 071 96 21777
For 900 years Athlone Castle has guarded a strategic crossing of the mighty River Shannon and today the magnificent 12-sided stone structure still dominates the town centre. It's now a family friendly tourist attraction inviting you to explore its intriguing history. Take a step back in time and discover ancient stories through swords, cannon balls, stunning sculptures and the interactive displays at the Visitor Centre. Don't forget to climb the steps to the castle keep and take in the panoramic views across the River Shannon taking in five counties on a fine day. Next door the Luan Gallery showcases national and international artists in an incomparable riverside setting.

Near Moate, Dún na Sí makes a great day out for all the family. It's another chance to time travel in a different way, a unique outdoor adventure exploring tradition, heritage, nature, and activity. Meet the ancient Irish warrior Lugh, explore the roots of Irish music and discover how rural communities lived throughout time.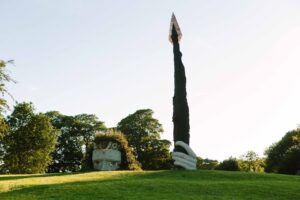 Features include a playground, outdoor art displays, wetland nature reserve walks, guided heritage tours and genealogy as well as a great locally run café with outdoor seating overlooking the park and play areas. It's perfect for visiting by bike as it's accessed directly from the Old Rail Trail (14km from Athlone). Tickets €8 Adults €4 children under 17 €20 for family of five.
Baysports is Ireland's largest waterpark located at Hodson Bay. Plan your "Day at the Bay" and enjoy an impressive collection of slides, trampolines and platforms including the largest inflatable waterslide in the world. There's even a Junior Waterpark which is suitable for 2–6-year olds.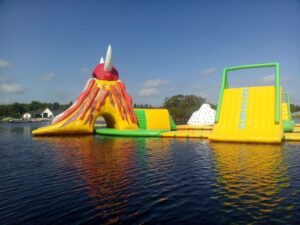 It is ideal for younger kids as the slides do not run into the water, helping to build their confidence while testing their climbing skills. €22.50 for Adults €18.50 under 13s. Arrive thirty minutes before your booking. Junior park for 2-6 year olds.
Tours for grown-ups

Athlone might be a fabulous base for family fun – but there's quite a bit for the grown-ups too, including several fascinating tours. Historic Athlone hides many secrets within its ancient streets and Vincent of Athlone Guided Tours knows every single one. The leisurely walking tour is a fascinating insight into the town's history, folklore, industrial heritage and more.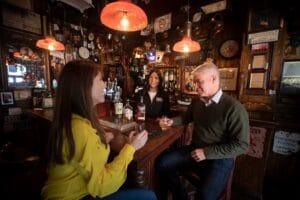 Another enthralling tour is the Athlone Whiskey Walking tour led by Deirdre who has forgotten more about the amber nectar than most of us will ever know. 270 years are distilled into an afternoon of stories, yarns and tastings – with locally handcrafted chocolate to complement the tipple. NOT CURRENTLY OPEN. On the wonderfully named Custume Quay lies Athlone's only brewery. Dead Centre Brewing offer a combined experience including brewery tour, beer tasting and pizza. Now there's a combination that's hard to resist.
Sometimes called the cradle of Celtic Christianity, Clonmacnoise monastery was founded by St Ciarán on the banks of the River Shannon in the 6th century. It flourished and became a great seat of learning, a University of its time with students from all over Europe. Although time has taken its toll, the ruins are both impressive and extensive.
A cathedral, two round towers, three high crosses, nine Churches and over 700 early Christian grave slabs can all be seen. The original high crosses, including the magnificent 10th century Cross of the Scriptures area on display in a purpose-built visitor centre adjacent the monastic enclosure. Visit by car or see Clonmacnoise from the water on a Viking tour.
All OPW sites are free of charge for the rest of the summer.
For all you need to know about Athlone see https://www.athlone.ie/
Sponsored post by Athlone tourism