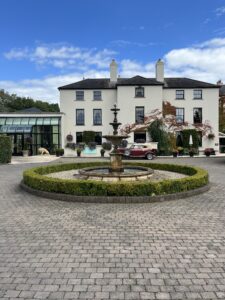 Dog Friendly Destination
It is becoming ever more fashionable to travel with your pooch, and Barberstown Castle is one of a large number of upmarket Irish hotels that are catering for a doggie guest. The stunning 13th century Castle in Straffan, County Kildare, has carved a legendary reputation for providing receptions to many nuptials over the decades.
With much more to explore at this charming and stylish four star hotel this looked like a job for Coco Chanel, a four-year-old pomeranian who has already proved herself to be an expert tester of swanky stays. So with her owner, my pal Jackie, we set off for two relaxing nights. Being off the M7 and not too far from the M9 makes Kildare a great location for a short break away from Dublin, Cork, Waterford and the midlands.  It offers great onsite options for dining, parties and even barbeques.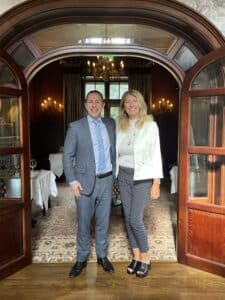 Surroundings
We were given the grand tour by co-owner Ted Robinson who brought us to our special dog-friendly room complete with a plush pillowed bed for our four-legged friend. The price of a stay for one doggie is €30 per night, remarkably cheaper than a kennels. The grounds are pristine and perfect for a wander before dinner in the Garden Bar. Casual dining is open every day and set in the Moroccan inspired décor with brass tea tables and geometric lanterns. The mood is warm and welcoming, and even with the grey clouds of the Irish summer outside it works. From the moment we stepped through the doors of the hotel we felt swaddled in luxury with attentive staff at every turn – especially with little miss Coco Chanel!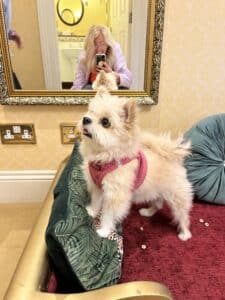 Breakfast is served in the fine-dining restaurant located in a part of the castle built in the 18th century. The scones are too good not to try and my appetite was sated until dinner time from the generously portioned omelette. The hall of mirrors and flag-stoned floors lead us into a labyrinth of passages that show the history that lies within the walls. The Green Room bar and lounge is a lovely spot for residents to read a book or take time out in opulent surroundings. While Jackie brought Coco out to do her business she was given an umbrella by the receptionist to shield them – the constant pampering was lapped up by Coco with gusto.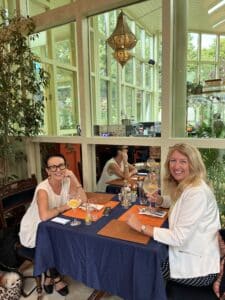 Famous Owners
Barberstown Castle has had a long line of illustrious owners in its 800 year history. Many are listed on the bedroom doors. In 1979 musician Eric Clapton bought the castle and left behind one of his guitars –now on display in the Garden Bar. The castle is a long-standing member of Ireland's Blue Book. We picked up a copy at reception and Jackie is already planning her next luxury stay around Ireland with Coco as many of the country houses and hotels cater for dogs.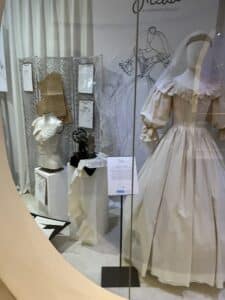 Newbridge Silverware
Kildare has some lovely places to visit, ideal for a girls break away. So making it a bit of a workman's holiday for fashion designer Jackie, we popped into Newbridge Silverware to see the latest expansion of the wonderful free Museum of Style Icons attached. Lady Diana's Revenge dress is on display along with the final toile of her wedding dress. Suits made by DA Millings and worn by the Beatles are displayed next to a jacket once owned by Elvis. Then there are the iconic Marilyn Monroe accessories and Audrey Hepburn's Givenchy dress – the endless list goes on. The café is perfect for a lunch in between pottering through the pre-loved china and costume jewels. We picked up some bargain Christmas decoration gifts and headed for Kildare Village only ten minutes away.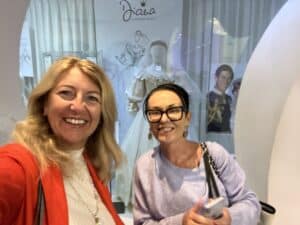 Visit Into Kildare
Pooches have their own day care covered at Kildare Village but if your dog is like Coco and fits in a bag then you can just carry them. We arrived on a Monday when most shops were offering an extra 10% on the summer sales. With a wide range of restaurants and shops for the home there is more than fashion to the outlet. Also close by, the National Stud is a treat for horse and garden lovers.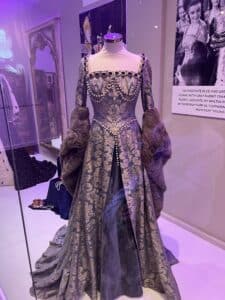 Having so many great places to visit close to Barberstown Castle, is another bonus and made our stay eventful and fun packed. Jackie was so impressed she's told her daughter that if she wants her to pay for her wedding she is going to have to have it at Barberstown and Coco agreed too.
Factbox
Enjoy One Night Bed and Breakfast for 2 adults with Dinner in our Barton Rooms Restaurant.
From €160 pps www.irelands-blue-book.ie
For things to do see www.intokildare.ie