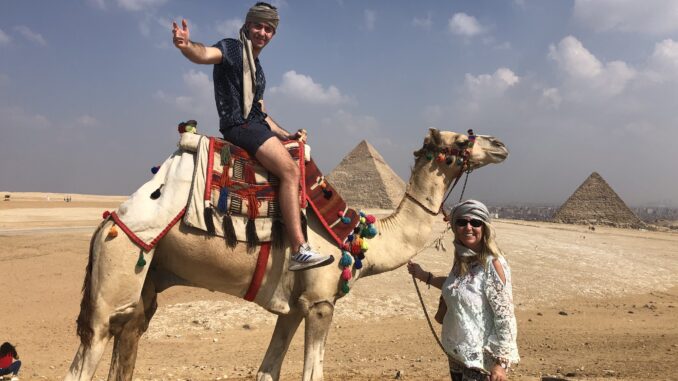 Bobbing about on the Red Sea I have to hold my breath as another wave carries me a little further away from the boat that brought me here. I'm a terrible swimmer so when we reached the reef I was happy to have the assistance of guide Muhammed, and a lifebuoy to stay afloat. The Stingray Station, at Ras Muhammad National Park, boasts some of the best snorkelling and scuba diving in the world and a day trip exploring the reefs is a must do.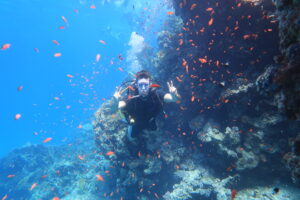 My adult son, Mark, and I had set out earlier on a guided tour that includes lunch, soft drinks and snorkelling equipment. Mark decided to try his hand at scuba diving for the first time and the guides prepared him well leaving me to do a spot of sunbathing on deck. He witnessed a kaleidoscope of coral and marine life down below the snorkellers. The water was balmy for late October and we felt lucky to be in Sharm El Sheikh before the masses arrive to witness COP27.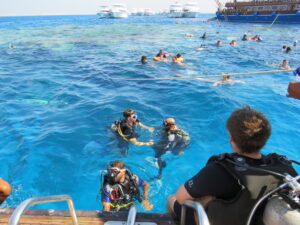 Making the planet a better place for our children is something worth aspiring to and I've travelled extensively with Mark over the years to widen his horizons. I'm interested to see why Sharm El Sheikh was chosen as the venue for COP27 where the 120 world leaders and delegates from 156 countries are currently meeting to discuss Climate Change.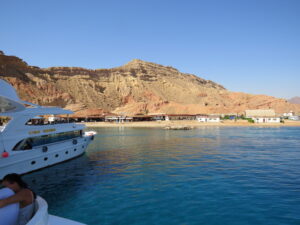 With direct flights from Dublin to Cairo four times weekly Egypt has become a more accessible destination from Ireland. Sharm El Sheikh is a one hour flight from Cairo with a holiday vibe on arrival at the airport. The presence of Tourist Police is a bit surprising at first but then again security is one of the features that this administrative capital prides itself on. As we transfer to our hotel, The Savoy at Soho Square, we pass polished pathways with street sculptures lit by solar panels. This modern resort has been built to send out the message that sustainable comfort is attainable in the future. I'm sure the influx of delegates arriving to talk at Cop 27 will be impressed by the 300 green electric buses brought in to chauffeur them about.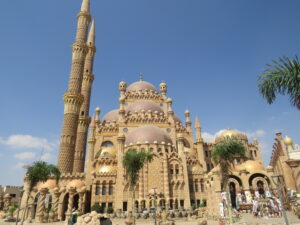 At first it seems that the South Sinai Peninsula is dominated by desert terrain with little culture but it's historically the region where Moses was handed the Ten Commandments. Guided tours are on offer from the hotels to Mount Sinai along with an array of activities from horse riding on the endless sandy beaches to racing dune buggies through the desert. The Sharm El Sheikh Museum was recently completed and is filled with fine antiquarian artefacts that include a sculpture of Ramses II, preserved shoes, jewellery and mummified animals making it interesting for those travelling with families. Mark certainly was impressed with the displays and the traditional Bedouin Tent explained how the indigenous nomadic people originally lived.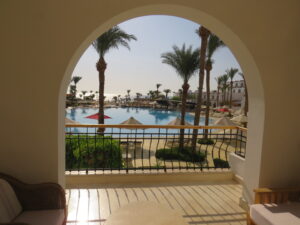 Our Hotel offered everything you need for a luxurious sun holiday with beach front location and a short stroll to the myriad of restaurants in Soho Square that are part of the all-inclusive package. My son is permanently hungry so the many food choices of buffet, Thai, Lebanese and Chinese food meant that he was kept happy. This is a luxury resort with food good enough for any of the presidents attending COP 27 with an abundance of steak, seafood and fresh vegetables and exotic fruits.
There is much to do in Sharm exploring Naama Bay with lively night clubs to suit mark's vintage and Sisha bars where we watch the world go by to suit mine. The shops are open along the strip in the evening and prices are good. Egypt is a cheap destination and locals are happy to take Euros, Dollars or Egyptian Pounds. Soho Square boasts a huge TV screen to watch the Championships League matches – for mum and son bonding time in the sun Sharm El Sheikh had it all.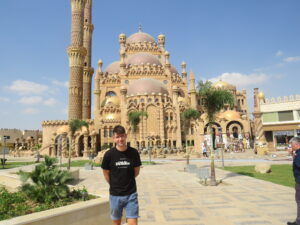 The bucket list must see in Egypt are the Pyramids of Giza. So on leaving Sharm El Sheikh we take a short flight to Ciaro and are met with all the hustle and bustle you'd expect from the third largest city in Africa. With a population of ten million people many sites are spread out far apart so an organized guide or guided bus tour is a good idea – if you arrive alone you'll be persuaded to employ a guide everywhere you go. Mark nudges me as he spots The Pyramids point up like diamonds sitting on the horizon and I begin to feel excited too. The last remaining wonder of the ancient world consists of the three largest pyramids and monuments to Kings from the Fourth Dynasty, Khufu, Khafra and Menkaura. Remarkably they stand in perfect alignment with the belt of the constellation Orion – which proves those who built these amazing structures were not simply great architects but also had a deep knowledge of astronomy.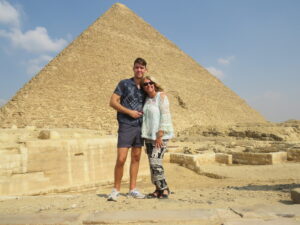 Our ticket included entrance into the great pyramid of Khufu which was a challenging climb. At two points the entrance gets smaller with a low roof proving difficult for mark who stands 6'4" and I wouldn't recommend the climb for anyone with a heart condition or claustrophobia. The walls are long pillaged and contents gone, however it is worth entering the burial chamber to realise the magnitude of this architectural achievement.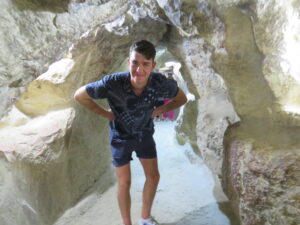 Guarding the area below is the great Sphinx about a five minute drive away, but not to be visited before meeting the camels at the edge of the Pyramid complex. Here we were wooed by Mabon, the camel owner, into having our photos taken and before we knew it we had scarves wrapped around our heads in traditional Bedouin style and mark was up on the camel. The process was all done in good nature and after a sloppy kiss from the camel I was happy to part with €10 to Mabon for the entertainment.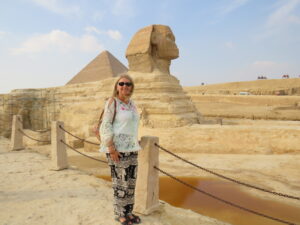 An array of touts selling carved pyramids and ornaments were lined up at the Sphinx in makeshift stalls. A mish mash of carriages drawn by horses that didn't look as healthy as the camels we had left behind waited for takers. Egypt is a third world country and you can expect to see children and stray animals begging at the large sites – Mark and I were humbled by their presence. The Sphinx is probably best seen by night when it is lit up and part of the tourist shows that include food and entertainment against the backdrop of the Pyramids. However, Mark and I had a date on the Nile.
River cruisers decorated in lavish style fit for an Agatha Christy novel offer nightly entertainment with dinner included. This is a fun way to see the city by night. We boarded the Maxim restaurant at about 7pm and the fun started right away. A salad buffet accompanied our dinner choice of fish, chicken or beef and dessert was delicious too. As we cruised slowly between the banks of the Nile the boat came alive with traditional musicians and dancers swirling with tunics and turbans lit with fairy lights. When the belly dancer came to the stage I watched as all male eyes were transfixed by her spectacular costume – Mark's included. Rather than being embarrassed with mum at his side, Mark threw himself into the evening with such gusto that he accompanied me to the dance floor later on.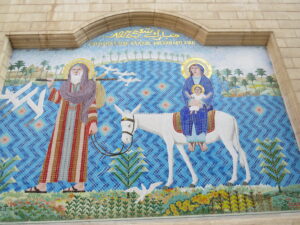 Next morning we set off to follow the story of The Holy Family and the Flight of the baby Jesus into Egypt. The Church of Sergius and Bacchus is hidden in the depths of Old Cairo where you will find the cavern where the Holy Family lived for a short time in hiding. Surprisingly between 10% and 15% of the 104 million Egyptians is Coptic Christian. The narrow streets are a biblical labyrinth of winding cobbled paths and perfect spot to walk like an Egyptian.
Khan el-Khalili Market in the heart of Cairo is a world away from Sharm El Sheikh and the sculptured future of luxury travel to Egypt. The sellers call out with their wares in hand, haggling and bantering as they have done for thousands of years. This is the Egypt I had envisaged and we enthusiastically threw ourselves into the spectacle that accompanies shopping in souks. We walked away delighted with our purchases, especially the Mo Salah Egypt shirt for €7. Our trip to Egypt was a great success proving that it isn't just a good destination for Mummies, it's great for sons too.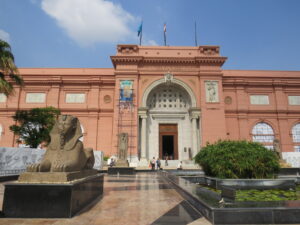 Highlight The Egyptian National Museum was completed in 1901 and is home to the golden coffin and sparkling death mask of King Tutankhamen. It houses a huge selection of statues and slabs that were taken from the many burial chambers that dot the Nile and show detailed hieroglyphics that were enthralling to learn about. It's located beside Tahrir Square and entry is 200 egyptian pounds www.egymonuments.gov.eg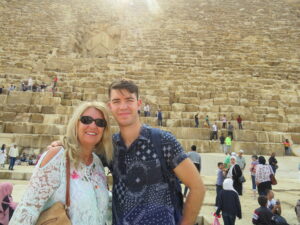 Highlight The newly built Museum of Egyptian Civilisation is a little outside the centre of the city and a good stop off point from Giza. The Royal Mummies Hall is a truly unique display with the preserved mummies of some of Egypt's most famous pharaohs and kings. It's a bit eerie to observe the plaited hair and leathered skin of the various Kings Ramses from II to IX lie intact. Their jewellery and possessions are reminders of the Egyptians reverence for the afterlife. www.nmec.gov.eg/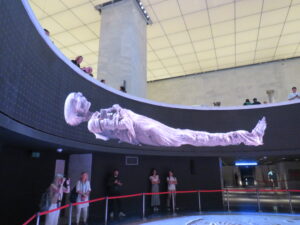 Factbox
www.experienceegypt.eg and Egyptair www.egyptair.com
Flights with Egyptair and transfers included. 4 nights in the Savoy hotel B & B basis, Sharm El Sheikh and 3 nights in the Swiss Inn Nile Hotel B & B basis Cairo
Total cost per person sharing € 1428 inc tax Call Sunway at (01) 231 1800 or sunway.ie
Michelle was a guest of Egyptian Tourism