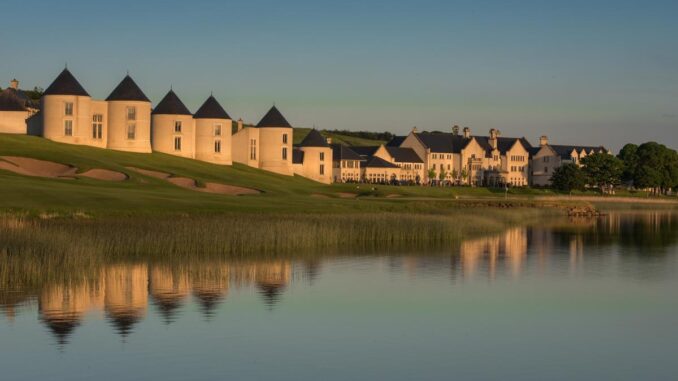 I first discovered The Fermanagh Lakelands on a short trip to Lusty Beg Island three years ago. Then last year I uncovered more of its beauty while cruising on Lower Lough Erne last year with Carrickcraft. So I jumped at the opportunity last week to attend a culinary delight on the Lough at Castle Caldewell. The Wilde Dining Experience was put on by Cathy McGovern who dresses pop up dining experiences for people who want to host a party in a unique and different setting. Few places can rival this peaceful secluded spot built in the 16th century and surrounded by forest. Last weekend however the trees were transformed into a magical canopy for Festival Lough Erne which welcomed visitors to a Narnia style BBQ enjoyed by families. The festival events included nature arts and crafts at Castle Caldwell and water activities. All parts of the Lakelands were showcased with something to suit every taste. www.festivallougherne.com
We stayed at Lough Erne Resort which has long been a bucket list destination of mine. A night in splendid five star luxury, where the G8 summit was held in 2013, turned out to be only the start of the delights in store me and my other half. We basked in nature walking the grounds and observing the squirrels, swans and pine martens. Our stunning suite included a view of the beautiful conical shaped lodges near the water's edge reflect the round tower at the monastic settlement on Devenish Island found on the other side of the lake.
As for the spectacular golf course, Sir Nick Faldo is responsible for its design. The Thai Spa is a hidden gem not boasted about but turned out to be the icing on the cake. After a relaxing swim and facial we were pampered further in the Catalina Restaurant which has breathtaking views over the Lough. Our waitress Michelle was delighted to explain every part of the menu as all staff must complete a tasting after menu changes. Our taste-buds were tingling after another delicious dining experience. The resort has been heavily booked but a one-night stay for two adults including breakfast starts from €162  www.lougherneresort.com
I'm not one to pass by an opportunity to enjoy a good gin so next day we popped into The Boatyard – an award-winning farm-to-bottle distillery. Their gin botanical is Sweet Gale and is foraged from the family bog and the wheat used for their vodka can be traced from the bottle back to the very field it came from. Founder Joe Marker has used his background in spirits and whiskey knowledge to build his dream of the first legal distillery in Fermanagh in over 130 years. During the tour we tasted delicious gins and their special vodka which supplies the Gothic Bar in the Savoy hotel in London. We got to bring a bottle home too as part of the tour www.boatyarddistillery.com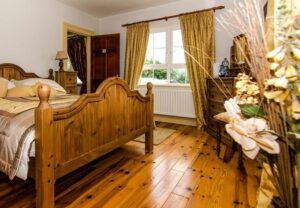 A short drive on the road to Belleek led us to Dulrush Fishing Lodge. Bridie and James Gormley have created a haven for those who are passionate about fishing and they've transformed the garden into an outdoor relaxation area with hot tubs and saunas. We were taken out on the boats with a mission to catch a pike, one of the species abundant in the lake. While tending my fishing rod I watched several of the guests, mostly French, reeling in huge pike – I'm pleased to say they did put the fish back into the water after taking their photos. No such luck for me so I'll have to come back another day. www.dulrushfishinglodge.co.uk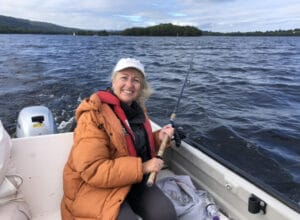 Belleek is only ten minutes away and not only is the town rich in heritage and home to the fine china of the same name – it's also where I enjoyed sitting up at a bar for the first time since March 2020. Restrictions have eased to a new phase in Northern Ireland and it was such a delight to dine in The Black Cat bar and have a chat with the lovely barmaid as she pulled pints.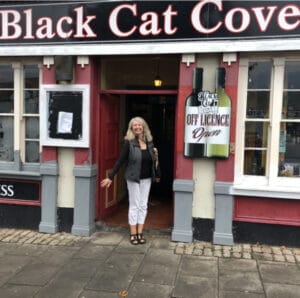 The development of the Culcaigh Boardwalk Trail, aptly named The Stairway to Heaven, has put Fermanagh on the radar for many who enjoy hiking but don't leave Fermanagh without a visit to The Marble Arch Caves. www.marblearchcaves.co.uk This Geopark is listed by UNESCO as a site of significant international value and once you step inside the weaving labyrinthine tunnels you'll understand why. Our guide shared a wealth of knowledge about the stalagmites and stalactites and the famous porridge pot which eerily bubbled away. As I uncover more delights on each of my stays, I know I'll return to the Fermanagh Lakelands again and again.
For more see www.fermanaghlakelands.com