I reach out, grab the microphone and kiss it. How can I resist? I'm standing in Sun Studios, Memphis, where Elvis Presley recorded That's All Right while clutching the same stand. This building was instrumental in the making of some of the greatest icons of 20th century music and a living monument to rock and roll, where artists still record music today. My son, Mark, stands at my side – his penchant for music makes him the perfect travelling companion for our road trip through Tennessee.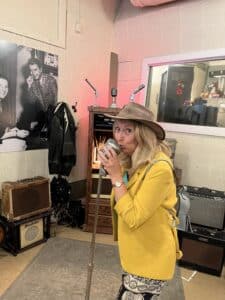 The tour of Sun Studios is led by guide, Liz, who assures us that the founder Sam Philips wanted people to experience the studio as a living breathing venue. After Philips sold Elvis's recording rights to RCA he followed up by bringing Johnny Cash and Roy Orbison to fame from within these studio walls. When Bono visited in 1987 he recorded Angel of Harlem in the same spot with the legendary BB King. Liz finishes up by telling us to check out BB Kings Blues Bar later. We agree to do so but not until we continue our homage to Elvis Presley at his home and resting place.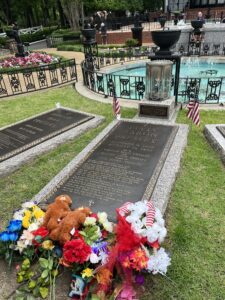 Elvis bought Graceland at the age of 22 in 1957, making a home for his mother, Gladys and father, Vernon. Love him or hate him his decadent flamboyance was compulsive and it is etched into every corner of the Graceland mansion – from the Media Room with wall size screen and velvet couches to the exotic plants and décor of the Jungle Room. The meditation garden, also the resting place for Elvis, his parents and now his daughter Lisa Marie and grandson, Benjamin, is an oasis of calm with floral tributes ushering in daily.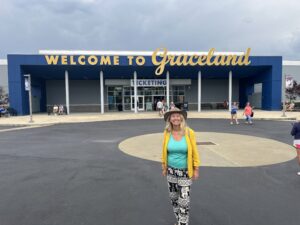 Graceland is a theme park that offers more with a series of permanent exhibitions that display a collection of Elvis Presley's many cars. From the pink Cadillac to black a Ferrari, this museum is drool worthy for any fan of rare cars.  His many costumes and story of how his life went from Rock and Roll Star to GI to Las Vegas superstar are displayed next to those of performers whose lives were fashioned on his legacy. The interactive displays allow us to get involved as Mark gets to sing along with Elvis with the option to download the video on our phones. I virtually try on one of his super hero outfits, which isn't a great look, but certainly entertaining for Mark.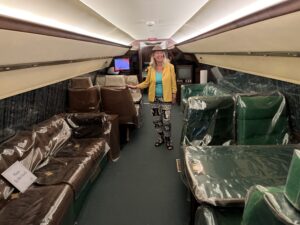 Outside in a corner of the park Elvis's two airplanes stand and are fully accessible to visitors. The larger, a Convair 880, is named after Lisa Marie. Inside it is decorated with blue velvet interiors and the gold-plated toilet and sink are another example of Presley's decadence. This would seem ostentatious for a normal human but we get the sense that he was not normal, indeed we left the park realising that he was special in many ways and inspiring for young and old alike.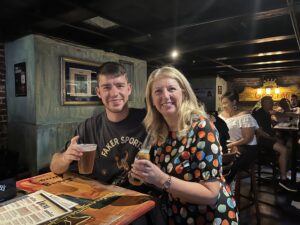 That evening on Liz's recommendations we set off for Beale Street as it's only a stone's throw from our base at the city centre Napoleon Hotel. The forty minute queue outside BB King's Blues Bar is worth the wait and we have the pleasure of being serenaded by a busker with his saxophone. Once we get in, we grab our high stools and soak up the sound of the blues with greats from bands covering Stevie Wonder and Otis Redding. My boy has a good appetite standing at 6ft 4inches but even he couldn't finish off the chili nachos and chicken wing starters. Portions are huge in the US but you can always bring it home.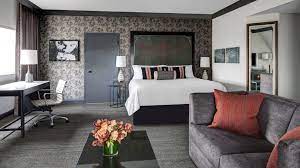 Most places have a payment policy with two extremes – car parks and airlines will only take card, however in the bars on Broadway only cash is accepted. This is where the next leg of our trip on Interstate 40 takes us, three hours by car to Nashville. We stay at Loews Vanderbilt Hotel situated only a short hop to Broadway and offering a free concierge car that runs until 10pm nightly.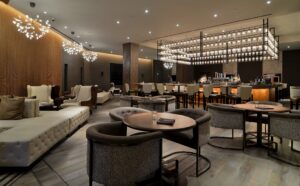 It's usual to breakfast out in America but the menu is reasonably priced and food delicious in this modern Loews hotel filled with warm southern hospitality and top class American and European food. The concierge will bend over backwards to help – it's the perfect place to stay in Nashville.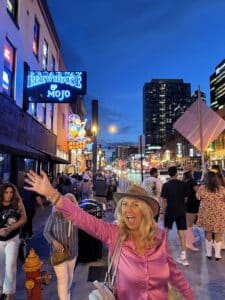 We set off to explore the night under a cacophony of motorbike exhausts and loaded rock music filling the streets from every bar. On Broadway you're more likely to hear Sweet Home Alabama or Sweet Child of Mine than traditional country music but we came across Layla's for a feast of Glen Campbell favourites – Wichita Line Man and Gentle On My Mind. The own-brand-beers were $5 – with tip of course but expect to pay $10 in Tootsies and many of the other big venues but you're getting so much more than the beer in your hand. This is Music City where you can dance, meet new friends and throw yourself whole heartedly into the atmosphere.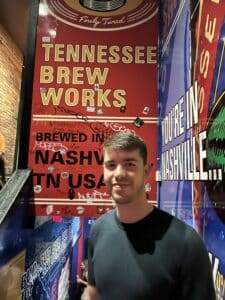 The history of American Music is showcased in full glory at the many museums in Nashville. We start with a short stroll from Broadway to the Country Music Hall of Fame. Outside on the pavement spot your favourite country stars from Dolly Parton, Jimi Hendrix and Garth Brooks to Patsy Cline. Inside the theatre expect to be dazzled with a century of music and more that starts with the influx of diaspora from around the world, including the many artists of Irish origin who made their mark.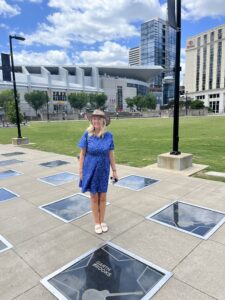 The Ryman Theatre is the original home of the Grand Ole Opry where country music was broadcast to the world via WSM Radio Station. This historic venue is lauded as one of the greatest theatres to play by musicians from all over the world including Coldplay and Ed Sheeran. We were given a memento photo of the two of us on stage – a nice gift free with admission price.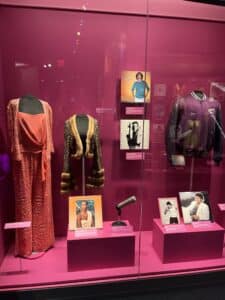 The National Museum of African American Music just off Broadway brings together the entire experience of how native African rhythm feature at the core of the sound that defines the Deep South. Mark loved it here as the interactive displays showcased more modern artists and their memorabilia such as Usher and Bruno Mars. I relived my youth in the Prince and Michael Jackson section. The story of American music's evolution from the cotton fields to Isaac Hayes and the boys that hung out in Memphis is explained and for Mark it was his favourite museum of the trip.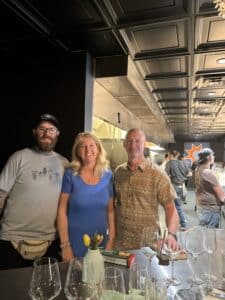 On the move again we take a four hour drive down I-40 to Sevierville. Nestled amongst the gateway to the Smokey Mountains and most visited National Park in the USA we find the roots of Dolly Parton. She has left a legacy here that has changed the face of the Smokies forever. Part of the Appalachian Trail, we stop off at a rather unique restaurant aptly named The Appalachian. Dolly had dropped by for dinner only the week before us with her friends. We met owners Steve Hansen and Derek Greene who set us up at the Chef's Table for a tasting menu that was unique and inspired by the local producers and foods of the region. The mushrooms were biblical and our host chef made this wonderful foodie experience interactive with stories about the locality.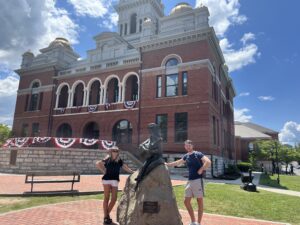 Later historian Carroll McMahan takes us on a tour of the town and mentions nonchalantly that Dolly Parton was in his class in high school. She was always a larger than life character and a wonderful storyteller but humble and gracious, he admits. Her effigy in bronze stands outside the courthouse and every day hundreds of visitors stop by to see the small town where the undisputed queen of country grew up. The corner store where she bought her lipstick still stands and the Pine Theatre where she made her first public appearance at the age of ten is now a bowling alley and recreation centre.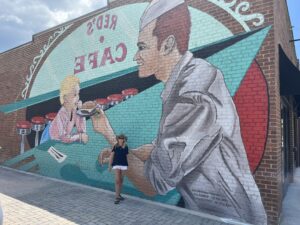 Time for Mark and I to check into our next stop at Dollywood DreamMore Resort set high in those blue green hills that spread majestically up to the sky. Next to our bed is a pack of seeds for cornflowers to bring home and plant – a reminder to look after the bees and embrace good healthy living and hope for the future. Dolly doesn't shy away from her roots but embraces them and as an Icon of hope and offers education scholarships to her employees.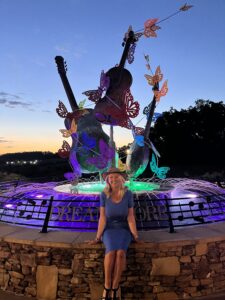 Dollywood is a wholesome and uplifting alternative to Disneyland but modelled in a similar layout. The addition of an original steam train and scenery of the Smokey Mountains makes it unique. We are warned not to rub our eyes if splints from the Smokey engine flick back into our open carriages. Throughout the park singers and bands play entertaining the crowds and although there are plenty of rids we saw most of the park in one day.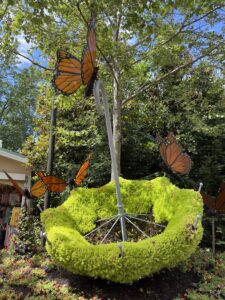 Love is like a Butterfly flows from the speakers in the hotel foyer as we drag our suitcases to reception. A warm feeling comes over me at the end of our trip. We found the heart of Tennessee in Nashville, the soul in Memphis and the rhythm of life in The Smokies. For a road trip this multilayered state has something for all lovers of music. We pack up the car one last time and Mark puts on tunes from Zach Bryan – a current country music star that he introduced to me as we carved our way through Tennessee sharing precious memories that will stay with us forever.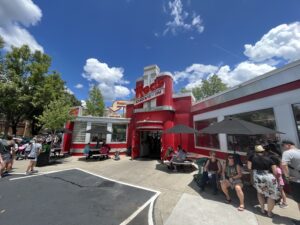 Factbox:
Michelle was guest of Tennessee Tourism for more information see www.tnvacation.com for more from Michelle see www.thenoveltraveller.com
To book a similar road trip see Platinum Travel at www.platinumtravel.ie or telephone: 01-8535000 info@platinumtravel.ie
7-day Tennessee fly drive from Memphis to Dollywood  
September 2023 €1689pp
Includes:
Return flights from Dublin (into Memphis TN /home from Nashville TN)
7 nights accommodation 2 sharing
Inclusive car rental with free additional driver, all insurance included **drop off fee may apply
Checked luggage 23kilos per person including All airport taxes
24/7 emergency number throughout your stay