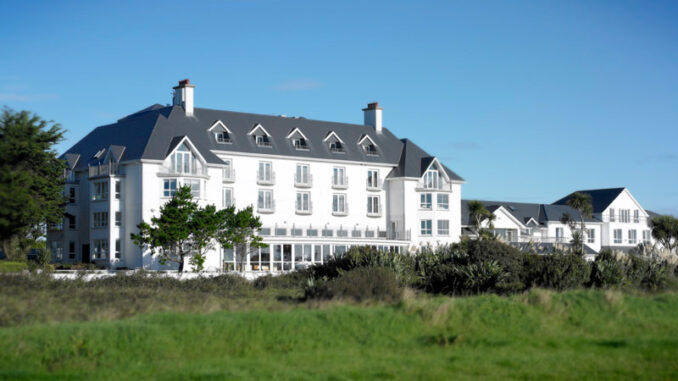 Garryvoe Hotel Cork
A room with a view isn't essential for an overnight stay in a hotel – especially when the location is surrounded with so many places to see and things to do. But there is something so lovely to walk into your bedroom for the night to be greeted by an unspoilt view of the sea. When your bedroom has been decorated by architect and designer, Hugh Wallace, however, it is just as satisfying to take in the vibrant colours and luxurious fabrics inside the room.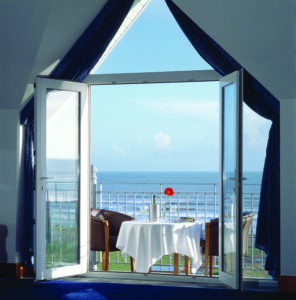 There has been a hotel on the beach at Garryvoe since the early 1900s and although it has changed and organically grown into a fine sized four star property, the unique view of Ballycotton Island and the meandering coastline at Garryvoe remains the same. The golden five-mile beach was the perfect place to start our exploration. At check-in we were greeted by the friendly staff waiting to take our luggage and set up our stay.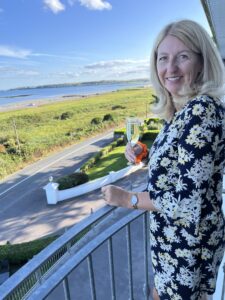 A trip to the gym isn't on our agenda this time as we pop into the leisure centre for a quick swim before relaxing in the outdoor hot tub. With dedicated children's times in the pool from 9.30-11.30 and 2.30 to 6.30 everyone gets to enjoy the facilities with their own preferences. Now with its own spa, sauna and steam room it is an all accommodating destination hotel.
The Garryvoe Hotel is unrecognisable from its humble beginnings last century. The Cave Bar is perhaps the only remnant of those early days. For a pre-dinner tipple we went in to soak up the atmosphere with the locals who have a separate entrance around the side of the bar. Being a popular and award winning wedding venue the Cave Bar acts as both a good spot to enjoy the day after a wedding too.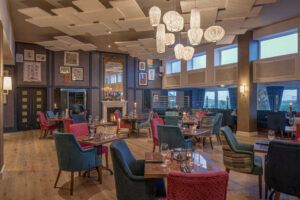 I spoke to part-owner Stephen Belton, who explained how the property had grown over the last forty years. "We took it from a 17 bedroom two star that it was to the four star property we have today." From his tone I could see genuine passion for this business which has proven as popular for couples as for families. "The hotel has got soul and personality," he says. I couldn't agree more.
Many of the staff have been with the hotel for forty years on its journey to today and with that generations of the same family have worked together. The Garryvoe Hotel has a strong connection with the local economy and environment. All the suppliers are local and have been providing produce for the popular Lighthouse Bistro and Samphire Restaurant for decades. I enjoyed one of the specialties later that evening and ordered the Prawn scampi. Supplied from Ballycotton Seafoods it's one of biggest suppliers and based only around the corner from the hotel. "Leahy's Open Farm's a family business that has grown hand in hand with us." According to Stephen it is the unique relationship between the hotel, suppliers and community that makes Garryvoe special.
The hotel has good working relationships with many of the other businesses and attractions in East Cork. The Jameson Experience at Middleton Distillery is an attraction not too far away that makes a pleasant diversion. While driving to Garryvoe we passed by Fota Island, its Wildlife Park is a perennial attraction for animal lovers and children alike. A little further down the coast The Queenstown Story and Titanic Trail at Cobh Harbour is a lovely way to spend the day and only thirty minutes by car from the hotel. While there why not take in Europe's leading tourist attraction Spike Island.
There are many good reasons to take a mid-week break at the Garryvoe Hotel this winter but the special three for two night offer when booked through partner group Original Irish Hotels may be one of the best!
Factbox
Winter Package stay at Garryvoe Hotel
Enjoy three nights for the price of two at Garryvoe Hotel from this November for €165 per person sharing valid for mid week (Sun-Thurs) only – stays include breakfast. Ts&Cs apply
Offer must be booked through the Central Reservations Office +353 1 2958900
https://www.originalirishhotels.com/offers/east-cork-winter-getaway-garryvoe-hotel
Parknasilla Hotel & Resort 
The first break away is for couples. Kerry is hugely popular for a domestic trip away for so many reasons. One of the most popular hotels is Parknasilla and it attracts repeat visitors year after year – especially from Dublin. In the idyllic setting of Sneem village guests can discover  500 acres of islands, inlets and hidden beaches. Explore one or all of the eight mapped walking trails within the estate. Play golf or tennis, take a swim in the sea or in the guaranteed warmth of our indoor heated pool. Take to the water and embark on a guided sea kayaking tour of the surrounding islands or reserve your private boat trip with Noel.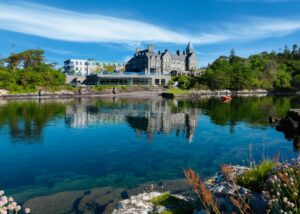 Enjoy Two Nights Bed & Breakfast with One À La Carte Dinner in the Pygmalion Restaurant. Embrace our most amazing location along the Wild Atlantic Way. Stay Two Nights in our Luxury Accommodation, Treat yourself to Dinner in the Pygmalion Restaurant on One Evening of your choice, Wake up to Spectacular Views and a Hearty and wholesome Irish breakfast each morning.
Two Night Luxury Stay
Full Irish Breakfast each Morning
Three Course À La Carte Dinner with Tea and Coffee on One Evening in the Pygmalion Restaurant for Adults only
Complimentary access to our Indoor Swimming Pool, Thermal Suite and Outdoor Hot Tubs
Reduced Green Fees at the Parknasilla new layout 9 hole Golf Course
Miles and miles of glorious walking trails to explore
From €239 pps 2B&B1D.  Valid from the beginning of October to the end November for midweek stays.
Sneem Hotel
With Halloween around the corner the Sneem Hotel is a great destination for families over and around mid-term break with hotel rooms and self catering options. Over midterm, Sneem Village hosts Sneem Scarecrows on the Green Halloween Festival with scary sculptures dotted all around the town by locals vying for the prize of the best scarecrow.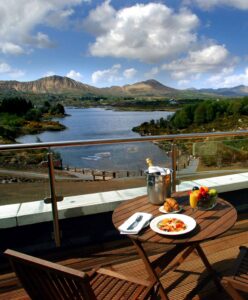 Sneem is in Kerry's Dark Sky Reserve so the perfect place to spot witches flying this Halloween!
Sneem Hotel have some great  Gourmet Getaways packages, for all guests here are two
Offer one the best option for families, are the Family Rooms from €140 per night for 2 adults & 2 children,  and also  Goldens Cove Apartmentswhich are available for 2, 5 & 6 night stays – see below for details of the 2 night apartment stay package.
Families:
Goldens Cove Apartments at Sneem Hotel
2 NIGHT STAY – 2 BEDROOM APARTMENT €350 Total
2-Night Stay in a 2-Bedroom Apartment (overlooking Kenmare Bay) for 4 people. Breakfast is not included.
Facilities include:
En suite with Bath/shower
Tea/coffee making facilities
Fully equipped kitchen with Oven, Fridge, Dishwasher, Living area, Large balcony
Rooms can either have 2 double beds or 2 sets of twin beds.
All the details of Halloween in Sneem and at Sneem Hotel are here – https://www.sneemhotel.com/family-fun/halloween
and more information here https://www.sneemhotel.com/family-fun/fun4kids-club remove
note: Golden's Cove Ground Floor Apartments have been allocated for Pet Friendly guests. Pet friendly self-catering apartments are limited, subject to availability and subject to one pet per apartment.
The Lodge at Ashford Castle
Offer: THE BEST THINGS IN LIFE ARE 3
1st September 2023 – 31st March 2024
Escape to the West of Ireland and enjoy a three-night stay for the price of two.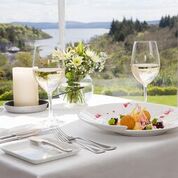 Nestled in the Ashford Castle Estate, a stay at The Lodge will be nothing short of serene. Exceptional views, stunning scenery, and a beautifully appointed room will see you cossetted in luxurious Irish hospitality. Begin the day with a nourishing Full Irish Breakfast before delving into the array of activities and experiences on offer in this beautiful corner of County Mayo. Complimentary bike hire, as well as access to our golf and/or tennis courts, promise a day of extraordinary fun, whilstdinner for two in Wilde's restaurant crown's the day. This offer also includes a sharing platter of local Irish shellfish and cheeses together with charcuterie on one evening.
As well as Complimentary access to the golf and tennis courts, Complimentary morning walks with the Ashford Estate's resident Irish dogs on select days and Complimentary morning history tour on select days with local guide.
This offer includes:
Three-night stay in an elegantly appointed room.
A three-course evening meal at Wilde's Restaurant on one evening
A sharing platter of local Irish shellfish and cheeses together with charcuterie on one evening
A full Irish breakfast each morning
Complimentary bike hire
Complimentary access to our golf and tennis courts
Complimentary morning walks with the Ashford Estate's resident Irish dogs on select days.
Complimentary morning history tour on select days with local guide.
Terms & conditions
Prices are based on two people sharing. Available only during the Midweek  This offer is valid for Deluxe rooms.
Headfort Arms Kells
It's Halloween season and that means time to celebrate the Samhain festival from 2nd to 5th November 2023 where Kells will be at the centre of the Samhain Food Festival.
The Samhain Festival  plays host to all of Irelands key food writers and involves debate, demos, literary pub crawls, food safaris, long table Banquet (by Michelin Star Chef Enda Mc Evoy), film and lots for kids too….
Guests include   Slow Food Global Founder Carlo Petrini, Chefs Paul Flynn, Kevin Dundon, Darina Allen to name a few
Headfort Arms located in the Boyne valley just 40 minutes from Dublin will host venue for the Long Table SupperSamHain Supper' on the Saturday night   hosted by Michelin Star Chef Enda Mc Evoy. The hotel will also be one of the legs of the Literary Pub Crawl on the Friday night and also host various kids and tasting events as part of the weekend including the 'Boyne Valley Bites' tapas trail.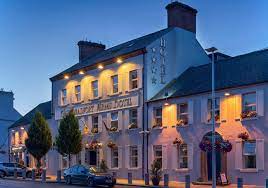 Offers that include golf for those staying outside the Samhain Festival of Food
The Headfort golf club has two of the finest golf courses in Ireland and we have a Golf Break for you.
This offer includes
Two nights accommodation at Headfort arms ,Boyne Valley Breakfast each morning
Two rounds of Golf  at Headfort Golf course one on Old Course and one on the Championship course
Dinner one evening.
Midweek €235 per person sharing
Non golfers can visit the spa rooms at the Headfort with treatments available 6 days a week.
Headfort are offering a 10% discount on all their packages including golf breaks from 1st November to end of January using the code H10
Dining options The Kelltic Bar & The Courtyard offers a true Irish Pub Experience. With its own entrance, the Kelltic offers a typical Irish pub experience with gourmet 'Pub Grub'. It boasts a mix of contemporary and Old World look, with lounging sofas, remodelled private booths and a warm open fire, combined with a Tasty Food Menu – making it the perfect way to spend your evenings.
Vanilla Pod – Although it is under the umbrella of the Headfort Arms, The Vanilla Pod is a self-contained contemporary restaurant that has earned itself regional and national acclaim in its 10-plus years of operation. The 'Pod' as it is affectionately known amongst its loyal fan base offers a wonderful choice of international cuisine in a contemporary bistro atmosphere.
The central hub of the hotel is The Lounge, which serves as an acclaimed regional meeting spot for Social Encounters, Business Rendezvous and Family Occasions. Antique copper urns adorn the mantelpiece over the legendary Headfort Open Fireplace, which welcomes you warmly into the Headfort Lounge.
Main offer would be Golf – https://www.headfortarms.ie/golf.html
Fitzgerald's Woodlands House Hotel & Spa
The 4 Star family run Fitzgeralds Woodlands House Hotel & Spa is located on 40 acres of organic grounds, near the beautiful, historical village of Adare in Co. Limerick. The hotel has two restaurants; Timmy Macs Bistro and Fielding's of Adare restaurant serving the best of local produce, some coming from our their own organic garden.
Why not enjoy an overnight stay midweek with full Irish breakfast including use of our Turkish Mud Rasul Chamber in our Revas Spa. A Rasul is a chamber where a traditional Arabic body treatment involving steam and mud takes place. Using mud of various colours, ingredients and minerals, you sit in a tiled steam room for approximately 50 minutes. The steam opens your pores and allows the detoxifying and healing properties of the mud to penetrate the skin. Afterwards, the star studded ceiling expels a tropical rain to gently add moisture to the mud to soak into the skin to reap the full benefits. Relax and unwind after with a choice of cocktail and 80 mins thermal spa experience.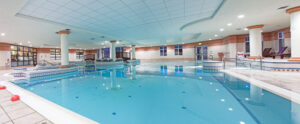 Please note the Rasul Chamber is not suitable for expectant mothers or some health conditions.
Rasul Suite must be pre-booked as soon as possible after booking and well in advance of arrival relax@revasspa.ie
Package Includes:
Overnight midweek stay for 2 guests (Sun-Thurs)
Full Irish Breakfast
Use of the Turkish Mud Rasul Chamber in Revas Spa
Rate
€290 for 2 Persons Sharing midweek (Sun-Thurs)
Randles Hotel
Perched on the Muckross road & with the National park accessible from its doorstep, a visit to Randles Hotel, will allow you to escape the ordinary this Autumn. Check in, slow down & enjoy warm hospitality with a sprinkle of indulgence. Settle into your guest room, take a dip in the pool or drift away at their on-site Zen Day spa. Sip a signature cocktail in Wiggs bar, which also serves a creative and appetising menu. Relax in the heated terrace, soaking up views of the mountains where nibbles and sharing boards filled with treats are available. Guests can also take advantage of the hotel bicycles to explore beauty of Killarney.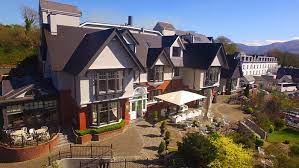 Three night getaway in a deluxe bedroom, and the great thing is you only pay for two nights. It's the perfect opportunity to relax a little longer and enjoy an extra night on us.
With rates starting from €330 per room, enjoy luxury accommodation with a cooked to order breakfast each morning making this the ideal getaway at Randles Hotel Killarney.
Whether you're seeking a peaceful retreat or a lavish escape, this 3 for 2 night offer is designed to provide you with an unforgettable experience.
For more information see www.randleshotel.com
All of these offers are can be found on OriginalIrishHotels.com . They can be booked on line or by call the originalirishhotels reservations office on 012958900 .
Gift Vouchers from Original Irish Hotels can be used to book any of the 54 hotels in the collection as well as all these offers