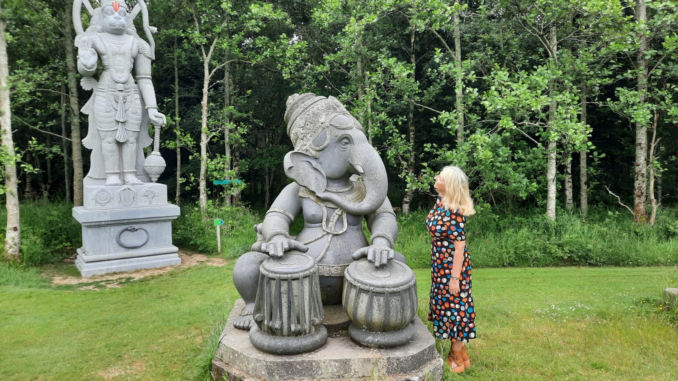 This week on Travel Tuesday on the Elaine show we are heading to great Irish location Staycations. We don't want to travel too far for a short staycation so these places are close by but far enough away for a real break.
Located in the centre of Ireland, Athlone isn't too far from anywhere. Apart from the obvious idyllic location on the River Shannon there's also so much to do in the City. The recent launch of the Greenway makes it a wonderful spot to enjoy the great outdoors. With lots of entry and exit points, you can hop on and off to explore the villages and attractions along the way. Pass under the old 3 arched bridge near Streamstown. Stop in Moate for a bite to eat and then park the bikes for a while to explore the beauty of Dún na Sí Amenity & Heritage Park. When you've explored Athlone, there's a lot more cycling still to be discovered.
Dun na Si Amenity and Heritage Park
Near Moate, Dún na Sí makes a great day out for all the family. It's another chance to time travel in a different way, a unique outdoor adventure exploring tradition, heritage, nature, and activity. Meet the ancient Irish warrior Lugh, explore the roots of Irish music and discover how rural communities lived throughout time.
Features include a playground, outdoor art displays, wetland nature reserve walks, guided heritage tours and genealogy as well as a great locally run café with outdoor seating overlooking the park and play areas. It's perfect for visiting by bike as it's accessed directly from the Old Rail Trail (14km from Athlone). Tickets €8 Adults €4 children under 17 €20 for family of five.
Baysports is Ireland's largest waterpark located at Hodson Bay. Plan your "Day at the Bay" and enjoy an impressive collection of slides, trampolines and platforms including the largest inflatable waterslide in the world. There's even a Junior Waterpark which is suitable for 2–6-year olds.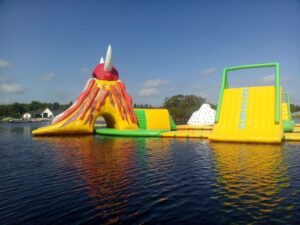 It is ideal for younger kids as the slides do not run into the water, helping to build their confidence while testing their climbing skills. €22.50 for Adults €18.50 under 13s. Arrive thirty minutes before your booking. Junior park for 2-6 year olds.
Mini Cruises on the Shannon
There are many ways to enjoy the River Shannon from Athlone and two choices of boat trips. Viking Tours Ireland.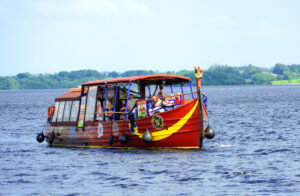 Listen to tales of local lore and fascinating history while you watch the flora, birdlife and aquatic life on the river and lake. Viking Mike himself is a bottomless well of fascinating information and local lore. Sit back and enjoy the panoramic views during this watery adventure. Book online €15 adults and €7 for children – family up to 7 people €45
https://www.vikingtoursireland.ie/
River Run Cruises
Are you looking for a fun day out for all the family? Do you want to experience nature and jump into history down the River Shannon? Then look no further than River Run cruises. They've been giving tours and trips to both locals and tourists for 25 years and we love to provide our passengers with a one-of-a-kind experience.
River Run is an all-weather adventure thanks to their fully enclosed and heated cruiser. With live music on board, finger food and fantastic commentary, your trip along the River Shannon will be one to remember. Start at back of Castle, near Seán's Bar, with four sailings daily and duration 75 minutes. Tickets Adult €15, OAP/Senior €13, Child 4-16 €7
https://www.theriverrun.ie/
Tel: 071 96 21777
Sometimes called the cradle of Celtic Christianity, Clonmacnoise monastery was founded by St Ciarán on the banks of the River Shannon in the 6th century. It flourished and became a great seat of learning, a University of its time with students from all over Europe. Although time has taken its toll, the ruins are both impressive and extensive.
All OPW sites are free to visit for the rest of the summer but you may need to book online first so check the website https://heritageireland.ie/places-to-visit/clonmacnoise/
There are some great places to stay in Athlone but one of my favourites is the Wineport Lodge. It's heavily booked for the rest of the summer but now is the time to book for an autumn break. The dining by the lake is one of the most restful and beautiful settings for a very special meal. I loved the small spa and gorgeous hot tubs where you can gaze over the lake in peaceful bliss.
Bed and Breakfast is from €270 per room per night. https://www.wineport.ie/
I had the best craic last week when I took a walking tour with Nevan Cody on his Shenanigans Walks. One of Kilkenny's longest running and best loved walking tours has been named TripAdvisor's 2021 Travellers' Choice 'Best of the Best' Things to Do award.
Shenanigans Walks, Guided Walking Tour of Kilkenny a modern twist on traditional tours has taken the top spot as the Best Thing to Do this year for tourists in Ireland. The guided trip which weaves through Kilkenny's 'Medieval Mile' is not your average walking tour, guides are entertainers who bring a refreshing blend of history, compelling stories, culture, interesting fun facts mixed with magic effects….. and of course some shenanigans".
Adult : 25 € Ages 12+
Child : Free ( but note that the tour is not really adapted for under 6 yo )
Butler Gallery has re-opened its doors in an exciting new location, the gallery has re-located to the historic Evans' Home in Kilkenny City. Built in 1818, Evan's House was originally the site of a 12th Century Augustinian priory and later the Anglican church of St John Evans.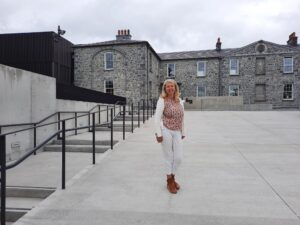 The new location allows for highlights from the Butler Gallery Collection to be exhibited in a contemporary new double-height exhibition space – known as 'The O'Malley wing'.
For Information visit: www.butlergallery.ie
Kilkenny's Butler House has launched a new outdoor dining space offering quality, healthy menu options, served in the tranquil surroundings of the walled  garden, an oasis in the centre of Kilkenny City and adjacent to Kilkenny Castle. 
The Orangerie at Butler House is a new addition to one of Kilkenny's most historical heritage  properties. It is a wonderful experience to sit in the walled garden of Butler House, amid the  eye-catching fruit trees and wonderful herbaceous borders while indulging in Afternoon Tea  just as the Georgian house owners would have done centuries ago. The Orangerie also  provides exquisite views of the elegant garden elevation of Butler House and the iconic  Kilkenny Castle. With the help of leading heritage designer Orla Kelly, the beautiful and  stylish Orangerie will superbly enrich Butler Garden during the summer months.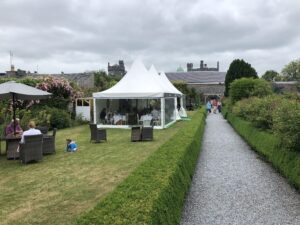 Afternoon Tea is served in The Orangerie Wednesday – Sunday from 1 p.m. to 3 p.m. Afternoon Tea must be pre-booked at least 24 hours in advance. €27.50 pp with Tea and Coffee and €34.50 pp with Prosecco. For Bookings  visit www.butler.ie
Situated about one km from the centre of the town, Hotel Kilkenny is a prefect hotel for a family stay in this lively city. Explore the medieval city with easy access to the Kilkenny Castle Parklands and River Nore walks. Kilkenny County has so much to offer with an abundance of outdoor activities and adventures for all of the family to enjoy.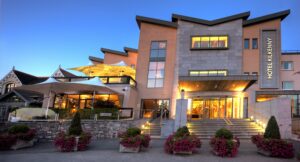 Families can enjoy a choice of a two-night or three-night summer break at the stylish four-star Hotel Kilkenny with two children under 12 staying for free.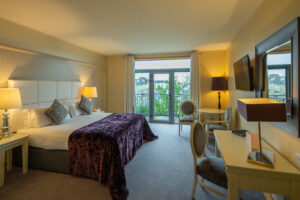 The summer staycation package includes accommodation in a spacious deluxe bedroom, full Irish breakfast on each morning, dinner on one evening in Pure Bar, plus full free access to the family swimming facilities all from €420 for a two-night break and from €590 for a three-night stay
Often it's the places nearest to us that are overlooked when planning a trip or adventure. I had the pleasure of rediscovering Wicklow over the last two weeks and I explored it with my new Wicklow Passport in hand. This novel idea is created by Wicklow Tourism and it gives the visitor a chance to go to places they might otherwise overlook.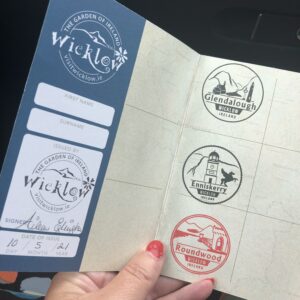 My trip started at Enniskerry Village which has been transformed into a movie set for the new Disney Film Disenchanted. Filming will resume later in the month so it is best to avoid at those times but it is a perfect place to bring any little ones who like to dress up and pretend they are in the Magic Kingdom.
While getting my passport stamped in Roundwood I came across the most remarkable place, Victors Way.  This contemplative Garden for adults is a truly calming and meditative jewel hidden away in the Wicklow countryside. The garden contains 7 major and 37 minor black granite sculptures upon which the visitor superimposes his or her (early life) capacity for wonder. It also is home to the largest fasting Budda in Europe.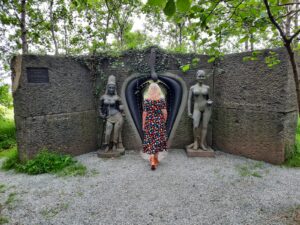 The sculptures are all made in India and craft shop sells singing bowls and incense from India.
Booking online is essential and tickets are €10. It's not recommended to bring children or animals.
The Wicklow Heather is a landmark in the town of Laragh and a short hop to Glendalough and some of the most beautiful walks in Wicklow – most notably the Spinc. It has developed from a wonderful pub and restaurant into a hotel offering guests beautiful chalets to stay and soak up the breath taking scenery.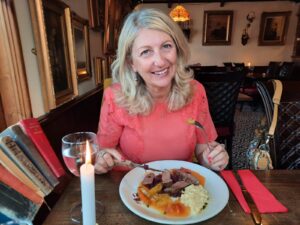 Betty Kenny and her husband have created a remarkable space in the Writer's Room restaurant, housing first edition copies of some famous books. First edition Ulysses by Joyce and Gulliver's Travel by Swift are on display in cabinets next to a first edition of Dracula by Bram Stoker. Other gems include poetry by WB Yeats. The menu is a wonderful list of firm favourite dishes and desserts so expect to be wowed by the food.
I stayed in a gorgeous room overlooking a garden and under the gaze of the tree covered mountains. Luxury guesthouse rooms are from only €90 per night. To book your stay with The Wicklow Heather visit https://wicklowheather.ie/accommodation/
Wicklow has many lovely places to stay and if you are looking for a romantic getaway then Hunters Hotel offers true escapism. Ireland's oldest coaching inn, now in the 5th generation of the same family, with a long-standing tradition of friendliness, hospitality and good food. Its picturesque gardens along the banks of the river Vartry provide a delightful setting for a delicious afternoon tea or pre-lunch drink.
The hotel is an ideal base from which to visit Mount Usher Gardens, Powerscourt, Russborough, Killruddery, Glendalough and the other attractions of County Wicklow, "The Garden of Ireland".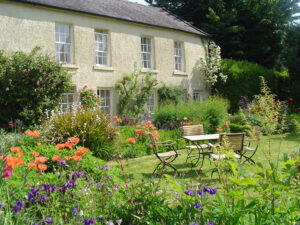 Hunters Hotel, Co. Wicklow, Bed breakfast and dinner from €125 pps
Availability for July and august
To book your stay go to Ireland's Blue Book or call 0404-40106 or visit Hunters Hotel