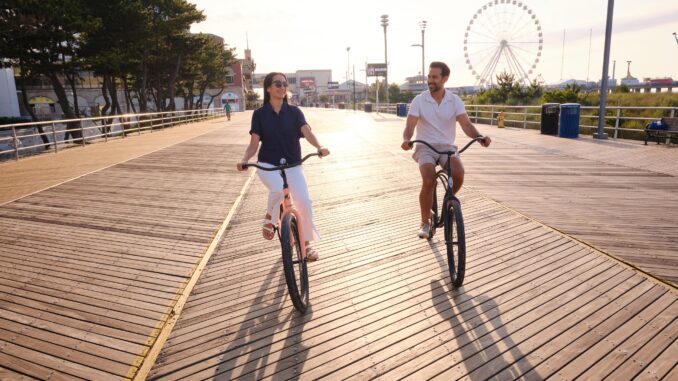 RTE Today November 16th New Jersey
With Thanksgiving only a week away I've been thinking about about all the lovely USA options we have from Ireland so in this week's show we are taking a trip to New Jersey. There's lots to do in the Garden State and it's easy to get there from Ireland. For all you need to know about New Jersey see https://visitnj.org/
Flights to New Jersey
New Jersey is well serviced with direct flights from Ireland. Running daily the Dublin to Newark route is served by Aer Lingus and United airlines but you can also go direct from Shannon to Newark which brings you to the north of the state. The southern part of the state is closer to Philadelphia and we have great connections there with American Airlines and Aer Lingus direct.
New Jersey is a tax free state so that means when you buy clothes you won't be met with a higher price when you go to pay. 
American Dream 
American Dream – is a 3-million-square-foot mall and one of the largest in North America. Theme Park fans should also head to American Dream, located in East Rutherford, which is the Western Hemisphere's largest theme park, home to thrilling rides and experiences, including DreamWorks Water Park, Nickelodeon Universe Theme Park and the new Observation Wheel, with unveiled views of New York City's skyline from 235 feet in the air.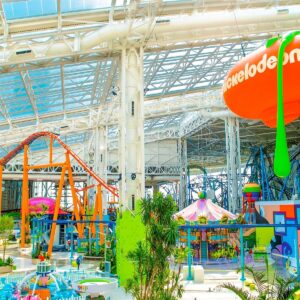 It is also home to north america's only indoor piste where you can ski and snowboard all year round. With food courts and galleries there's lots to do NJ is also a tax free state so when you go up the cashier the price on the tag is what you pay. https://www.americandream.com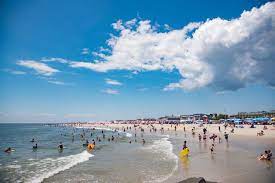 Jersey Shore
Reaching from the top of Sandy Hook to the tip of Cape May Point New Jersey's 130 miles of beaches allow you to soak up the sun on stretches of soft sand as far as the eye can see. Whether you want the Doo-Wop energy of The Wildwoods or the pure serenity of Stone Harbour, there is a beach just right for your mood and a perfect patch of sand for your favourite beach blanket. * START ULAY here Liberty State Park is one of the state's most dramatic parks, with the Manhattan skyline, Statue of Liberty and Ellis Island as a spectacular backdrop. Here visitors can walk, run or ride Liberty Walk, a two-mile promenade, visit the Liberty Landing Marina, the NJ Empty Sky 9/11 Memorial and state-of-the-art Liberty Science Centre. You can also take a ferry to Ellis Island and the Statue of Liberty. Pier C- Enjoy an evening stroll on this lite up pathway that will show you the entire skyline of Manhattan.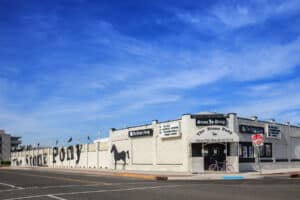 Stone Pony Club, Asbury Park
For music lovers follow the Great live music scene to Ashbury Park. The Stone Pony club was instrumental in the careers of Bruce Springsteen and Bon Jovi and fans will want to pay homage to where these great rock stars started off.
Cape May 
Cape May was the first seaside resort in the US from as far back as the 1700s. Known as the "Queen of the Seaside Resorts", it attracted big names, too. Presidents Franklin Pierce, James Buchanan, Ulysses S Grant, Chester Arthur and Benjamin Harrison all holidayed there, staying at the Congress Hall hotel, playing games of croquet and tennis on its beachfront lawns. As you would expect, there is a fine  array of historic street tours on offer, among the most comprehensive being the  Cape May MAC trolley tour  (capemaymac.org/experience/ tours) which ferries visitors around on a cheery red trolley while evoking the city's 19th-century atmosphere with stories and interesting trivia.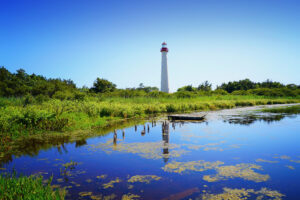 Or you might climb the 199 original cast-iron steps of the pretty red and white Cape May Lighthouse, built in 1859, and gaze out over Cape May  Point, before hopping aboard a whale- and dolphin-watching cruise with Cape May Whale Watcher (capemaywhalewatcher.com). Sightings are extremely common in Delaware Bay and the Atlantic, often within 10 miles of land, and  though whales are the headline attraction, few can resist the charms of a frolicking dolphin.
The picturesque Victorian charm of Cape May, offers wine experiences and Revolutionary Rail bike tour.
Atlantic City 
The jersey shoreline is extensive and runs for x hundred miles. Beach. Boardwalk. Big Fun. Sun, sand, towering resort hotels, This is Las Vegas with manners set on the beautiful Atlantic Ocean…
Atlantic City's world-famous Boardwalk dates from 1870, and has become an American icon. Stroll along the Boardwalk and enjoy ocean views on one side and shopping on the other, ranging from high-end retail to saltwater taffy shops.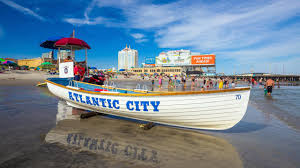 It may come as no surprise that one of Atlantic City's greatest draws is its casinos. Atlantic City gaming action comes in virtually every variety. Shoppers will delight in the 70+ stores at Tanger Outlets, The Walk, which encompasses multiple city blocks and features impressive outlet shopping venues, from Coach and J. Crew to Michael Kors and Kate Spade. With such a wide array of incredible food options, dining in Atlantic City is a delicious, multi-culinary experience from budget buffets, delicious down-home diners, five-star restaurants featuring famous chefs — it's all on the menu here.
Luxury spas in Atlantic City are destinations unto themselves and are more popular than ever. Indulge at Qua Baths & Spa, Breathe Salt Spa, The Spa at Harrah's Resort Atlantic City, Spa Toccare, the Spa & Salon at the Golden Nugget, Exhale Spa + Bathhouse and more.
Entertainment
Atlantic City declares itself the Entertainment Capital of the Jersey Shore boasting more headliners, a larger variety of entertainment options, the most hotel rooms, gaming and 24/7 summer parties in comparison to any shore destination from New York to Maryland.
NEW THIS YEAR: The Island Waterpark at Showboat Atlantic City opened this year – a 103,000-square-foot, year-round indoor waterpark that features Water slides, Pools, Lazy River, Food and Beverage, Retail Outlets, Lounge Areas and Party Rooms. Has retractable glass-pane roof that will cover the entire project to make it a year-round destination.
Anthony Bourdain Food Trail
You can now take in the culinary roots of late celebrity chef, bestselling author and TV personality Anthony Bourdain, who spent most of his childhood growing up in the state. New Jersey is a delight for foodies. Famous for iconic foods such as hoagies, Italian Hot Dogs, Rippers, Pork Roll, Tomato Pie and Salt Water Taffie, however it also has a burgeoning food scene which you can explore through trendsetting eateries, artisanal coffee shops or gourmet food stores. Don't miss out on Hoboken a trendy district for dining and getting the NJ vibe
An itinerary launched by the New Jersey Division of Travel and Tourism spotlights 10 New Jersey restaurants featured on Bourdain's Emmy Award-winning TV series 'Anthony Bourdain: Parts Unknown', including Fort Lee institution Hiram's Roadstand- Bourdain's "happy place", Tony's Baltimore Grill in Atlantic City and Donkey's Place in Camden which serves cheesesteak he claimed "should be a national landmark".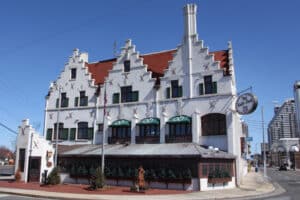 KNIFE & FORK INN, ATLANTIC CITY
knifeandforkinn.com
Another Atlantic City landmark. Established in 1912, the Knife & Fork Inn has been renovated to maintain its retro Prohibition-era vibe and is now owned by the Dougherty Family of Dock's Oyster House fame. Known for seafood, steaks and an extensive wine list.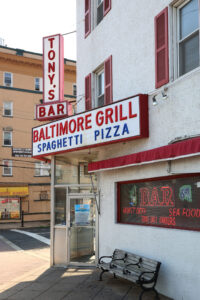 tonysbaltimoregrillac.com
This Atlantic City icon has been open since 1927 and is known for its late-night pizza and comforting pasta dishes. Bourdain was known for "being very sentimental about Jersey Italian."
Elysian Café- On of the oldest establishments with historical interior great for any meal
Blue Eyes Café- Home to Frank Sinatra this waterfront restaurant will have you feeling like the old days of Historical Hoboken
New Jersey is also the home of the American Diner.
Check out the trail here https://visitnj.org/anthony-bourdain