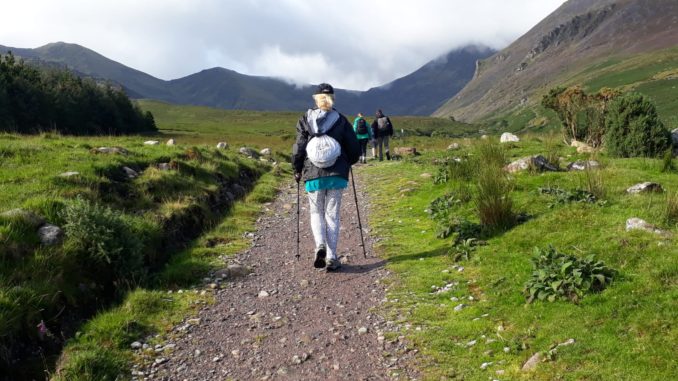 This week on Newstalk we are getting healthy and going out into nature around Ireland and Europe. But not without taking in a little luxury as well.
How to get started hiking?
A great way to start hiking is close to home – I live in Howth and most people in Dublin can get to it easily on the Dart, Killiney Hill or Bray Head are other points close to Dublin but we really are spoilt with the Dublin and Wicklow Mountains so close by. Be safe and make sure that you are prepared no matter how small or large the walk and always bring water and a well charged phone.
East Coast
The Wicklow Way really has it all and wonderful hiking for every level. I started hiking earlier this year with a day trip on The Spinc in Glendalough. It has some of the most spectacular views of Wicklow .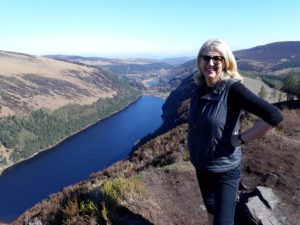 This hike takes three to four hours for a beginner and although you will feel it on your calves the next day there is a great sense of achievement getting around the 9km circuit. If you'd like to get started on hiking, a great way to start is to check out Hill Top Treks or join a walking club on social media. You'll find lots of information on www.visitwicklow.ie and also www.wicklowway.com where you will get online maps.
The Wicklow Way
* * * * * ** * * *  *
Northern Peak
A hike on the tallest mountain in Northern Ireland, Slieve Donard in the Mourne mountains, is a well worthwhile trip.
How long to get there?
It's actually quicker than going to Wicklow if you are from the north side of Dublin. We drove to Newcastle at the base of Slieve Donard where there is ample free car parking.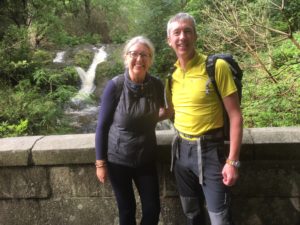 Only an hour from Dublin up the M1 are the beautiful Mourne Mountains. Those of us on the east coast see them on most clear days but the view from them is spectacular. Slieve Donard is 850m above sea level, but I took expert guidance with Martin McMullan from outdoor activity specialists One Great Adventure. His company is based at Castlewellan https://www.onegreatadventure.com/and they offer all sorts of activities from coasteering, to Kayaking to mountain biking. He encouraged us gently up the hike and informed us of the local history along the way. The Slieve Donard walk is well maintained with great parking below the town of Newcastle and it took less than two hours from Dublin.
Martin Mc Mullan's company is based at Life Adventure Center. He took us on the leisurely informed stroll which was five hours from start to finish. The pathway is very accessible and it is over 850ft high making it a good mountain to start the four peak challenge
Where to stay?
Killeavy Castle is a newly opened property just outside Newry and it has many delights to savour from a spa to a farm to fork dining.  We spotted the chef running out to pull salad from the walled garden in the lovely cafe which services hikers to Slieve Gullion. This mountain is another lovely stop off for a day trip and home to Ireland's highest Passage Grave.
Join us this summer at Killeavy Castle Estate for one night's luxury accommodation.  Full Irish breakfast and 6 course dining experience with a bottle of house wine – From £220
https://secure.killeavycastle.com/bookings/specials/summer-offer-dinner-bed-and-breakfast
The brand new spa is perfect for relaxing after a hike.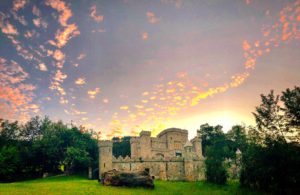 *****************
Southern peak and Highest in Ireland.
The tallest mountain in Ireland is Carrauntouhill in Killarney National Park. This is a hike that requires expert guidance and Kerry Climbing offer this with daily hikes. Piaris is an expert mountain climber and has been taking people on hikes for over a decade. The key to climbing such an ambitious peak is to respect the mountain and be prepared.
Kerry Climbing is a family run business by Piaras & Catherine Kelly and their team of (the absolute best!!!) guides, instructors and staff.
Lead mountain guide, Piaras can't wait to meet you and show you the stunning delights of the mountains he knows and loves so much. He has extensive knowledge of all of Munster's mountains, but particularly the wild remote mountains of Kerry and the South West.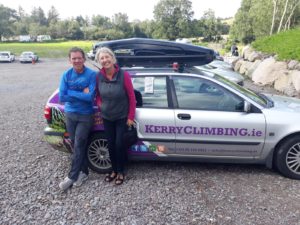 He is a Qualified Mountain Leader, a Qualified Rock-Climbing Instructor as well as a Multi-pitch climbing award holder and has been climbing these mountains for over 20 years with some notable winter first ascents to his name.  A highly experienced mountaineer and climber, he spent many years as an instructor with a cliff and coastal rescue unit of the Irish Coastguard and is currently a member and the Training Officer with the volunteer Kerry Mountain Rescue team. He is a longstanding member of Mountaineering Ireland (M.I)>>,  Mountain Training Association (M.T.A)>>, and the Association of Mountaineering Instructors (A.M.I)>>.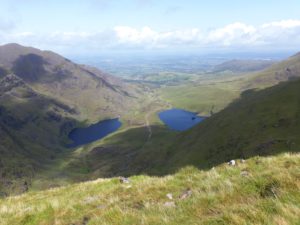 They promote the ethos of Leave No Trace and give full respect to the landowners in the MacGillycuddys Reeks that allow all permissive access to their privately owned farmland.
Guided Ascents of Corrán Tuathail start from €65 per person and they also specialise in offering guided corporate, charity event and group ascents and of course there are discounted rates available for those.
They also offer a variety of other mountain activities from Introduction to Rock Climbing in The Gap of Dunloe ( from €50pp for 1/2 day )
Mountain Proficiency Courses
Scrambling Skills Courses
Guided Mount Brandon Ascents on The Dingle Peninsula
The options of guided hike locations and mountains is pretty endless in the South West !!
We also offer informative lower level walks and hikes through the amazing valleys and forests which are a fantastic way of truly experiencing the beauty of Kerry without over exerting on the highest mountain in Ireland.  These hikes are very poular with groups and we also package days for The Gap Of Dunloe where we collect groups from Killarney by luxury transfer – guided informative hike through the glaciated valley The Gap of Dunloe and a memorable boat trip through the Lakes of Killarney with return transfer.
Where to stay? – about 90 miutes away is Eccles hotel in Glengarrif which is newly renovated and only 1 hour twenty minutes from Carrauntouhill. On the Beara Peninsula there is lots to do and see such as Bamboo park and our bedroom had a view of Garnish Island. A two night break including dinner is €240 https://www.eccleshotel.com/
Eccles Hotel has undergone a complete refurbishment and is perfectly located at the corner of the Beara Peninsula to enjoy all that West Cork and the Ring of Kerry have to offer. It also is about to open it's brand new spa with outdoor hot tubs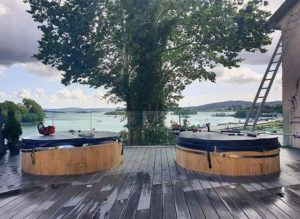 ******************************
Hiking in Austria with Topflight
If you fancy hiking a little further from home it's not too late to enjoy the beauty of the alps in Austria. Topflight's very own Sonnenburg Hotel is located in a beautiful resort called Ehrwald. Ehrwald is a charming Tyrolean village surrounded by a landscape of beautiful mountains and picturesque alpine valleys.
The Sonnenburg has been designed to cater to the needs of clubs and groups and our friendly hosts have had years of experience working with Irish groups.
This holiday runs from May to end of September and the 2020 dates and price are on the website.
They have 1 Solo week (30th August 2020 – no single supplement) otherwise the single supplement is €150 for the duration.
They still have only 1 date available for 2019 (08th September 2019) and it ha special price if €699.
Topflight can tailor make the itinerary for the group by including local mountain and walking guides with a choice of routes and hikes to ensure the best experience. Generally speaking in a case of a group of 20 or more people they suggest to have 2 guides for the beginners and more advanced walkers.
The package includes, flights, airport transfers, 20 kg luggage, 7 nights accommodation on HB (breakfast & dinner), 5 days guided walks through the Zugspitz Arena, and a Tyrolean evening with live music.
*************************************
Hiking in Spain with TD active holidays
Their Sierra Nevada Walking Holiday which departs on 03 September 2019 was €1249 and is now just €999.
If booked before 23 Aug with promo code VP-WALK50 customers can save a further €50 pp which offers excellent value for money.
You can see the full holiday details here: www.tdactiveholidays.ie/sierra-nevada-walking-holiday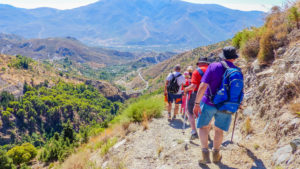 Enjoy an adventurous walking holiday through Spain's magnificent Sierra Nevada region. On this seven night holiday of a lifetime, explore the picturesque hillside town of Capileira, enjoy the breathtaking views from mainland Spain's highest peak, Mulhacen, and hike through the scenic valley to Pitres. Local expert walking guides will accompany all walks, which have been designed to take you to unspoiled and spectacular landscapes within the Sierra Nevada Mountains.
During this holiday, the group will be divided into two parties; moderate and challenging, depending on the participant's fitness levels, during all five walking days. The moderate walks will be a between 6km – 13km with a maximum daily walking duration of up to 5 hours. The challenging walks will be between 12km – 18km, with a maximum daily walking duration of up to 8 hours.
Included in your price…
Flights & Transfers
Hotel Accommodation
Expert Local Guides
5 Walking Days
5 Packed Lunches
7 Evening Meals
Visit to the Alhambra
* * * * * * * * * *  * * ** * *
Camino Ways in Portugal
For October the Rota Vicentina Fishermen's Trail in Portugal makes an amazing coastal trail: The Rota Vicentina Fishermen's Trail is a magnificent coastal trail taking walkers along the shores of the Atlantic Ocean in a region of spectacular beauty in Southern Portugal.
Walkers will be amazed by the breathtaking landscapes of this off-the-beaten track area in the Alentejo and Algarve. You will be following in the footsteps of local fishermen who have used these tracks to reach the best fishing spots along the coast for many generations. Spectacular cliffs, superb beaches and quaint fishing villages make this trail simply unmissable. Enjoying balmy temperatures throughout the year, the Rota Vicentina Fishermen's Trail is ideal to travel in the Spring (March to May) and Autumn (September, October).
While the Rota Vicentina is not part of the Camino de Santiago route network, the trail takes walkers to the Cape St Vincent (Cabo de São Vicente), a traditional place of pilgrimage for centuries.
Activity : Walking or Cycling   Duration : Up to 10 nights
Distance :192 km
Difficulty :Medium +
Tour Type :Self-Guided
Time To Go :March, April, May, Sept & October
Price :1 week from €563
Remember to use my code novel traveller to get €20 off per booking and you must book your own flights with camino ways – faro is well catered for by Ryanair and Aer Lingus and Tap fly into Lisbon as well as the two Irish carriers
https://caminoways.com/ways/ways-in-the-algarve/rota-vicentina-coastal-fishermens-trail