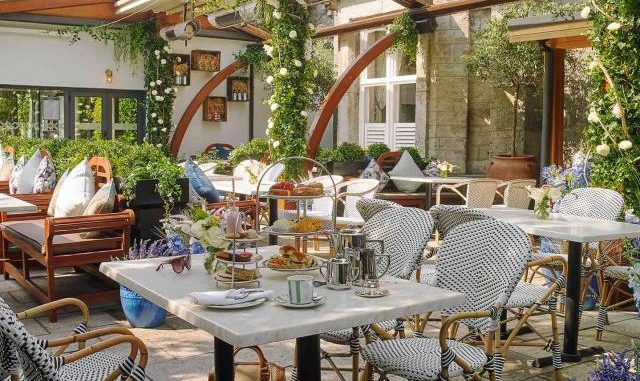 First thing I do after checking in to The New Park Hotel in Kilkenny is make my way speedily to the infinity pool, which proves to be an oasis of calm for adults only. Underneath the 300 year old oak tree I watch as pigeons nestle in the autumnal leaves. A swing hangs from a low branch and I picture myself sitting on it later.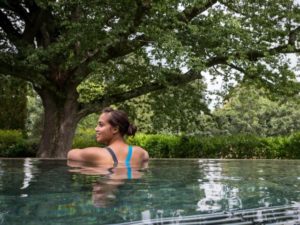 New Park is part of the Flynn group and has undergone major changes over the last few years growing organically to suit the hotels needs. The top floor is compact and nicely laid out with sweets I want to sit out and look over the tops of the trees at the town. The bathroom is furnished with Orla Kiely toiletries and a super shower that I could spend a year sitting under as for the fourposter bed well who doesn't love one of those!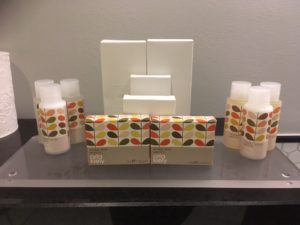 The investment in the four star, Flynn family owned, hotel sees luxury upgrades across the property, with €250,000 alone spent on the Balcony Suites which feature specially sourced, bespoke fabrics and furniture designed and sourced by DEAN Unique Fit out, under the direction of Ireland's leading Interior Architect and Designer, Brian McDonald, whose unique perspective brought the characteristics of the hotel to life.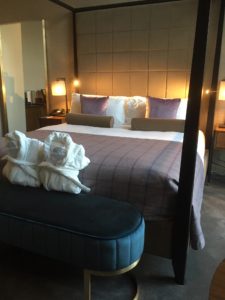 Vibrant teal puffa bed spreads complement the rustic taupe of the luxurious headboards of the four poster beds in each suite; while the addition of sapphire blue breakfast chairs, a recliner chair and sofa, and charcoal armchairs have created an easy on the eye, inviting space for guests to enjoy and relax in, each of which features its own private balcony. Every Balcony Suite features a Spa bathroom with each shower enclosure featuring a built in seat to complement the 12-inch rain shower experience guests will enjoy.
McDonald and the design team took four weeks to manufacture a wide selection of products for each suite, using a variety of materials including aged brass, blackened steel, walnut, locally sourced fine leathers and fabrics. Each bedside locker for example consists of pristine blackened steel frames with bespoke brass feet and a solid walnut lacquer finish top; while mirrors throughout the project were framed in an aged brass surround which emphasised the beauty of the antique mirror used in each suite.
General Manager of Newpark Hotel, Mark Dunne explained the ethos behind the project "Our newly launched Balcony Suites encompass everything that it is synonymous with Newpark Hotel. Our iconic property, with its 50 year tradition of delivering truly memorable experiences to each of the guests that come to stay with us is now complimented by this 5 star Balcony Suite experience. My team and I are proud to have achieved this, by not only providing our guest with a world class design, but also our attention to detail which is delivered through state-of-the-art in-room entertainment, power showers, and most importantly offering the perfect night's sleep. It is this attention to detail, through experience and design, that ensures we meet and exceed the expectations of today's traveller."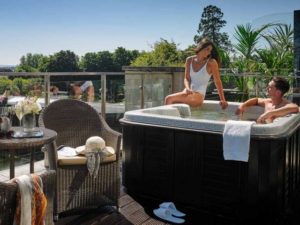 I spend the evening dining in the Scott's Bar and Brasserie. There's plenty of choice on the menu with fresh hake beautifully prepared with asparagus but steak seems to be speciality so there is plenty to suit all tastes. The ambience is warm and friendly and almost american in style with good size portions.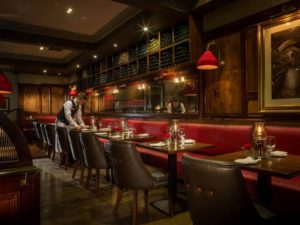 Newly installed state-of-the-art 43 inch Philips flat screen, fully interactive, high definition capable in-room entertainment systems feature in all rooms. In addition to enjoying the 75 channels provided, each guest can enjoy their own mobile content through their guest room TV. As well as that, each in room entertainment system provides each guest with a complete overview of the facilities available throughout the property and the medieval city of Kilkenny.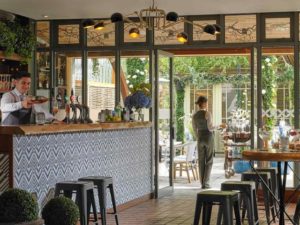 The significant investment in the Kilkenny property also included the creation of The Terrace, which opened in the summer of 2017, offering dining in a contemporary, atmospheric and relaxed outdoor setting.  A state-of-the-art retractable roof and outdoor heating allows The Terrace to be used all year round; and its bistro-style decor with a Parisian feel is complemented by plush throws and comfortable seating.
One of Ireland's leading privately owned hotel groups, Flynn Hotels, under the helm of the Flynn brothers John, Allen and Pierce, has invested €3m in their latest refurbishment works across the group's four properties which also include the Imperial Hotel, Cork City; Old Ground Hotel, Ennis; and The Park Hotel, Dungarvan.
If you are looking to escape the hassle of Christmas this hotel is a lovely alternative with excellent festive packages
Newpark Hotel, Kilkenny Christmas Experience (CHRISTMAS DAY RESIDENTIAL PACKAGES)
Relax and unwind this festive season at Newpark Hotel, with a choice of either a Three or Four Night Package available, with arrival on either 23rd or 24th December, including:
Festive Afternoon Tea on arrival
Champagne Breakfast each morning
Sumptuous Dinner each evening
Gourmet Christmas Day Lunch
4 NIGHT FESTIVE PACKAGE:
Classic Double €649pps
Superior Double €709pps
Balcony Suite €789pps
3 NIGHT FESTIVE PACKAGE:
Classic Double €549pps
Superior Double €594pps
Balcony Suite €654pps
CHILDREN'S RATES
(0 – 2 years) Free of Charge.
(3 – 12 years) 50% off Adult Rate when sharing with parents.
Visit www.newparkhotelkilkenny.com to learn more.
For more information on Newpark Hotel's Balcony Suites visit www.newparkhotelkilkenny.com or call 056 7760500.