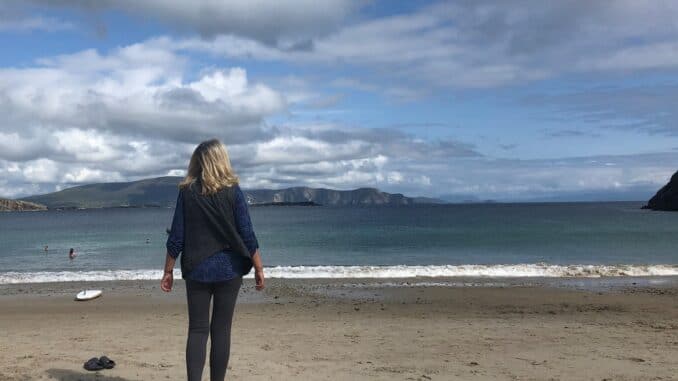 With a crescendo of excitement in the Irish Film Industry tonight, it's time to reflect on Oscar winning locations in some of the loveliest counties in Ireland. I've picked just three but there are many more. I hope you enjoy the selection 🙂
The Oscars haven't been announced and already visitors have begun flocking early to beautiful Keem Beech to see the house where Brendan Gleeson's character lived in The Banshees of Inisherin. Speaking to Anna Connor, from Mayo County Council, she informed me that the location of the fictitious pub with spectacular views from the movie has already become a popular spot for marriage proposals. To cope with the activity the charming Beehive Restaurant on Achill Island has even opened early due to the influx of visitors hoping to soak up the scenery. A victim of its own popularity means Mayo County Council have plans to triage cars at peak times of the day from 12-4pm this summer and are looking at putting a shuttle bus in service during the months of July and August.
In further preparations seating is being secured with information points at locations on the Atlantic Drive part of the Wild Atlantic Way. This summer The Deserted Village on Achill offers a new interpretation Augmented Reality experience which will take you on a virtual tour of how the interior of a house looked during the time of The Great Famine. All this easily accessed using a QR code on your phone.
No so long ago I explored the stunning vistas on The Clew Bay Bike Trail with Rachel's Irish Adventures. We took electric bikes from Westport to Louisburg where we picked up the ferry to Clare Island. The Lighthouse at Clare Island is a special place and operates as a boutique hotel that's available to hire in its entirety. Perfect for a family reunion or small wedding celebration it's part of Ireland's Blue Book and offers an unforgettable stay for anyone wanting to experience island life. From there we cycled to the burial site of The Pirate Queen Grace O'Malley whose fearsome adventures to see Queen Elizabeth I in London, have carved her name in posterity forever
Mulranny Park Hotel is situated in prime position on Clew Bay with stunning views. The Great Western Greenway runs past the old railway station that has been refurbished and is now a tourist information point where visitors can experience Croagh Patrick in a virtual way.
American visitors still come to Cong to see the statue of John Wayne, marking the location of his love story with Maureen O'Hara in The Quiet Man. The movie won an academy award for director John Ford in 1953. The future for film making in Mayo is bright and with the nationwide launch last night of My Sailor My Love, shot in Achill and the Corraun Peninsula, no doubt there are many more to follow. To learn more about the many great activities in Mayo see www.Mayo.ie
The Royal County is blessed with beautiful natural scenery as the River Boyne weaves its way for 70kms through the rich lush landscape. It's no wonder that it has been the setting for many movies with Trim Castle possibly being the most famous. It is the largest Norman castle in Ireland and a hugely important attraction and stop off on Ireland's Ancient East more notably as the location where Braveheart was filmed with director/actor Mel Gibson. It was nominated for 10 Academy Awards in 1995 and brought back 5 including Best Film. The visitors centre next to the castle holds many samples of memorabilia from the film Including armour, bows and arrows, shields and dress up chests showing what people wore and how they lived in mediaeval times.
Next to the castle are outdoor benches and tables making it a lovely spot to eat a picnic or start to wander along the Boyne Valley Walk.
Trim Castle Hotel is the ideal place to explore this lovely town, with spectacular views of the castle and a lovely Kilkenny Design Shop downstairs. The step in to spring package at Trim Castle Hotel includes an Overnight Stay with Breakfast, Dinner, a Cocktail in The Bailey Bar with a Late Check Out from €185 for 2 people.
The River Boyne is a landmark in its own right and what better way to enjoy it than from the water itself. That's what I did when I took the Float Through Time Tour with Boyne Valley Activities. James was a wealth of information telling stories of what life was like through the centuries living on the river and at times it was gruesome indeed.
Not only has Meath the most spectacular megalithic building in the country, restored majestically in the Bru na Boinne UNESCO World Heritage Site it also has an unique accolade. Parts of the first Oscar nominated Irish Language movie An Cailín Cúin was filmed at Lismullin National School and other locations around Trim.
The Boyne Valley includes a thin strip of coastline and it was at Laytown that the movie The Crying Game was shot in 1992 wining best screenplay at the Academy Awards that year. The Boyne Valley is home to some of the most loved attractions for children and families with Causey Farm, Bee Wise Nature Trail and of course the new look Emerald Park opening its doors with some firm favourites such as the largest rollercoaster in Ireland.
With lots going on for all the family over Easter to see more visit  www.discoverboynevalley.ie
The sunny-south-east has its own share of Oscar movie fame with County Wexford being the original location in the novel Brooklyn made into a film in 2015. Nominated for best picture and best actress, starring Saoirse Ronan and written by Colm Toibin, it brings to life the charm that oozes out of Enniscorthy town. Enniscorthy Castle has seen the transition of time from the 13th century and heyday of Norman Knights and Irish Rebels. A visit to the castle tells the tale of Industry from the 1600s and displays fine examples of medieval art. The National 1798 Rebellion Centre is another must see for fans of this tumultuous time in Irish history.
I've become a regular at the Riverside Park Hotel where Colm Neville and his team of welcoming staff always ensure a great stay. This hotel is perfect for all generations with kids clubs in season and a large pool and leisure centre. www.riversideparkhotel.com
A favourite scene from Brooklyn that captivates the sunny-south-east is set on Curracloe Beach a strand that runs along the spine of the Wexford. It was up the road from this sweet spot on Ballinesker Beach that the movie Saving Private Ryan was filmed winning best director and four other awards at the 1998 Oscar's.
The stunning coastline of Wexford tells tales of Vikings and Normans and there are few places better in the country to have an authentic historic experience than the National Heritage Park at Ferrycarraig. I brought my children here when they were little to explore the various settlements and dwelling that bring history to life. Birds of Prey experiences and other delights such as Easter Egg hunts run at times throughout the year. It is even possible to have a Viking Wedding on the site. https://irishheritage.ie/experiences/
Wexford town has many great places to stay from Clayton Whites Hotel to the Talbot Hotel and the new Crown Quarter is sure to be popular this summer. Sweeping past Kilmore Quay with its charming thatched cottages and wonderful views out to the Saltee Islands another must see in Wexford is the Hook Lighthouse. At 800 years old this beacon is a shining light and popular attraction on Ireland's Ancient East. Another way of getting close to the coast is with www.theirishexperience.com who offer coastal canyoneering and kayaking offering more action than Private Ryan could have expected. After all that activity the perfect way to round off a stay on the Hook peninsula is at Dunbrody House where chef, Kevin Dundon, has been entertaining guests for decades.
For more things to do and places to stay see www.visitwexford.ie