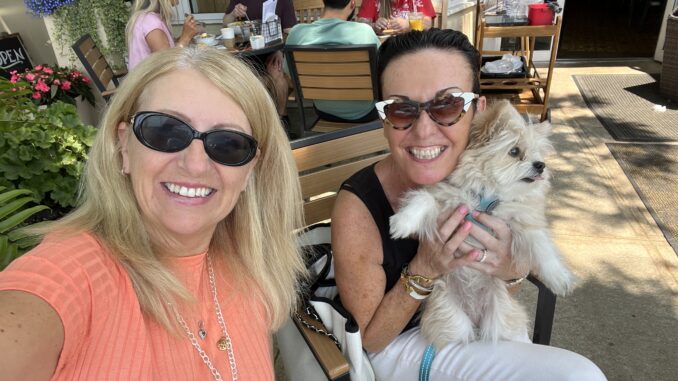 Coco Chanel wakes up on a soft doggie bed and her ears prick up to the sound of a gentle morning chorus. Outside the sun breaks through the lime green beech leaves and meanders around her. She's a four-year-old Pomeranian and has taken a break from her hectic lifestyle with her owner and my bestie Jackie Quinn, a fashion designer who lives in New York. We are staying at Winvian Farm nestled in amongst the gently sloping Litchfield Hills – an oasis of calm boasting 19 houses and cottages that flirt with nature.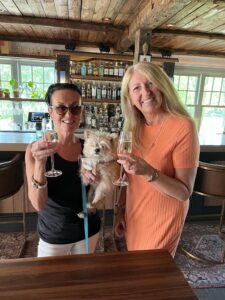 When I told Jackie that I was visiting Connecticut she said that she'd meet me anytime as it's only a short drive on the I-95 to neighbouring state, New York. Checking-in at Winvian Farm was a treat as we're greeted by a glass of Prosecco and some doggie treats for Coco Chanel, who's given the same warm welcome as any human. Spread over 113 acres our home for the evening is the Greenhouse cottage. This self contained luxury offers a patio, fire pit and gorgeous art hanging on the pale green panelled walls. The pathway outside is lined with lilac rhododendrons and the bathroom looks out at the forest from the large Jacuzzi bath.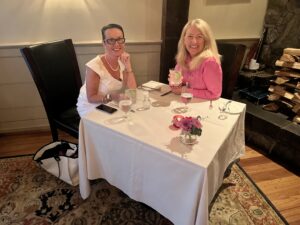 Winvian Farm is part of the Relais et Chateaux collection and has justly earned its accolades. Facilities close by include horse-riding, hang-gliding and all manner of adventure sports in the lush countryside. Our little party prefers the more genteel option of lounging by the outdoor heated pool. The spa is a five star experience, as is dinner that evening at the fine-dining restaurant. I opted for a fish dish with all plates offering vegetables that have been brought from seed to table on the farms organic land. Jackie's steak proves too big so Coco Chanel helps out. Expect superb service and cuisine at Winvian worthy of any top five-star restaurant.
After the pampering at Winvian it's time to shop so we move out next day for a drive through charming barn-inspired architecture and green landscapes. We wander through the artisan shops and cafes in Litchfield where glitterati such as Meryl Streep, who lives nearby, frequent. The history of the town is for all to see at the Historical Society where the current art exhibition and display tell how settlers moved from here to the pioneering west. Litchfield has a small distillery with delicious bourbon whiskey where tours and tastings are on offer. It is home to many charming home grown businesses such as the dairy at Arethusa Farm.
Our next stop is the cosmopolitan and hip district of West Hartford. Jackie's penchant for antique shops lulls me into a false sense of security and I walk out of one store with a second hand Persian Rug! Just as well I've a 23kg allowance with my bags. At security on my return the only declaration that I have to make is a flying carpet! Our bed for the evening is at The Delamar Hotel, in a great location for anyone flying in to Hartford, Connecticut.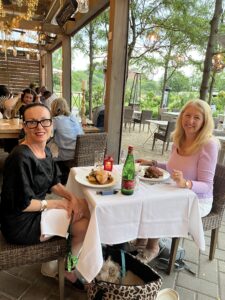 The lexicographer, Noah Webster lived in the area and his blue backed speller book taught five generations of American children to spell. In his honour the delightful shopping and café life located in the area has been renamed Blue Back and conveniently is on the opposite side of the street to the Delamar. Also a fabulous dog-friendly hotel, The Delamar gave Coco her own doggie bed and another treat. That evening at dinner in the Artisan Restaurant we sat out on a covered terrace where Coco is getting the usual attention from guests who find her adorable. I don't always have room for breakfast but at the Delamar it is a real treat with a huge selection of speciality dishes. The staff couldn't be friendlier or more attentive.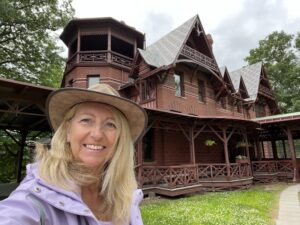 When I'm in a place where famous writers lived or worked I have to visit and Hartford hasn't just one famous author's house to see but two. The witty Samuel Clemens, and some might say most quoted writer of the twentieth century, was better known as Mark Twain. Author of The Adventures of Tom Sawyer and The Prince and the Pauper his wife was a wealthy woman who allowed him the luxury and security of a comfortable life in this Gothic mansion where he wrote his most important works. The house is filled with exotic vases and carved furniture in tones of brown with silver painted patterns on the walls that reflect the light.
Twain's double bed was set at a strange angle so that he could read from the gas lamp while smoking his cigar in bed at night. His children's nursery and school room is still filled with remarkable artifacts from the time and our guide gave a personalised tour acting out the persona of the author's maid. Outside the house is an interpretive centre with details of how Clemens enjoyed holidays and where he found inspiration for his works. www.marktwainhouse.org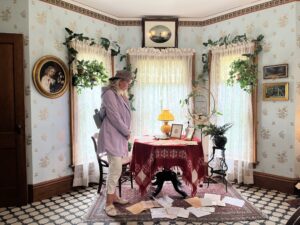 Harriet Beecher Stowe lived around the corner from Mark Twain and her house is also open to the public. The author of the biggest selling novel of the 19th century, Uncle Tom's Cabin, is seen by many as being an important tool used by abolitionists during the American Civil War. Her house is today preserved in its original Victorian splendour with photographs of her husband and children. Guided tours carry on the legacy of the author in the form of inspirational debate as we sit down in the parlour where she used to greet visitors, Coco however is too polite to comment. The decor that Stowe enjoyed during her 23 years living in the house includes some oil paintings by the author herself. Tour visits are limited and booking on line is recommended. www.harrietbeecherstowecenter.org
Another interesting museum in Hartford is the Connecticut Historical Society where one of Mark Twain's Penny Farthing bicycles sits next to other examples of vehicles from the early twentieth century. The Bicycle Game is full of interactive displays that are perfect for children and runs until September 17th but the historic artefacts and Inn and Tavern Signs are on permanent exhibit. See www.chs.org. While I was given the grand tour Jackie and Coco took a stroll in the beautiful Elizabeth Park, home to the oldest Rose Garden in The United States. People were getting married and photographed by the pond when I came to meet them before our next stop.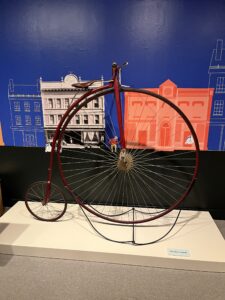 Connecticut is dotted with gorgeous towns and villages so our last stop at Old Wethersfield is another delightful surprise. Jackie, Coco and I dine in Lucky Lou's Bar and Grill on the Main Street where the Greek owner/executive chef Lucas informs us of the delightful community found around the town.
Silas W Robbins House
I stay for my last night in Silas W Robbins Bed and Breakfast as Jackie and Coco return to their fashionable lives in NYC. This charming perfectly restored Second Empire Guest House holds 9 bedrooms all individually decorated. An American version of the kind of property you'd expect to find in Ireland's Blue Book. The house is a merger of hand woven rugs and brocaded chaise longues swaddled in authentic period wallpapers. Outside the two acres of pristine gardens make this historic landmark a luxurious option for an introduction to Connecticut. At breakfast ornate silverware and crystal make an appearance with copious healthy and delicious options. I can only imagine how glorious this house is in the colours of autumn and covered with snow in winter.
As I'm sitting in the taxi on the way to Bradley International Airport I've time to reflect on our trip. In the words of Tom Sawyer, "I've found out that there ain't no way to find out whether you like people or hate them than to travel with them." I've always loved travelling with my bestie Jackie but travelling with Coco Chanel through Connecticut was an absolute blast!
Fact box
Hartford Connecticut offers an alternative gateway to America that avoids the larger hubs but is a great connection being just two hours from Boston and NYC in either direction. Aer Lingus have re-launched the direct route from Dublin this summer that brings with it the opportunity to experience a more relaxed side to America that can be found in New England. Travel with Aer Lingus to Bradley International Airport, Hartford from €239 one-way www.aerlingus.com
To explore what is happening in Connecticut see www.ctvisit.com
For a bespoke itinerary see www.platinumtravel.ie
Or call on 01-8535000
6-night Luxury Connecticut Mini road trip
Travel September 2023
Return flights from Dublin to Hartford with Aer Lingus
Inclusive Car hire for 7 days
2 nights Delamar Hotel West Hartford
2 nights Silas W. Robbins House
2 nights Winvian Farm
All airport taxes
24/7 emergency number throughout your stay
From €2785 per person