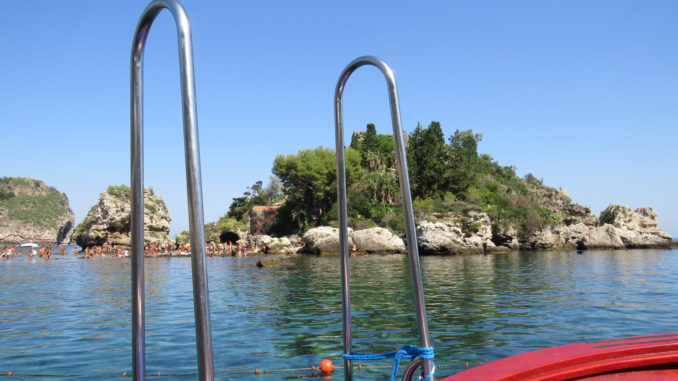 This week on The Hard Shoulder we are travelling to the largest island in the Mediterranean Sea, Sicily. It's very accessible to get to from Dublin with direct flights to Palermo with Ryanair and Catania with Aer Lingus.
Listen Back to the Podcast on Newstalk here https://www.newstalk.com/podcasts/travel-thursday/travel-wednesdays-sicily
Why go to Sicliy?
There is so much to offer for a holiday with wine tasting tours, world's unique artistic masterpieces, three active volcanoes, snow-capped mountains and an amazing sea that is crystal clear. Don't forget the history of the Godfather and sites where the famous movie about the Corleone family was filmed.
Sicily Facts
Sicily is separated from the Italian Peninsula by the narrow Straight of Messina. It is home to the largest and most active volcano in Europe, Mount Etna at 10,999ft. The northern and southern coasts are each about 280 km (170 mi) long measured as a straight line, while the eastern coast measures around 180 km (110 mi); total coast is estimated at 1,484 km (922 mi).
Climate
Weather – very hot at height of summer and it was a constant 34′ during our stay the first week of August. A good time to travel is May or June and September/October. In winter locals ski on Mount Etna.
Mafia – Famous for being the home of the mafia – after unification of Italy in 1870 The Mafia were paid minders to ensure carriage of products for farmers around the island – their business became entrenched and expanded – some of the godfather films were shot here – Godfather 3 used the train station at Taormina to film. Savoca, near the prosperous coastal resort town  was chosen as a stand-in for the real village of Corleone in the 1972 movie because it was relatively untouched by progress and had fewer issues than Corleone with the local mafia.
Historic story of the Sicilian Heads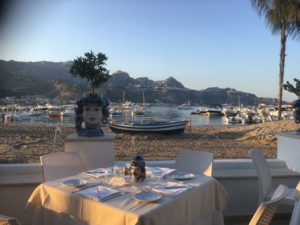 The Sicilian Heads are everywhere and with them is a great story from the time when the moors and Greeks all inhabited the island. An Arab man fell for a local girl but didn't tell her that he had a wife and family at home in north Africa so she cut off his head and used it as a vase to grow basil so he wouldn't be able to leave her – Today you will see ceramic heads of an Arab man and beautiful woman filled with fruit trees and plants in restaurants and windowsills and on shelves all over the island. Don't cross a Sicilian woman however!
Food
Delicious food everywhere and the pizzas are especially good. In Sicily they like to use Lemons and pistachios in cooking – a lot! A favourite is pistachio cream put on crackers or bread.
Famous dishes include Arancini which are balls or pear shaped cones filled with rice and vegetables.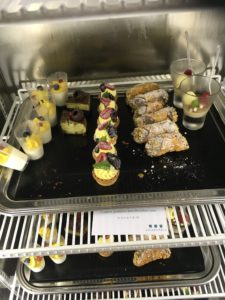 Pasta dishes are spectacular but don't expect to see lasagne or bolognese in all restaurants as the Sicilians have their own spin on dishes.
Granita is a delicious fruit sorbet that was found after locals had left fruit over the winter on the snowy slopes of Mount Etna
Cannoli are the delicious cone shaped desserts with cream fillings flavoured with coffee or pistachio or whatever you like – of course the gelato is exceptional all over Italy
Sicily also has a very good wine – and the local fruit and vegetables are high quality due to the lava.
Cookery classes are available and our rep with Topflight offered pizza or traditional courses in a restaurant in Taormina. I spoke to a family who took part and it was great fun and other family members got to eat what they had made.
Beaches
Vary in sand texture – at Giardini Naxos the beach in the town is sandy but grey from the lava – however most are pebbles and large stones – some of the hotels along the coast are built into rock
Day Trips:
Boat trip
A great way to see the coast from Letojani to Catania is by boat and we took a trip that brought us by the Capotaormina where the G7 summit was held in 2017. Close by is the beautiful Isola Bella which was privately owned and has a huge array of tropical flowers from around the world in its gardens. The blue Grotto was a stop off point too and we had the option to swim in the crystal blue translucent waters.
Antonio's boat trip costs €25 for 2.5 hours and they picked us up from the hotel beach which was lovely.
Mount Etna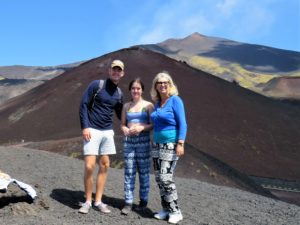 Make time to go see this amazing lunar landscape and you wont be disappointed. We soft trekked the Silvestri crater but there are dozens to chose from or you can take the cable car up to the black lunar landscape on top. Honeysellers are in abundance along the route to the first base of the Volcano. You can get public transport up to this but we took a tour and it was €35 per person and we learned a lot about the history of island on the way.
Taormina
This beautiful town built into the cliff is close to Giardini Naxos and for €3 return by bus it's cheap and easy to get to – it has a very beautiful Greek Amphitheatre where classical and popular artists perform outdoor summer concerts. The view of Mount Etna and the sea beyond is absolutely superb at this 10,000-seat ancient Greek amphitheatre, which was erected in the third century BC and expanded by the Romans. The Corso Umberto is perfect for an evening stroll and shops generally are open until 9pm as they close for siesta between 1-5pm. We lazed by the IX April Square and watched the world go by. We saw a hen party which of course was very stylish not like something you would see in Temple Bar.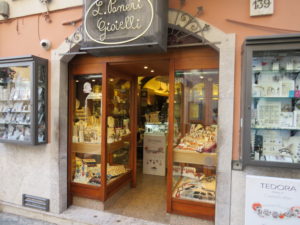 Siracusa
This beautiful city is very accessible from anywhere on the east coast however be warned it is very hot in July and August. Its thousand-year old history, the Neapolis, Ortygia, the papyrus of the Ciane, its charming and fascinating territories and coasts make it a must visit for culture vultures.
Palermo
A day trip to the capital of the island wont disappoint but it is about 2.5 hours drive away. This city offers the best of Italy with some stunning Baroque architecture – the town of Cefalu is a popular beach resort nearby
Stromboli and Lipari
If you are a volcano junkie then you can visit these very active volcanic islands by boat. Mount Stromboli has been in almost continuous eruption for the past 2,000 years most recent large eruption was 2019. It stands just over 3,000ft and is in the Tyrrhenian Sea in an arc of islands north of Sicily with a small population of about 500. Lipari is the largest of a chain of islands in the volcanic archipelago in between Vesuvius and Etna.  The island has a surface area of 37.6 square kilometres (14.5 sq mi) and is 30 kilometres (19 mi) from Sicily. Besides the main town, most of the year-round population resides in one of the four main villages. The main town is the capital of Messina district and has a population of about 12,ooo.
ETNALand
This water and theme park in Catania will be a big hit with the kids. Theme park is open from end of April to September and day ticket costs €25 for adults and teens – shorter than 1.4m is €20 and under 1 meter go free. The waterpark has similar price scale that varies from low to high season.https://etnaland.eu/en/
Places to stay:
We stayed at the UNA hotels Naxos Beach which has a variety of hotel or villa options.
With an Olympic size swimming pool and own beach access it is well equipped to fill the needs for all the family. Entertainment at night was varied and they even have an outdoor amphitheatre. It has a fabulous beach with well maintained umbrellas, loungers and dining facilities.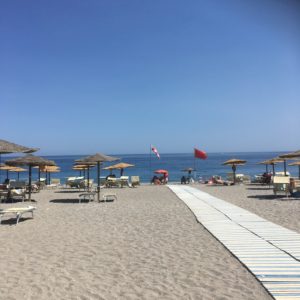 Lots to do for all the family – kids clubs and aqua aerobics which I became quite addicted to!
* * * * * * *
Package offers with Topflight
Topflight's Italian Holiday Sale offers holidays from Dublin, Cork & Belfast. Contact them through their website or telephone 01-2401784
https://www.topflight.ie/
We stayed at 4* UNAHotel Naxos Beach Resort. Topflight offer seven-night holidays to Sicily, which will operate until October. Topflight can also tailor-make holidays to Sicily for shorter or longer durations or combine with other Italian resorts for twin and multi-centre holidays.
Prices for the 4* UNAHotel Naxos Beach Resort start at €899 per person sharing and include return flights from Dublin, return transfers, accommodation for 7 nights on a half board basis, 20kg baggage allowance, taxes and the services of Topflight's in resort manager.
For further details and to discuss Sicily holiday options call 01 240 1700, see www.topflight.ie or call into your local travel agent.
 There are discounts for the remaining summer season (August – October) on every date across all their featured resorts including on a selection of family holiday options. So it's not too late if you are planning a family escape before the start of the new school year. There is also an array of Italian escorted tour experiences on sale.
Lido di Jesolo
14th September, 3* Hotel Portofino (H/B) was €899 now €599pps
Lake Garda 
31st August, 4* Bella Italia (S/C), Peschiera was €679 now €449 (based on 6 share)
Sorrento  
23rd August, 4* Hotel La Pergola (B&B) was €999 now €669pps
Fly from Cork
Lake Garda
17th August, 3* plus Hotel Garda Bellevue (H/B) was €1037 now €699pps
Lido di Jesolo
31st August, 3* Hotel Portofino (H/B) was €874 now €659pps