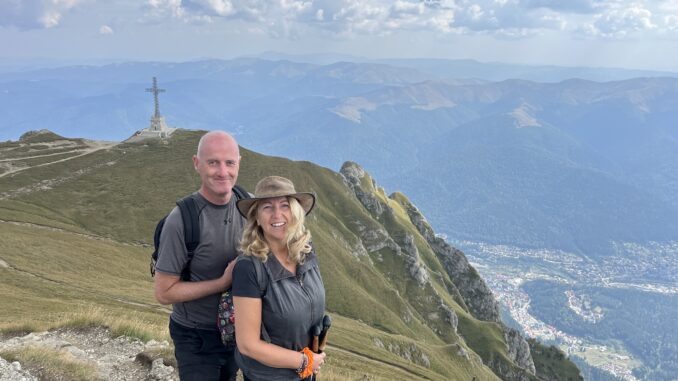 Transylvania with TD Active Holidays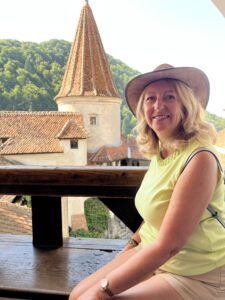 I've arrived at Bran Castle in Transylvania, a glorious land bathed in lush green forests with cloud covered mountain tops. I'm part of a group with TD Active Holidays so I'm being brought to all the sights with the luxury of a guide. At this time of year Transylvania is a natural draw for lovers of the macabre and birthplace of the character that became the inspiration for Bram Stokers, Dracula. The current owners are part of the Hapsburg family who ruled across Europe during the Austro-Hungarian Empire, and descendants of its most notorious owner, Vlad the Impaler.
As Prince of Walachia, Vlad ruled with an infamous legacy that reached far afield with stories of torture and horrific cruelty. The stuff of horror stories indeed and as I pass from each chamber to the next, the torture equipment would make the hardiest of nature wince. Some quarters show film reels from the 200 movies that have been made about Count Dracula and others display clothing and artefacts owned by previous inhabitants of the castle.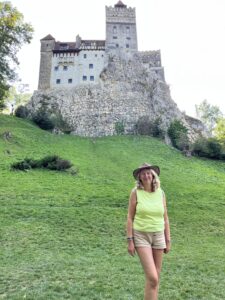 Vlad is reportedly related to King Charles of England and this won't be the only time the current head of the English Monarchy crops up on my travels through Romania. Last Halloween the castle was given over for a private party, hosted by Elon Musk, and a selection of billionaires and celebrities were flown in for the event by helicopter and private transport. Musk didn't show up, but the event caused quite a stir locally. Each year scary haunted events are held in the castle grounds for young and old in the run up to Halloween.
The base for our stay in Transylvania is Brasov, home for tour-guide Raz, who is taking us on a series of adventures for the next week with TD Active Holidays. Brasov became an important route between Venice and Constantinople. This charming town, with three large towers outside the city walls, is steeped in the history of Saxons, Greeks, Italians, Polish and Jews. The architecture is an eclectic mix of bell top houses and terracotta tiles over colourful painted facades with baroque features.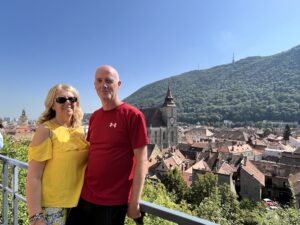 During the summer, the town square hosts free music concerts and over the weekend the market stalls are heaving with local handmade crafts and farmers produce. I purchased some bulbous hunks of garlic, just in case! In winter the square makes a magical setting for the Christmas Market. I stayed at Casa Wagner, right in the heart of the square, and although it's only a three star, every facility is offered for a comfortable stay and the building is filled with quirky charm.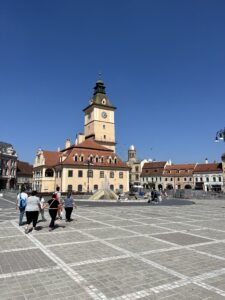 TD Active holidays offer this package as a walking tour so next day we are taken off to Busenti where we travel by cable car up to the Bucegi Plateau, also known as the Pearl of the Carpathians. Here the scenery is barren but spectacular with some rocks sculpted by nature such as The Sphinx. According to Raz it's a popular spot for some who consider it to be a place of spiritual significance.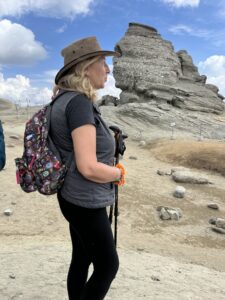 Bucegi
In a small dip on the cliff side, Heroes Cross on Caiman Peak displays spectacular views. It takes about an hour to walk as we passed by shepherds and their bell-wearing-rams and is well worth the hike. As always, Raz has the forecast at hand with advice on what to wear and how to prepare for the hikes – weather was warm and the sun shining in September but it can be cold from October on.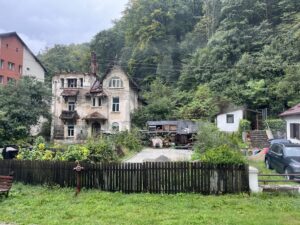 While driving through Busenti we are given a tour of the enchanting gothic mansions and castles, locations used for the popular Netflix series Wednesday – an offshoot of the popular Addams Family story, starring Catherine Zeta Jones and Jenna Ortega. It's no surprise that Transylvania and the surrounding mountains are popular for lovers of legends and scary sagas.
The charming town of Mesendorf, about an hour outside Brasov, is where we begin our hike next day. The hike is in three parts, taking us through farmland and Woodlands before descending into the UNESCO world, heritage village of Viscri. King Charles of England has such an affinity with this tiny village that he bought several houses and has transformed them into a museum where guests can stay. Many of the traditional Saxon Germanic villages remain dotted around the countryside, showing glimpses of a time almost forgotten that certainly won't be around for much longer.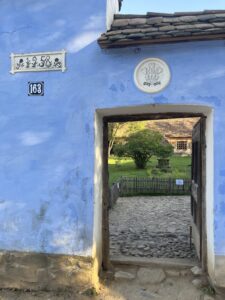 Brasov is a great base with a variety of super restaurants in the heart of the town, and all reasonably priced. Raz recommends we try Orgada in the town Square and sample traditional Romanian dishes with a modern twist. I met with the owner who informed me that only local producers provide food for her restaurant.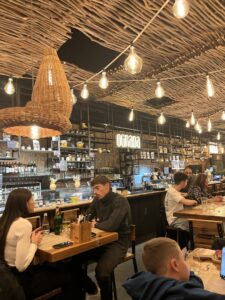 The decor is trendy and casual and food cooked with a splash of artistic flair. I ordered the beef cheeks slow cooked with mash and beetroot. The loin of pork is a favourite dish on the menu and certainly big enough for two. Prices for a beer and two course dinner are comfortably around €25 making Transylvania easy on the pocket as well.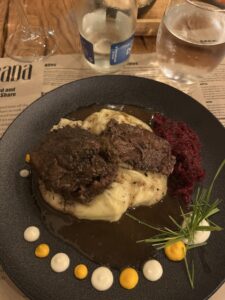 There are many things that TD Active holidays do well and fitting a lot into a busy itinerary is something they are expert. On day four the weather was not good enough to travel to the Fagaras Mountains so Raz organised an excursion to LIBEARTY Bear Sanctuary in Zarnesti. These beautiful beasts sometimes find their way into towns and villages on the hunt for food and have been spotted wandering downtown Brasov.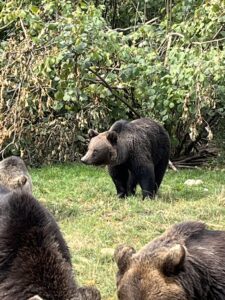 However, there's no need to be scared amongst 69 hectors of virgin forest, where 123 rescued bears now live in their natural habitat safe and happy and away from the horrible lives they endured in the past. Voted the best animal sanctuary globally by National Geographic Traveler in 2017, a visit can be booked online and entry is €14. https://millionsoffriends.org/en/libearty/
The final two days of our itinerary are at leisure in Bucharest. On route to the capital Raz finds time for a hike at the Piatra Mare Mountains, and a climb of the Seven Ladder Canyon for more spectacular scenery. Our last delightful adventure proved a little scary for some but everyone agreed, Transylvania is a frighteningly good destination for a hiking trip and more!
Factbox
TD Active Holidays, Transylvania Hiking Tour Departs on 13th May, 2024 from €1,199pp including return flights, transfers, 7 nights' accommodation on B&B basis in a three or four-star hotel, plus expert guide. https://www.tdactiveholidays.com/holiday/transylvania-walking-holiday