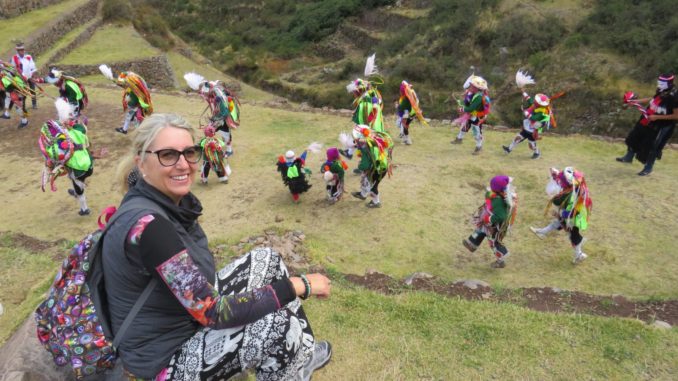 We all have a bucket list trip in mind and sometimes need a little help to find the ultimate trip to put on that list. The New 7 Wonders of the World committee cemented a list to tantalise the taste buds of any travel junkie. To find out more about the list click below
Chichen Itza, Christ the Redeemer, Great Wall of China, Machu Picchu, Petra, Taj Mahal, and Colosseum
Machu Picchu, in Peru, has been top of my bucket list for years and it's where we will be starting from….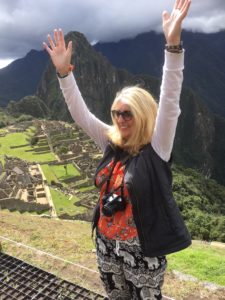 If you missed the episode on Elaine watch it here
Machu Picchu, Peru
Top Tip when travelling long haul through London
If you have to travel from London with a long delay between flights, it is best to invest in a stay at a premium lounge. Premium Plaza at Terminal 2 in Heathrow offers a wonderful selection of food drinks and magazines for only £35 per person and that's for a three hours stay. It includes all your gin and tonics and a large buffet!  To pre book see https://www.plaza-network.com/
Peru is a large country with 11 million in Lima alone and 31 million in the entire country. Voting is mandatory and citizens can expect to be fined or have civil liberties taken from them if they do not vote. Once you arrive it is possible to see Paddington and he is situated in the fashionable district of Miraflores set on breathtaking cliff face looking out on to the Pacific Ocean.
Climate – Peru is in winter now and it is cold – it is also spread over many regions but what to expect… Winter runs from June to September and is the driest time of year but wrap up well as it can be very cold in Cusco especially at night. Lima sees drizzle in winter but soaring temperatures in summer while it rains in the Andes in summer months from December to March.
Days are generally same length – about 12 hours long year round. The currency is the Nueva sol which equates to about 38 cents – 100 euros is 380 sol
Home to the Inca civilisation that is thought to have spread for five-hundred years through the fourteenth century up to the time of conquest by the Spanish in 1533. It is regarded as the most sophisticated culture found in the Americas with finely constructed art and architecture – most notably Machu Picchu near Cusco and sites in Lima such as Huaca Pucllana, a seven structured clay pyramid.
A deeply spiritual people, the Incas functioned without money and operated a barter system. People didn't starve as there was an obligation to feed every member of society equally and buildings suggest communal eating was the norm. The Incas believed in three worlds, the spiritual world governed by The Condor, the second largest flying bird and the middle world governed by the puma, which still roams in the high Andean hills. Later the snack was added to the three powerful animals and rather than representing an underworld it is thought that the snake is symbolic of the jungle. Images of the three animals are found along the Inca trail and in several sculptures and archaeological sites, although the Spanish are thought to have destroyed the vast majority of special sacred places making Machu Picchu extra important.
Top sights Lima
Lima is the Culinary Capital of South America made famous by chef Gaston Acurio and his wife Astrid. With strong Spanish and Asian influences fused with traditional Peruvian dishes it is easy to find something you will enjoy on the menu. Sample the master chef's cuisine at Museo Larco which houses the best collection of ancient artefacts in Lima – there's even an erotic room filled with sculptures of unusual arte – try it with Limamentor tours.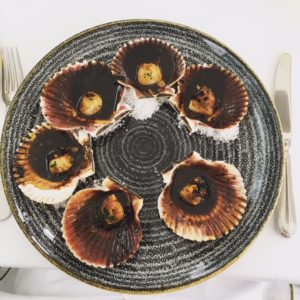 Top Drink The Pisco Sour is the most famous cocktail in Peru – a mix of brandy, egg white and angustura bitters. Here I am having my very first sip of Pisco Sour at Tragaluz restaurant at the Belmond Miraflores in Lima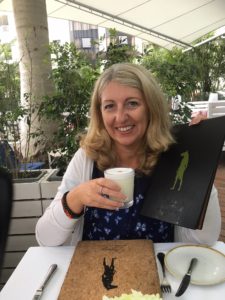 Or try the chica Morada which is a purple drink made from corn mixed with cinammon and peel of pineapple.
Top Food Specialities include Ceviche which is a kind of sushi cured raw fish with lime juice and chilli but the ultimate delicacy is Cuy which is roasted guinea pig and not for the fainthearted.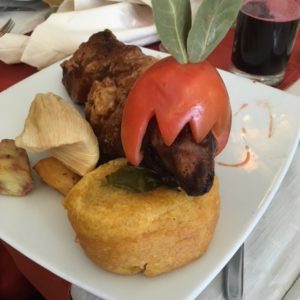 Mistura is the annual food festival held in October and offers the best food choice in all of Latin America.
Top Sights Lima
Magic Water Circuit has been open 11 years now in Peru – it's only 5 sol and runs twice per night at 7.15pm and 8.15pm – it's great with the kids and one of the largest water fountain displays situated at the Park of the Reserve http://www.circuitomagicodelagua.com.pe/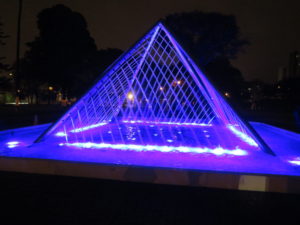 The Monastery of San Francisco and Catecombs are worth a visit for art buffs http://museocatacumbas.com/
The changing of the Guard – if you want to hear a funfair then watch the brass band over view the changing of the guard at the Presidential Palace.
Get on your bike with http://www.greenbikeperu.com/ we cycled the Malecon, a two mile stretch of parks and gardens overlooking the craggy cliffs kissed by the Pacific. It works out at 25 sol to hire for two hours but I recommend taking a guided tour. The Barranco district with art and culture and very trendy restaurants is a must see and has the best bars and nightlife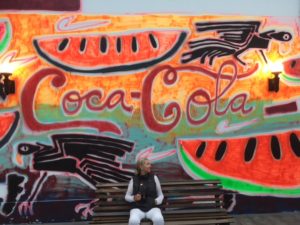 Mario Testino is one of the most famous photographers in the world who took iconic images of Princess Diana and Kate Moss through the 90's. His Gallery in Barranco Lima is currently showing a new style exhibition Alta Moda showing inspirationally clad people from his home in Peru http://www.mariotestino.com/exhibitions/mario-testino/exhibition-alta-moda/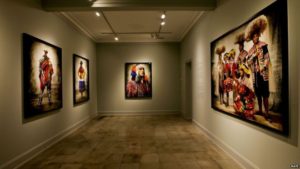 Cusco
The centre of the ancient Inca Kingdom and aka The Navel of the world
Top Sights Cusco
Cusco is set high up in the Andes and flying into the airport at over 3,000 meters is an incredible spectacle – you can expect to feel slightly winded as you step off the airplane. Altitude Sickness can affect anybody and being fit or young doesn't mean you will be better able to tolerate the change in air quality.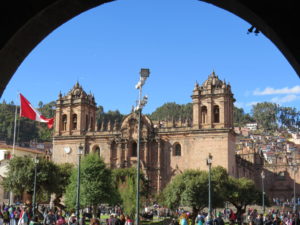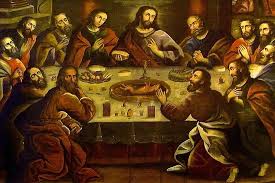 BEST THING for Altitude Sickness is CACO TEA – the leaves used in the making of cocaine so be warned not to take any home with you.
The entire city of one million people is woven with ancient Inca heritage sights and remnants of the Spanish churches and Cathedral.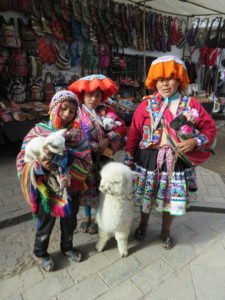 Pisac may be a secondary site to Machu Picchu but it is impressive and we visited on a day when a group of locals dance the Capac Negro, a kind of potent mix between native american shamans and morris dancers. These locals performed on the terraced cliffs of this spectacular site over 3,400 meters high giving great entertainment. Below the archeological site, the new town of Pisac offeres great arts and crafts and photo opportunities with Llamas.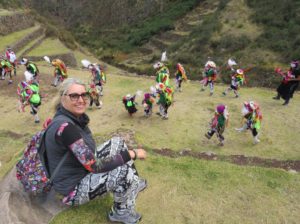 Lots to do for families – I travelled with my teenage son and we visited ancient Inca temples on horseback – from $50 pp taking in a morning riding to sites that can't be visited by car. Offering spectacular vistas of Cusco below.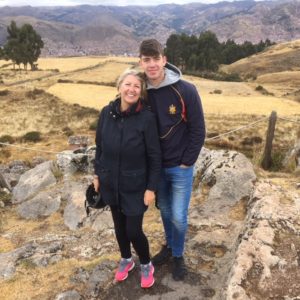 The Planetarium of Cusco is really a shed in a field but the views of Jupiter, Saturn and the Milky Way are spectacular and can be clearly seen from the mountain top. At the town of Cusco is set into the surrounding hills and looks itself like a reflection of the night sky. For twenty dollars it's good for budding astronomers and kids.
Probably our best fun was had white water rafting in the Sacred Valley. Our tour operator organised this activity which took us on the same route as the train into Machu Picchu. The River is part of the tributaries that join up with the Amazon and a tropical and exhilarating experience.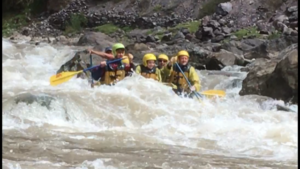 How to get to Machu Picchu?
Machu Picchu tickets are much sought after and with a limit of 2,000 visitors per day it is worth planning your visit well in advance. You don't have to trek the Inca trail to get there – instead I took the easy way on the train which takes three hours from Cusco or 90 minutes to Ollyantaytambo followed by a two hour journey by bus. There are luxury carriages which offer entertainment and I recommend trying this out. Views are spectacular and with windows in the roof of the carriages you wont miss any of the spectacular mountain faces as the scenery changes from arid rock to lush green jungle.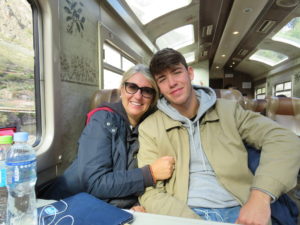 It's difficult to describe how you feel once arriving at Machu Picchu and take in the vast site made public by Hiran Bingham in 1911 and has since become of the biggest attractions in the world. Visiting in July in August means you will find crowds even with the restrictions of 2,000 visitors per day. However there is magic in the air and no matter what your take away from the experience you will be moved.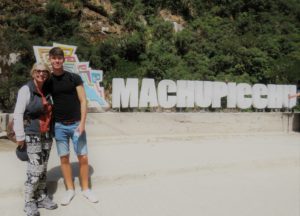 To find out all you need to know about Peru visit www.peru.travel
I took a package trip with Explore Worldwide tours 
Explore UK
I travelled on a guided tour and have to commend our marvellous guide Julio who was a native of Cusco and incredibly knowledgeable and great fun too!
Explore's Highlights of Peru nine-day trip visits the capital city Lima, with a day to discover it's colonial architecture, fascinating history and sample it's culinary delights including Peru's most popular dish, ceviche. The trip also visits Machu Picchu, one of the New Seven Wonders of the World and the old Inca capital Cusco. Prices start from €1170 and include 8 night's bed and breakfast, internal transfers and Explore leader and local guides. International flights are not included. www.explore.co.uk / tel: 01252 884 737.
If you fancy up grading your stay to Luxury hotels Belmond Hotel Group offers luxury accommodation in Lima, Cusco and at Machu Picchu. Huge benefit staying at the sanctury lodge in Machu Picchu saves time and or a long trek up to Machu Picchu – it also allows you to enjoy the panoramic landscape at nightime and partake in some of the more unusual activities such as yoga on the mountain top. For more information see belmond Sanctuary Lodge
For a bit of luxury stay at the Palacio Nazarenas in the town of Cusco which has one of the few hotels with swimming pools and has incredible food in the Senzo Restaurant Palacio Nazarenas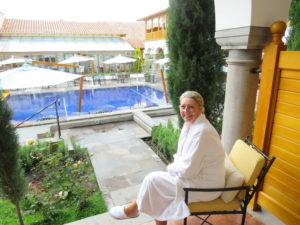 Offering a host of unusual tours check out Limamentor on this site to get the best of Lima https://www.limamentor.com/
Huacas & Larco Museum by Night with Dinner
Observe Huaca Pucllana, a Pre-Colombian Highlights
archaeological site in the middle of Miraflores.
Observe Huaca Huallamarca, a Pre-Colombian archaeological site in the middle of San Isidro.
Visit the Larco Museum, the best Precolombian art private collection in Peru.
Dinner of Peruvian Food at the Cafe del Museo
Includes: Local guide at the Museum, entrance fees, transportation in
minivan, bottled water and 3-course dinner. Tour starts and ends in any hotel located in Miraflores or San Isidro
Price: Price per person, shared visit, maximum 6 participants: US$85
Duration: 6.30pm – 10.30pm. Every day.
On Main Holidays: January 1st, Holy Friday, July 28, July 29, December 24, 25th and
31st no departures are available.
www.limamentor.com / info@limamentor.com / +51947741676
Beijing & the Great Wall of China 
Including a Dubai extension
https://www.traveldepartment.ie/beijing-the-great-wall-of-china-incl-dubai-extension?dp=dub,ork,snn#
12 Nights
Half Board in China
B&B in Dubai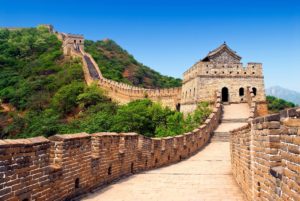 Dates:
23/06/2019, or 06/10/2019
Holiday summary:
Flights from Dublin to Beijing with 3 day Dubai extension and transfers
Guided tours of Tiananment Square, Forbidden City & Qianmen Street
Guided tour the Great Wall, Jade Factory and the Sacred Way
Guided excursions to Summer Palace, Beijing Zoo & Olympic Village
Guided tour of Lama Temple and rickshaw tour of the old town of Hutong
Visit to Yaxiu Market, Temple of Heaven and Sanlitun village
Flight from Beijing to Dubai
3 days of Leisure to explore the cosmopolitan city of Dubai
Price:
From €2049pp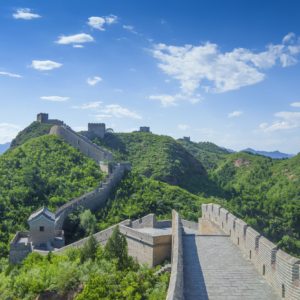 Holiday summary:
Flights from Dublin to Beijing with 3 day Dubai extension and transfers

Guided tours of Tiananment Square, Forbidden City & Qianmen Street

Guided tour the Great Wall, Jade Factory and the Sacred Way

Guided excursions to Summer Palace, Beijing Zoo & Olympic Village

Guided tour of Lama Temple and rickshaw tour of the old town of Hutong

Visit to Yaxiu Market, Temple of Heaven and Sanlitun village

Flight from Beijing to Dubai

3 days of Leisure to explore the cosmopolitan city of Dubai
If you'd like to walk the great wall then Explore Worldwide have a terrific ten day trip that will really set a challenge.
www.explore.co.uk https://www.exploreworldwide.eu/
tel +44 (0)1252883742
The 10-day Walk the Great Wall trip goes further off the beaten track and really explores rural China, including spectacular stretches of the wall near its eastern end. It's a moderately graded trip, including walks of 3-6 hours on six of the days, and costs from £1599 per person including flights (€1,199 per person excluding flights)
Rome City Break
https://www.traveldepartment.ie/rome-city-break?dp=dub,ork,snn
3 Nights
B&B hotel accommodation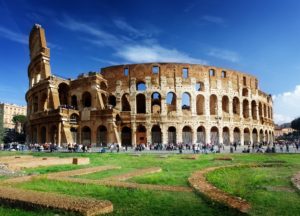 Dates:
Sept 2018 – Nov 2019
Price:
From €469pp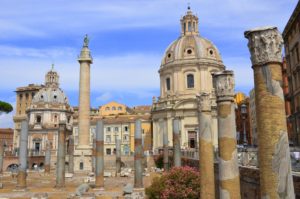 Holiday summary:
Includes return flights, transfers, accommodation and city tour with expert local guide

Walking tour of Ancient and Baroque Rome with expert local guide – the best way to see any city! Visit St Peter in Chains Basilica, the Colosseum, the Roman Forum, Piazza Venezia & the Trevi Fountain

Leisure time to explore this beautiful city at your own pace – your guide will be happy to give recommendations
Topflight to Rome
Why not include a cruise?
The biggest ship in the MSC fleet is in Dublin Port today and Topflight have this great offer to cruise the Mediterranean and stay in Rome where you can visit the Colusseum and other treats. Starting and finishing in Rome this seven night cruise includes two nights at the Hotel Veneto Palace in Rome
Prices Include
Return flights from Dublin Return airport transfers
20kg checked in bags 7 nights cruise ship accommodation
Breakfast, lunch, evening meals and snacks on board
All entertainment on board including 2 nights accommodation in the Hotel Veneto Palace, Rome
Prices From
€979
Per Person
For more details click here https://www.topflight.ie/experiences/cruise-holidays/msc/msc_winter_mediterranean_cruise_and_stay_rome
or call topflight on 01-2401784