I've been asked by the lovely crew at Ireland AM on Virgin Media TV to answer your questions. Here are a selection that were sent to me and I'll be chatting about them live on Saturday 20th May 2023
During covid when I was confined to the house, I decided to save and plan for my dream trip to Australia.  I've wanted to go all my life and now finally have the finances.  I'm going for a month and obviously will be visiting Melbourne and Sydney.  I can't afford to visit EVERYWHERE in Australia, so where else would you recommend I go?   
Go to a good bespoke travel agent because if you are spending this type of money you need an expert. You also want security on your investment – don't try to do it all yourself as you won't necessarily find it cheaper – especially for a bucket list trip. I recommend someone like Platinum Travel who will guide you every step of the way and make up a special itinerary for you. There are other options with tour companies such as Intrepid Travel and you could do a tour with them and  continue on yourself.
https://www.intrepidtravel.com/ie/australia
Combine any trip wish and make it a longer duration. This is a nice one for Queensland: https://www.intrepidtravel.com/ie/australia/daintree-cape-tribulation-adventure-146157
– depending on what the itineraries offer you will find your best fit. 
Australia is a bucket list destination and I think you will have a great time. If you like the sun I would recommend travelling up to Queensland – it is truly beautiful up around Palm Cove and there is so much to see… The Daintree Rainforest and Cape Tribulation are worthwhile visiting. The Great Barrier Reef is another highlight. When you are in Melbourne go see Philip Island and the penguins – such a lovely sight to see these little animals in their natural habitat. Sydney is a cosmopolitan city and the harbour and Opera House will leave you awestruck.
While down in Australia maybe consider a stop over in Dubai or Abu Dhabi to break the journey up – or if feeling exotic maybe Bali! Call platinum travel 
After seeing Sweden winning the Eurovision again, I've decided that I'd like to visit.  But I know nothing about it.  Is it easy to get there?  And is it really expensive once you're there?
Direct flights sas daily to Stockholm – Norwegian fly four times ryanair 3 times and they go to Gothenburg.
Yes it is expensive but like everywhere else you can avoid the tourist traps and there are places in the city where the locals hang out. Price for a pint can be expensive too….but there are lovely beer gardens.  Medborgar-Platsen with what appears to be rest of the city as they pile out of work. A plate of fish and chips works out about €10 and I have a beer which at €8 isn't extortionate.  Going in the summertime is especially nice as you have the white nights when it doesn't get dark until 11pm. Stockholm is built on many little islands and it is a good blend of traditional and cool modern. The best spot to see tourist attractions is Djurgarden and this is where you will find the abba museum – As the slogan says, we walked in and danced out of the Abba Museum, situated in the middle of Djurgsgadon, it makes a great starting point. You don't have to be a fan of Eurovision Song Contest to visit – but it helps.  We booked our tickets and entry slot on line  it's great fun and you get to see all the memorabilia and have  a dance with their holographs. Another must see is the Vasa museum – this amazing ship sank only minutes after launch leaving stunning examples of artefacts from the 17th century. Do get a Stockholm tourist card and it will cover your public transport and you will get special entrance fares into the attractions.
I've a lovely package with Click and Go to Stockholm that  I pulled off the website last night and it's reasonable For Stockholm – weekend in July – flights and 4 star hotel for just €299
https://www.clickandgo.com/design-your-own-holiday/customise/2023-07-28/3/2::0/BB/DUB/0/5489/154/299?search=all/Stockholm/2023-07-28/3/2::0//DUB/0
I want to bring my kids on a Eurocamp style holiday, but the choices are bewildering.  Can you help? 
I think Siblu are great as they have so many campsites. The west coast of France is gorgeous – I am just back from La Rochelle myself this year. I recommend the west coast of France in the summertime as there is lots to do on the beaches – it is a great family holidy. You have choice of ferry with stena line or irish ferries from Dublin to Cherbourg. Another way is to fly with lots of connections with Ryanair Aer Lingus but it means you will need to hire a car – you have the advantage with a car of bringing back wine and sitting the kids on it.
I've been to a couple of parks with Siblu and they are fabulous – the idea of camping being basic is out – these are luxurious campsites with every amenity for families and even air conditioning which is great for the hot months of july and august.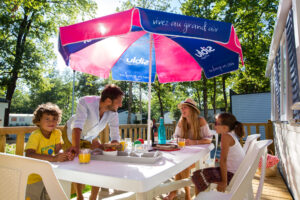 Kids will be entertained all day and it's a wonderful chance for them to have their first experience of freedom in another country as they are very safe places with gated entrances and a sign in system in the kids clubs.
I have some great value last minute prices too from Ireland…
Siblu (pronounced SEA BLUE) last-minute holidays to France
Siblu's self-catering holiday villages on the west coast of France start from just €301 per family per week at the end of June, which is great value because they include high quality mobile home accommodation plus lifeguarded pools, kids clubs and daytime and evening entertainment.

Resorts that are on France's west coast and within a short drive of La Rochelle include:
Bonne Anse Plage, just north of Royan, in Charente-Maritime. The park has a giant swimming pool with a massive water slide, and there's a climbing wall and ropes, and the sandy beaches of La Palmyre are a short walk away. From €301 for seven nights from 24 June .

Les Charmettes, also in Charente Maritime, is one of the biggest holiday villages in France, with a pool complex and entertainment set up to suit. There are indoor and outdoor pools with slides and fountains, tennis courts, kids' clubs for tots to teenagers, and nightly entertainment. From €336 for seven nights from 24 June.

To the north of La Rochelle are Le Bois Masson and Le Bois Dormant, in the popular Vendee region. They are sister parks that share facilities, so families get the pools and activities of two parks in one. Both are just a couple of miles from the region's famous sandy beaches, which are great for bathing and a whole host of watersports. From €336 for seven nights from 24 June.

There are 30 Siblu holiday villages across France, in locations that also include  Normandy, Brittany and the South Coast.

To find out more visit siblu.ie
I keep hearing that we CAN bring liquids as hand luggage, then I hear that we CAN'T bring liquids as hand luggage.  What's the truth?  Have the liquid rules changed yet? 
This is a new departure for security at airports and Shannon airport already have the new C3 machines in situ. Dublin Airport are in the process of changing. Dublin hopes to have the new machines in all aisles from next spring – already there are two at the left hand side of terminal one which I passed through recently and it does make a huge difference to  the security queues. Donegal also already have the new C3 machines and cork will take a little longer as there are structural changes to be made at Cork. 
Be warned not all European airports have this new equipment and it may take some time for airports to catch up so you could be able to bring your big bottle of shampoo out of Ireland in your carry on luggage but not able to bring it back – likewise you don't know which queue you will be in at security so it is best to use the old regime of 100ml bottles until the airport is completely transferred over to the new equipment
I'm not particularly adventurous but I've always wanted to visit Asia.  But being in my 70s I'm worried that I won't be able to handle the culture shock.  Is there a country you'd recommend that I'd be able to visit that eases me into Asian life?
This is easy to answer as I think Thailand is the best place to first experience the far east. The weather is great year round and food is amazing – even the street food is excellent. 
For so many reasons I love Thailand – the culture, the beaches, the relaxation and it is cheap.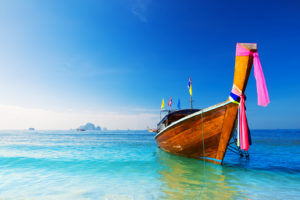 There are a huge  amount of things you can do from seeing stunning temples in Chang Mai and Bangkok such as the kings palace which is amazing and Wat Arun Ratchawararam (Temple of Dawn) I went on a river cruise which was a wonderful way to see the city at night. The markets are great in Bangkok and whatever island you go to there are always great shops and markets with bargains. Thailand is great for spa and relaxation and health holidays on many of the tiny islands – koh samui is one of the larger islands and phuket is the largest of all with lots of fun visiting the hongs and enjoying the sea. I went with both my kids and we went kayaking and snorkeling.  
Because of Monica's age I recommend a small group package.

https://www.discovertravel.ie/ Cork do bespoke trips and if you get on to them they will tell you what's on offer…here's a sample of a foodie tour but you can do tours for all sorts of holidays in Thailand.
Taste of Thailand
​Bangkok – Kanchanaburi – Ayuthaya – Sukhothai – Lampang – Chiang Rai – Chiang Mai 
Duration:  9 Days   Group Size: 16 (maximum)
​Explore the Wat Pho, which is one of the oldest temples in Thailand. This sacred place was previously an initiating school where monks were educated.
​Travel by tuk tuk as you explore the local street food Bangkok has to offer. Try Moo Satay (pork satays), and sweet surprises along the way.
Start the day like a local as you visit the busiest Seafood market in Bangkok. Learn about the local ingredients used in Thai cookery.
What´s included
8 nights accommodation with

Daily Breakfast for 2 Persons

Meals as indicate

Transport in air-conditioned vehicles

Small group touring

All Entrance fees

English speaking tour leader

All Tipping

Arrival and departure transfers
Patricia in Crumlin, Dublin
My son is planning a sun holiday with his friends once he finishes his leaving cert.  Can you recommend anywhere that's relatively safe?  It'll be his first holiday without us, so I don't want to be sitting at home worrying for the fortnight.
You might find you son is on top of this as many students start planning in September at the start of leaving cert. There are top spots that are popular but going to a travel agent gives you security first and foremost. It also gives parents peace of mind. Lots of travel agents such as sunway, click and Go etc will do sun packages and can work out cheaper than booking themselves.
 The island of Majorca was traditionally the favourite but since covid there is a change in the popularity. Greece is popular with Kavos being the favourite in corfu.
Key points are get them to go to a travel agent – students are well capable of booking everything on line but in case something goes wrong you need to have referral. Get good travel insurance in a MUST. Make sure they have their European Health Insurance Card too.
Some students like to interrail and for this I would suggest going to  usit as the best way to get their travel card – if a student is well travelled this is a good option for them and it is a great adventure.